Twitter Featured: Buying 11,000 Bitcoins in a single month, is the institution also suffering from phobia?
Grayscale investment bought 11,000 bitcoins last month, accounting for 21% of new bitcoin in the month.
Trader Rhythm:
The Grayscale Investment Bitcoin Trust Fund purchased 11,236 bitcoins in April.
At present, Bitcoin mines 54,000 bitcoins per month.
They purchased (equivalent to) 21% of new circulating bitcoins.
After one year, the block reward will be halved, and this number will double to 42%.
The institution got the phobia.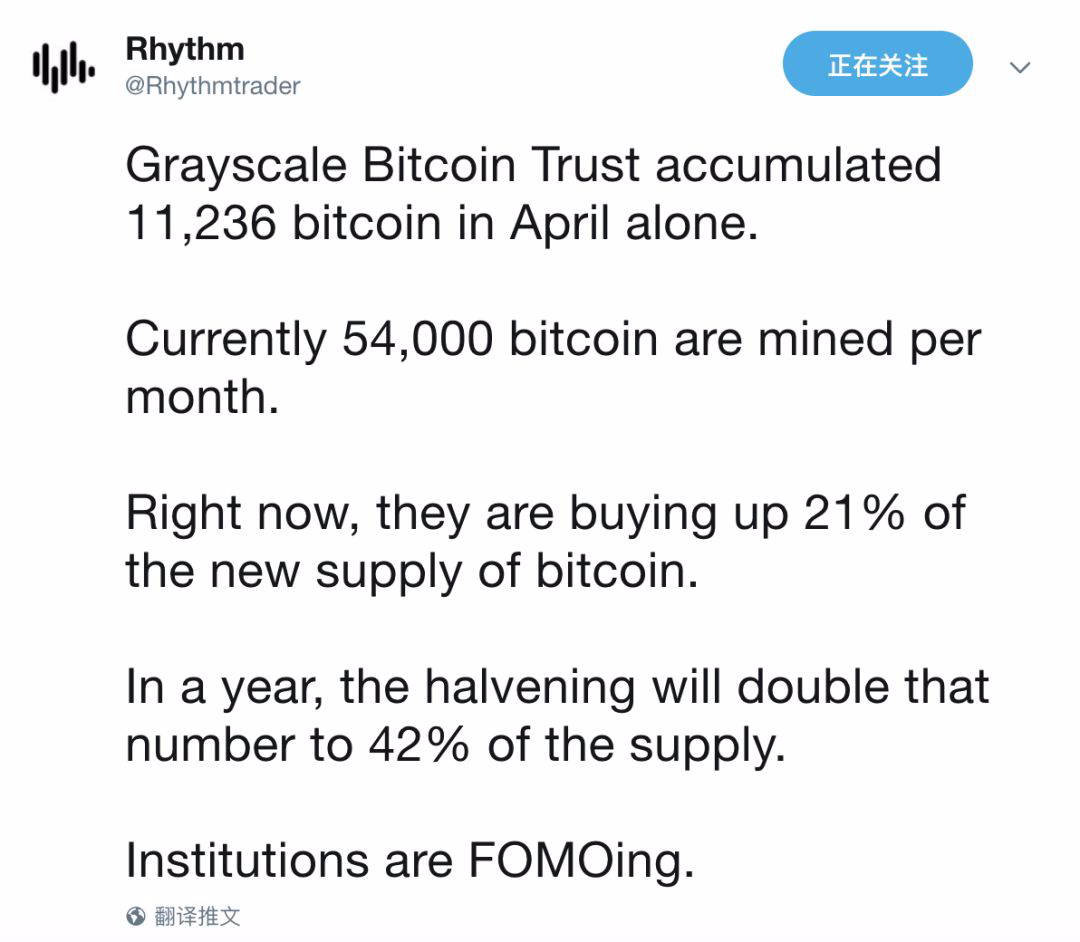 The statement issued by Grayscale's official Twitter also confirms Rhythm's statement. According to the data report on May 30th, the total asset management scale (AUM) of the gray-scale investment digital currency trust fund is 2.1 billion US dollars, of which The size of Bitcoin is 1.967 billion US dollars, accounting for more than 90%.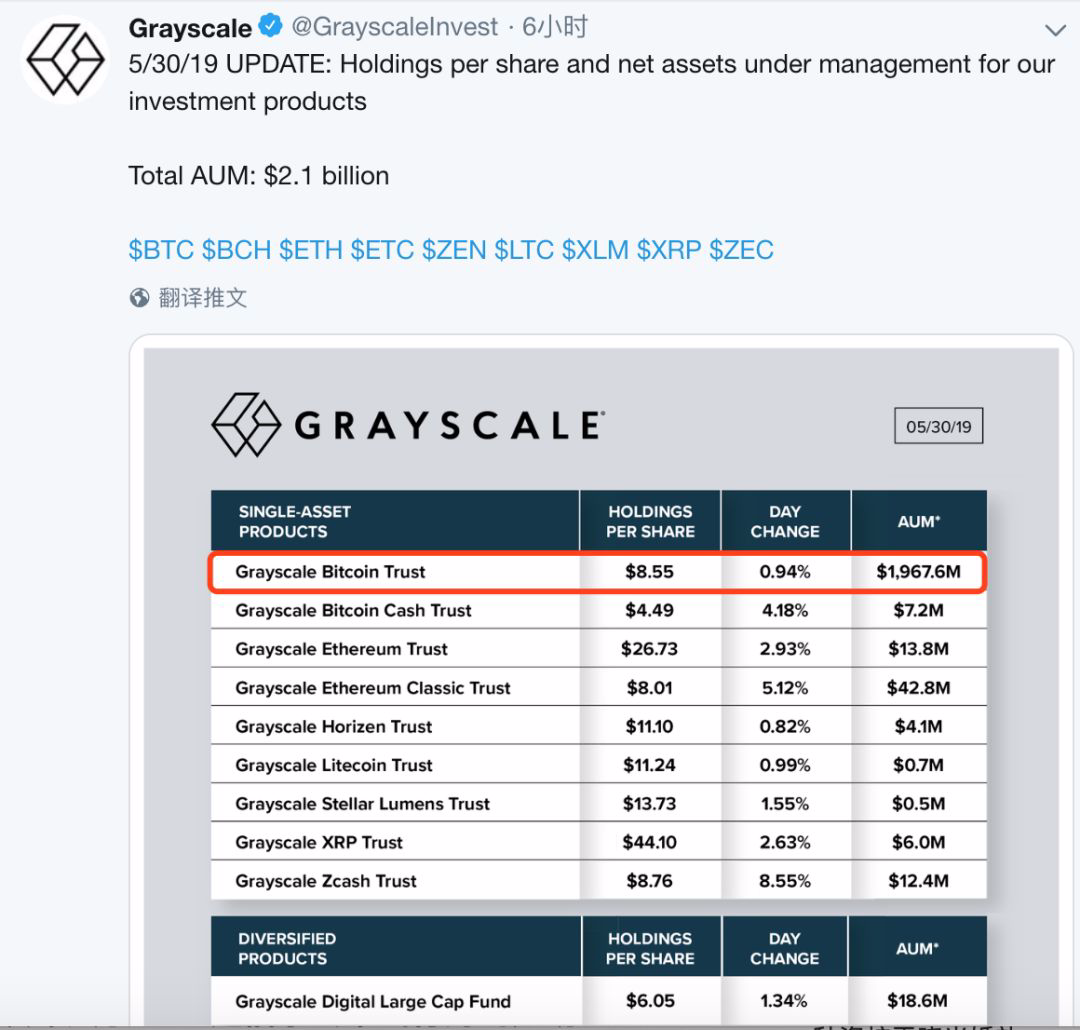 02 Coin launches margin trading, Coinbase considers follow-up
Analyst and trader Crypto Rand:
Coin has just announced the available margin trading pair.
(Note: I have checked the new website of the coin, and indeed added margin trading, including BNB, BTC, ETH, XRP and TRX, but these transactions are only displayed in the margin trading list, and the transaction has not been opened yet. )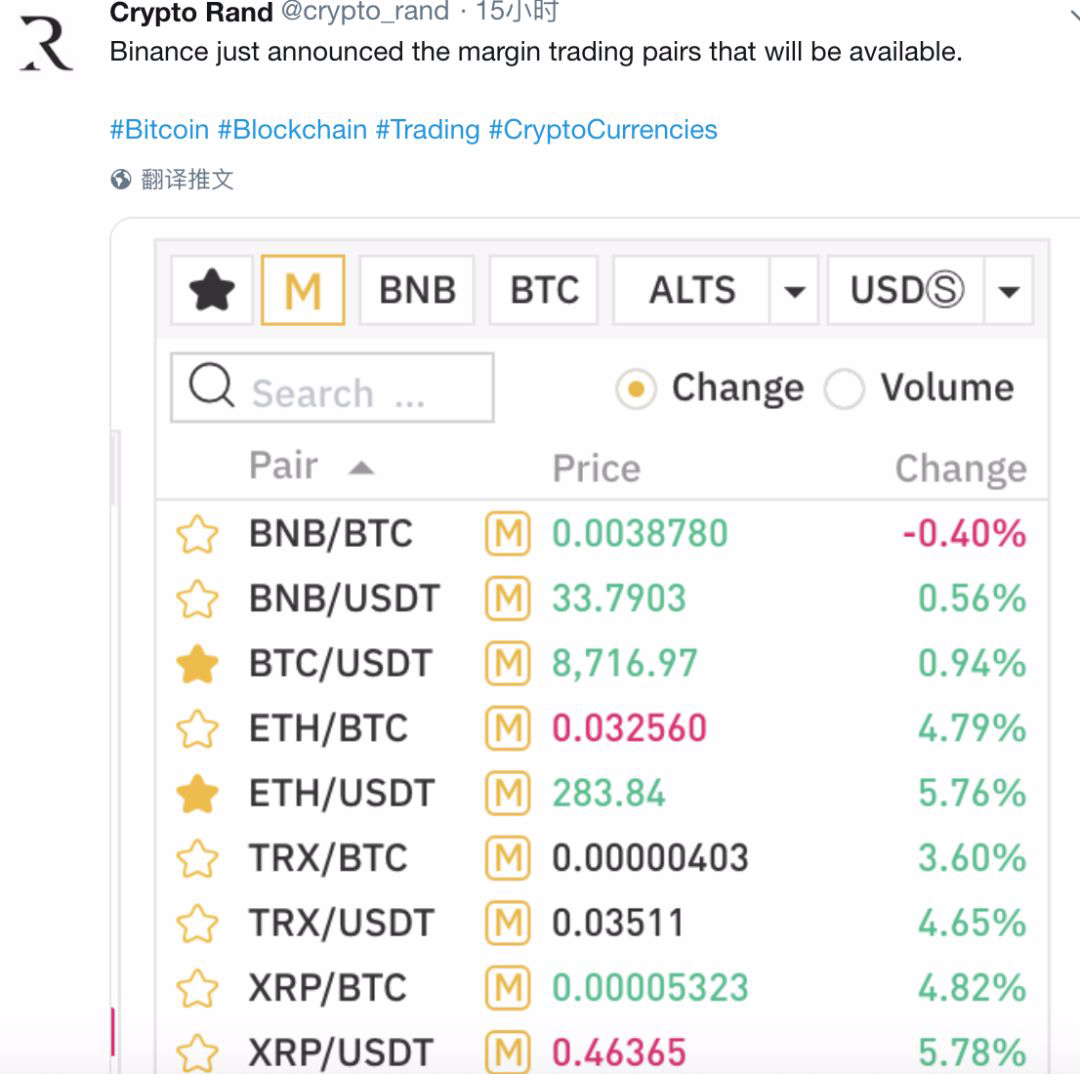 Coincidentally, according to The block, Coinbase executive Emilie Choi said in an interview that coinbase is also considering opening a margin transaction.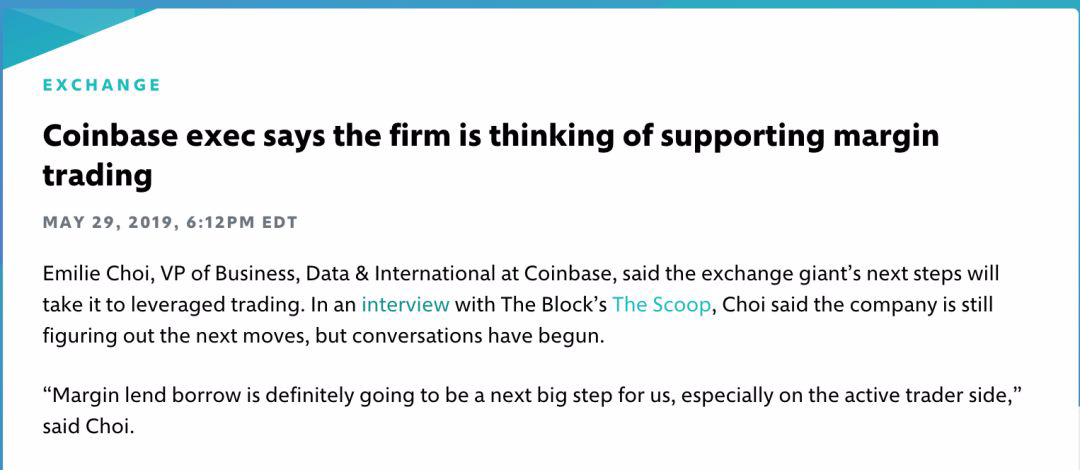 03 Ao Cong revealed that he accepted a 60-minute interview.
Marianne Jett, President of Premier Medical, tweeted:
Aussie Cong (CSW) told her that during the Coingeek expansion meeting (May 29), he accepted an interview with the "60 Minutes" talk show. I am sure of what I heard. Has anyone else heard of it?
Translator's Note: "60 Minutes" we mentioned before, it is a news current affairs program, produced and broadcast by CBS, has a history of 40 years of play, and a weekly audience of 1.2 billion people .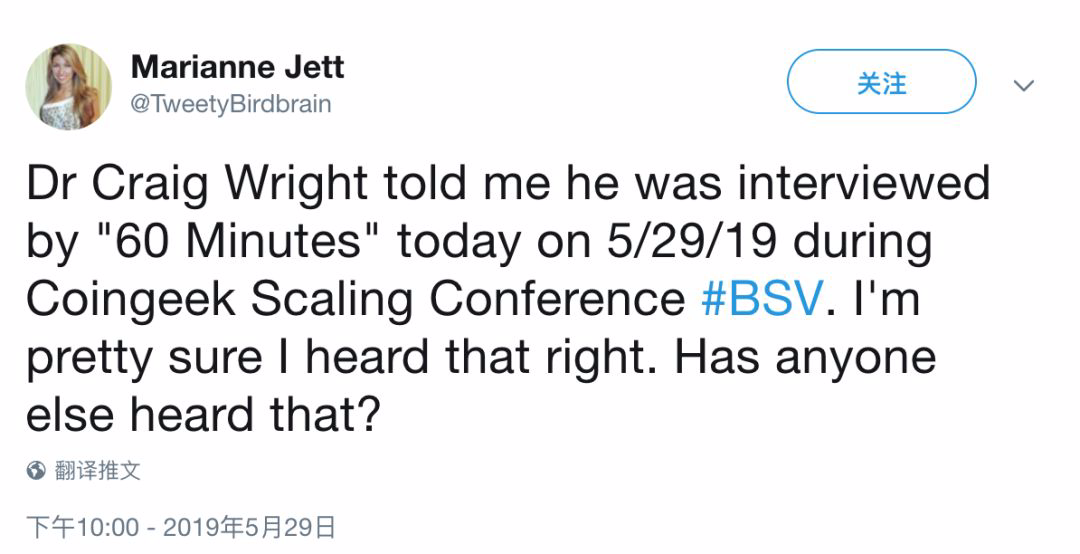 The reason why Jeff asked, was that when she heard that CSW told her that he had accepted a 60-minute interview, she was surprised and suspected that she had got it wrong.
So far, the author has not found any official statement confirming that CSW accepted the 60-minute interview.
1. Coinbase official Twitter: EOS will launch Coinbase and its Apple and Android apps in 15 minutes. (Note: The push was 10 hours ago and is now online)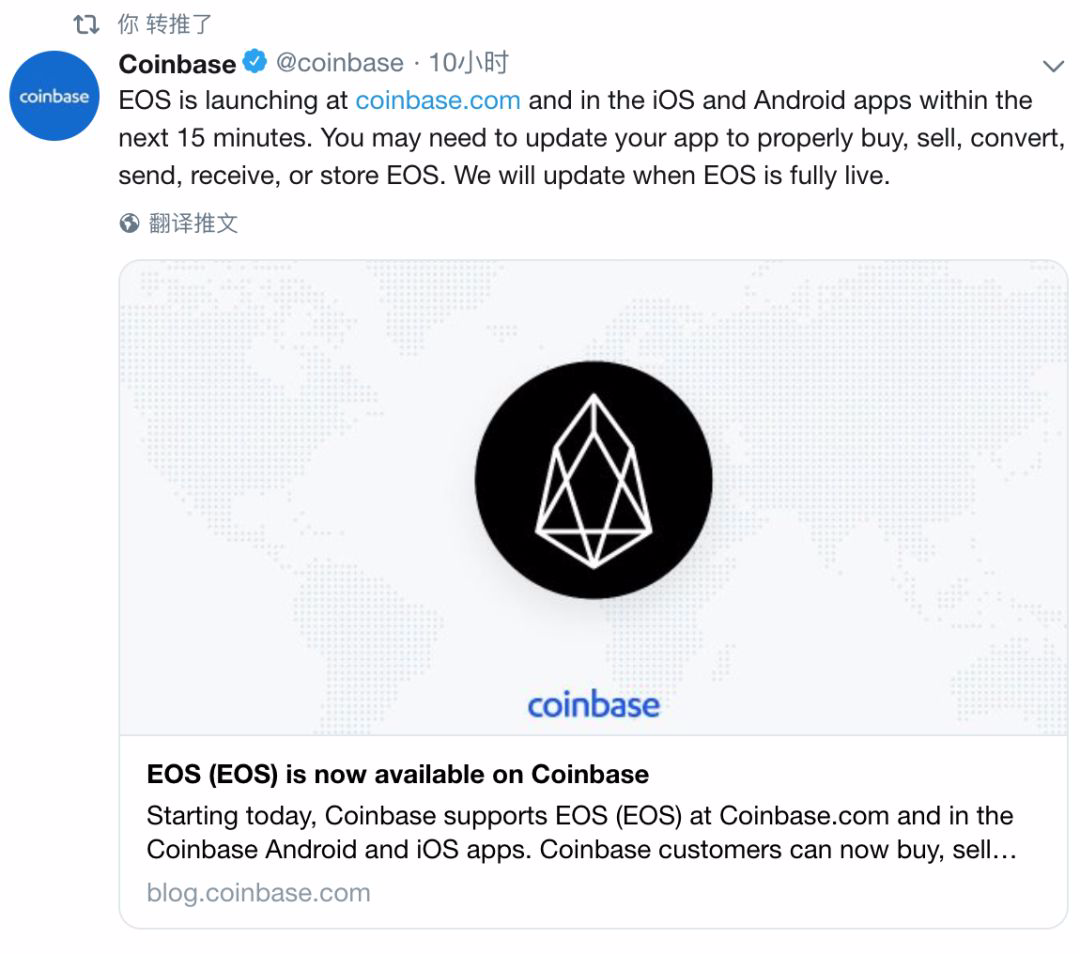 2. Bank XRP: Ripple-based XRPL Lab launched an XRP-based banking application. The app is named Xign, which allows users to hold and pay in euros, dollars, XRP and other currencies without any help from financial institutions.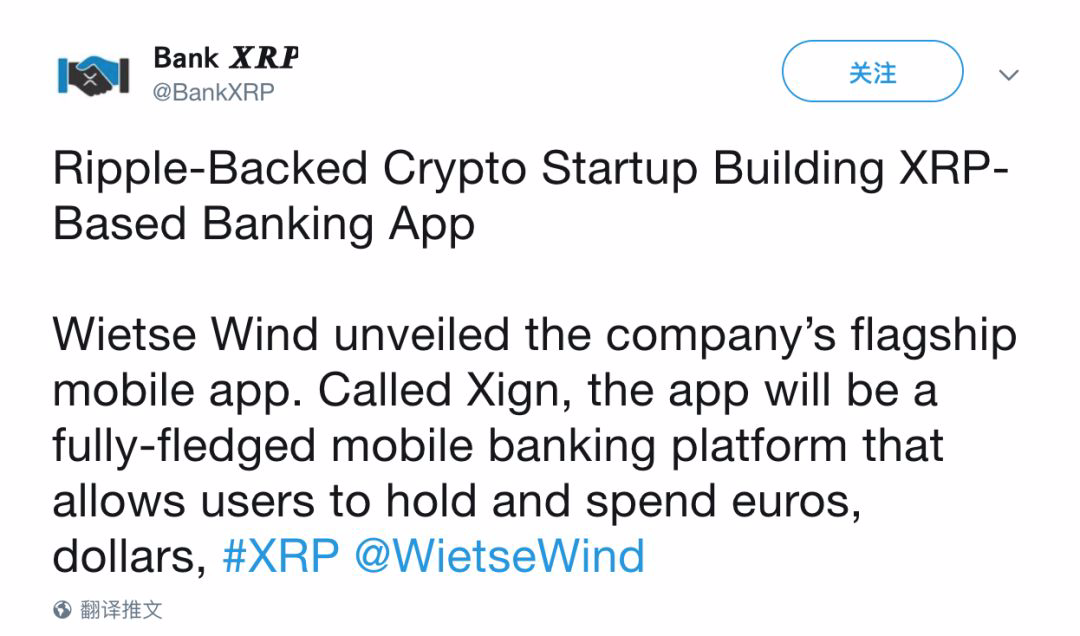 —— End ——
Turn around every day and see the big coffee point of view, bringing you the freshest and most interesting points.
Source: Public No. Wildflowers
We will continue to update Blocking; if you have any questions or suggestions, please contact us!
Was this article helpful?
93 out of 132 found this helpful