Market Analysis | Bitcoin breaks through 4K USD, or is related to the Dow Jones index plunging
On Wednesday, the Dow Jones index soared during the US stock market trading hours, rising nearly 100 points, getting rid of weak futures performance (while Boeing's share price plummeted), but only half an hour later, it suddenly rebounded back to loss. Bitcoin prices also rose sharply, breaking through the $4,000 mark, reaching its highest level in nearly a week.
First, the Dow Jones index fell sharply after the opening
As of 10:04 pm Beijing time, the Dow Jones Industrial Average fell 41.46 points. Shortly after the market opened on Wednesday, the Shanghai Composite Index soared to above 25,750 points and then fell to 25,632.27 points. The S&P 500 and Nasdaq also reversed the early gains, closing down 0.15%, while the latter fell 0.12%.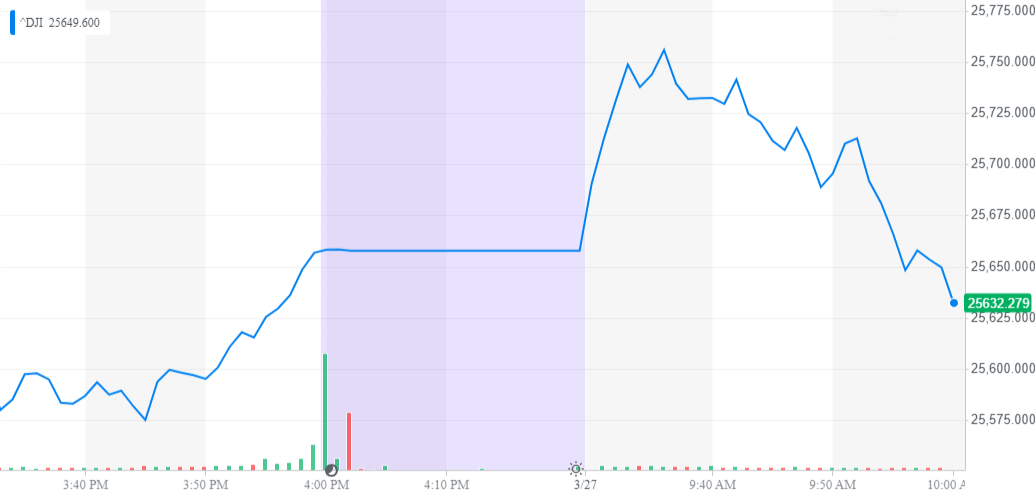 (When the Dow Jones Industrial Average opened up nearly 100 points on Wednesday, it fell sharply | Source: Yahoo Finance)
On Tuesday, the Dow Jones Industrial Average had a 140.9 gain, after the index fell in the afternoon, which has an insignificant impact on previous gains. The index closed at 25,657.73 points, or 0.55%. The S&P 500 and Nasdaq also rose sharply, rising 0.72% to 2,818.46 and 0.71% to 7,691.52, respectively.

Second, the Dow Jones index is deeply affected by the collapse of Boeing's share price
CNN reported that on Tuesday afternoon, a Boeing 737 MAX 8 aircraft was forced to land in Florida due to performance problems in one of the aircraft's engines shortly after takeoff.
Although the US Federal Aviation Administration claimed that this issue has nothing to do with the failure of Indonesian Lion Air and Ethiopian Airlines' automatic stall system, this has led to more controversy over the 737 MAX 8.
The US Senate Subcommittee on Wednesday afternoon had a further impact on Boeing's share price. At 3 pm on Wednesday, federal aviation safety officials claimed that the 737 MAX 8 is still suitable for navigation despite its obvious design flaws.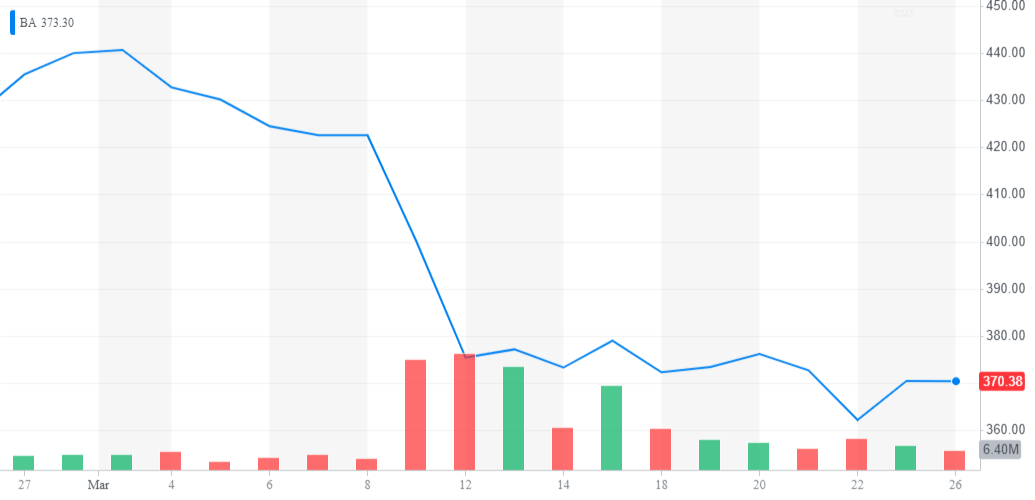 (Boeing's share price has fallen 15% in the past month and will face even greater trouble | Source: Yahoo Finance)
At the same time, Boeing's rival Airbus took advantage of it and increased the number of aircraft for Air China. This week, Airbus announced that it will ship 300 aircraft to China worth about $35 billion. Of the 300 aircraft, 290 are A320 models, which is a direct competing for the Boeing 737 MAX 8. Previously, China had planned to increase the number of 737 MAX 8 models to help the United States reduce its trade deficit, but after the Ethiopian airline crash this month, China changed its plans. Although Boeing's share price has fallen 15% in the past month, it has risen 0.4% in pre-market trading.
Third, the price of bitcoin rose more than 4,000 US dollars
Beyond the traditional market, bitcoin prices once again broke through the $4,000 mark and are expected to break through the resistance line to form a new bull market.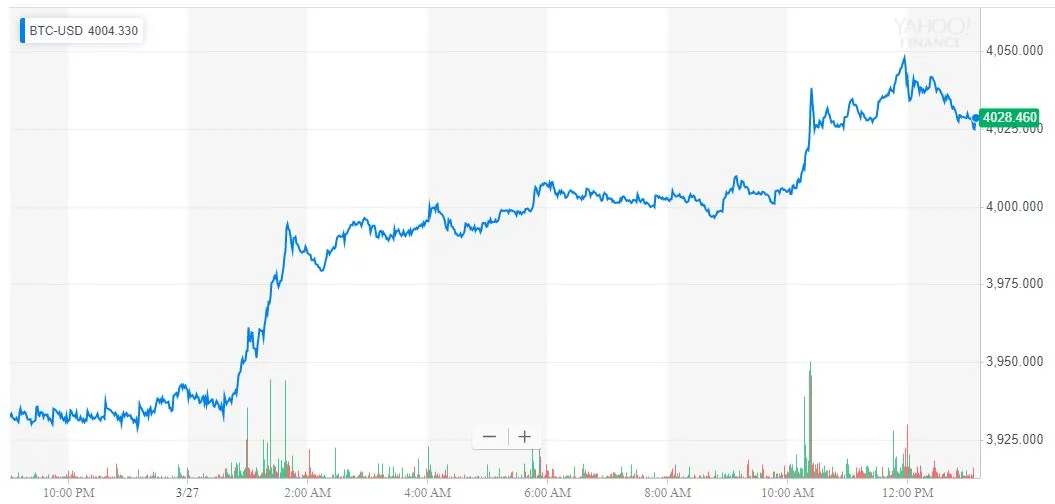 (Bitcoin price broke through $4,000 on Wednesday | Source: Yahoo Finance)
On Wednesday, bitcoin prices rose 3.07%, the highest reached $4,049, and then fell back to $4024. This pushed Bitcoin to its highest level since March 21, but Bitcoin's market share continued to fall sharply due to frequent trading of small currencies by users. Bitcoin's market share in January was 54%, and the current market share has decreased to 50.4%.
EOS, the world's fifth-largest cryptocurrency, soared 12.2% on Wednesday, surpassing the $4.00 mark to reach a global average of $4.09. eToro Senioar market analyst Mati Greenspan said: "EOS has now exceeded the 200-day moving average. Through technical analysis, this is clearly a bull market."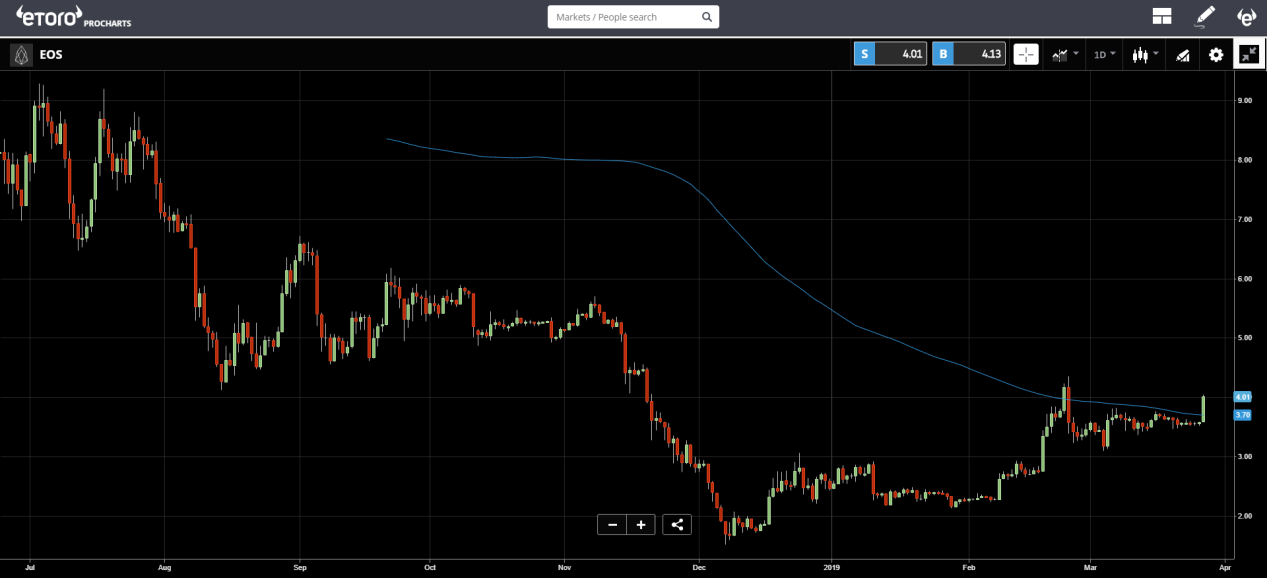 (EOS surges after breaking the 200-day moving average | Source: eToro/Mati Greenspan)
BCH and XLM also rose sharply, up 8% and 6.68% respectively, and the total market value of cryptocurrencies increased by $5.5 billion.

In order to facilitate reading and understanding, the translation process has been appropriately deleted.
(Translator: Coin King. Reprint, please indicate the source.)
We will continue to update Blocking; if you have any questions or suggestions, please contact us!
Was this article helpful?
93 out of 132 found this helpful