Buffett, one of the world's most talented investment masters, founded the Buffett Lunch, which is known for his charitable significance and the value of face-to-face communication with his masters. On June 1st, the 20th Buffett Charity Luncheon ended its auction at eBay at 10:30 Beijing time. The transaction price hit a record high of US$4.5677 million (about RMB 31.54 million). And the record of the transaction price is a Chinese, and is a 90-year-old, but also a blockchain founder.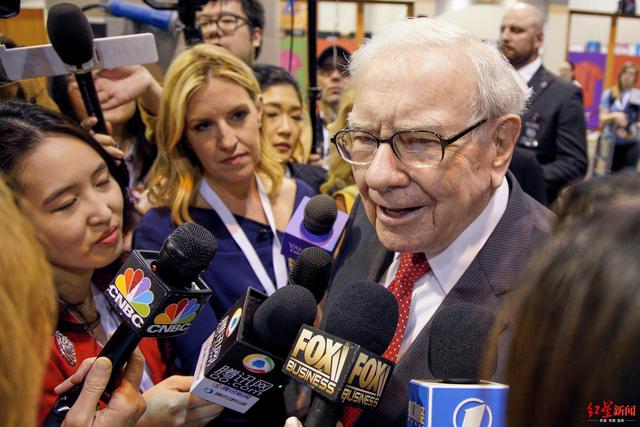 ↑ Buffett was interviewed by reporters. According to Oriental IC
China's post-90s entrepreneur, cryptocurrency wave field TRON founder and BitTorrent CEO Sun Yuchen announced on Weibo on Tuesday that he was the winner of Buffett's 20th anniversary charity luncheon. In an open letter published in the media, Sun Yuchen said that he would invite celebrities from other blockchain industries to New York to have lunch with the legendary value investor. When Buffett was asked how he commented on the Chinese cryptocurrency entrepreneur winning the charity lunch, he laughed and said that he was looking forward to the lunch.
Some media have turned out Buffett's "old bottom". He used to be skeptical about Bitcoin. Since 2013, Buffett has repeatedly criticized Bitcoin, calling it "the square of rat medicine" and "the illusion of attracting scammers". . At this year's shareholder meeting, Buffett also criticized bitcoin speculation as if it were gambling in Las Vegas.
So, for Buffett's smile and response, I can only understand that Buffett will use lunch as a pure charity banquet. Since it is to be charity, the process and results can be separated, even in industries that I once disliked. People eat, in order to achieve more people to get donations, it is not difficult to make a choice.
More attention is naturally on the Chinese post-90s blockchain entrepreneurs. Sun Yuchen has received the expected public attention at a high price, which is also the best path for a start-up and founder to open up social influence. one. Before Sun Yuchen, many Chinese entrepreneurs have adopted the same strategy. In the past 19 Buffett lunch auctions, a total of three Chinese eventually became lunchers with Buffett, including Duan Yongping, founder of Backgammon in 2006, Zhao Danyang, private equity in 2008, and Zhu Xi, former chairman of Tianshen Entertainment in 2015. .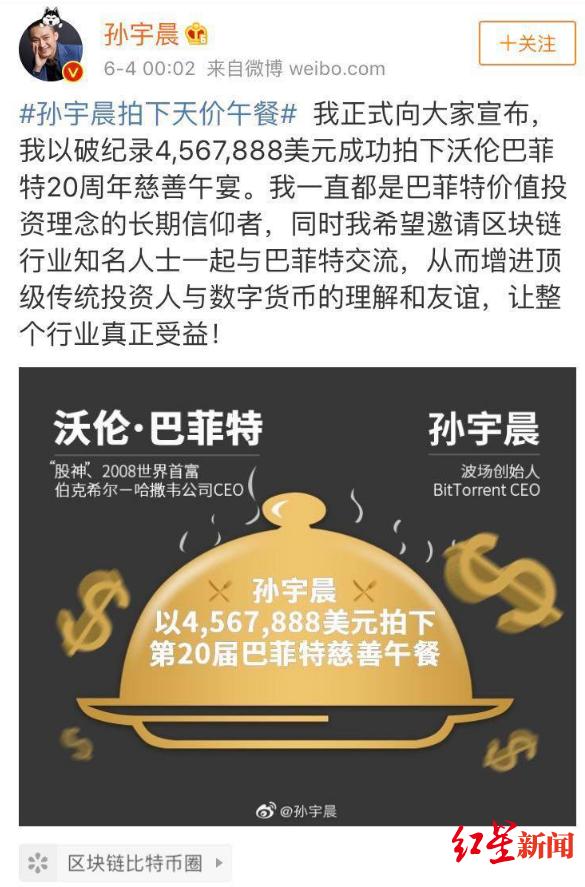 What's more interesting is that Shi Yuzhu, the founder of the Chinese business community and the founder of the Giant Group, also emulated Buffett and launched the Chinese version of "Charity Lunch". At that time, a young man after 80 years spent 2.13 million and made a joint effort with Shi Yuzhu. Lunch, this is the founder of the group loan network Tang Jun. Through the lunch with Shi Yuzhu, Tang Jun quickly became famous in the society, and also received the resources support of Shi Yuzhu. In just a few years, he became the real controller of the listed company's derivative technology, group loan network, Xiaohuang dog and other companies. However, in March this year, he was surrendered to the police for allegedly illegally attracting public deposits.
Even if you have lunch with Buffett, there is no guarantee that the future will be smooth. In May of last year, Tenjin Entertainment (002354) was temporarily suspended. Due to the investigation of Chairman Zhu Xi, Tianshen Entertainment suffered a huge loss of 7.151 billion in 2018. The thunderstorm caused the stock market to be in turmoil and was investigated by the regulatory authorities. Obviously, Zhu Xi did not really learn the value of Buffett's investment.
"Buffett lunch" is Buffett's own qualifications and fame, in exchange for more entrepreneurs, rich and old people to pay attention to social public welfare undertakings, I believe that the vast majority of participating auctioneers, also on the one hand to listen to investment masters to do things successful experience, another In the face of the original intention of global philanthropy. But it is undeniable that there will inevitably be some people who regard "Buffett lunch" as a feast of speculation speculation, with millions and tens of millions of bets on a fast-moving, close-fated gambling label. Whether it was Zhu Xi, who had been eating with Buffett himself, or Tang Jun, who was the "Chinese version of Buffett Lunch," the final failure seemed to point to something ambiguous: Could it be that "Buffett lunch" became the "Buffett curse"?
In fact, this has nothing to do with Buffett himself. Through lunch, Buffett has achieved the goal he wants: First, treat the successful bidders with high prices and exchange their experiences in investment, business and so on. Second, raise funds through lunch. And all of them are applied to the social groups in need. And two people from different worlds and different dimensions, even if they sit together for a few hours and eat a meal, they can't change their outlook on life, career and values. Buffett can only give lunchers. Goodwill, initial heart, and if the starting point is to turn this lunch into a personal show, and even as a tool for future hype, it is Buffett himself can not control.
Therefore, don't let "Buffett lunch" become "Buffett curse", this sentence is not to listen to Buffett, but to some high-priced auctioneers.
Everyone must realize that the standardization and rule of law operation of China's market economy is maturing. Whether in the investment field or in the field of entrepreneurship, the mentality of investors and most entrepreneurs and employees is becoming more mature and rational, following the law of market value and letting enterprises Growth gives investors the right return, which is the root of a company's founders and a company that has a long-term perspective. The reason why Buffett has stood up for decades is based on his long-term concern for such truly market-worthy companies, rather than participating in various types of follow-up and hotspots. If you don't realize this, you can't make the next Buffett if you spend more money on lunch with Buffett.
Respect the wise old man of Buffett, respect the charitable intention of Buffett Lunch, respect the IQ of the Chinese, and be the basis for his own world and long-term recognition. This sentence is willing to cooperate with all Chinese entrepreneurs who participated in the Buffett Lunch. mutual encouragement.
Red Star News Special Commentator Bi Wei