After hitting a high of $9,000 on May 31, the BTC seemed to have completely lost its upward momentum and began to decline.
In the early hours of the morning, BTC once again showed a diving market. The data shows that at around 7 am today, BTC plunged 800 US dollars in just one hour, and fell by nearly 10% in one hour. The intraday price fell below the 8000 dollar integer mark, and a wave of rebounds at the end of last month was suffered. All of them retreated, and the price hit a new low since May 23.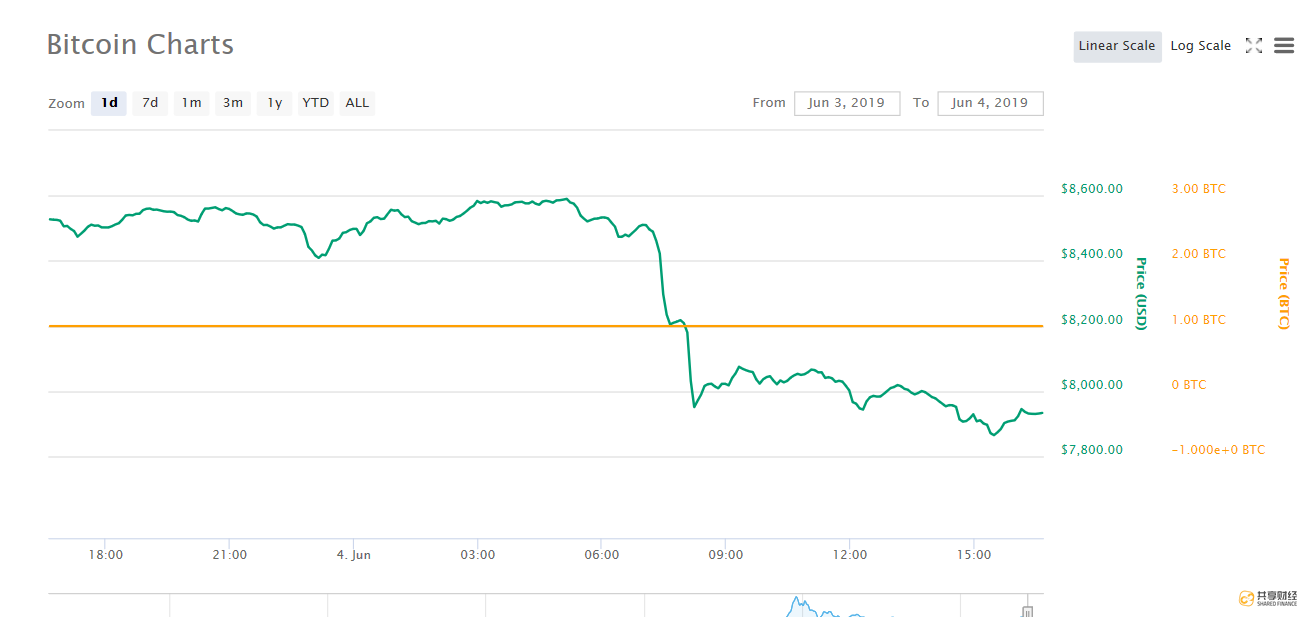 Not only that, BTC's leading decline also affected the entire market, as of the time of publication, in the top ten mainstream currency in the market value, in addition to the BSV still maintained more than 4% increase, the other mainstream currencies have seen a lot of decline. Among them, mainstream currencies including ETH, XRP, BCH, LTC, EOS, etc., all fell by more than 6%.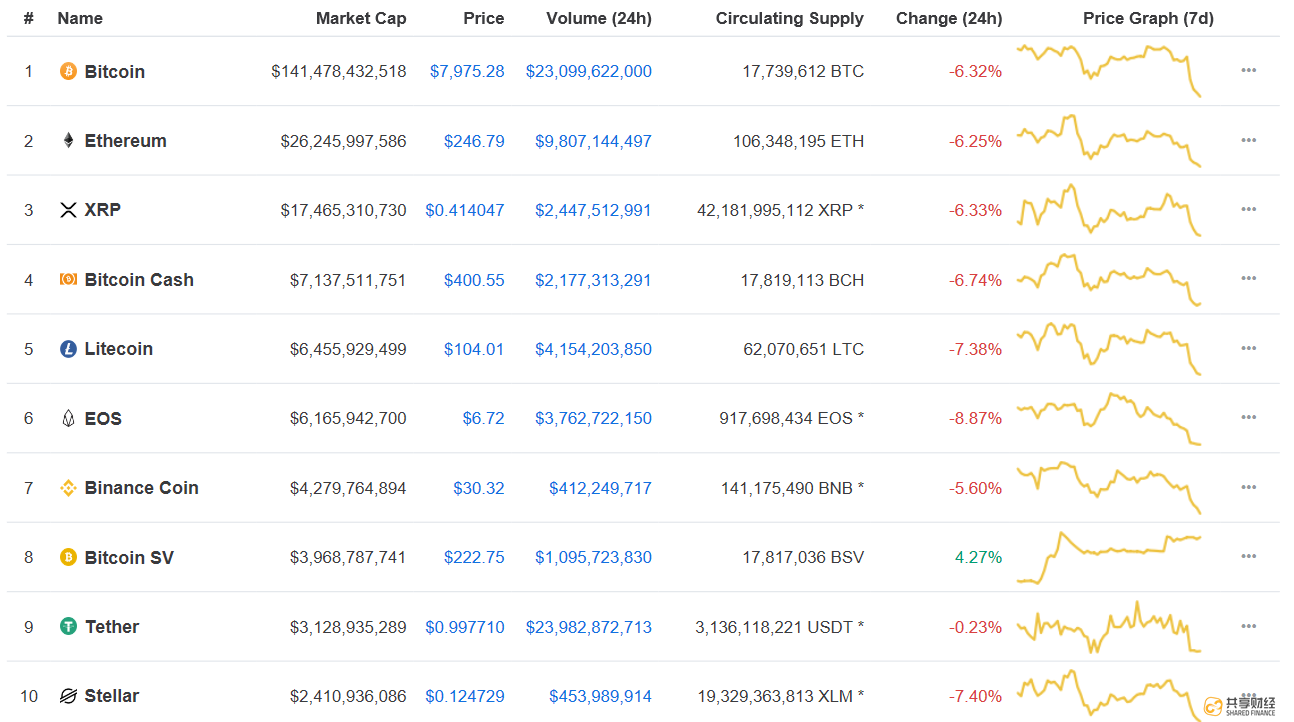 The bad behind Buffett lunch
At the same time that the BTC fell below $8,000, it was also striking that Sun Yuchen took a photo of Buffett's lunch.
At 0:02 in the morning, the founder of the wave field, Sun Yuchen, said on Weibo that he successfully photographed Warren Buffett's 20th anniversary charity lunch with a record high of $4,567,888.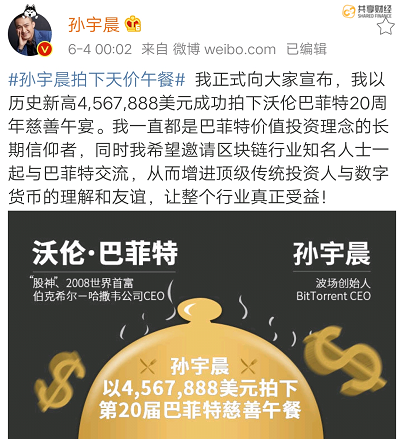 The cryptocurrency entrepreneur took a picture of Buffett's lunch, which seems to be a good thing to smash the currency, but in fact, users of cryptocurrency do not buy it.
According to Sun Yuchen, he has always been a long-time believer in Buffett's value investment philosophy. He also hopes to invite celebrities in the blockchain industry to communicate with Buffett. At the same time, he also expressed his hope to introduce Buffett to Buffett through the auction luncheon. The cryptocurrency industry has changed over the past 10 years and has changed Buffett's previous views on cryptocurrencies. This makes Sun Yuchen an evangelist of cryptocurrency.
However, in the eyes of those who are familiar with Sun Yuchen's previous style of currency, Sun Yuchen's move can be said to be an epic marketing.
"Cheats, cut leeks, marketing, packaging life, the currency circle Jia Yueting", open a microblogging about Sun Yuchen's topic, such comments occupy the vast majority.
And a media person in the currency circle also said in the circle of friends, "Sun boss spent more than 30 million RMB and Buffett to eat a meal, do a round of communication, pull a plate, cut a wave of leeks, and then come back. Indeed admire Sun boss Philip, he has a very good input-output ratio every time he decides."
It turns out that although Sun Yuchen announced the news of Buffett's luncheon, TRX has risen by nearly 7% for a short time, but this still failed to stop the decline of TRX.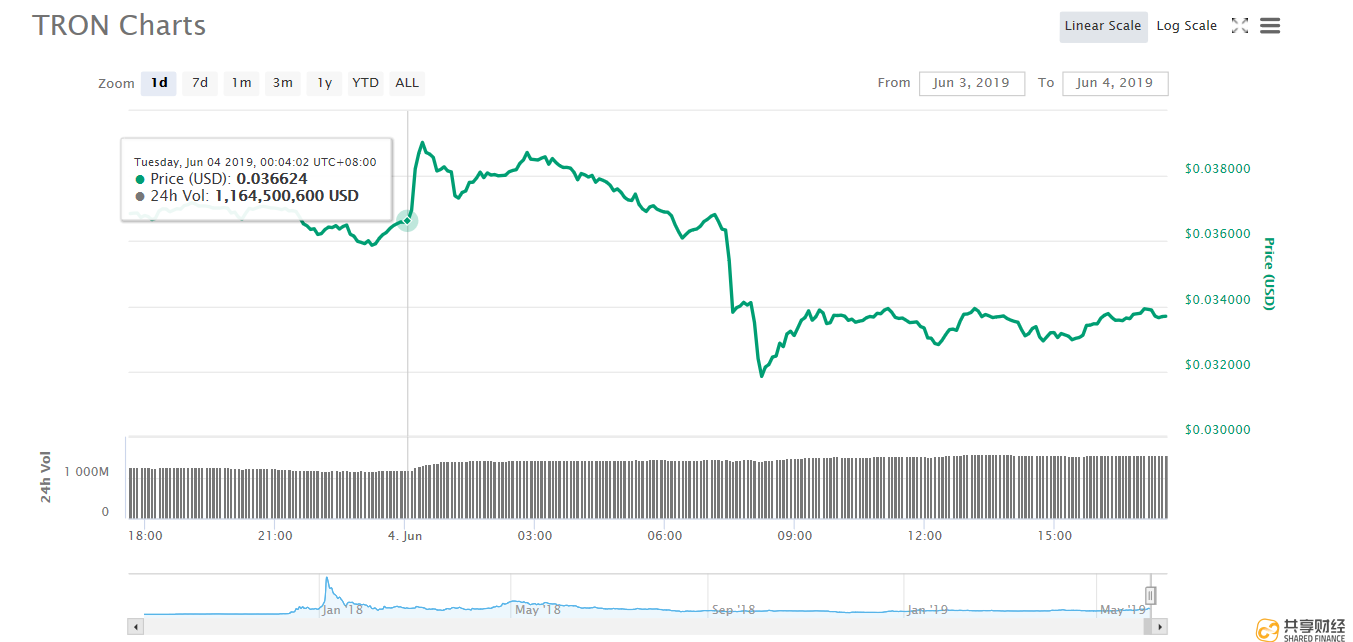 It is worth mentioning that Buffett and his old partner Munger are not fans of virtual currency such as Bitcoin. On the contrary, Buffett has publicly attacked Bitcoin on many occasions in the past, and has clearly stated that Bitcoin is not an investment. It's gambling, and you won't invest a dime for it.
When Bitcoin was more than 100 US dollars, Buffett said that Bitcoin was a rat poison. When a reporter asked him, Bitcoin rose from more than 100 US dollars to more than 9,000 US dollars. What do you think of this? Buffett replied: "It may be a mouse." The square of the medicine."
At the 54th annual general meeting of Berkshire Hathaway, held on May 4 this year, Buffett once again criticized Bitcoin. He told the media that Bitcoin is a "gambling device" that does not produce anything substantial. Bitcoin "that limited use" is related to fraudulent activity. For example, he can smash the button on a piece of clothing, use it as a small token, and then sell it to others for $1,000 to see if it will rise to $2,000 in a day.
Munger's metaphor for this is "more awkward", and he believes that bitcoin speculators "are celebrating the life and work of the traitor Judas in the Bible".
It can be seen that whether it is Sun Yuchen or Buffett, one is a coin-operated ghost who is not using marketing means, and the other is a commercial tycoon who scorns the cryptocurrency. The collision between the two, whether for the insiders or outsiders, has the reason to look at the cryptocurrency.
When the futures contract expires?
In addition to speculation about the bad news behind Buffett's lunch, there is another saying that the BTC waterfall market may be related to the expiration of futures contracts.
Today, Coindesk said that bitcoin futures will usually "fill in" the gap at the end of the weekend trading period and resume trading on the next Monday. However, if the demand for futures contracts suddenly increases, there will be a larger gap, so once the price returns to normal, there will be a greater risk of falling.
According to Coindesk, from May 27 to June 3, the Chicago Mercantile Exchange's bitcoin futures positions (open positions) reached 5,190, a record high and 7% more than the previous week. May 31 is the last day of trading on the Chicago Mercantile Exchange futures market, and the contract settlement takes place on June 3 trading hours.
According to previous data, the spot price of Bitcoin fell to $6,600 on May 17, after which the larger buying pressure caused the price to rise again to over $7,300, "filling in" 11.74% of the futures market left 4 days ago. gap.
The same thing happened on May 31, when Coinbase's bitcoin spot price climbed to $9090, then fell back below $8,000 (down 11%), and then resumed the bullish trend again, after only an hour. It has risen above $8,200 – once again, "filling in" the 5.5% gap left by the futures market four days ago.
In this decline, the bitcoin price has fallen sharply since 23:00 on June 23, and the subsequent decline has almost reached 10%. This phenomenon indicates that every time the futures contract is delivered, Bitcoin will There is a downturn, but whether the decline can still be "filled" is still pending market research.
Bitcoin whales manipulate the price of BTC?
With the fall in bitcoin prices today, the price of bitcoin has fallen back below $8,000, and there are people who question the manipulation of whales.
Recently, the migration of whales to Coinbase has caused community speculation.
It is understood that at 08:23 in the morning today, the address starting with 3D9Gi4 is transferred to 14160 BTC and 11000 BTC at the beginning of 1Pa8Mb and 3FUcTQa, totaling 25160 BTC, worth about 200 million US dollars. And this move is at a time when bitcoin prices have fallen sharply.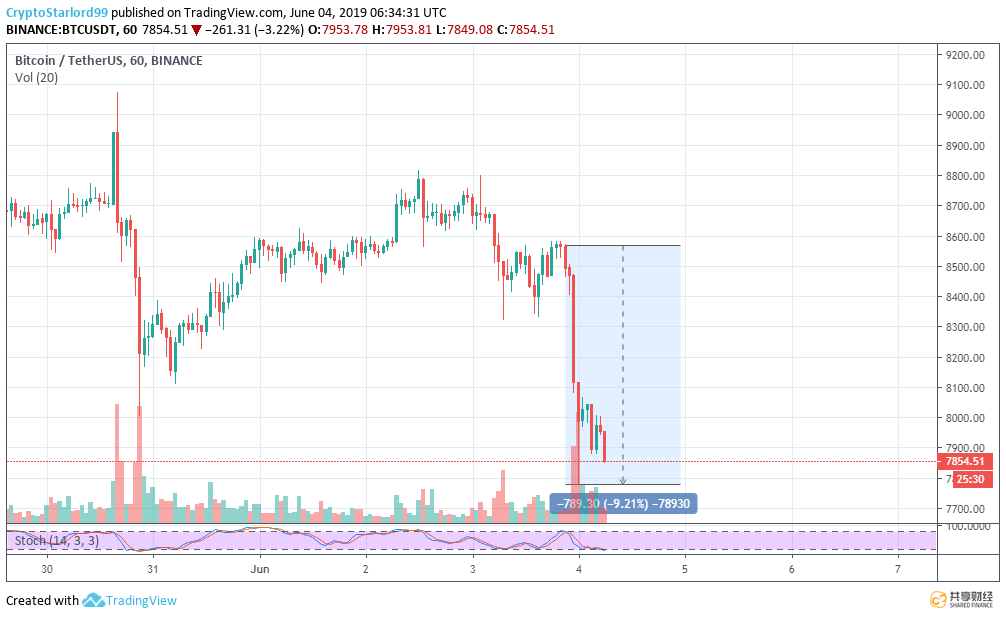 During this period, Bitcoin prices fell by 9.21% in four hours, while Bitcoin whales successfully transferred 25,000 BTCs to Coinbase.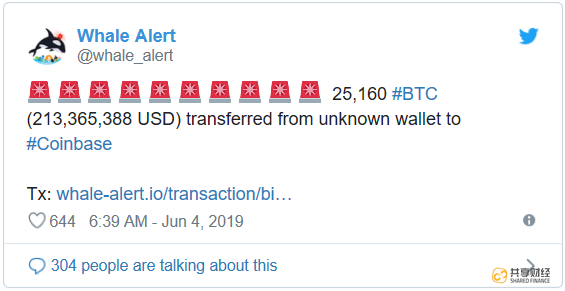 After 25,160 bitcoins flowed into Coinbase, there were two noteworthy outflows, 14,160 bitcoins outflows, and 11,000 bitcoins soon.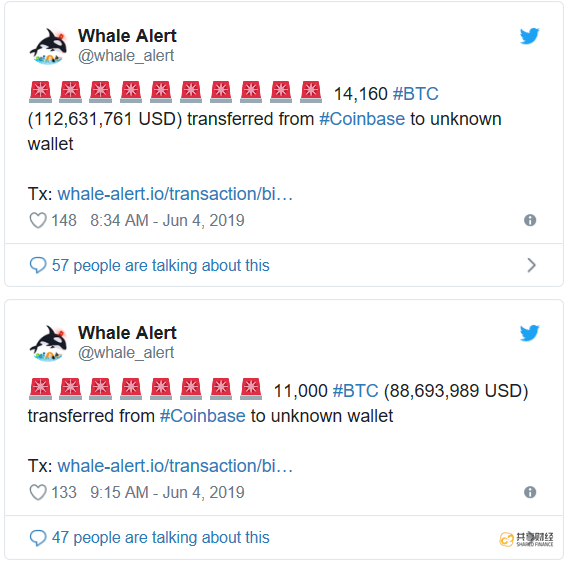 It is worth noting that the amount of the outflow is equal to 25,160 BTCs. It is also worth noting that the initial transaction value was $213.3 million, while the total outflows were approximately $200 million.
Essentially, the whale sold the top and then bought it back immediately, earning $10 million to $15 million in profits in the process. Shortly after the BTC exit, there was also a $10 million USDT move. In response, some analysts said that the bitcoin whales profited from $10 million to $15 million in this operation.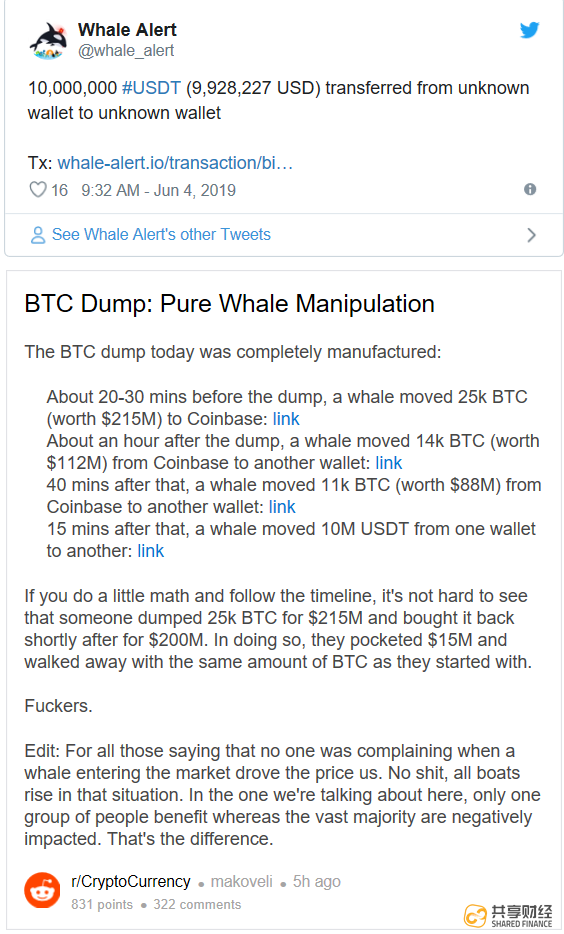 As of press time, the price of bitcoin has warmed up, but it has not broken through 8,000 US dollars.
Author: Sharing Finance Neo