Mutual Chain Monthly Report | May Global Struggle Strengthening Illegal Financing Policy in Blockchain
Author: Mutual Research Institute King pulse chain propelled vehicle
In May, with the skyrocketing of Bitcoin, some changes have taken place in the regulation and support policies of the blockchain. According to the incomplete statistics of inter-chain pulse, in May, the number of policy information related to blockchain support at home and abroad declined, while the amount of policy information on supervision was basically the same, and the supervision of countries strengthened.
Domestically, Tianjin, Fujian and Yunnan provinces are promoting the development of blockchain. Among them, Fuzhou has introduced three policies to support the development of blockchain. Mainly abroad, the United States and Japan still focus on the supervision of blockchain, and France, which had previously disclosed less, is also promoting the development of blockchain supervision.
Domestic blockchain support: Tianjin focuses on cultivating Fuzhou's three policies
Mutual chain pulse According to public information statistics, in May, there were 6 policy information on blockchain supervision in China, which was the same as last month. The main regulatory directions are: Beijing, Yantai City, Shandong Province, and several provinces and cities in Jiaxing City, Zhejiang Province, focusing on rectifying the illegal financial activities under the banner of the blockchain; on the other hand, the Hong Kong Securities Regulatory Commission, strengthening the cryptocurrency Regulation of exchanges, ICO issuers, and crypto assets.
Different from the stable amount of policy information on domestic blockchain supervision, there were 15 policy messages on blockchain support in May, which was down 34.78% from April.
(Cartography: Mutual Chain Pulse Institute Data Source: Public Information)
Among them, Tianjin has the most blockchain support policy information, with a total of three.
On May 6, the General Office of the Tianjin Municipal People's Government issued a notice to clarify the 32 measures to be implemented in the next five years. Including, in the future, the Tianjin Port Block Chain Verification Pilot Laboratory will be built to explore the use of blockchain technology to carry out verification pilots for cross-border trade operations; on May 15, the deputy secretary and district head of Tianjin Yinzhou District Committee said: Construct a blockchain intelligent industry integration development highland. On May 16, Tianjin Netcom Office signed a cooperation agreement with Hexi District Government and China Metallurgical Real Estate Group to build Tianjin Digital Economy Industrial Innovation Center, which will focus on cultivating the development of digital economy industry with blockchain and other technologies. .
In addition, there are two blockchains in the Central Ministries, Fujian Province and Yunnan Province that respectively support information disclosure.
In mid-May, the State Council executive meeting mentioned: the network speeding up and down, the expansion and upgrading of favorable blockchain and other emerging industries; the CPC Central Committee and the State Council issued opinions: promoting the application of blockchain and other technologies in the field of food safety supervision.
Also in the middle of the month, Chengxiang District of Putian City, Fujian Province, said that it will promote R&D projects around emerging industries such as blockchain; Fuzhou also reviewed and approved the "Three Measures for Accelerating the Development of Blockchain Industry in Fuzhou", within three years. Encourage blockchain enterprises to land in Fuzhou through fund subsidies, etc., encourage traditional enterprises to carry out blockchain application and promote the construction and development of blockchain application demonstration projects.
In Yunnan Province, relevant information disclosures were made at the beginning and end of the month. On May 4th, "Yunnan Province implemented the "Purple Short Board and Increased Power" provincial key preliminary project action plan (2019—2023)", focusing on the application of blockchain technology as a breakthrough to build "Digital Yunnan"; On the 27th of the month, the digital Kunming development plan will be released in July, which involves promoting the development of the blockchain industry.
Among the remaining provinces and cities, Xiong'an New District and Qingdao City of Shandong Province all raised financial support. On May 6, Xiong'an will build a Baiyangdian governance blockchain fund management platform with an investment of 146 million yuan. On May 20, Qingdao teamed up with Qidi to sign a 1 billion yuan Kaixin Financial Technology Venture Capital Fund, investing in blockchain and other technologies. field.
Foreign: US and France re-regulate India's draft support
Mutual chain pulse statistics, in May, there were 20 relevant information on foreign blockchain regulatory policies. Among them, the United States and Japan still publish the most relevant information on supervision, followed by South Korea and France.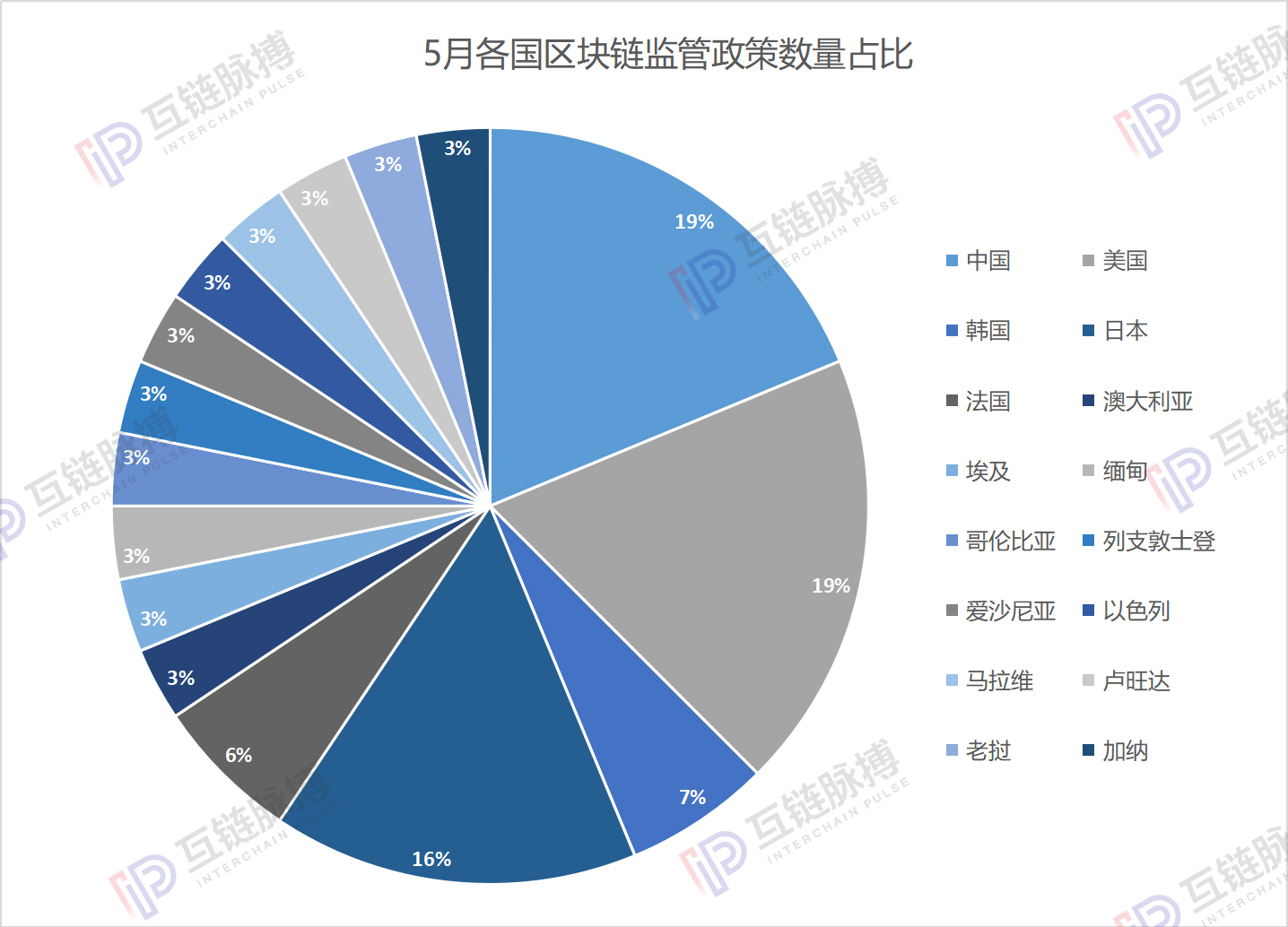 (Cartography: Mutual Chain Pulse Institute Data Source: Public Information)
There are a total of six policy information releases on blockchain regulation in the United States, and the focus remains on issues such as cryptocurrency fraud and digital asset markets.
On May 1, the US Department of Justice cracked down on two suspects who provided "shadow banking" services for encrypted exchanges, involving Bitfinex; on May 2, the New York Police Department reminded the public to beware of fraudsters posing as social security administration officials for BTC fraud. On May 7, the US Department of Homeland Security warned that robots are using inefficient transactions on decentralized exchanges; on May 9, the US Securities and Exchange Commission will add four new positions to regulate the digital asset market; on the same day, the US House of Representatives The new working group will review the blockchain and cryptocurrency; on May 21, the IRS announced that it will introduce a new cryptographic tax guide.
There are five relevant regulatory information in Japan. The most important one is that on May 21, the Japanese House of Representatives plenary voted to strengthen the financial algorithm for the regulation of cryptocurrency trading services and trading activities and the amendments to the Financial Commodity Exchange Act. . The amendments include changing the name of "virtual currency" to "encrypted assets", including margin trading into regulatory objects, and so on.
France, which had less information before, had two pieces of information on blockchain regulation this month. On May 7, the French Financial Markets Authority's annual report mentioned that 118 entities or websites involved in cryptographic assets activities have been warned; on May 15, the French Financial Markets Authority announced that it will discuss blocks with the Israel Securities Authority. Regulatory issues such as chains and encrypted assets.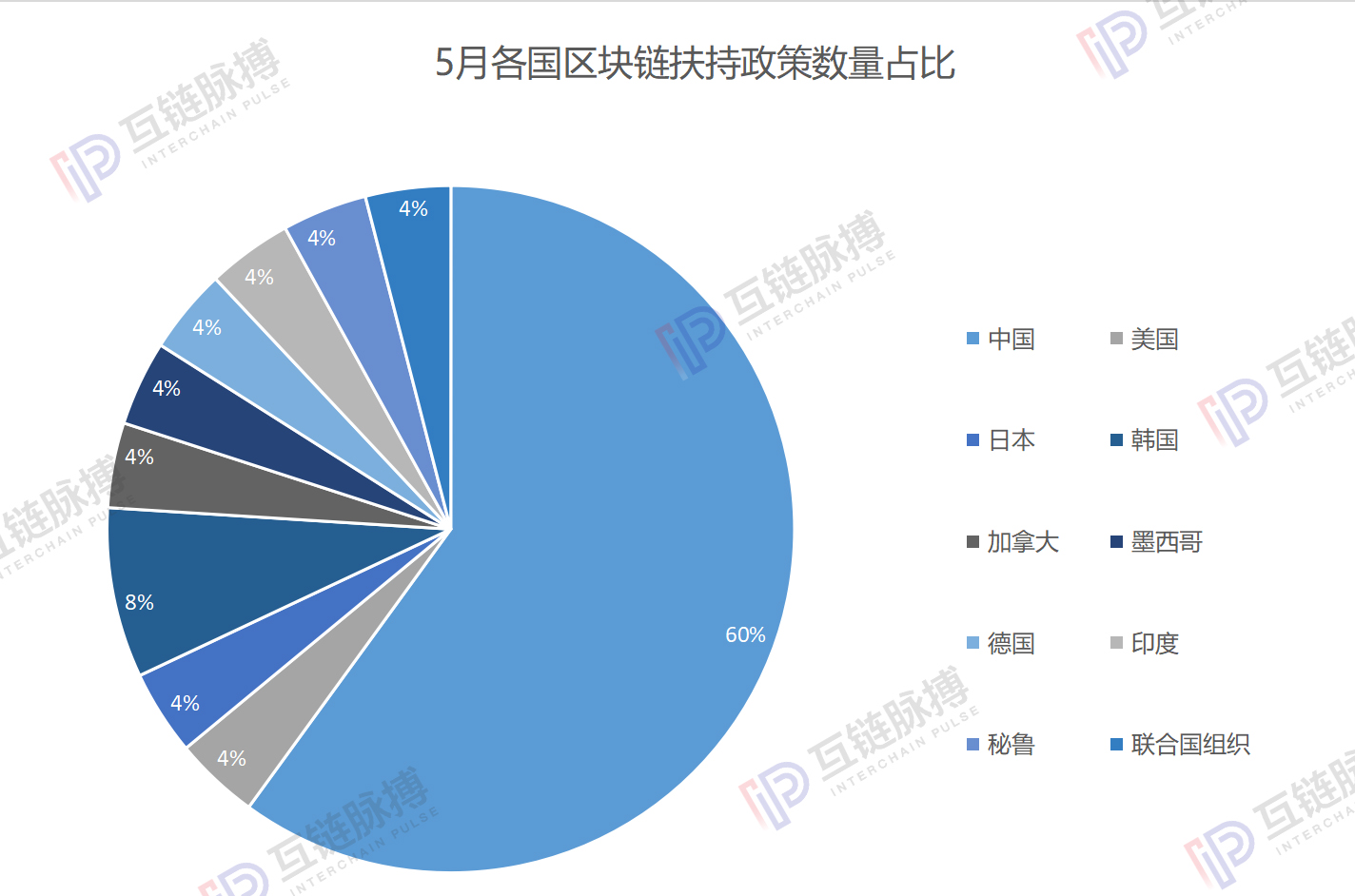 (Cartography: Mutual Chain Pulse Research Institute Data Source: Public Information) In May, there were fewer relevant information on foreign blockchain support policies, with a total of 10, which decreased from the previous month.
Among them, there are 2 support materials in Korea. On May 2, the Korea Financial Services Commission has appointed nine financial companies to provide innovative services using new technologies such as blockchain. On May 6, South Korea released the "World's Top Five Venture Cities Seoul Promotion Plan", which is planned to be a blockchain. New world bases will be built to create Seoul's world-class entrepreneurial city.
In addition, Japan, Mexico, and Peru are pushing blockchain technology to apply to the real economy; Germany is planning to establish a European blockchain research institute; India's Telangana state has issued a draft blockchain policy to bring companies to the forefront. Funding and policy support. 100 organizations, including the United Nations World Food Programme, will also work with the World Economic Forum to accelerate blockchain deployment.
Mutual Chain Pulse Statistics of Blockchain Policy for May 2019:
This article is [inter-chain pulse] original, the original link: https://www.blockob.com/posts/info/15723 , please indicate the source!
We will continue to update Blocking; if you have any questions or suggestions, please contact us!
Was this article helpful?
93 out of 132 found this helpful