Read the text of Hong Kong's digital currency regulation
Text | Niu Niu Editor | Tong Source | PANews
Recently, according to the Hong Kong media The Standard report, Wei Jianxin, executive director of the law enforcement department of the Hong Kong Securities and Futures Commission (SFC), said that SFC is focusing on ICO (initial coin offering), trading and sales of cryptocurrency. Fraud in the process.
This is not the first time that SFC has expressed "concern" about behaviors such as ICO. For example, as early as June 27, 2018, SFC said in its annual report that it would "close attention" to cryptocurrencies and ICOs. SFC believes that blockchain technology is "accompanied by risks" and therefore "intervenes" when necessary.
As everyone knows, Hong Kong adopts the Anglo-American legal system and pursues that "the law does not prohibit it." Facing the emerging industry of blockchain, Hong Kong's regulator SFC is gradually exploring and gradually introducing some relatively clear regulatory measures. At the same time, it reminds the public and even warns of potential investment risks in the cryptocurrency market.
China's mainland financial commentator Xiao Lei believes that the regulatory attitude of the Hong Kong market may become stricter in the future: "While Hong Kong has certain tolerance for financial innovation, if it is found to be difficult to achieve effective supervision, there will be greater industry information. When it comes to barriers, it will look more conservative."
This article will examine the regulatory styles and trends of Hong Kong regulators in ICO, exchanges and derivatives trading, STO, sandbox, etc. from the regulatory level. A cautious and open regulatory attitude, high compliance costs, is Hong Kong a "shelter sanctuary" for the encrypted world?

Blockchain "Great Escape"
Although Hong Kong has always been an international financial centre, the reason why Hong Kong has attracted widespread attention in the blockchain industry in China is to start from the end of August and early September of 2017.
On August 30, 2017, the China Internet Finance Association issued the "Prompt on Preventing All Kinds of Risks Related to Investing in the Name of ICO". On September 2, 2017, the Office of the Leading Group for the Special Remediation of Internet Financial Risks went to the provincial and municipal financial offices ( Bureau), issued the "Notice on the cleanup and rectification of the issue of token financing."
On the day of the Chinese blockchain history, on September 4, 2017, seven ministries including the central bank issued a joint announcement, which clearly defined ICO as illegal fund-raising, strictly prohibited, resulting in a sharp fall in currency prices. The cloud currency network and other large-scale cryptocurrency platforms at that time were shut down.
Overnight, the blockchain project began to collectively plan to "go to the sea".
The next day, on September 5, Hong Kong SFC issued the "Statement on the First Token Release" on the official website, but unlike the attitude of mainland supervision, SFC said, "Although the digital tokens sold in the general ICO are usually considered to have 'Characteristics of 'virtual goods', but according to the facts and circumstances of individual ICOs, the digital tokens sold or sold may be 'securities' as defined in the Securities and Futures Ordinance and regulated by Hong Kong securities laws" .
SFC's clear "not a one-size-fits-all" attitude has led many companies in the cryptocurrency sector in the Mainland to move to Hong Kong to find "refuge". For example, Binance has opened an office in Hong Kong; there are even many exchanges that have moved their headquarters directly to Hong Kong. According to Caijing, at the end of 2017, among all the businesses of Hauzen, the Hong Kong Union of Anjie Law Firm, the number of Chinese companies related to digital currency has increased, accounting for about 50% of the total business.

Strict supervision without "one size fits all"
Hong Kong, as the first stop for mainland enterprises to enter the sea and the hub for overseas companies to enter the mainland, has the opportunity to use its own geographical, policy, financial resources and other advantages to become one of the important international blockchain centers. One of the most important factors in these factors is Hong Kong's regulatory policies for the blockchain and encrypted digital industries.
Hong Kong regulators have adopted different regulatory strategies for different situations, but they are also becoming stricter. As stated in the September 5 statement above, the SFC stated that if the ICO issuing token is defined as a security, it will need to be regulated by Hong Kong securities laws.
What is "securities"? The SFC also explained in the statement: (1) can represent a "share" of a company; (2) can be used as a "debt certificate"; (3) can be used to obtain a "collective investment plan" income. Moreover, if there is a Hong Kong public among the ICO project participants in the "securities" category, then regardless of whether the project party is in Hong Kong, they are subject to the supervision of the Hong Kong SFC, that is, they must be SFC licensed or registered with the SFC.
"If a securities or collective investment scheme (CIS) is involved, the Hong Kong Securities and Futures Commission will deal with it by means of current regulatory measures." SFC Chief Executive Odari said.
Hong Kong's regulatory authorities are indeed strictly enforced. In February 2018, SFC issued a warning letter to seven cryptocurrency exchanges, "warning that they should not buy or sell cryptocurrencies that belong to 'securities' without a license." In addition, SFC also wrote to seven ICO issuers, most of whom have confirmed compliance with the regulatory system, or have immediately stopped selling tokens to Hong Kong investors.
In March 2018, SFC also directly called the ICO event of a crypto company, Black Cell Technology, because the ICO event was an unregistered collective investment plan (CIS), which was classified as "securities". Also, SFC requires Black Cell to refund funds from Hong Kong investors who have subscribed for tokens.

Cryptocurrency derivatives services need to apply for a securities license
On December 11, 2017, the Hong Kong SFC issued a Circular to Licensed Corporations and Registered Institutions: About Bitcoin Futures Contracts and Investment Products Related to Cryptographic Currency. The circular reminds that "Hong Kong investors can buy and sell Bitcoin futures contracts through intermediaries, but providing trading services and related services (including communication or delivery of trading orders) to Hong Kong investors constitutes a regulated service, regardless of whether the business is located or not. Hong Kong must apply for a licence from the Securities and Futures Commission."
in particular:
(1) A person or institution that operates a Bitcoin futures trading service (including the communication or transmission of Bitcoin futures trading orders) is required to be licensed under the Securities and Futures Ordinance for Type 2 regulated activities (futures) Contract transaction);
(2) Funds that promote investment in Bitcoin futures usually constitute Type 1 regulated activities (dealing in securities).
(3) Management (2) The fund may constitute a Type 9 regulated activity (providing asset management);
(4) The provision of opinion services on bitcoin futures may also constitute a Type 5 regulated activity (providing advice on futures contracts).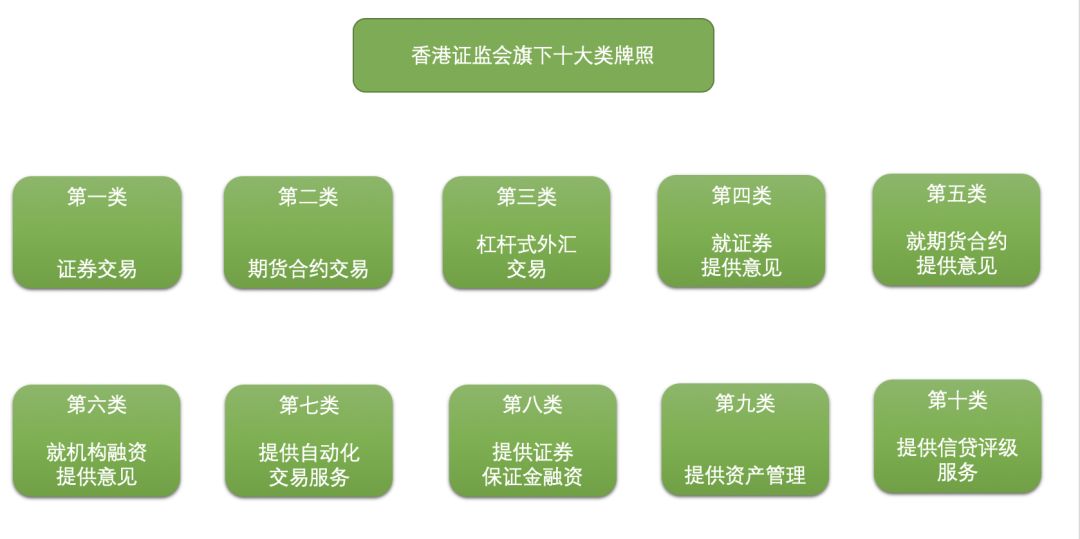 At the same time, Liang Fengyi, executive director of the SFC Intermediary Department, also said: "No person or institution that has applied for a relevant license to the Securities and Futures Commission to pass on the trading instructions for the Bitcoin futures contract to Hong Kong investors may commit a criminal offence."

Cryptographic currency trading platform to explore sandbox supervision
"SFC is exploring the regulation of locally operated digital currency trading platforms, but will not consider completely banned cryptocurrency platforms like the mainland." On October 15, 2018, Hong Kong SFC former chairman Tang Jiacheng once said, "When transactions can cross national borders At one time, a country's ban will not play any role in today's Internet world. Even if regulators ban these cryptocurrency trading platforms, transactions can still be easily carried out through overseas platforms. The SFC will carefully consider various methods because these platforms It is a new technology and cannot be treated as a security."
On November 1, 2018, the SFC issued the "Statement on the Regulatory Framework for Management Companies, Fund Distributors and Trading Platform Operators for Virtual Asset Portfolios" and attached "Probability to Regulate Virtual Asset Trading Platform Operators" The Conceptual Framework emphasizes the need to apply for Type 1 and Type 9 licenses. Users must be professional investors. New ICO tokens must be operated for 12 months or have begun to be profitable. Insurance must be purchased for users' virtual assets.
It is worth mentioning that the "CSRC Supervision Sandbox" (referred to as "Sandbox") mentioned in this statement was proposed by Hong Kong SFC on September 29, 2017. The original intention of SFC is to enable innovative technology companies to make better use of financial technology, and to provide a restricted regulatory environment for enterprises to try and explore before they fully promote the financial technology.
Therefore, the essence of the sandbox is an exploratory attempt in regulation. For cryptocurrency trading platforms, if the transaction is not a securities token, there is no need to enter the sandbox.
In the interview with Blockchain Plus, Zeng Junjie, the chief operating officer of the exchange TideBit, said that the digital currency exchange is unlikely to enter the sandbox. It is not difficult to obtain a financial license. If you have money, you can apply. The difficulty is that on the one hand, the Hong Kong Securities and Futures Commission needs to state that your users are professional investors (assets of more than 8 million Hong Kong dollars), not retail investors. On the other hand, to insure 100% of online virtual assets (hot wallets) in the platform, 95% of offline virtual assets (cold wallets) are insured. This will be a huge premium.
"Hong Kong's compliance costs are too high, and we don't consider compliance in Hong Kong." Another founder of the crypto-finance service told PANews.

STO regulation
In terms of STO (security token offering), SFC issued the "Statement on Securities-based Token Issues" on the official website on March 28, 2019, reminding companies or individuals engaged in STO of applicable laws and Regulatory requirements.
The statement states that "in Hong Kong, securities-based tokens may fall under the Securities and Futures Ordinance as 'securities' and are therefore subject to the laws of Hong Kong. Anyone who wants to promote and distribute securities tokens (whether in Hong Kong or Hong Kong investors are required to be licensed or registered for Type 1 regulated activities (dealing in securities) under the Securities and Futures Ordinance unless they are exempted. Otherwise it is a criminal offence."
It is also stipulated that intermediaries who promote and distribute securities tokens must ensure compliance with:
(1) A Class 1 license must be registered or applied, and the securities token should be sold only to professional investors;
(2) Intermediaries that distribute securities tokens should conduct proper due diligence and provide STO information to customers in a clear and understandable manner, and ensure that all information provided to customers is accurate and not misleading. ;
(3) Intermediaries should discuss their plans with the SFC before engaging in any activities related to STO.

Illegal mining or imprisonment
On April 5, 2019, in a written reply to the Hong Kong Legislative Council, Liu Yixiang, Director of the Hong Kong Financial Affairs and Treasury Bureau (FSTB), made clear that the cryptocurrency mining operation was regulated by local trade regulations; Mining activities will be fined $500,000 or five years in prison.
Public investment in education and risk reminders
At the same time as careful supervision, the Hong Kong authorities have not forgotten to carry out relevant education work for ordinary people.
On January 29, 2018, an educational event was jointly launched by FSTB and the Investor Education Center (IFEC) affiliated with SFC to publicize the risks of ICO and cryptocurrency investments. FSTB Deputy Secretary-General Chen Haozhen said that this series of public education activities aims to "make the public form a correct and comprehensive understanding of ICO and cryptocurrencies so that they can fully assess risks before making a transaction or investment decision."
At the same time, IFEC also released information on ICO and cryptocurrency for the public on its Chin Family website.
In addition, every time the SFC issues an announcement, it does not forget to warn the public about security risks. For example, the SFC warning states that "there was a client's assets being stolen or misappropriated on the cryptocurrency trading platform, some platforms have closed down, and trading in cryptocurrencies is relevant. Other risks to the product include insufficient liquidity, high price volatility and potential market manipulation." For another example, Liang Fengyi did not forget to warn investors that when buying and selling cryptocurrency futures contracts and other related investment products, the speculative nature of related assets (ie cryptocurrencies) and the leverage of these products may cause price fluctuations, and Increase the risk of insufficient liquidity."
In order to attract the attention of the public, FSTB Director Liu Yixiang also published an article on the official website at the end of 2018 titled "The Enlightenment of Bitcoin One Year to Investors". In the article, the bitcoin plunging led to the topic that "bitcoin and other cryptocurrencies are highly concentrated and easy to manipulate", "the investment risk is extremely high and difficult to value"; the paper also points out the potential risks of investing in virtual currency, especially ICO is called "high-risk investment activity"; at the end of the article, Liu Yixiang appealed to the public to be cautious in investing in virtual currency, and said that the government will continue to strengthen the risk of educating the public about investing in virtual assets.
It can be said that Hong Kong's regulators have maintained a prudent attitude and have not relaxed.
In terms of blockchain, the Hong Kong government is cautiously seeking regulatory guidance while encouraging compliance development. How to balance trade regulation and encourage development is perhaps a problem that Hong Kong regulators need to face now.
We will continue to update Blocking; if you have any questions or suggestions, please contact us!
Was this article helpful?
93 out of 132 found this helpful