Written by: Henry He, co-founder of SesameOpen, former Google, Nortel Networks employees, computer security and IP routing experts, has made great achievements in the field of token economics.
As an entrepreneur in the field of cryptocurrency, I firmly believe that decentralization is a disruptive innovation. The blockchain implements a new token-based business model that is inherently disruptive to the equity-based business model used by the centralized platform. By combining the competitive advantages of this business model with the right products, the right execution, and the new, correct token economic design, the decentralized network will prosper long-term and ultimately challenge and undermine the centralized platform.
The Internet has disrupted commerce because it has spawned a new business model that extends shopping from physical retail (Business 1.0) to e-commerce (Business 2.0). The blockchain will also subvert the business for the same reason, extending the shopping to the decentralized business, Commerce 3.0 .
The token-based business model eliminates the middleman fees charged by the centralization company and, more importantly, motivates business participants to work together to achieve sustained growth in the business 3.0 ecosystem. The inclusiveness of community-oriented, community-owned and operated (c3o) encrypted networks marks the biggest shift in traditional centralized physical retail and e-commerce platforms, extending business to include all categories and communities, thereby Created a $100 trillion economy.
The Internet has subverted business
Twenty-five years ago, Jeff Bezos founded Amazon , marking the beginning of the commercial 2.0 era. People initially thought that e-commerce would not pose a threat to the physical retail industry that has flourished for centuries. Today, global e-commerce sales reached $2.3 trillion in 2017 and are expected to double by 2021. Amazon has become one of the world's most valuable companies.
Fundamentally, the Internet has disrupted commerce because it provides a new business model for e-commerce that provides consumers with better economic value through low prices. The competitive cost advantage of e-commerce over physical retailing can make prices always lower than physical retail stores – a key factor in the slow but steady e-commerce stealing of consumers from physical retail.
When e-commerce begins to experiment, it provides an experience that is inferior to in-store shopping, and for shoppers, the latter still provides a very familiar and comfortable experience. Amazon wisely chooses to start with a book category in which pricing plays a greater role in product buying decisions. "Low price" changed the behavior of buyers, they would rather give up the better experience of buying books from the scene, and immediately began to try to order books from Amazon and wait for 3-4 weeks of worse experience. Since then, Amazon has improved the experience and expanded into other product categories, creating the Business 2.0 we know today.
Blockchain will subvert business
History tends to repeat itself, and the decentralization movement marks the beginning of the commercial 3.0 era. The token-based business model provides better economic value to business ecosystem participants because it does not charge intermediary fees from transactions, while equity-based business models encourage economic value from participants as much as possible. Especially when the centralized platform dominates. By enabling a competitive business model, the blockchain will disrupt business in the same way as the Internet.
In addition, tokens with good design economy are a brand new tool that is only available for Business 3.0. Tokens enable Business 3.0 to avoid raising risk capital, overcoming the two key challenges facing any web-based product:
The cold start problem, that is, the network will only be useful when it reaches the critical number of users, and can be solved by adding financial utility when the application utility is low;

User access issues can be addressed by using low-cost incentives for token inflation.
Business 3.0: A $100 trillion community-oriented, owned and operated economy
Business 3.0 is defined by a community-oriented, community-owned and operated (C3O) commercial encryption network.
Chain smell note: The reason why it can be referred to as " C3O " is because its English is "Community Oriented, Owned and Operated"
Business 3.0 consists of millions of community-oriented storefronts rather than a few centralized storefronts that support local-based product management, ultra-local pricing, and paid promotions—all of which are used by physical retail stores to increase A very effective strategy for product purchases, but it is difficult to replicate through centralized e-commerce.
In addition, by holding tokens, network participants are the owners of Business 3.0, so they are encouraged to work together to achieve continuous network growth and overcome the challenge of "continuous cooperation". When the centralized platform reaches the dominant position, this The challenge has slowed the growth of the centralized platform.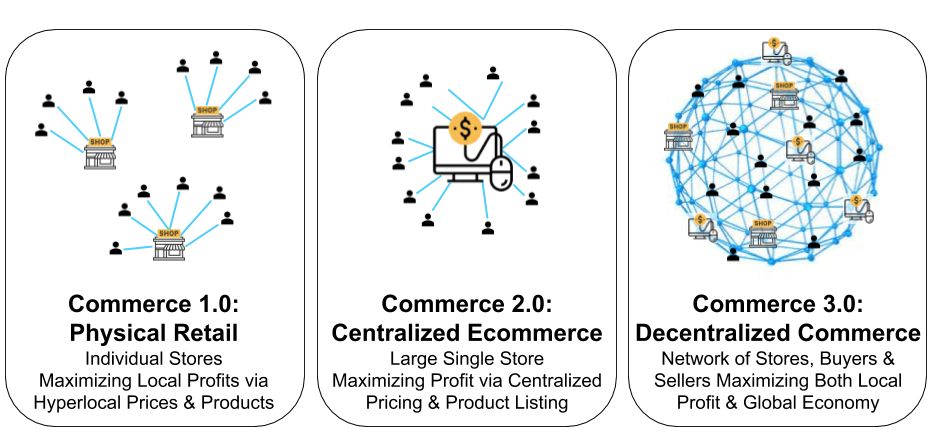 Three eras of business
Community spirit makes business more inclusive, which marks a huge shift in traditional centralized physical retail and e-commerce platforms that are essentially exclusive.
The power of inclusiveness will drive Business 3.0 to expand to all categories globally, even those that are not currently or even considered "commercial", from physical goods and digital products to digital assets, social marketing and peer-to-peer markets, such as Figure 1 shows.

Figure 1: Business 3.0 will power transactions in all business categories worldwide
The key requirement for blockchain disruption commerce is the middle layer protocol above the blockchain layer, which provides the communication infrastructure between the participants and implements the token economy design to spur the rapid growth of transactions and business 3.0.
The key to the success of any token-based project is that a well-designed token economy should create a "token economy network effect" that allows for specific categories of middle-tier protocols that support smaller, more dispersed networks and economies. Dwarfed.
Business 3.0 is fundamentally different from today's situation. Currently, different business categories are dominated by decentralized centralization companies, and Business 3.0 will be the only network that can support most global transactions, with a scale of $100 trillion.
Decentralization is a truly disruptive innovation, and the blockchain brings an inherent competitive advantage to its new business model.
Source: Chain smell