There are two paths to the spread of blockchain technology and across the "gap": bottom-up innovation and top-down transformation

To achieve large-scale application of blockchain technology, it is necessary to create an Internet-level enterprise experience (EX), user experience (UX), and developer experience (DX).

Building a platform is like building a new economic zone. It needs to be built: infrastructure, economic incentives and governance structures.

Boldly assume that the embedding of e-wallets in Facebook, WhatsApp, and Kakao Talk will directly increase the number of digital asset holders to the billions of dollars, and this top-down user transformation is becoming a reality.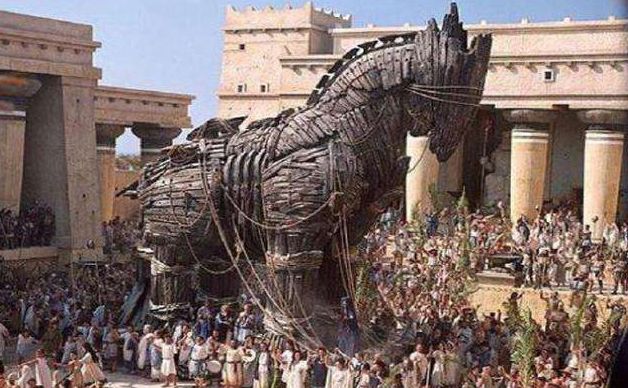 Revelation of Trojan Trojans:
Transforming massive Internet users into blockchain users and occupying traditional markets
The empire map of Facebook and Kakao
Facebook will launch a press release on the June 18th issue of the Libra Project. According to the report, a team led by former PayPal president David Marcus is building an asset-backed cryptocurrency that will operate on Facebook's existing real-time communications infrastructure ( WhatsApp, Instagram and Facebook Messenger ).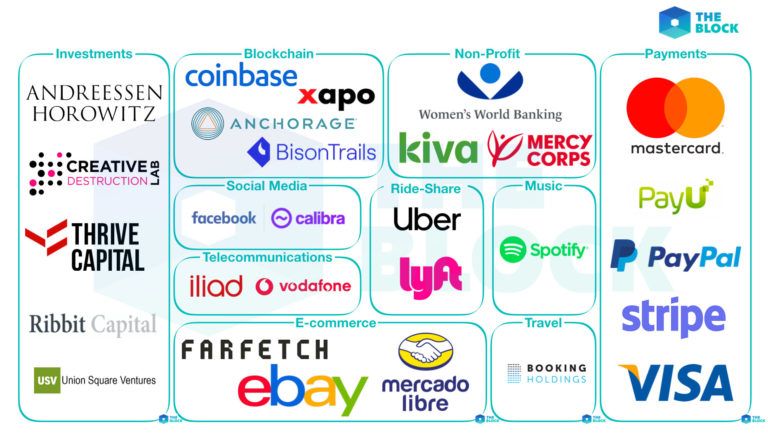 Facebook Libra Program Partner
Recently, leading companies including Visa , MasterCard, PayPal, Uber, US payment company Stripe , Booking.com, the world's leading travel accommodation booking platform, and MercadoLibre, the largest e-commerce platform in Latin America, have joined the Libra program . 26 companies in the six major areas of blockchain, investment institutions, shared travel, payments, e-commerce, social media, and telecommunications. Including 26 companies or organizations including Coinbase Exchange, well-known investment institution Andreessen Horowitz, non-profit organization Women's World Bank, shared travel platform Uber, British multinational telecommunications company Vodafone, online travel provider Booking Holdings and Visa.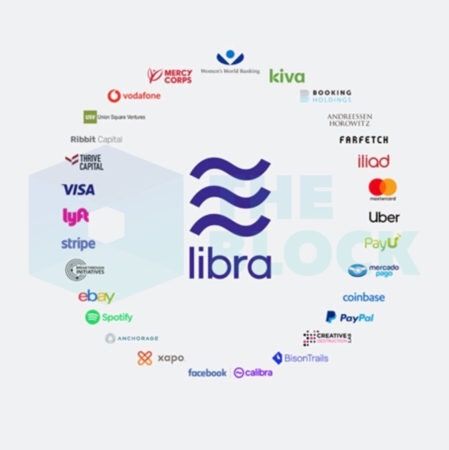 Coincidentally, Asian social giants are also intensively laying blockchains. Like Facebook and WhatsApp in Europe and the United States, WeChat's position in China, in South Korea, there is a Korean "WeChat" used by men, women and children, called "Kakao Talk." In Korea, with a population of 50 million, Kakao Talk has more than 43 million monthly users, and its penetration rate among smartphone users is 95% , which is called "National App" .
Among the Asian mobile social giants, Kakao Talk was launched one year earlier than China's WeChat, and was born half a year earlier than Japan's LINE. In 2014, Kakao completed the merger with Daum, Korea's second largest portal, and became a listed company , renamed Daum Kakao . The current market value has reached 10 trillion won .
If Kakao Talk is against WeChat, then Kakao Eco will be able to match Tencent . Kakao Talk focuses on free use of routes, and uses revenue-based expressions, coupon sales, mobile payments, advertising marketing, game distribution and other commercial means to gain revenue, gradually developing a simple chat application into advertising, mall, travel, mobile payment Kakao Empire of various businesses including AI/blockchain, games, online literature, music/video and IP .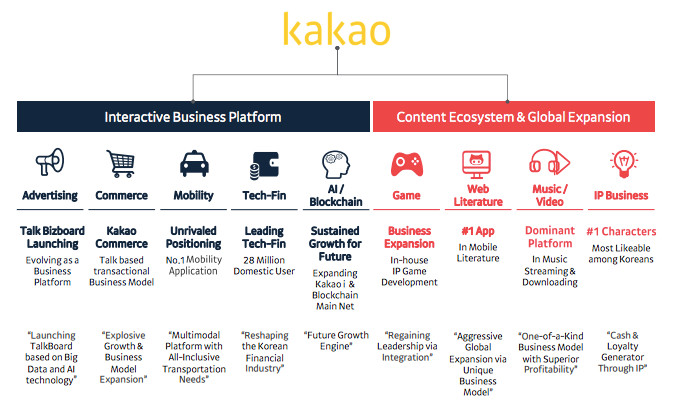 Diversified business: advertising, travel, FinTech, games, AI/blockchain, web literature, music, IP
The Kakao Empire has to be associated with China's BAT. For example, mobile payment Kakao Pay against Alipay Alipay, financial technology Kakao Bank against the standard Tencent Bank, Kakao Games against the Tencent game. In Kakao's IR report, we found a theoretical basis for this intuitive judgment .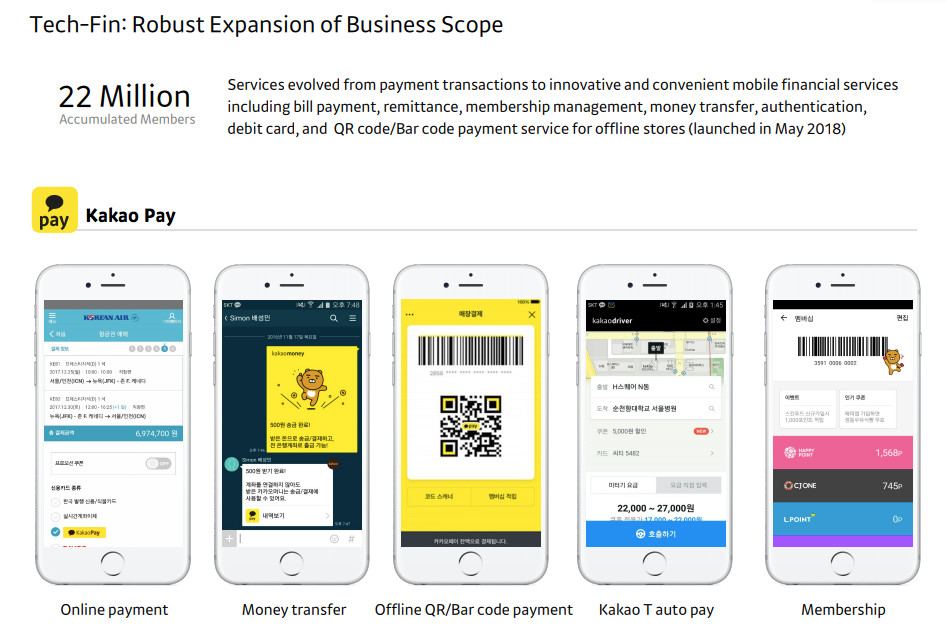 South Korea's "WeChat payment": kakao Pay
Among Kakao's strategic investors, there are ants Jinfu and Tencent . Tencent invested in Kakao Talk for 12 years and obtained 13.84% of its equity; Ant Financials invested $200 million for Kakao Pay in 17 years, and opened Alipay's 34,000 merchants in South Korea; Tencent became the second largest shareholder of Kakao Bank in 17 years. And invested in Kakao Games in 18 years, the investment amount reached 293 million yuan, accounting for one-third of the total financing.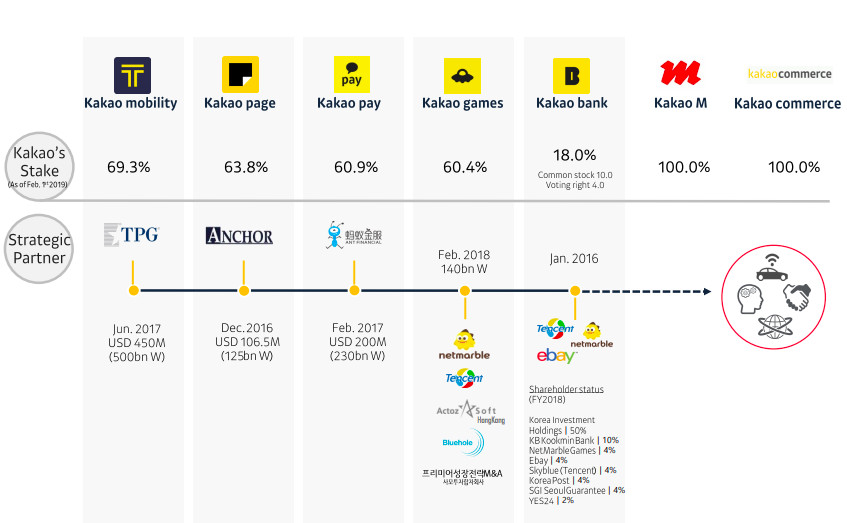 Tencent and Ant Financial are important strategic investors in Kakao Ecology
It can be seen that Kakao has grown from a simple chat tool to a global enterprise with a vertical and horizontal layout , and its growth can be summarized into three stages:
Kakao1.0: Communication (communication)

Kakao2.0: Mobile Ecosystem

Kakao 3.0: Synergy + Global (Collaboration + Globalization)
In the future planning of Kakao 3.0, the strategic layout of "Collaboration + Globalization" will be achieved through four directions:
Evolution of Kakao chat tools

artificial intelligence

Blockchain (Ground X, Klaytn, next generation ecology)

IP industry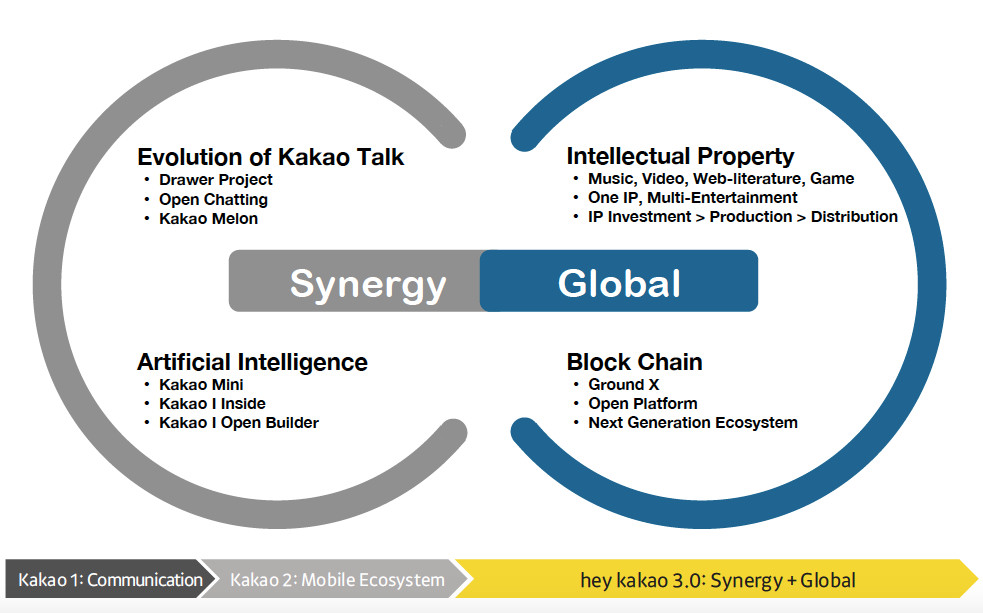 The blockchain will become an important layout for Kakao 3.0, which is not a plan that only stays on paper. Kakao has established Ground X and received a $90 million strategic investment in March 19, led by IDG Capital , Translink Capital, and Crescendo Equity Partners. Ground X is responsible for the development and operation of Kakao's public blockchain platform Klaytn .
Klaytn's mission is clear , becoming the first blockchain platform to achieve large-scale adoption , providing an Internet-level deployment environment and a friendly user experience for millions of users, thus demonstrating the value and utility of blockchain technology.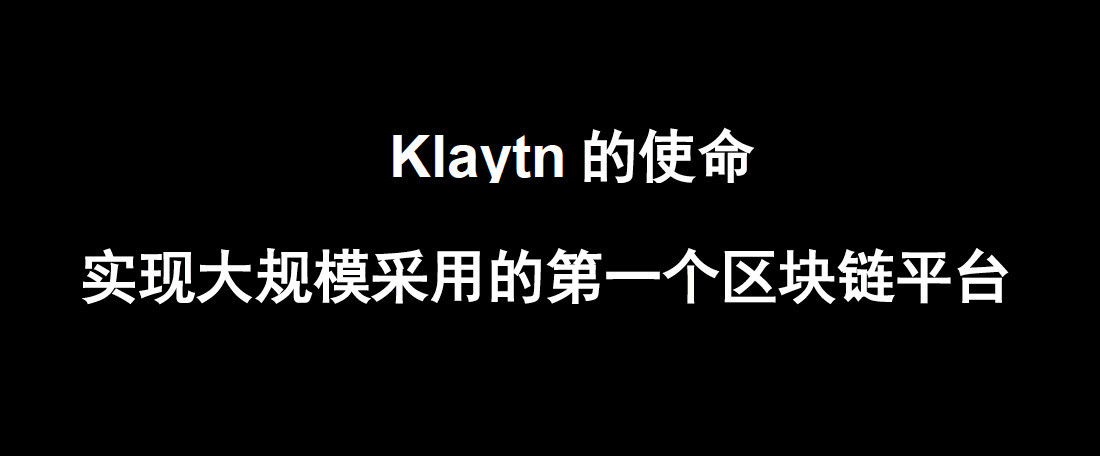 The challenge of massive users: Is the bottom-up revolution or top-down reform?
In the blockchain vs. Internet revolution: Are we in 1994? What should I do next? In the article, we refer to a concept – " The Chasm ". Currently, there are approximately 4 billion Internet users worldwide, and users of the blockchain are still in the "innovator" range of 2.5% of the global population, and have not even entered the early user stage.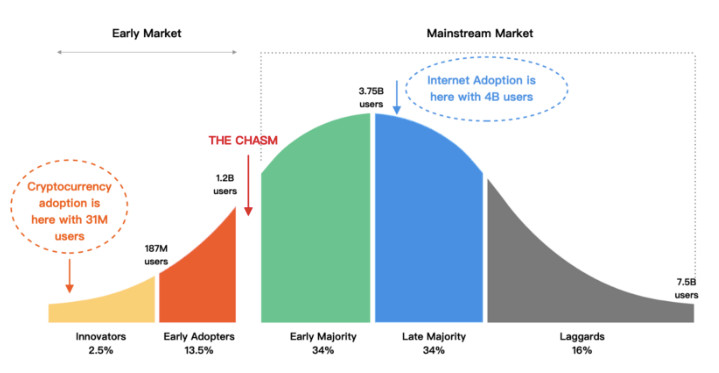 An emerging technology that wants to cross the chasm, from the edge to the mainstream adoption, faces two major dilemmas:
Lack of access to users
Lack of friendly user interface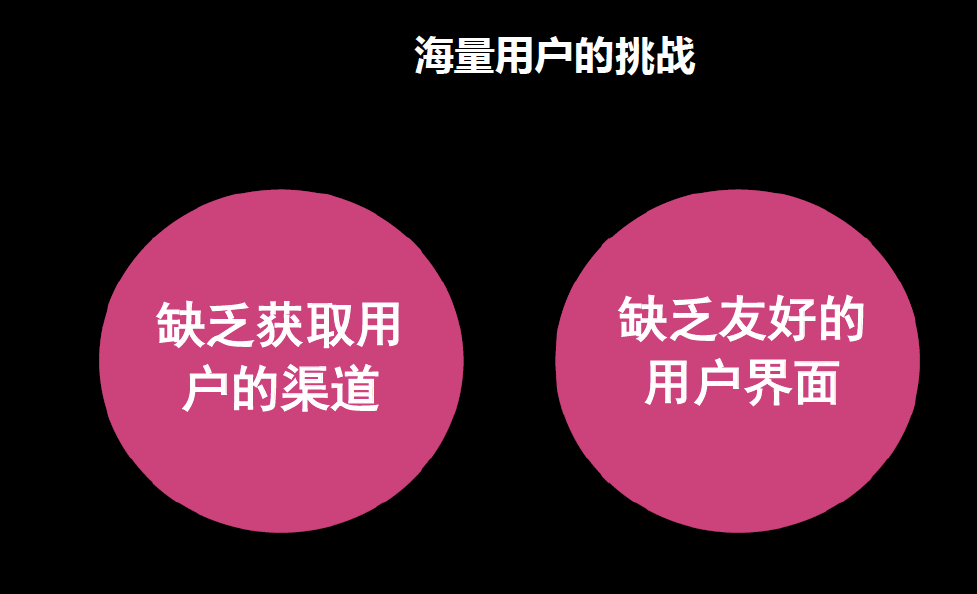 There are two paths to solving these two problems, one is bottom-up, externally driven subversive change, and the other is top-down, internally initiated and improved innovation . The former is represented by Bitcoin, Ethereum, EOS, and the latter by Hyperledger, Quotum, Corda, Klaytn, etc.
So far, the blockchain market has been driven by entrepreneurs and developer communities from the bottom up, they outline a decentralized business blueprint and underlying infrastructure , such as API vs Smart Contract (API vs Smart Contract), Database Vs Blockchain (database vs distributed books) and App vs Dapp (application vs decentralized applications), Finance vs DeFi and more.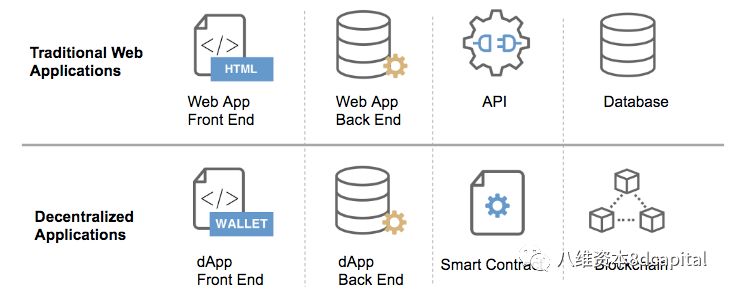 Although subversion sounds very "sexy", another top-down path cannot be ignored. After all, the giants have hundreds of millions of stock users, a sound industrial ecology and strong technical strength.
Previously, most of the giants chose to deploy enterprise cloud infrastructure services , such as Microsoft's Azure, Amazon's AWS BaaS, Oracle's Oracle Blockchain and Baidu's blockchain engine BBE, Tencent's TrustSQL, Ant's ant blockchain, Peaceful accounts and so on.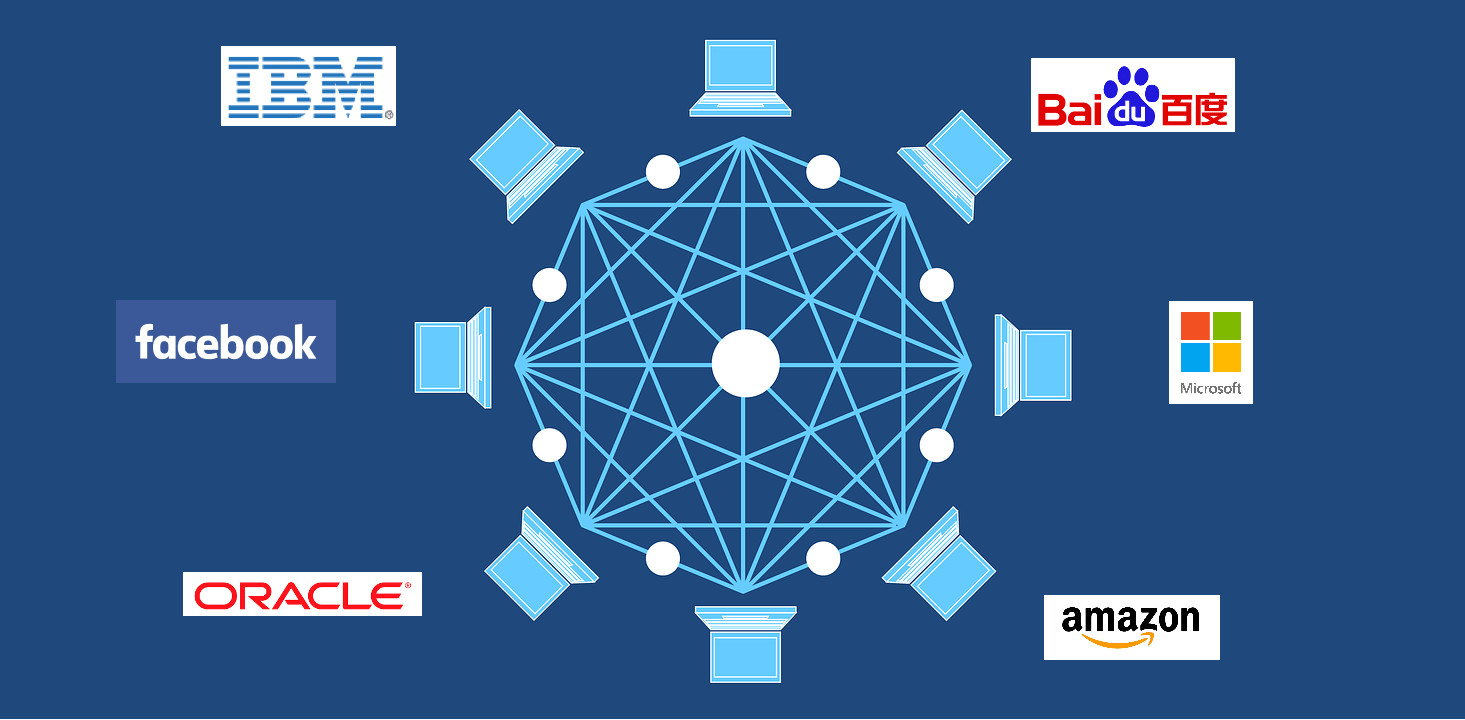 Now, social networks with a large customer base are joining, such as Kakao, LINE and Facebook. If the previous stage is dominated by the lower-level BaaS platform, then we have seen the dawn of BDapp applications.
Facebook is developing a solution that allows stable currency to be paid on its messaging app WhatsApp , while Samsung and HTC recently announced that they are already developing hardware and introducing a built-in digital currency wallet in the Galaxy S10 . The dilemma of blockchain crossing the chasm is the advantages of large To C companies ( Starbucks, Facebook, Wal-Mart, etc.) and financial institutions ( Fuda, NASDAQ, Goldman Sachs, etc.):
Lack of access to users, a huge C-side user base
Lack of friendly user interface , the ultimate pursuit of the last mile user experience
Klaytn clearly puts forward the value proposition of "letting the blockchain be used by millions of users", which is not just a "draw a pie". Klaytn, as a "rich second generation", has an outstanding and difficult to replicate advantage, that is, it has deep commercial resources and a large number of native users from Kakao and its partners .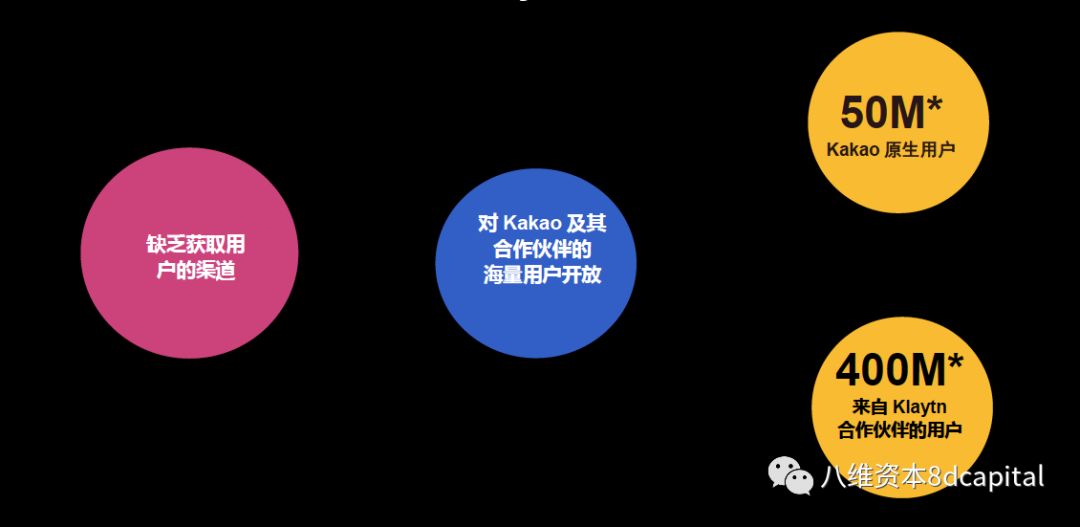 50 million native users and 400 million partner users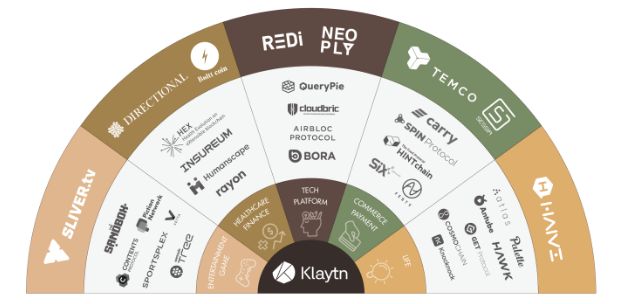 Partners in data, information security, eSports, content, life, insurance
As Jason Han, CEO of Ground X, said: " Creating meaningful real-world cases will be the next big challenge for the blockchain industry. Klaytn is working with a group of successful companies that have developed and operated millions of users. Create a user-friendly Killer BApps (killer app).
Create a special economic zone for the digital world – industry as a body, technology for use
Klaytn's ambitions are clearly not limited to a widely used application. Its goal is to attract more developers, businesses and users to this open platform for innovation through positive economic incentives.
Just like building an economic new district, the open platform also needs the cooperation of hardware and software. In addition to road and bridge planning, it is necessary to formulate preferential policies for attracting investment and equip with talent-friendly facilities to attract talents and businesses to generate revenue for the new district.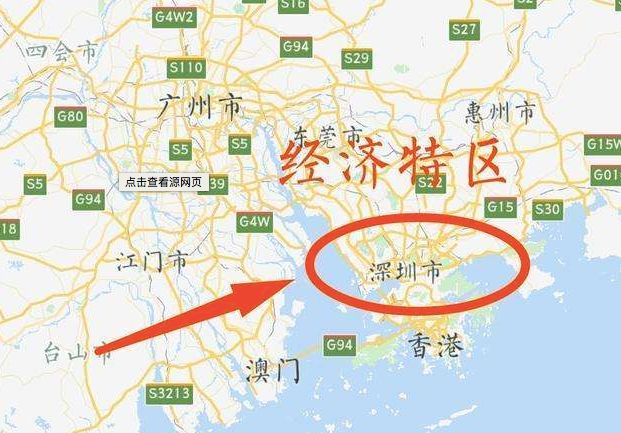 In the same way, in the digital world, creating an open platform for blockchain is no more than the cooperation of three parts:
Infrastructure (network, account, transaction, computing, storage)
Economic incentives (Proof of Contribution)
Talent governance (community contributors, committees, voting elections)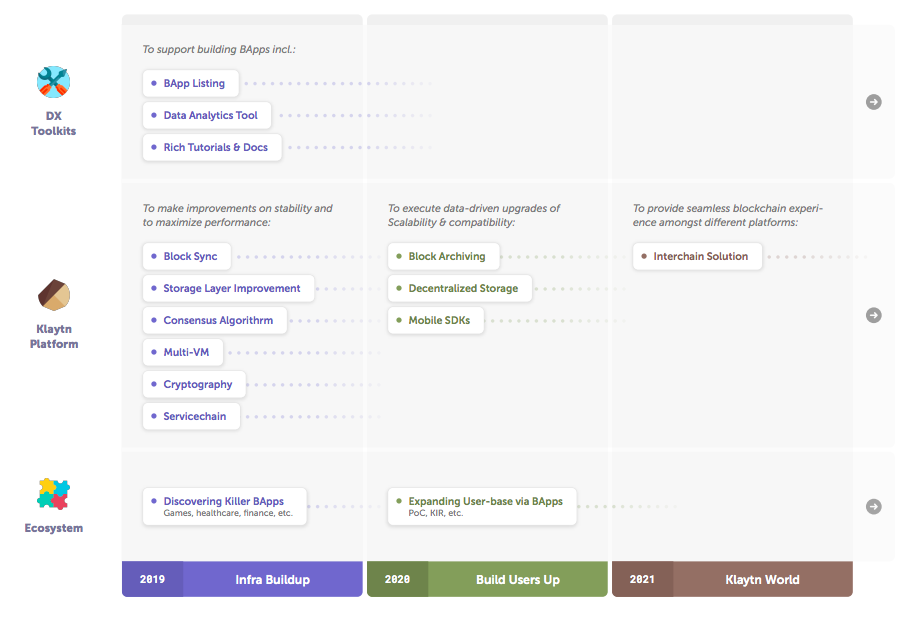 Toolkit, technology platform, application ecology structure
In a prosperous economic new district, only urban builders, businesses and citizens should feel a good living and working experience in order to retain people. In the same way, in the blockchain ecosystem, this is reflected in the triple experience of DX, UX and EX:
1) Developer Experience (DX): The platform provides API interoperability tools and IDEs to make it easy for developers to get started.
2) User Experience (UX): Provides user-friendly features including private key management, wallet settings, and account management.
3) Enterprise Experience (EX): Decentralized applications or services are realized through enterprise-level performance without affecting high transparency and security. In the early stage, subsidies are encouraged to participate, and BI (commercial analysis) is provided. Tools help companies make money as quickly as possible.
Qianlong is flying in the sky
40 years ago, Shenzhen was still a small fishing village. After 40 years, Shenzhen has emerged as a metropolis. In terms of time dimension, the special economic zone of the digital world – the blockchain platform has to go three steps. The first step is to lay the foundation of the underlying technology and economic mechanism, and the second step is to quickly realize the expansion of business and users. Grow into an ecosystem that can accommodate billions of users and businesses: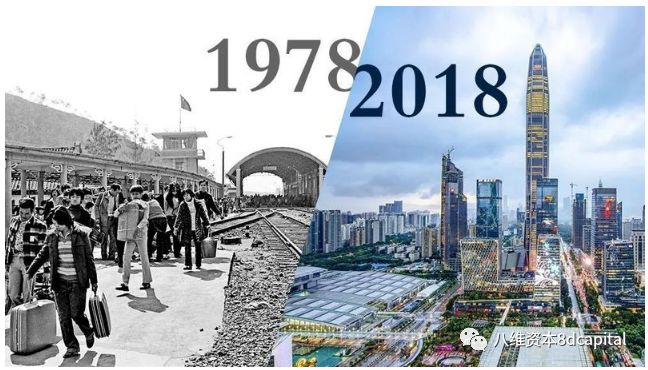 Foundation period: build a stable technology platform and design a viable economic incentive mechanism
Expansion period: With the partners to migrate business and project landing, to achieve rapid expansion of users
Platform period: BApps incubation platform that optimizes performance and can accommodate billions of users.
postscript
In order to achieve a penetration rate of 1/4 of the global market, electricity took 46 years, telephones took 35 years, TV took 14 years, and the network took 7 years. We expect blockchain technology to take about 15 years to reach the popularity of the Internet. We have a strategic alliance with big players (such as Facebook with 44% market share in the world and Kakao with 93% market share in Korea). With their resources and transforming massive users, we are expected to accelerate this small goal.
Author: Wei Ran @ 8 DECIMAL