As early as April of this year, in a tweet released by Ruibo, there was a clue, which is why people don't think about it.
Last week, Facebook announced the Blockchain Stabilization Coin Program, which will issue the stable currency Libra, which is supported by seven well-known companies including MasterCard, Visa and Paypal. Even Uber, a shared car rental platform, will join the Facebook Libra Alliance. And got an investment of 10 million US dollars from a16z, Union Square Ventures and Coinbase.
As soon as this news came out, the industry was applauded. It is widely believed that this is good news and will have a positive impact on the cryptocurrency industry.
According to The Information, Facebook's upcoming cryptocurrency Libra will run on a 100-node-maintained network, and Facebook will charge each node a $10 million license fee, which means that Facebook will get a total of these nodes. $1 billion in revenue.
Unlike Bitcoin, Bitcoin is a non-privileged system that anyone who has access to the computing resources needed for a complete node (or mining equipment) can purchase at a price well below $10 million.
People from the industry believe that the Facebook Stabilizer program makes users "unable to control their personal data, digital identity", and is completely contrary to the cryptocurrency, especially the true spiritual core of Bitcoin.
Facebook's stable currency, which is unable to achieve data privacy, transparency and "decentralization", is just another financial monopoly alliance.
According to relevant sources, it is precisely because of this that Facebook's cooperation and acquisitions with many blockchain companies including Tendermint, Stellar and MobileCoin have not been successful.
There is even a conspiracy theory that, in fact, Ruibo may be related to Facebook's currency issue.
CRYPTO BITLORD released a tweet saying that Facebook may be working with Ruibo. The deeper I study, the more obvious this sign is.
In the replies, Aesthetic users said that the related companies listed in a tweet released in April and the partners announced by Facebook are highly coincident. This coincidence can not help but make people think. If there is no partnership, Ruibo is How to accurately guess the Facebook partner?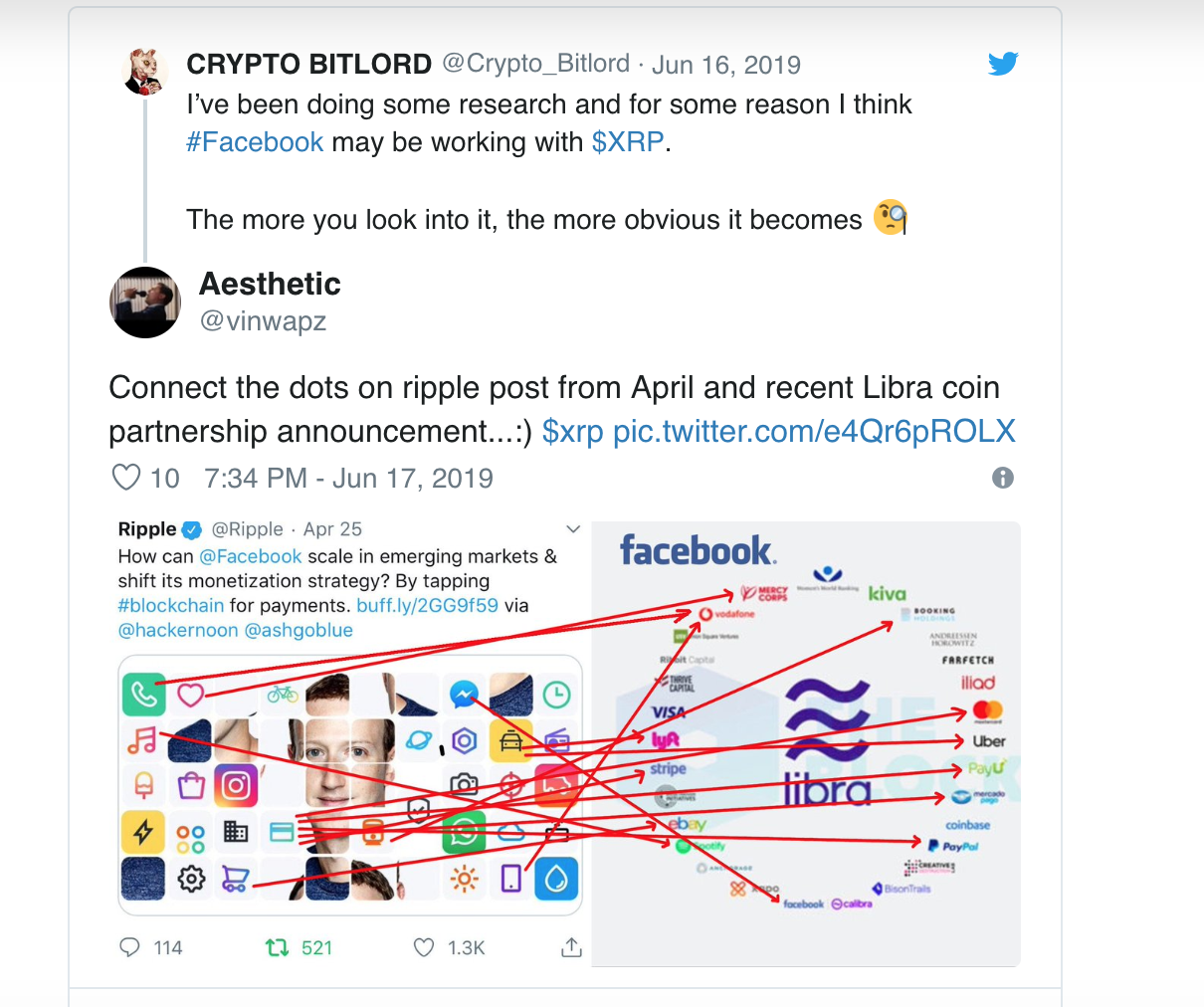 Facebook is about to release the Libra white paper on June 18. It is possible that the blockchain test version will be launched as early as next week. We are not sure what will happen next, but it is certain that this is a major event affecting the cryptocurrency.
Source: 31QU