From the middle of the year to the shopping promotion of "618", the battle of e-commerce is on the verge of exploding, and several major platforms are also attracting consumers.
The inter-chain pulse communicates with the relevant person in charge of Jingdong "Zhizhi Chain" and the members of the Ant Financial Blockchain team. It is understood that during the "618" period this year, both Ali and JD have applied blockchain technology to the product traceability process.
This is no longer the role of blockchain technology in the first trace of the online shopping section of the product. During the "618" period last year, JD.com created a full traceability of the blockchain, realizing the end-to-end "visualization, trustworthiness, and perceptibility" of the supply chain, and establishing a trusted network for commodity circulation data; Suning Tesco online and offline stores The self-developed blockchain commodity traceability system was launched, and the double-line guarantees the quality of goods.
During the "Double 11" period, Tmall International Mall also applied blockchain technology to the product traceability scene. The products traced from the blockchain covered more than 100 countries and regions, and the number of commodities reached 150 million, mainly involving diamonds. Cross-border commodities such as imported milk powder and imported health products.
At present, the block source-based product traceability scene has become an e-commerce platform for Ali, JD, Suning, Vipshop, Amazon, and other retail giants such as Wal-Mart and Carrefour.
Ali, Jingdong: traceability practice early traceability category
Before the blockchain technology was applied to the domestic online shopping festival on a large scale, all enterprises tried and explored the application of the blockchain in the traceability scene of the commodity for a long time.
Among them, Ali explored the core application scenarios of blockchain in the traceability of e-commerce products. In March 2017, Alibaba worked with PricewaterhouseCoopers to create a traceable cross-border food supply chain that tracks the entire process from producer to consumer. Subsequently, the ant blockchain took the lead in testing 26 brands of milk powder from Australia and New Zealand, so that each can of milk powder has a traceable two-dimensional code and was launched in September after testing.
In November 2017, Tmall announced that it will upgrade its origin traceability plan. It will cover 63 countries and regions, 3,700 categories and 14,500 overseas platforms in the future. In February 2018, Rookie Logistics and Tmall International will enable blockchain technology tracking. Upload and verify the logistics link information of cross-border imported goods; in April 2018, Alibaba Cloud released the blockchain solution to support the Tmall luxury platform Luxury Pavilion to launch the authentic traceability function based on blockchain technology.
It is reported that Tmall International's cross-border commodity traceability plan has covered the import of rookies at bonded ports in Shanghai, Shenzhen, Guangzhou, Hangzhou, Tianjin, Ningbo, Chongqing, Fuzhou and Zhengzhou, and has over 30,000 imported goods in more than 50 countries. Logistics link query based on blockchain technology.
Traceability practice of blockchain commodities in Ali and East Beijing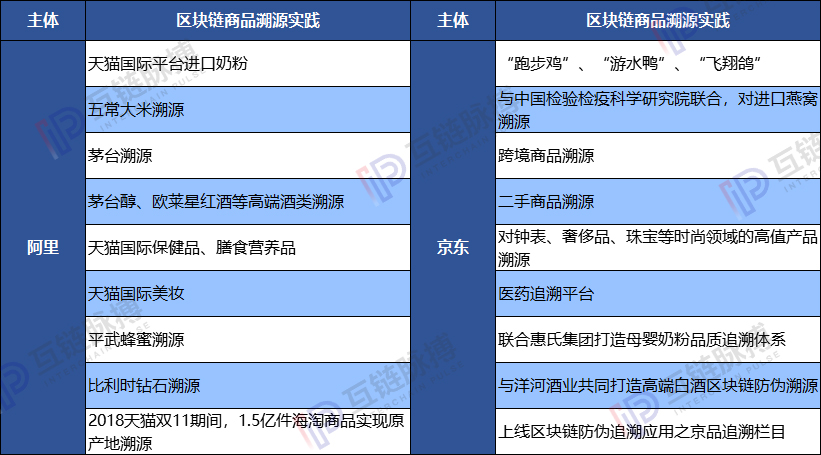 (Cartography: Interchain Pulse)
Compared with Ali's development in the field of blockchain commodity traceability, Jingdong started slightly later. Observing the official website of Zhizhi Chain, Jingdong's earliest exploration in the traceability of blockchain is that in May 2017, Jingdong Supply Chain Retrospective and Anti-Counterfeiting Platform Innovation Project won the Beijing Innovation Cup Award for Innovation Seeds. Since then, Jingdong has successively established a quality traceability anti-counterfeiting alliance and a cross-border traceability alliance.
And in March 2018, the "blockchain anti-counterfeiting traceability platform" was launched. During the "618" period, the total number of blockchain anti-counterfeit traceable goods sold by Jingdong increased by more than 200 times year-on-year.
It is reported that as of the end of February 2019, more than 700 brands have access to Jingdong global blockchain quality traceability plan, and over 50,000 products have achieved consumer scan code query traceability information, which has accumulated more than 1.3 billion uplink data. More than 2.8 million after-sales users access the query, covering fresh, maternal, beauty, second-hand, luxury goods, medicine, convenience stores, cross-border traceability and other multi-category scenes.
Later, in the "White Paper on the Practice of Blockchain Technology in Jingdong District" released in April 2019, it also recorded the blockchain technology of Jingdong, which was applied to the traceability of goods for precision poverty alleviation, traceability of food, traceability of cross-border goods, traceability of second-hand goods, Traceability of products in the fashion field.
Inter-chain pulse observation of the practice of Ali and JD in the traceability of blockchain commodities, there are some commonalities between the two.
First of all, or because of the previous milk powder accident in the country, the public has a strong traceability demand for maternal and infant dairy products. Ali and JD's blockchain commodity traceability practice begins with maternal and infant dairy products. In 2017, Tmall International platform traced the imported milk powder; Jingdong United Wyeth Group created a traceability system for maternal and infant milk powder quality.
In addition to maternal and child products, famous wines, luxury goods, Ali and Jingdong's product traceability also extended to the medical field. Alibaba, a subsidiary of Alibaba, launched the "code-safe" platform to realize the drug traceability function; JD. has established a medical traceability platform based on blockchain technology, which is suitable for the Chinese pharmaceutical market, compatible with a variety of drug code marks, and through the platform. Visual management of the pharmaceutical supply chain is possible.
At the same time, both are based on the blockchain BaaS platform of each family, fully utilizing their advantages in logistics, supply chain, e-commerce sales, digital technology, combined with one-dimensional code, two-dimensional code and other Internet of Things logo, development Blockchain security verification.
In addition to the above characteristics, the relevant person in charge of Jingdong "Zhiyi Chain" also introduced to the chain pulse, "Stable platform performance, rich traceability practice and brand cooperation experience are the characteristics of the traceability of Jingdong Blockchain. The traceability platform has been operating smoothly for nearly three years and has undergone several rounds of actual combat testing."
Suning online and offline linkage Vipshop, Amazon preliminary exploration
At present, in addition to Ali, Jingdong, two Internet e-commerce giants, the rest of the domestic e-commerce platform is also conducting related research and exploration.
As a veteran retailer transforming integrated e-commerce, Suning has successively applied blockchain applications since the establishment of the Blockchain Research Institute in September 2017.
In July 2018, Suning launched the Australian navel orange with tracer chain technology. Suning International's on-line blockchain product traceability system, through the production, processing, transportation, circulation, retail and other links of the product, through the DNA-type label tracking record, the integration of all links in the industry chain in the form of nodes.
Also in July, Suning released a white paper, the technical director of the Suning Cloud blockchain R&D center revealed that the Suning blockchain platform supports the alliance chain and private chain business. The alliance chain is based on the super-book fabric alliance chain technology, and the private chain is based on Ethereum technology. The platform has supported Suning's blacklist, letter of credit, product traceability, and points application.
In September, Suning Retail Group cooperated with Suzhou Yangcheng Lake Hairy Crab Industry Association to introduce blockchain commodity traceability anti-counterfeiting system, track production and processing, transportation, circulation, retail and other links, and ensure the specifications and quality of hairy crabs from the source.
It is reported that Suning's blockchain commodity anti-counterfeiting traceability application technology not only supports Suning Tesco's online product use, but also has been widely used in Suning's offline stores. This is the difference between the retail chain of Suning and Ali and JD.
Traceability Practice of Some Blockchain Products in Suning

(Cartography: Interchain Pulse)
Mutual chain pulse observation, not only Suning, but also the e-commerce Vipshop in the field of special sales has begun to explore the blockchain. Its incubating "chain-free+" team participated in the Thunder Global Blockchain Application Competition held in July 2018 and won the second prize. The "Mingzhaotai" project participating in the competition is a cloud service platform that provides blockchain-passengage economic empowerment for production and marketing enterprises. The application scenarios include the field of commodity traceability.
Compared with the domestic e-commerce platform, Amazon's layout in the blockchain field seems to be a bit later. In April 2018, Amazon launched a blockchain template that included support for Ethereum and Superbook Hyperleger Fabric.
Amazon has pointed out that relying on blockchain traceability technology, it is expected that the future will be conducive to counterfeiting and optimize payment processes and logistics services. But as of now, the inter-chain pulse has not been observed to have corresponding landing applications and project launches.
Wal-Mart vs Carrefour: blockchain battles of foreign retail giants
Compared with the active exploration of domestic e-commerce platforms, foreign-driven blockchains are mainly used in retailers such as Carrefour and Wal-Mart.
According to the search information, Wal-Mart explores the field of traceability of blockchain products earlier. Since 2016, pilot projects for food traceability have been implemented in blockchains in China and the United States.
In September 2016, Wal-Mart and IBM and Tsinghua University jointly launched a research project using blockchain technology for food traceability. In May 2017, the pig pilot verification test was completed. In June, the pork and mango pilot results were announced. In December of the same year, Wal-Mart, JD, IBM, and Tsinghua University jointly established China's first safe food blockchain traceability alliance.
In April 2018, Frank Yiannas, Wal-Mart's vice president of food safety and health, announced that Wal-Mart is preparing to use blockchain technology in its food business. And said that the blockchain can shorten product tracking time, which will improve management transparency, reduce waste and improve pollution.
In December of the same year, Wal-Mart said it was already using the blockchain to track all the vegetables in its more than 6,300 stores. Since then, Wal-Mart and its subsidiary, Sam's Club, have asked their green leaf vegetable suppliers to use blockchain technology for real-time, end-to-end product traceability since September 2019.
Like Ali and JD.com, Wal-Mart has gradually expanded the application of blockchain technology to the medical field.
In June 2019, Wal-Mart joined MediLedger, the drug traceability blockchain alliance. On June 13, Wal-Mart announced that it will participate in the blockchain drug tracking pilot with KPMG and pharmaceutical manufacturer Merck. According to reports, the pilot project was promoted by the US Food and Drug Administration.
Carrefour, Wal-Mart Partial Blockchain Product Traceability Practice

(Cartography: Interchain Pulse)
At the same time that Wal-Mart further promoted the traceability of blockchain drugs, Carrefour achieved certain results in the field of commodity traceability using blockchain technology. On June 4, 2019, Emmanuel Delerm, the blockchain project manager at Carrefour, said that the company's use of blockchain ledger technology to track the sales of meat, milk and fruit from farms to supermarkets has increased sales of these products.
Prior to this, Carrefour began a series of practices. In March 2018, Carrefour said it will expand its blockchain-based food traceability program, which is currently using blockchain technology to track chicken production in the Auvergne region of France; in December of the same year, Carrefour China's first The blockchain product is listed on the market.
Since then, Carrefour's practice in the field of blockchain commodity traceability has accelerated.
In January of this year, Carrefour partnered with startup Vinçotte to provide a digital traceability solution for a range of pork products purchased by customers. In March, Carrefour tracked the dairy supply chain by applying blockchains to ensure consumers were on the shelves from farmers to stores. In the entire supply chain to achieve product traceability; in April, Nestlé, Carrefour and IBM announced at a press conference that they have used IBM blockchain technology to track the French mashed potato brand Mousline supply chain; in the same month, Carrefour introduced blockchain Technology tracks the source of its Rocamadour cheese.
"The company has used blockchain technology to track 20 of the 300 Carrefour branded products in the entire supply chain and plans to add about 40 in the coming months," also in April this year, Carrefour Blockchain Project Manager Emmanuel Delerm said in an interview.
Due to the differences between e-commerce and retailers, domestic and foreign countries also show some differences in the traceability of blockchain products. Most of the domestic Alibaba and JD.com trace back to relatively high-priced goods; Carrefour and Wal-Mart are more traceable to fresh food. In terms of technology, China relies more on its own platform, while Wal-Mart and Carrefour are working with IBM. But on the whole, the exploration and practice of each enterprise is a driving force for the blockchain to empower the real economy.
With the promotion of domestic and foreign enterprises, the practice of blockchain in the field of commodity traceability has become more and more intensive. However, relying on the blockchain technology alone, the authenticity of the uplink information cannot be guaranteed; the RFID, two-dimensional code and other technologies have the possibility of being duplicated. Therefore, blockchain technology needs to be fully integrated with new technologies such as artificial intelligence and Internet of Things to truly empower the industry.
Author: Mutual chain pulse King-propelled vehicle
This article is [inter-chain pulse] original, reproduced please indicate the source!