At present, global blockchain technology and industry are developing rapidly, and domestic and international standardization work is also accelerating. Blockchain is a new type of computer technology that is cross-industry, cross-domain, and basic. The wide range of applications reflects the value creation advantages and challenges. In particular, industries need standards to guide and support technology development and application. .
In September 2016, the International Organization for Standardization (ISO) established the Blockchain and Distributed Accounting Technology Committee (ISO/TC 307), whose main scope of work is the development of international standards in the field of blockchain and distributed accounting techniques.
In China, the blockchain standardization work began to be laid out as early as 2016. The following small series summarizes the timetables and standards for blockchains issued by some countries and groups: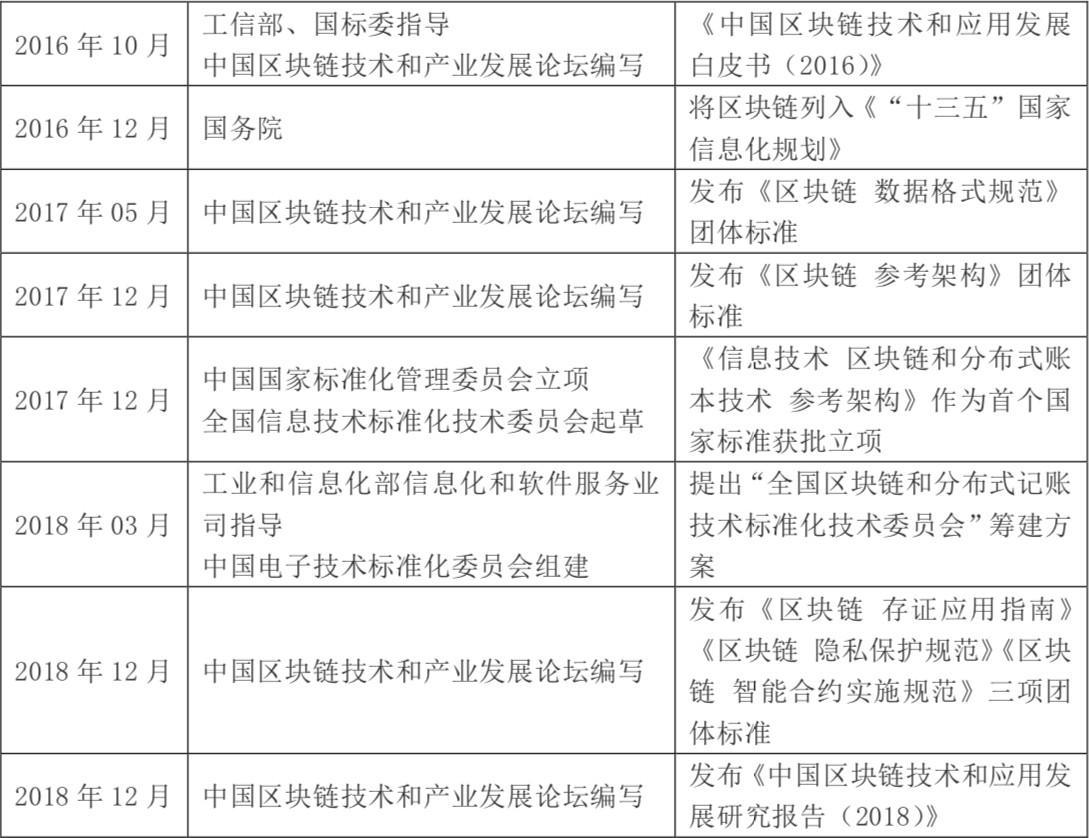 In March 2017, the National Standardization Administration approved the China Electronics Technology Standardization Institute to undertake ISO/TC 307 domestic technology counterparts. According to the requirements of the National Standardization Management Committee, the China Blockchain Technology and Industry Development Forum (hereinafter referred to as the "Forum") was established in Beijing on October 18, 2016. The forum is composed of the Ministry of Industry and Information Technology and Software Service Industry Division, the National Standards Committee Industry Standards Division 2, and the China Electronics Technology Standardization Institute and other key enterprises and institutions.
The "2019 Work Conference on National Standards for Information Technology Blockchain and Distributed Ledger Technology Reference Architecture", which was recently held in the Ministry of Industry and Information Technology, was held in Shanghai. According to Li Ming, director of the China Electronics Standardization Institute, this year is expected to release the ISO 22739 international standard for blockchain and distributed accounting terminology, which standardizes blockchain terminology, such as what is a block and what is Blockchain, what is a distributed ledger; on the basis of the construction of domestic standards, following the launch of five blockchains last year, this year will launch two cross-chain and privacy calculations; and national standards, in 2017 The "Information Technology Blockchain and Distributed Ledger Technical Reference Framework", which was established at the end of December of the year, is of a recommended national standard and is legally binding. It is expected to be completed by the end of 2019 and submitted for approval.
Nowadays, in this era of advanced technology, blockchain technology is also applied to all walks of life. The National Internet Information Office issued the Regulations on the Management of Blockchain Information Services on January 10, 2019, which will take effect on February 15, 2019. On March 30 this year, the National Internet Information Office released the "Number of Domestic Blockchain Information Services Record (First Batch)", and announced the first batch of 197 blockchain projects registered and filed in the Internet Office. The technology involved clothing, food, and Living, traveling, education, medical care, and other areas that are closely related to our lives.
Blockchain technology still belongs to emerging technologies. The technical architecture and infrastructure itself are not mature. It is still a long way from being truly standardized and sound, fully understood and accepted and applied. A series of national actions marked the advent of the "regulatory era" of blockchain. From the perspective of blockchain technology and various players in the industry, it is necessary to conduct self-examination and compliance in a timely manner for the introduction of new laws and regulations. Keep up with the pace of technological development.
The following is a topic on "blockchain and distributed accounting terminology". It is easy to understand the understanding of several major blockchain terms, and hopes to develop the emerging technology of blockchain. .
Explanation of terms:
1. Block: A block is the sum of transaction data. Each block has its own unique mark. When they find that they are common, they are added to the main block and then form a blockchain.
2. Blockchain: A blockchain is a shared database, and the data in the database is permanently recorded in blocks. These blocks form a blockchain from the creation block one by one in chronological order, so the blockchain keeps a history of all the data from the creation zone to the latest block.
3. Distributed ledger: A distributed ledger is a database that is shared, replicated, and synchronized between network participants. A common database of governance and sharing can be implemented in a network of multiple sites, geographical locations, or multiple organizations.
4. Decentralization: Decentralization is a phenomenon or structure that uses distributed accounting and storage. The system does not have centralized hardware or management mechanisms. It must exist in a system with many nodes or a group of individuals. The rights and obligations of any node are equal, and a nonlinear causal relationship is formed through the network.
5. Consensus mechanism: The consensus mechanism can directly take its literal meaning, which is "common understanding". It is the voting of special nodes in the blockchain system, which allows multiple network participants to agree to a result, and there is no central control. Network participants who have no basis for trust and each other agree to a result. This process is called a consensus mechanism.
6. Public chain: The public chain is open to everyone, and can be used by anyone. Any node can access it. Bitcoin and Ethereum are the most well-known public chains in the world. It is a blockchain in which all nodes and everyone in the world can participate. That is to say, the behavior on the public chain is open and not controlled by anyone. It is completely Decentralized blockchain.
7. Proprietary chain: The proprietary chain is completely exclusive to a company or organization. In some scenarios, it is not expected that the chain will be accessed by everyone, and only authorized client nodes can access it. Access nodes can participate in consensus and read and write data according to rules.
8. Alliance chain: The alliance chain is composed of only a number of interested institutions to participate in and manage a certain blockchain. Each organization has one or more authorized nodes to access, and the access nodes can participate in the consensus according to the rules. And read and write data, and record data together. The permissions of each node in the alliance chain are completely equal, and you can exchange data without full mutual trust.
9. Cross-chain protocol: A cross-connection protocol is a protocol or technology that enables inter-blockchains (between isomorphic or heterogeneous blockchains) to operate together to achieve information and chain state transitions between chains.
10. Smart Contracts: Smart contracts are contracts that are defined in an informative form that automatically enforce the terms, allowing trusted transactions to be conducted without third parties, which are traceable and irreversible.
Author: Zhang eleven, interesting chain technology market