Another technology giant wants to join the cryptocurrency exchange industry.
According to foreign media reports, informed sources revealed that Japanese communications giant LINE is about to obtain a license to launch a cryptocurrency exchange in Japan.
The Japan Financial Services Agency may issue licenses as early as this month and then begin trading in the next few weeks. According to people familiar with the matter, the exchange will be named BitMax, allowing LINE's 80 million users in Japan to buy and sell cryptocurrencies, including bitcoin, as well as LINE's own token link.
So far, Japanese communications giant LINE said that no final decision has been made on the cryptocurrency business. However, LINE's share price quickly rose after Bloomberg reported that it was about to acquire a cryptocurrency exchange license, which was more than 4%.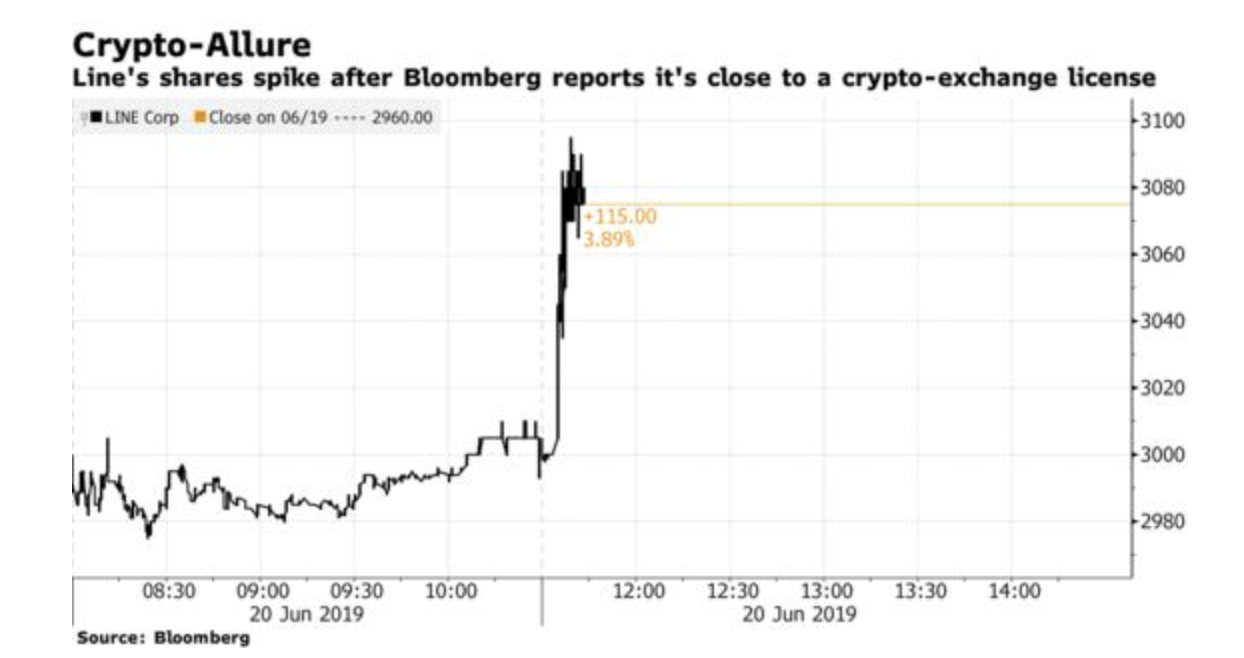 On March 29, LINE announced its financial report. The announcement showed that the company's net profit attributable to ordinary shareholders in the fourth quarter of fiscal year 2018 was 2.35 billion yen, an increase of 158.81% year-on-year; operating income was 72.848 billion yen, up 56.97% year-on-year. The net profit attributable to ordinary shareholders in the 2018 financial year was -3.718 billion yen, down 146.03% year-on-year; operating income was 235.281 billion yen, up 31.33% year-on-year. The decline in performance in 2018 was due to increased investment in new businesses to reduce reliance on advertising revenue.
The stock price has fallen to its lowest level since its listing in 2016 due to stagnant user growth.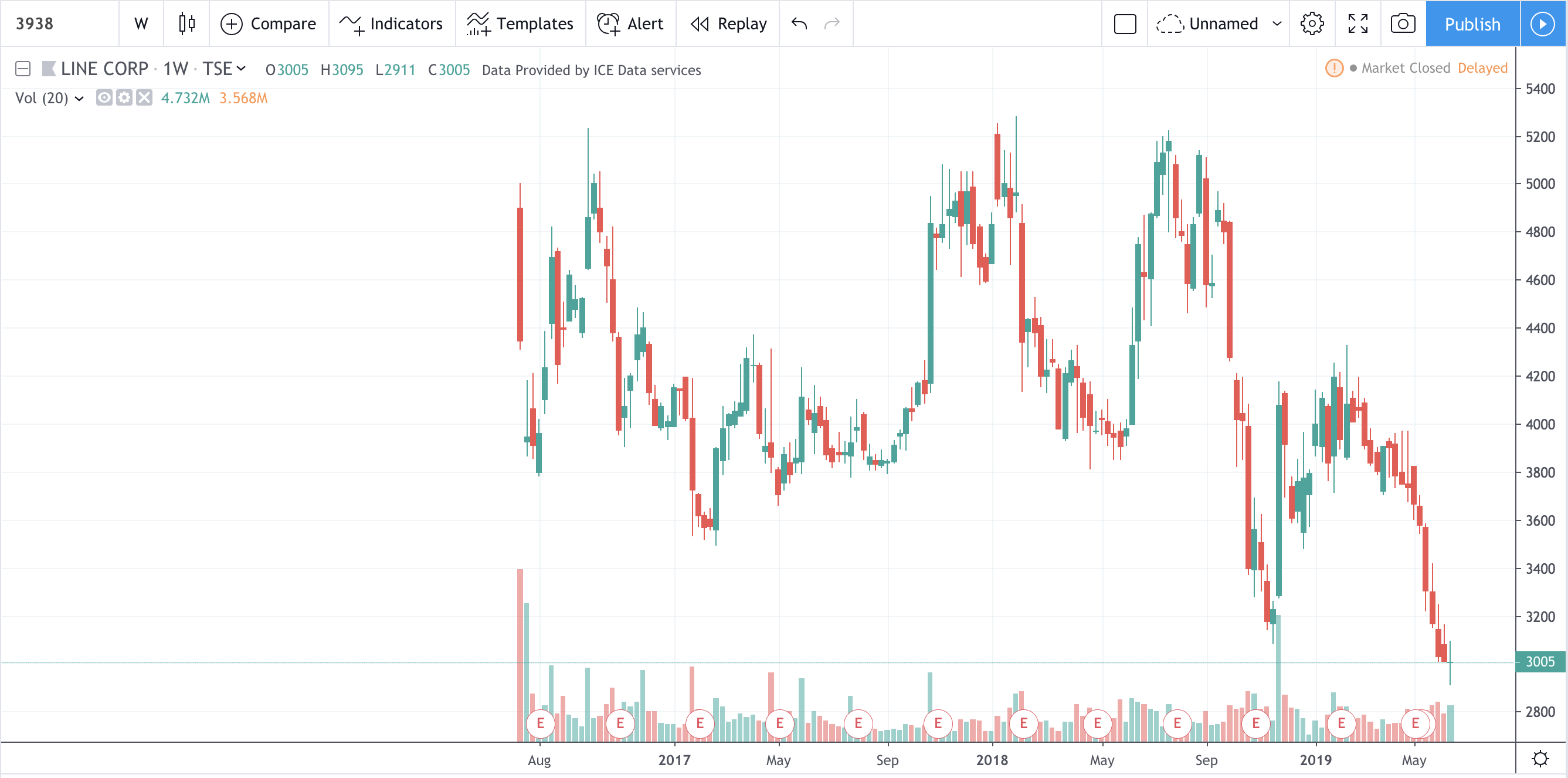 (Cartography: tradingview)
According to a person familiar with the matter, BitMax will use the same back-end technology as BitBox, the Singapore-based crypto exchange launched by Line for global users last year. Due to licensing issues, BitBox has no restrictions on Japanese users, but so far has not greatly promoted the company's revenue.
LINE is still waiting for a separate banking license in Japan, which will allow cryptocurrencies to be more deeply integrated with other services such as online shopping.
The company's co-CEO Shen Zhenghao said this month that the company plans to launch a stockbroking business with Nomura Holdings Inc. and Mizuho Financial Group Inc. this year.
Line's layout in the blockchain field has not stopped
After the scallions have been combed, LINE has been in the field of blockchain since last year, especially in the field of virtual trading.
As early as January 2018, LINE had already applied for a license to open a digital currency exchange in Japan and plans to expand to Hong Kong and Luxembourg. The company is recruiting financial technology and blockchain experts around the world. LINE has been providing smartphone wallet services since 2014. In the same month, it announced the formation of a financial subsidiary that handles virtual currency transactions. The LINE app can buy and sell virtual currency and use the smartphone app to connect to clearing services.
In April 2018, LINE officially launched the blockchain company "UNBOLCK" and announced its official entry into the blockchain. At the same time, it has teamed up with SoftBank Ventures Korea and Baidu's former executive team to develop the TTC protocol, transforming the social networking industry based on blockchain technology.
In June 2018, LINE announced the formation of Line Financial in the United States and Singapore, indicating that it will conduct financial business, including exchanges, securities and insurance.
In July 2018, the Bitbox Digital Currency Exchange , established in Singapore, officially began operations.
In August 2018, Bitbox launched its first currency, TRX. On the same day, LINE announced that it recently launched a $10 million token venture capital fund through its recently established subsidiary Unblock Ventures. On the 20th, the Clova AI assistant added a cryptocurrency quote and launched a pass-through fund.
On August 31, 2018, LINE announced another significant progress, launching the first virtual currency Link, with a total issue of 1 billion. Unlike the ICO's purpose of raising funds, Link will be used to pay for "user rewards." Link will first be launched on Bitbox, the virtual currency exchange of Line.
In September 2018, it was reported that BITBOX has not yet been approved by the Financial Services Authority (FSA). Based on licensing requirements, users in Japan and the United States should not be able to use Link from the start. On September 19th, the report said that the Japanese Finance Agency is preparing to handle a large backlog of exchange license applications including LINE.
On the 20th, LINE announced that it will launch a LINK-centric ecosystem by the end of 2018. LINK will not involve token sales and ICO.
On the 26th, LINE announced the launch of three new DApp services.
On October 16, 2018, LINK launched the cryptocurrency LINK officially launched on BITBOX, which can be traded with three cryptocurrencies.
In November 2018, BITBOX, a digital currency exchange of LINE, launched an Android app. On the 13th, it announced that it will use blockchain-based distributed applications (DApps) to protect the data required for search services, thus entering the Japanese search market.
On January 30, 2019, LV's LVC company and Nomura Holdings signed a memorandum of understanding to form a blockchain financial business alliance.
In April 2019, LINE will include related positions in blockchain and virtual currency in Taiwan.
In June 2019, LINE officially released the official version of the future forecasting platform 4 CAST. LINE Pay and payment service provider Visa (NYSE: V) announced a strategic partnership. In financial technology services, LINE Pay and Visa will develop new experiences based on blockchain, supporting B2B and cross-border payments as well as alternative currency transactions.
Japanese crypto exchanges are increasingly competitive
In Japan, large technology companies, including Rakuten Inc. and Yahoo Japan, have launched their own crypto exchanges after receiving FSA licenses. However, Japan's crypto exchanges are highly competitive. On April 1, Rakuten Wallet announced that its cryptocurrency exchange, Minnano Bitcoin, had stopped all services on schedule on March 31.
Yahoo Japan's cryptographic trading platform, Taotao, was officially launched in June to provide bitcoin and Ethereum spot trading, as well as margin trading to allow users to trade Litecoin, Ripple and Bitcoin cash.
LINE's trading platform BitMax will also compete with many encryption trading platforms such as Taotao, Bitflyer, Coincheck, Bitbank and Zaif. The Japanese cryptocurrency platform Bitflyer is one of the oldest exchanges in the country and usually accounts for the most bitcoin transactions in the Japanese cryptocurrency market. In 2017, Bitflyer was once the world's largest exchange of cryptocurrency transactions.
In May, BitFlyer announced its earnings report, achieving an operating income of 14.085 billion yen (about 128.5 million US dollars), operating profit of 5.335 billion yen (about 48.67 million US dollars), and regular profit of 4.894 billion yen (about 44.65 million US dollars). The profit was 2.146 billion yen (about 19.58 million US dollars).
Other competitors are Fisco and Decurret. Fisco Cryptocurrency Exchange (FDAG), the cryptocurrency exchange that launched its service in Japan in the last week of April, had previously worked with Tech Bureau Inc., a cryptocurrency exchange operated by Zaif, which had been hacked.
China's exchange also entered Japan. In January last year, Firecoin Japan launched its business and offered traders Litecoin, Bitcoin cash, MONA, Bitcoin, Ethereum and Ripple. After the merger of the Coinco Group and Bittrade, it was renamed "Fire Coin Japan", and in this way, the cryptocurrency operation license of the Japan Financial Services Agency was obtained.
Source: Shallot APP , copyright belongs to the author.