India staged the "94" tide, the encryption market plunged
As the entire cryptocurrency market recovers, India's encryption industry has fallen into a bleak state.
Today, Koinex, the Indian cryptocurrency exchange, said it has decided to permanently terminate all digital asset trading services on the Koinex platform from 2 pm India time (16:30 Beijing time). Rahul Raj, one of Koinex's founders, said that it is not prudent to continue trading operations, given the basic economic viability and unclear regulatory policies.

Suspension under continuous pressure
Koinex was founded in 2017. According to Rahul Raj, since the introduction of the digital currency asset exchange service on August 25, 2017, Koinex has been the first open order book, fully compliant with the KYC standard, and provides multi-asset exchange services.
In the first four months of its operation, Koinex has become India's largest and most popular digital asset exchange – with a transaction volume of US$265 million, peaking in December last year and adding 40,000 in 24 hours. Multiple users. Koinex has also become India's fastest growing startup.
However, for the time being, Koinex not only has a daily trading volume of only 2.3 million yuan, but also bears a huge financial burden.
In the statement of its co-founder Rahul Raj, the root cause of the decline of Koinex was the regulation of India.
On April 6, 2018, the Bank of India issued a notice requiring all compliant financial services entities to cease cooperation with companies and individuals engaged in virtual currency transactions and to ban all such transactions related to cryptocurrencies.
The notice from the Bank of India led to a comprehensive bank ban, although the notice had passed more than a year and was also questioned in the Supreme Court of India, but as a recipient of the policy, Rahul Raj stated, "Since 2018 4 The status quo since the month has continued to this day."
"The payment gateway has been refusing to provide us with payment services, our bank accounts have been closed, and digital asset transactions have been blocked. Even for non-cryptocurrency transactions like payroll, rent and purchase equipment, our team members, Service providers and suppliers also have to accept bank cross-examination because they are all connected to digital asset transactions. The most difficult thing to do is to explain to our team members why they receive a bank every month when they pay their wages. The phone. BloombergQuint and MoneyControl recently released a report on the "Encrypted Monetary and Digital Currency Regulatory Act 2019", which brought a large amount of FUD in the Indian cryptocurrency trading community, resulting in a sharp decline in transaction volume, clearly for law-abiding Indians have instilled negative emotions."
In this case, Rahul Raj said: "This short astronomical growth curve has stalled due to problems with the formal banking channels that foreign exchange services rely heavily on."
According to Rahul Raj, in the past 14 months, the operation of digital asset trading in India has been difficult due to the closure of bank accounts holding user deposits. It bears a huge financial burden. To this end, they have provided petitions to the Supreme Court of India, but the end result is that they do not have much hope for the recent improvement.
India "94"
In contrast to the enthusiasm of some countries for the cryptocurrency compliance, India's regulation tends to be more one-size-fits-all. Although cryptographic enthusiasts, including India and the world, have expressed dissatisfaction with India's long-standing regulatory environment and resorted to means to raise objections, this situation has become even worse.
In addition to the bank ban issued by the Bank of India last year, in April this year, it was reported that the Indian government had begun inter-ministerial consultations on drafting "2019 Prohibition of Cryptographic Currency and Supervision of the Official Digital Currency Act."
In early June, Bloomberg reported that India might consider imprisoning cryptocurrency investors, traders, and miners for one to ten years.
This claim is said to be part of the 2019 draft "Prohibition of Cryptographic and Official Digital Currency Regulations Act." In addition, any offences related to such conduct are identifiable and not bailed. However, such penalties will depend on the severity of the crime and the actual or expected return of the offender. The draft bill also introduces a 90-day time limit for all cryptocurrencies to be disposed of by the cryptographic holder.
In mid-June, a report said that the Investor Education and Protection Fund (IEPF) Authority responded to the RTI request submitted by CoinCrunch India, indicating that an inter-departmental committee had decided in January that "the Department of Taxation and Economic Affairs Measures can be taken immediately to completely ban the sale, purchase and distribution of cryptocurrencies of any form and type."
RTI's response also emphasized that the committee consisting of IEPF, DEA, CBIC and MCA discussed the Ponzi scheme features of cryptocurrencies.
It is worth noting that IEPFA's response focuses on prohibiting the sale, purchase and distribution of cryptocurrencies, while cryptocurrencies are exempt. But for India's encryption industry, this is tantamount to worse.
This near-one-size-fits-up regulation is somewhat similar to the previous "94" ban in China, which is the same as the "grandity" in which a large number of encryption projects were sunk during the domestic "94" period. During this period, India's cryptocurrency exchange also ushered in Waterloo. .
It is understood that in addition to Koinex, on May 15 this year, affected by the ban on cryptographic business transactions issued by the Bank of India last year, the Indian cryptocurrency exchange Coinome announced the suspension of business operations. Another exchange, Unocoin, also cut more than 80% of its work due to the ban.
Together with the eight cryptocurrency exchanges that were forced to close last year due to regulatory implications. India's cryptocurrency exchanges are almost completely wiped out.
The market fell
It is worth mentioning that shortly after Koinex announced the shutdown, the market began to fall sharply, the BTC price dropped to a minimum of about $4,500, and the remaining 26 cryptocurrencies against the Indian rupee trade fell by an average of 50%. about.
Under this circumstance, some people expressed concern that the steady rise of Bitcoin and the entire cryptocurrency in recent days may start to decline due to the influence of Koinex news.
Sure enough, affected by the news, the encryption market, which has risen for nearly one month, ushered in the first big drop.
The data shows that from 4:30 in the morning, BTC suddenly plummeted and fell from $13,700 to $12,200 in just one hour. Although the market has rebounded since then, it has not stopped growing. As of press time, The BTC has fallen to around $11,837, a drop of more than 5%.
In addition, the top 10 mainstream currencies have experienced different degrees of decline, of which XRP, BCH, LTC, EOS, BNB, BSV fell more than 10%.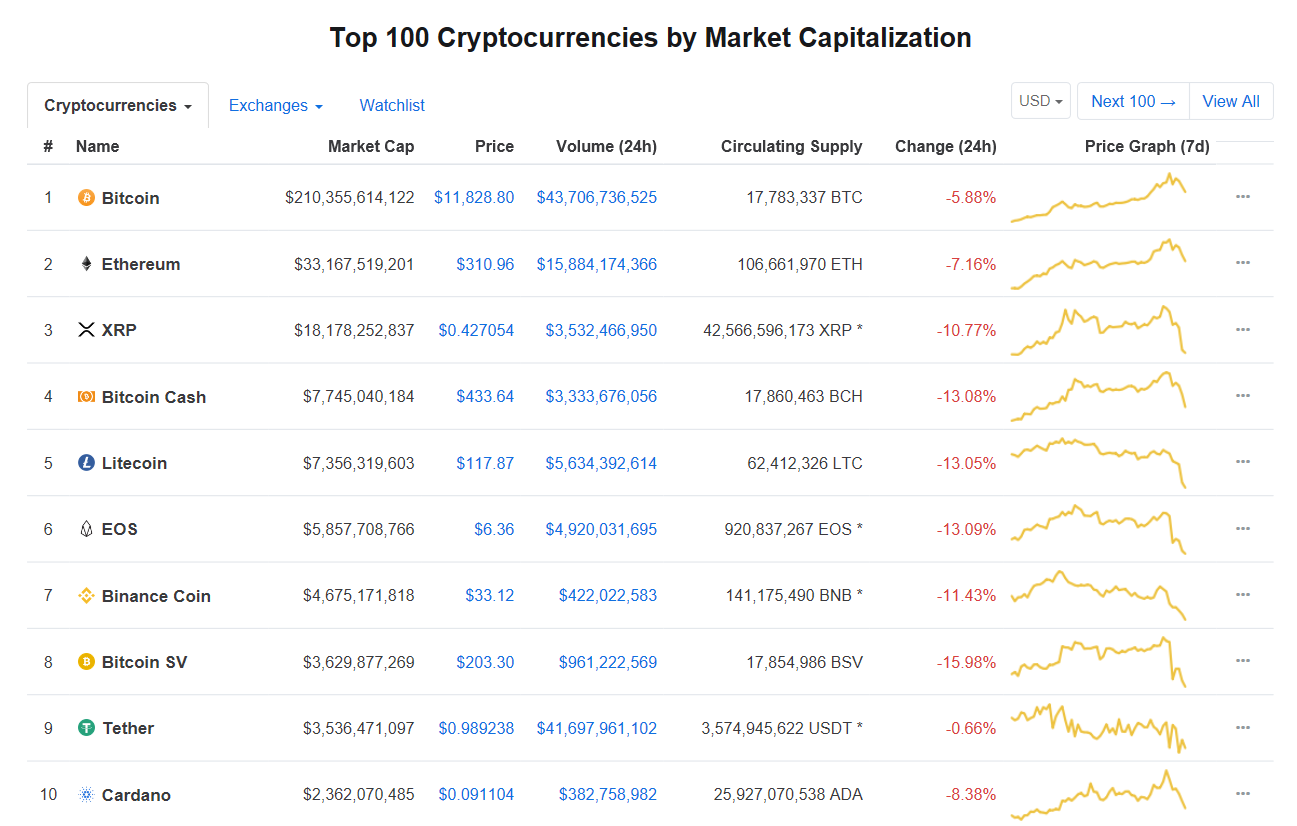 For the time being, due to the multiple positive effects of Libra, Bakkt, physical delivery contract, and BTC halving, BTC prices have been showing a rising trend, but it is undeniable that supervision is also one of the important factors affecting the price of coins.
Previously, it was thought that the emergence of Libra might promote India's change in cryptocurrency regulatory attitudes, but it is clear that this wonderful vision has not been realized.
Original: Sharing Finance Neo
We will continue to update Blocking; if you have any questions or suggestions, please contact us!
Was this article helpful?
93 out of 132 found this helpful