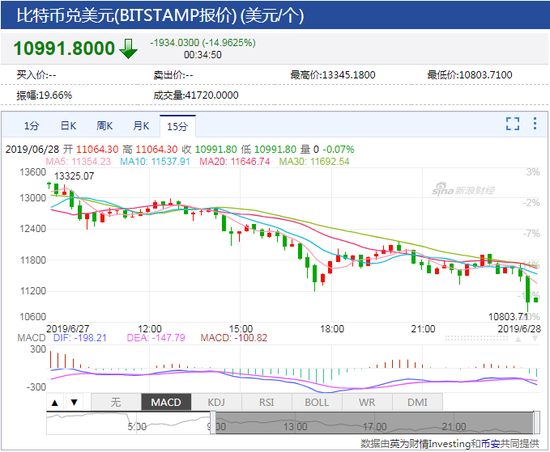 Bitstamp data shows that Bitcoin has fallen back below $11,000, with a minimum of $1080.37, which is currently down $1,800 or 14.20%, and has risen to $13,880 on June 26.
The gains in bitcoin prices this week have rekindled the well-known theme of the digital currency, less than two years after the last bitcoin bubble burst. These topics include: violent volatility and unbearable load on the exchange.
Bitcoin soared 39% on Monday to $13,880, the highest level since January 2018. But at around 16:30 New York time on Wednesday, Bitcoin was blocked and plunged more than $1,800 in about 10 minutes. A moment later, the famous cryptocurrency exchange Coinbase Inc. The system was reported to be faulty and the fault was resolved after an hour.
The volatility of Bitcoin is close to the highest level when the bubble burst in early 2018. Analysts said this could be a sign of future growth.
"The 20%-30% callback is not surprising and is in line with Bitcoin's recent bull market corrections," wrote Robert Sluymer, technical strategist at Fundstrat Global Advisors, in a research note.
Source: Sina US stocks