The gathering of the public coffee, the Ethereum Technology and Application Conference was held in Jingsheng University
On June 29th, the "2019 Second Ethereum Technology and Application Conference" hosted by CSDN and Lingti Technology, Blockchain Base Camp, Unitimes, ETHPLANET, Ethereum Fan Community and Mars Finance and Economics was held in Beijing Great Wall Hotel. !
Conference site
As the influential Ethereum Technology Conference in China, this session will focus on the Ethereum Eco-Panoramic, Ethereum Future Development, Ethereum Development, and Quality Project Cases, and invite Ethereum founder Vitalik Buterin to develop core technologies. Hsiao-Wei Wang; well-known project leaders at home and abroad, industry leaders and Ethereum eco elite experts to discuss the new development of Ethereum and share the latest Ethereum development experience.
More than 20 lecturers from China, Europe, France, North America and other regions shared a lot of hot topics about Ethereum, including: E-Commerce 2.0 process progress, Beacon Chain verification, Geth client practice, Under the chain (Layerr2) technology application, De-Fi, Ethereum security attack and defense, Ethereum case and development in enterprise applications, stable currency, encryption trading system optimization. The conference is dedicated to bringing the latest and most comprehensive Ethereum development concepts, technologies and application progress to Chinese developers. These representative guests and content from the Ethereum ecosystem have been enthusiastically chased by Ethereum developers and blockchain enthusiasts at home and abroad.
In addition to the conference, this Ethereum theme event also includes a variety of activities such as hackathon, technical training, etc., providing developers with a panoramic blockchain technology learning, blockchain development and practice new experience.
It can be said that this conference is not only a technology sharing for developers, but also a technical carnival for Chinese Ethereum developers!
V God brings the core developers of Ethereum to help the developers to point the way
CSDN founder & chairman, geeks and founding partner Jiang Tao
The founder CSDN founder & chairman, geeks and founding partner Jiang Tao made an opening speech, introducing the trend of blockchain development in 2019 and the double-speed growth of CSDN community blockchain technology content. Jiang Yingying, founder of Ling Ti Technology, introduced the development of the global Ethereum community and how developers can join the Ethereum community. In the warm applause of Eitafang founder Vitalik Buterin, the first speech of the conference was published, with the theme of "Ethernet 2.0 Cross-Slice Trading".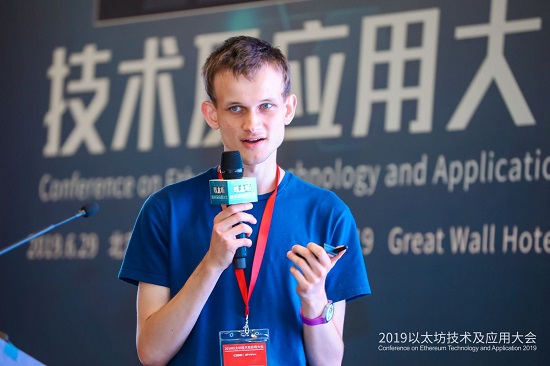 Ethereum founder Vitalik Buterin
In the speech, Vitalik introduced the concept and promotion of Ethereum 2.0 to developers, and introduced the principle of cross-sliced ​​transactions to developers on the topic of "Ethereum Performance" that developers care about. Answers to common questions from developers.
The second keynote was shared by Ethereum core researcher Hsiao-Wei Wang with the theme "Ethereum 2.0 and Beacon Chain Validator". As one of the few female developers, Hsiao-Wei Wang can be said to be very experienced, and the research on Ethereum segmentation and beacon chain is very deep.
In this talk, Hsiao-Wei Wang focuses on the direction of the beacon chain verifier. Three reasons for becoming a verifier are given, mainly in the rewards available to the verifier. These include: block awards, Casper FFG rewards (voting on the Beacon chain), and Crosslink rewards (voting on the segment chain).
Go-Ethereum is an official client software provided by the Ethereum Foundation and is one of the most useful software for many Ethereum developers. As the core developer of Go-Ethereum, Gary Rong shared the topic of "Deep into Ethereum light client protocol" and focused on the Ethereum Light Client Agreement, which is one of the focuses of Ethereum.
In addition to the three core developers of Ethereum, there are many top developers of Ethereum Ecology and the heads of quality projects. The guest lineup is strong: Go-Ethereum core developer, Kyber Network CEO Loi Luu, ENS (Ethereum Name Service) developer relations director Brantly Millegan, AlphaWallet CEO Zhang Zhongnan, MakerDAO China district head Pan Chao, MixMarvel / Yundoulong founder / CEO Jade Zhang, Ethereum Community Foundation China district head Anne Jiang, Amberdata co-founder / COO Tongtong Gong and so on.
The topic sets the pain point
Since it is the "Ethereum Technology and Application Conference", in addition to the strong instructor lineup, the content of the discussion naturally follows the topics of concern to developers, and is dominated by technical practice.
Therefore, in the setting of the topic, this conference covers most of the current hot developments in Ethereum, including: new developments in Ethereum, technical practices in popular technology fields, case studies of quality projects, and use of new development tools. , security attack and defense practices, and future plans of Ethereum.
Each topic is shared by experienced lecturers in the field, not only professional, but also very unique, including:
– NOCUST explores how Commit-Chain achieves greater stability and security;
– TokenScript: build front end for Token and DApp;
– Multi-mortgage DAI – the final puzzle of decentralized finance;
– From gaming to DeFi, the security challenges facing the DApp ecosystem;
– How to use deblocked data security transfer using blockchain + secure computing?
– From Layer 2 technology to distribution services, to promote the popularization of Ethereum blockchain games;
– unlock blockchain data;
– Ethereum's application case and development in the enterprise.
For example, in the sharing of Brantly Millegan, director of ENS developer relations, he cites the string of Ethereum hashes and IPFS hashes, which is hard to remember and is not very beautiful. He also proposed how to use "domain name service". Turn these unfriendly strings into text names that are easier to remember. Therefore, UI/UX of blockchain products is also very important.
In the speech of PeckShield founder Jiang Xuxian, he mentioned the common attacks of DApp and proposed the evolution of attacks by these means. At the same time, he also analyzed common security vulnerabilities in De-Fi, such as Synthetix Oracle exceptions.
After a day of intensive learning, developers have a comprehensive and thorough understanding of Ethereum's ecology and blockchain development. At the same time, for those developers who have doubts about the selection of technology and the choice of project direction, through the excellent case sharing of this conference, such as AlphaWallet, Yundoulong, etc., I believe that it will also be inspired by new ones.
International vision, synchronized with global Ethereum developers
It is not difficult to find people coming to the scene, the proportion of overseas guests in this conference has increased. Because the blockchain is not only a competition for local projects, but also competes with high-quality projects around the world and loses its international vision. It is likely that it will gradually lose its competitiveness.
Therefore, we have invited a number of high-quality projects from North America, Europe and other regions, such as: Liquidity Network, one of the top companies in Layer 2; and ENS (Ethereum Name Service), the domain name service company in Ethereum; Chain asset flow agreement Kyber Network and so on. Let developers deepen their own projects, but also see how these first-class Ethereum projects in the world are done, and what are the technical highlights.
Of course, in addition to these top-notch overseas projects, some domestic projects are as well-known in the global developer community. For example, MixMarvel/Cloud Doosan is among the best in the global Ethereum DApp rankings; although the co-founder of Amberdata is Chinese, this project was born in the United States, it can analyze all the data of the Ethereum ecology, is the developer data The preferred tool for monitoring.
Conclusion
According to the "2019 China Developer Survey Report", nearly half of the developers in China are based on the Ethereum platform, ranking first. New applications are constantly emerging. Although faced with some problems such as slow update and low transaction performance, Ethereum is undoubtedly one of the best blockchain development platforms in the world.
Through this conference, developers also saw the work done by the creators of Ethereum for this platform, and also brought more information to domestic developers. I believe that when I see you next year, there will be more developers who have developed excellent Ethereum-related products to meet here.
Ethereum developers who love technology, let us meet in the year, 2020 Ethereum Technology and Application Conference, see you next year!
This article Source: CSDN
We will continue to update Blocking; if you have any questions or suggestions, please contact us!
Was this article helpful?
93 out of 132 found this helpful