Since Facebook released the Libra white paper, this unfinished digital currency has successfully stood on the cusp. At the recent Davos Summer Forum, Libra even caused several heated debates. Although the views of the parties are not the same, they agree on one point: once on the line, Libra will subvert the traditional financial industry.
The tough attitude of the regulator
On July 2, Congressman Maxin Waters (Chairman of the House Financial Services Committee), Carolyn Maloney (Chairman of the Investor Protection, Corporate and Capital Markets Subcommittee) and others officially sent a letter to Facebook asking "Facebook and its partners to immediately suspend Libra and the digital wallet Calibra's advancement."
Members also announced plans to hold a hearing on Wednesday, July 17 to evaluate Facebook's digital currency "and its impact on consumers, investors and the US economic system."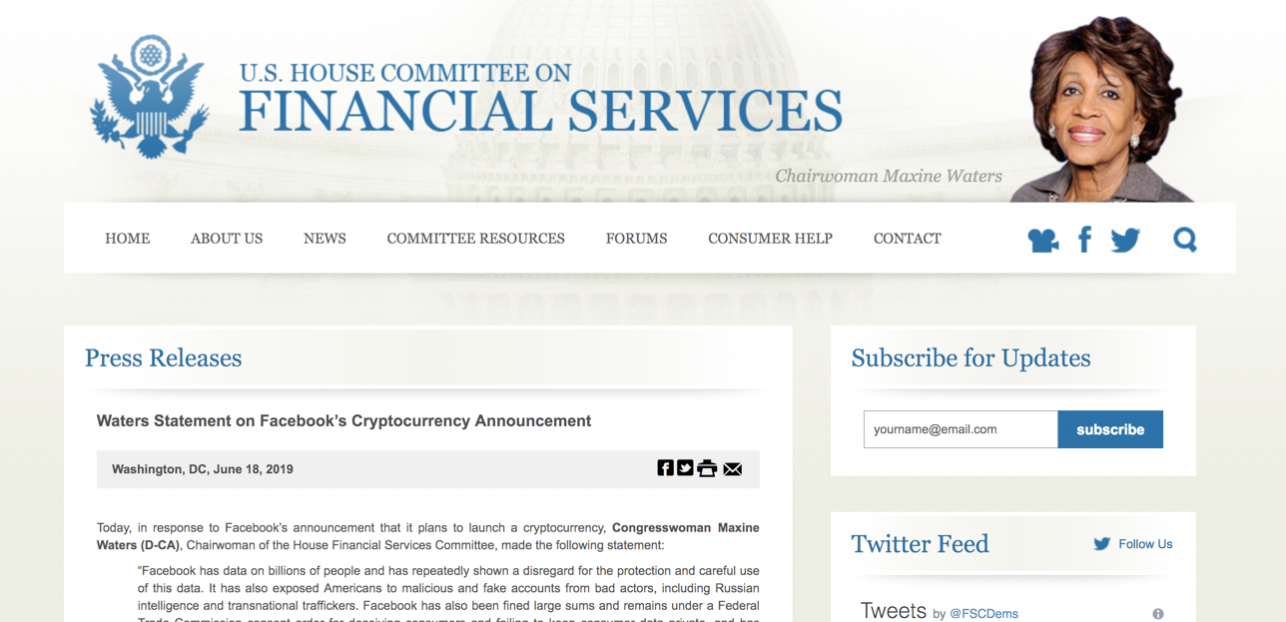 The Financial Services Commission also posted a tweet on Twitter to make the letter public.
As early as June 18, the same day that Facebook published the white paper, Maxin Waters asked Facebook to suspend the development of Libra. The reason is the same as today's letter:
1. Facebook has an influence on one quarter of the world's population. If a crisis occurs, it will have a huge impact on the stability of the US and even the global financial system.
2. There is currently no clear regulation and protection. Investors and consumers may be exposed to various threats, including privacy, transactions and cyber security. A large amount of Facebook will also become the unified goal of hackers.
3, taking into account Facebook's past misdeeds, I do not know whether it can protect user information security.
4. (Libra) may become a regulated money laundering tool.
On the same day, more than 30 groups, including the Economic Policy Institute and the US Public Interest Research Group (US PIRG), issued an open letter asking Congress and regulators to suspend Libra and its related programs because "whether The United States, or the regulatory system of other countries or international agencies, is not prepared to deal with the huge impact of the Libra project on all aspects."
The open letter raised a number of issues that Facebook will face, including specific management, applicable laws, tax policies, national sovereignty, consumer protection, privacy issues, competition and systemic risk. The letter said that these issues are just the tip of the iceberg. Facebook should suspend development of Libra before the issue is resolved.
Multi-party "fire"
In addition to the requirements from the US base camp, other countries and institutions have expressed regulatory needs for Libra.
According to the chain, a United Nations (UN) French official said, "The EU currently has a very negative attitude towards Libra, and some of them have begun to consider setting up regulation for Facebook Libra within their own territory. obstacle.
On June 25, the chairman of the FSB (Financial Stability Council) mentioned in a letter that if cryptographic assets for retail use are widely used, authorities need to pay close attention to ensuring that they are subject to high standards of regulation.
Andrew Bailey, chief executive of the Financial Conduct Authority (FCA), also warned that Libra would not be easily approved and must be carefully monitored.
Singapore has been relatively loose on cryptocurrencies. Although Ravi Menon, its central bank managing director, believes that Libra provides a solution for "expensive, inefficient or even dangerous payments," the central bank still does not know how to regulate it. He said, "We still need more information."
Russia and Switzerland say that treating Libra is like treating other digital currencies and will not take separate regulatory measures. However, in an interview on July 1, Russian Deputy Finance Minister Moiseev stressed that Russia has always banned the use of cryptocurrencies to purchase products and services. Because "the rupee is our national currency."
Before Libra was launched, Facebook should have taken into account the regulatory pressures it is about to face. It may be too early to say that Libra will die in the womb. After all, Libra can bring huge returns to Facebook and its partners, whether it is wealth or fame. However, whether governments agree to transfer the power to issue currency, how to protect the information privacy of all parties to the transaction, and even how to ensure the safety of funds is indeed a serious problem that cannot be ignored.
Text | Freesia Editor | Tong Source | PANews