Multi-regulatory artillery fires, Libra finally meets
On July 3rd, US local time, Libra project leader David Marcus posted an article on his personal Facebook account, "Libra, 2 weeks in," in response to some doubts and misunderstandings that Libra had encountered in the past two weeks. According to Marcus, economic empowerment is one of Facebook's core values, and Libra will economically empower online information such as text, video, and photos. The difference is that Facebook will give up control of the Libra network and currency it creates. If Libra succeeds, Facebook will first get more business opportunities from its app ecosystem.
Marcus emphasizes that Libra is definitely designed for openness, and anyone who does not need to be a Libra member can access and build services such as wallets or commercial acceptance bills. If the Calibra wallet wins people's trust, Facebook will also begin to provide more financial services.
On July 2nd, Maxine Waters, chairman of the US House Financial Services Committee, co-signed a number of members of the House of Representatives to send an open letter to Facebook founder and CEO Zuckerberg and Calibra CEO David Marcus, requesting an immediate suspension of Facebook-initiated Encrypted currency and digital wallet plans.
According to an open letter, "Facebook users account for a quarter of the global population, which will lead to serious privacy, transactions, national security and monetary policy issues. The White Paper provides information on Libra and Calibra's goals, roles, potential uses and security. Rarely, it exposes the large-scale risks that exist and the lack of regulation. If products and services are not properly regulated, they may endanger US and global financial stability and cause systemic risks."
Waters also announced that it plans to hold a committee hearing on July 17th with the theme of "reviewing the cryptocurrency proposed by Facebook and its impact on consumers, investors and the US financial system."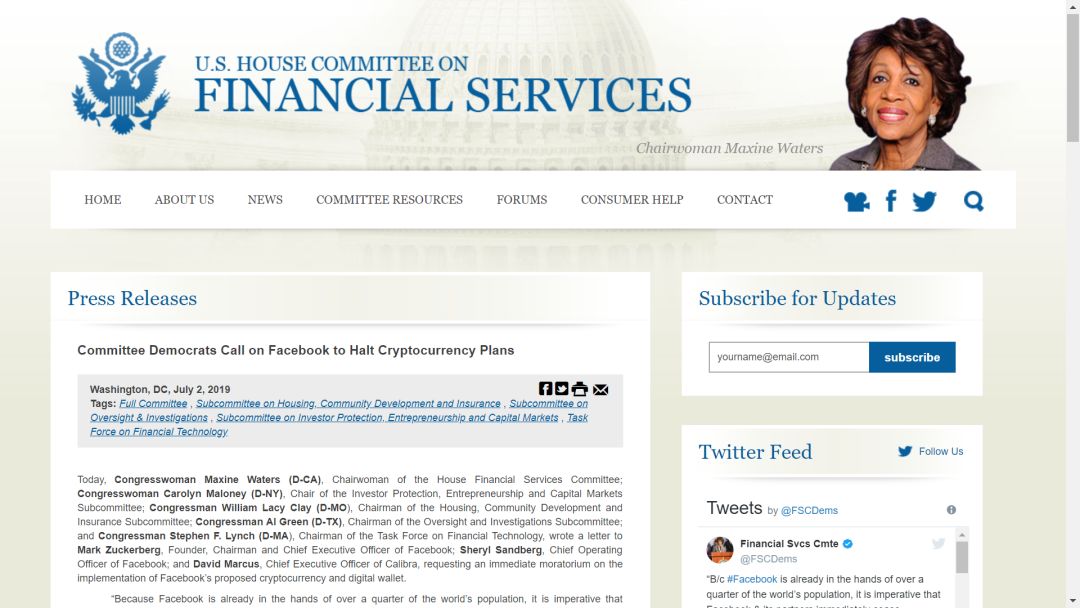 Open letter original Zinc link screenshot
This is not the first time she has publicly opposed Libra, and she made a public statement on the day of the Libra white paper.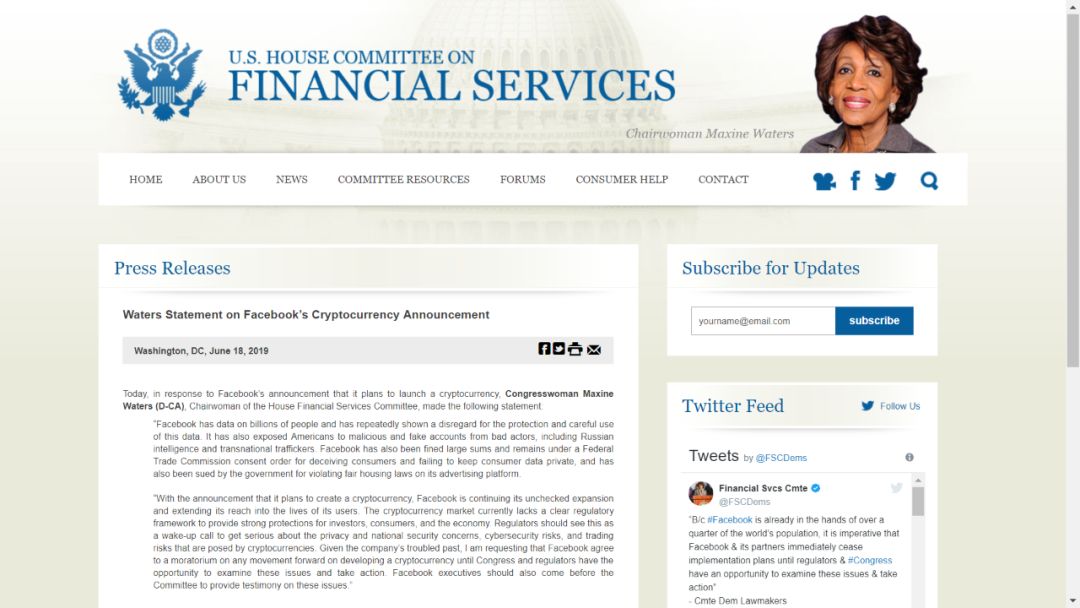 Maxine Waters first publicly opposed Libra
The tug-of-war between the two sides is still going on. In fact, Libra has been questioned by various regulators since the white paper was released.
According to Bloomberg News, Morgan Stanley analyst James Faucette said that Visa, Paypal and Master Card are facing a potential "heavy burden", and the already very strict regulatory review may be intensified.
As the main regulator of cryptocurrency, the SEC has not made any statement to Libra.
Federal Reserve Chairman Jerome Powell said on June 19 that he will pay close attention to Libra development, and the Fed has no regulatory power over cryptocurrencies. However, he stressed the role of the Fed in international regulatory organizations, suggesting that the Fed may comment in any regulations.
Countries supervise gunfire
In addition to the United States, the EU and Asian countries have also raised hot debates on Libra, and the central banks of Britain, France and Germany are particularly concerned.
On June 20th, Bank of England Governor Mark Carney said Libra could significantly reduce costs and increase financial inclusion. Although Carney expressed an open attitude towards this, it did not provide an open door and Libra will be regulated accordingly. He also announced that non-bank institutions (such as payment companies such as Square and Worldpay) will be able to hold a bank account in England.
On June 21st, French Central Bank President Francois Villeroy de Galhau said that France will set up a G7 working group under the leadership of ECB board member Benoit Coeure, responsible for the "stabilizing coins" project, including the Libra cryptocurrency in the Facebook program. .
On June 21st, Bundesbank President Jens Weidmann warned that if "stable currency" becomes a widespread substitute for traditional currency bank deposits, it may cause damage to banks. "Stabilizing coins may undermine banks' deposit absorption capacity and their business models. This may disrupt the intermediary of banking transactions and financial markets."
The Swiss National Bank said it was "relaxed." According to Reuters, Swiss financial regulator FINMA said that Facebook and regulators are in contact with the Libra project. "Facebook said it is willing to follow the rules." FINMA refused to further disclose whether Libra obtained any Specific regulatory approvals.
On June 26th, Domenico Gammaldi, the head of the Italian central bank's market and payment systems, called on Facebook to provide more information about Libra. Gammaldi also ridiculed the "white" of the "Libra" white paper as a "blank" without any information.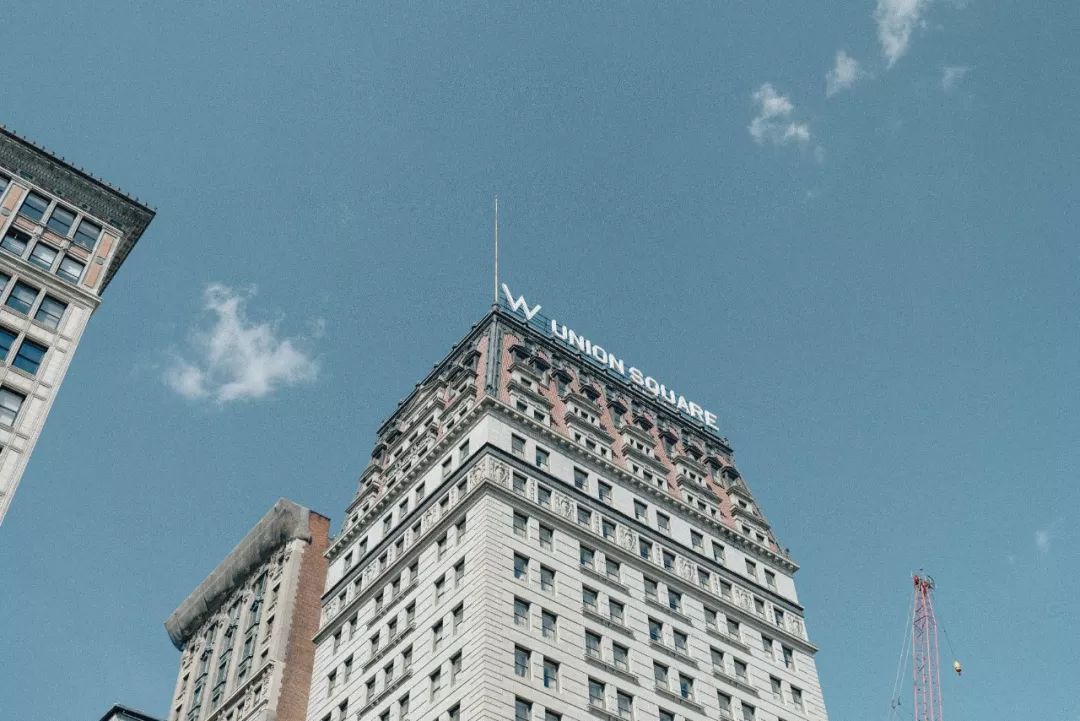 Russia's appearance seems to be relatively contradictory, and a major reversal occurred within 10 days.
According to the news of the Tass news agency on June 20th, Anatoly Aksakov, chairman of the State Duma Financial Committee, believes that Facebook will not legalize Russian cryptocurrencies. "About using Facebook cryptocurrency as a payment instrument in Russia at this stage, I think this will be in our country. Prohibited ."
He also stressed that in Russia, there is no plan to pass legislation to provide space for cryptographic tools used under the open platform and blockchain framework, as this may pose a major threat to the country's financial system.
However, on July 1, Russian Deputy Finance Minister Alexei Moiseev said that the Russian Ministry of Finance will not issue any special regulations on Facebook's upcoming digital currency Libra, saying that " no one will ban it ."
The attitude of the Japanese government is to pay close attention, not a ban. Bank of Japan Governor Haruhiko Kuroda has said that "closely concerned" whether cryptocurrencies can be used universally as a means of payment and how existing financial and payment systems are affected.
Its finance minister, Aso, also said that Libra will continue to be reviewed and that close cooperation is needed while maintaining a close international partnership. "If Libra becomes formal, it is important. We will scrutinize, not ban."
The domestic regulatory level is relatively restrained, and there is almost no voice about Libra.
On June 24, Chen Yulu, deputy governor of the central bank, delivered a speech on the eve of the G20 summit, saying that China is concerned about the application of new technologies in the financial sector, including digital currency, encrypted assets and so on. China has done a good job in this regard.
Africa is considered to be Libra's core market, but few regulators speak out.
Richard Teng, chief executive of the Abu Dhabi Global Markets Financial Services Regulatory Authority, said that Facebook's cryptocurrency Libra "forces" central banks and regulators to carefully examine cryptocurrencies and blockchains. "We have been procrastinating for too long, and the industry needs to get Appropriate regulation can become mainstream."
Gao Kenan, general manager of Hongtai Zero Fund, believes that the concerns of supervision mainly come from two aspects. One is to worry about the subversion and substitution of the existing system, and the other is to consider the instability of the financial system based on privacy, security and user base.

Libra is expected to become a global currency prototype
For a long time, the central bank's monetary policy autonomy has been controversial, and many central banks have used this policy excessively, leading to inflation and excessive currency.
Economist Wen Kejian believes that Libra is a restriction on the autonomy of the central bank's monetary policy, but it is not a substitute for the central bank. Libra is a prototype of a global currency, and its user base and technical characteristics challenge the national sovereign currency.
Gao Kenan has the same view. He said that the impact of Libra is huge. Alipay had already felt when it launched the money-currency business. Libra's number of users and the funds that can be gathered are unimaginable.
"LIBRA is a more powerful disruptor than the existing dollar system: Universal currency."
Wen Kejian said that in fact, this kind of pressure is very healthy, because the monopoly of countries on currency needs competition and renewal.
The tug-of-war, known as "Silicon Valley and Wall Street," has just begun.
Gao Kenan told Zinc Link that no matter how restricted the regulation, the new financial service system will eventually break out because of technological advances and regulatory lags, but will soon be revised. Libra is likely to gain some experimental opportunities in developing relatively backward countries, and the developed financial system countries are totally excluded.
"The tug-of-war will end with the condition that one party accepts the other," Gao Kenan said.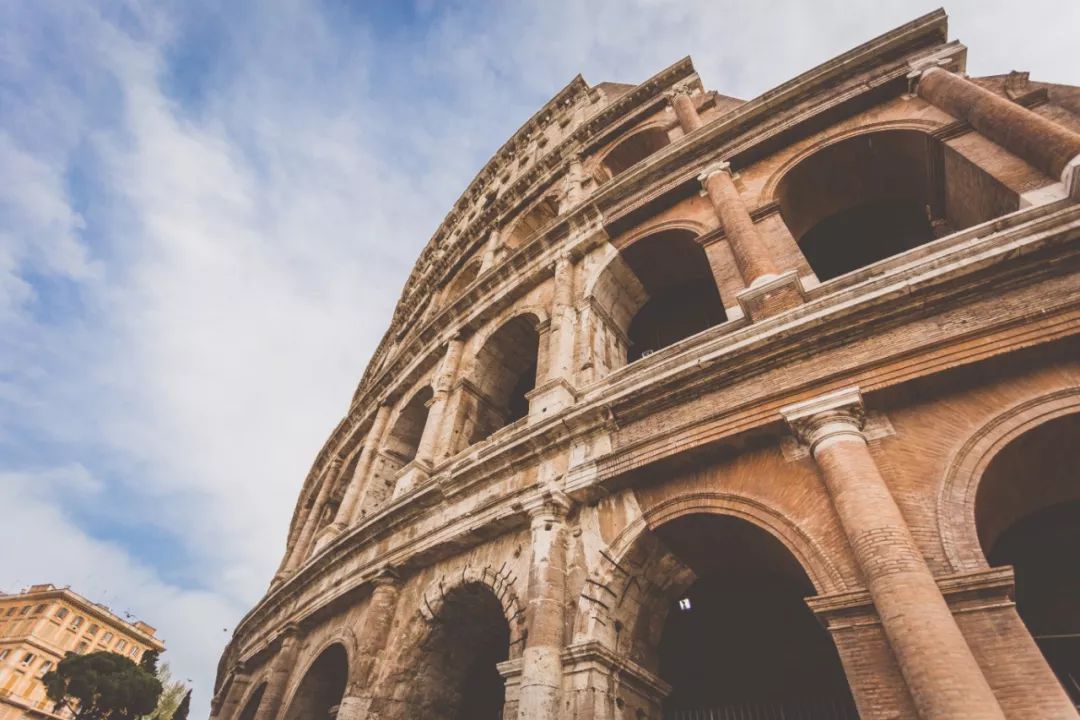 If Libra really has the conditions to become a global currency, the future currency issuance mechanism may be more diversified. So how will central banks respond?
Winkkin predicts that some central banks will follow the trend, such as the introduction of central bank digital currency, and set up a joint mechanism with Libra to form an interconnection mechanism between global currency and local currency. One is like the US dollar, the renminbi, or the euro, issued by a single currency issuer in an important economy, swapped with Libra at a floating exchange rate; the other is a large international organization like Libra that issues private money and competes with each other. Share the function of the currency.
Gao Kenan called Libra the largest "uprising" of the existing financial system in the electronic payment industry: "If the success of the board is successful, there may be a huge risk, or it will always replace the existing system or force it to upgrade."
The domestic Internet giant has also seen opportunities, secretly eager to try, but it is due to regulation. As Ma Huateng said, "The technology is very mature, and the key is whether regulation is allowed." Alibaba and Tencent have very large technical reserves and inputs in the blockchain field.
Many Internet people believe that Libra's inspiration comes from WeChat red envelopes and Alipay, which is Facebook's integration of domestic innovative products.
From a business perspective, Gao Kenan believes that Facebook's grasp of the needs of users in underdeveloped areas, and the way the giants warm up in groups, is worth learning. The Internet will continue to impact or partially replace the existing financial system, meaning that users will get better products and services, better integrate with technology, and the digital financial era will come.
Winkkin believes that regulation is Libra's main topic, and different regulatory situations will have different consequences, but Libra is a global phenomenon, and more liberal and more innovative regulatory policies will eventually win.
He believes that at the policy level, it is necessary to study the future trends, embrace innovation in a timely manner, and provide domestic enterprises with policy space for development.
Text: Chen Haining Zhao Xuejiao
Source: Zinc Link
We will continue to update Blocking; if you have any questions or suggestions, please contact us!
Was this article helpful?
93 out of 132 found this helpful