(Facebook vs. BlackRock – ETF Battle)
Overview
Libra's structure is similar to the popular exchange-traded fund (ETF) model, in which unitholders are entitled to a financial return on a basket of financial assets. These units can be traded on exchanges, and selected authorized participants can create and redeem units using the underlying assets.
As we pointed out in an article in February 2019, the ETF industry has experienced considerable growth over the past decade or so, especially in the fixed income area (see Figure 1 below). In June 2019, the ETF industry ushered in an explosive moment, with social media and Internet giant Facebook joining the industry, which means that established fund companies such as Blackrock and Vanguard will face challenges. Facebook announced plans to launch a new ETF called "Libra ETF", with a focus on fixed income and government bonds, which is a direct challenge to BlackRock's "iShares Core USAggregate Bond ETF" (AGG).
Figure 1 – Size of Top Bond ETFs for US Investors – $1 Billion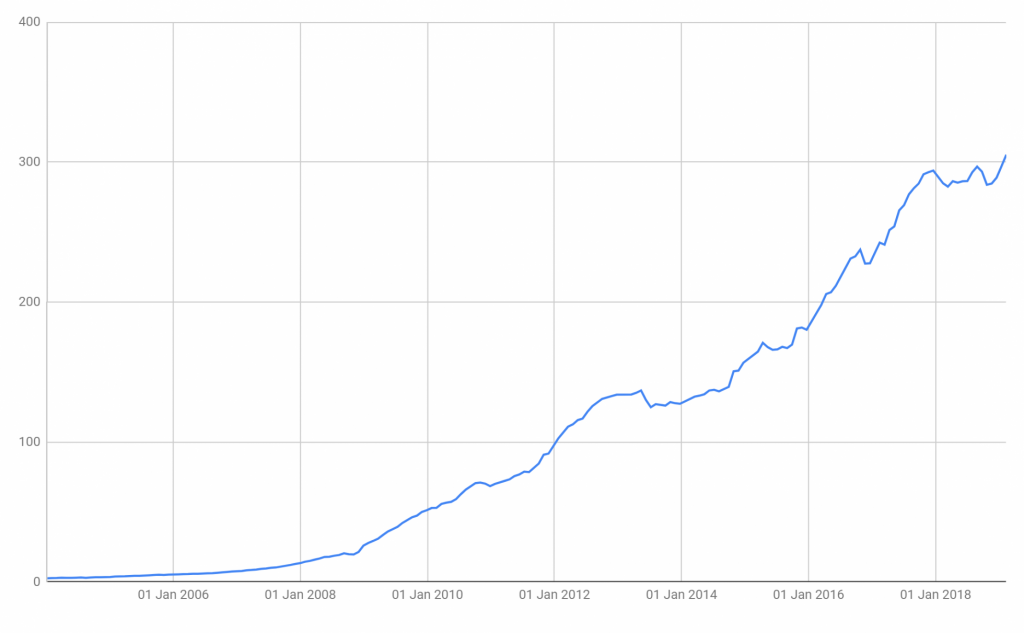 (Source: BitMEX Research, Bloomberg)
(Note: The chart represents the sum of the market capitalization of the following bond ETFs: iSharesCore US Aggregate Bond ETF, Vanguard Total Bond Market ETF, iShares iBoxx $Investment Grade Corporate Bond ETF, Vanguard Short-Term Corporate Bond ETF, Vanguard Short-Term Bond ETF, Vanguard Intermediate -Term Corporate Bond ETF, iShares JP Morgan Emerging Markets Bond ETF, Vanguard Total International Bond ETF, iShares MBS Bond ETF, iShares iBoxx $ High Yield Corporate Bond ETF, PIMCO Enhanced Short Maturity Strategy Fund, Vanguard Intermediate-Term Bond ETF, iShares Short- Term Corporate Bond ETF, SPDR Barclays High Yield Bond ETF, iShares Short Maturity Bond ETF)
Compare new ETF structures with traditional spaces
In Figure 2 below, we analyzed and compared the innovative new Libra ETF with the traditional ETF, BlackRock's iShares Core US Aggregate Bond ETF (AGG). Our analysis shows that although Libra products are new products, many relevant information, such as shareholding transparency and the frequency of NAV announcements, have not yet been announced.
The analysis also emphasizes that Libra may encounter unnecessary complexity in portfolio management. The fund appears to be managed by the Libra Association, which is made up of entities from multiple industries around the world. These entities are responsible for issuing ETFs and the list of companies will be further expanded. At the same time, the investment authorization is not clear. In contrast, BlackRock's fixed-income ETF products have a clear investment mandate to track the Bloomberg Barclays US Composite Bond Index, which is managed independently of ETF issuers.
Perhaps the most significant shortcoming of Libra's products is that unitholders seem to be ineligible for investment income. This is in stark contrast to BlackRock's products. BlackRock's products focus on nearly the same asset class with an investment yield of approximately 2.6%. Libra's protectors may point out that these fees need to be paid from somewhere, but Libra's fees have not been disclosed. However, the ETF industry is already very competitive, and BlackRock charges only 0.05%. The cost is much lower than the expected return on investment of the product, which is about 2.6%, so the Libra ETF may not be competitively priced, which is a major potential disadvantage for potential investors.
Figure 2 – Detailed comparison of Libra ETF and iShares Core US Aggregate Bond ETF (AGG)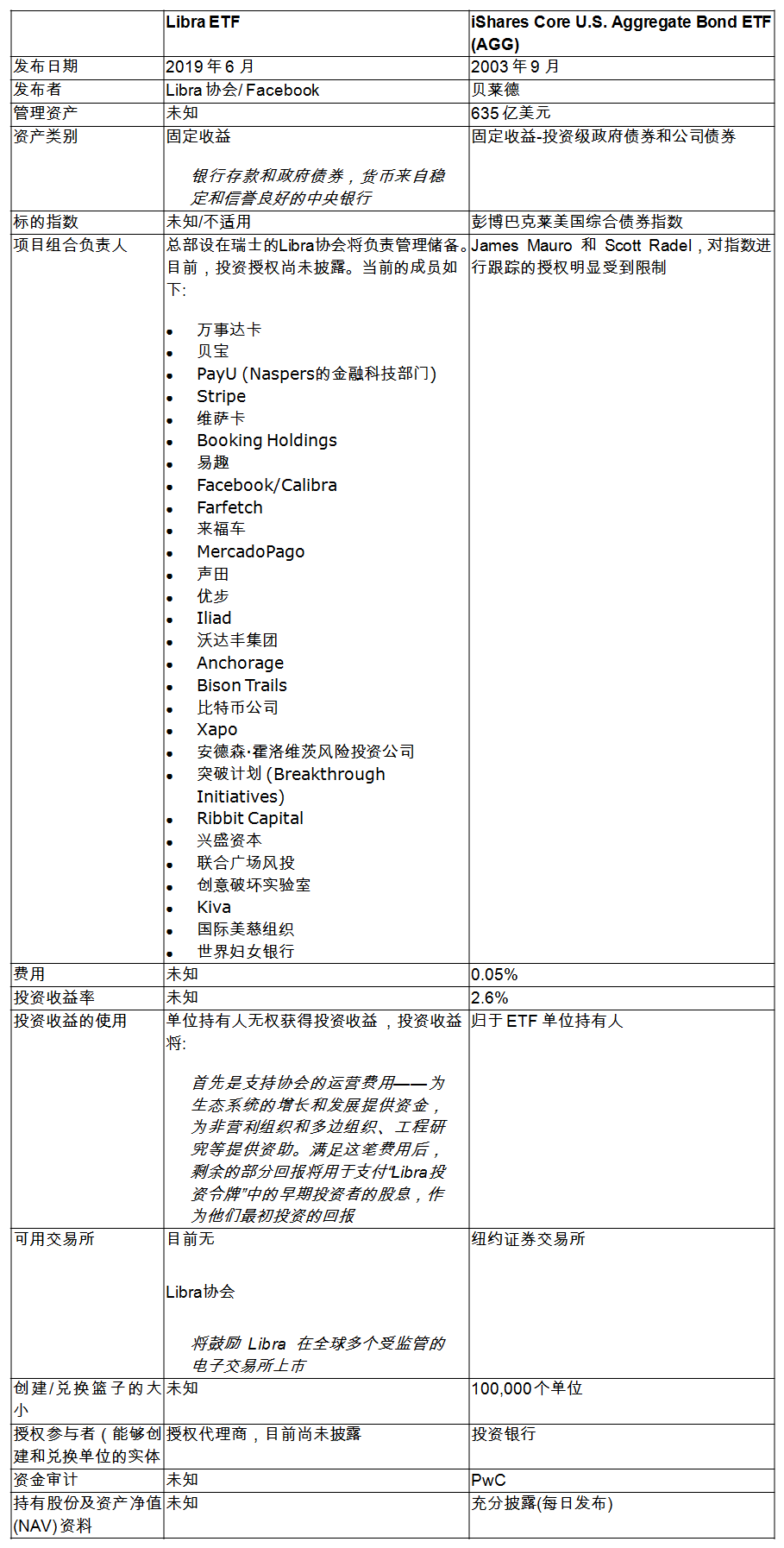 (Source: iShares , Libra )
We also analyzed these two options from a technical perspective. As shown in Figure 3 below, the key difference is that the control of Libra tokens may be partially managed by digital signatures. As long as the address whitelist is not implemented, this may bring some advantages:
● Use pseudonym
● Limited review boycott
● Relatively easy to integrate with cryptocurrency transactions
However, as we mentioned in the February 2018 Tether report, history suggests that these characteristics may ultimately lead to the platform facing options for implementing KYC or being shut down by the authorities. Facebook has reviewed some politically controversial characters on its main platform, so the degree of public private key cryptography managing Libra ETF units may be severely limited or gradually eliminated.
Figure 3 – Technical and encryption considerations
(Source: iShares , Libra )
in conclusion
Although Libra's main disadvantage is that its unitholders are not entitled to investment income, many industry analysts are still carefully studying Libra's impact on the traditional ETF industry and existing electronic payment systems.
Although our comparison of ETFs is half-joking, it does highlight Libra's product structure with similar attributes to existing financial products. So we think this comparison is appropriate. If Libra wants to be competitive, it should emulate some of the management and charging features of traditional ETFs.
However, Libra can also attract customers by integrating platforms such as Facebook, Whatsapp and Instagram. If Libra does retain the property that allows the private key to control the coin, it will be interesting to develop, and the coin may get a share from tokens such as Tether. However, in our view, in the long run, Libra will either disable this feature or cause technical difficulties, so only a very small number of users have these "unmanaged" wallets. If this happens, Libra is just a very expensive ETF.
Author: BitMEX team
Weibo: BitMEX
Welcome to reprint, please indicate that the article is provided by BitMEX research team. For more research reports on cryptocurrency industry, please visit http://cn.research.bitmex.com