On July 10th, the influence of the Babbitt Viking author in June was released. In the past six months, a total of 173 authors published 1100+ articles on the Vikings, and accumulated 40 million+ readings, of which more than 30 "10W+" explosions were born.
The list of this issue is based on the comprehensive index of the number of pirate authors, such as reading volume, volume of publications, and platform activity, and has been comprehensively evaluated by editors. Finally, the TOP20 influence media, individuals and institutions are finally evaluated.
The following is the list details: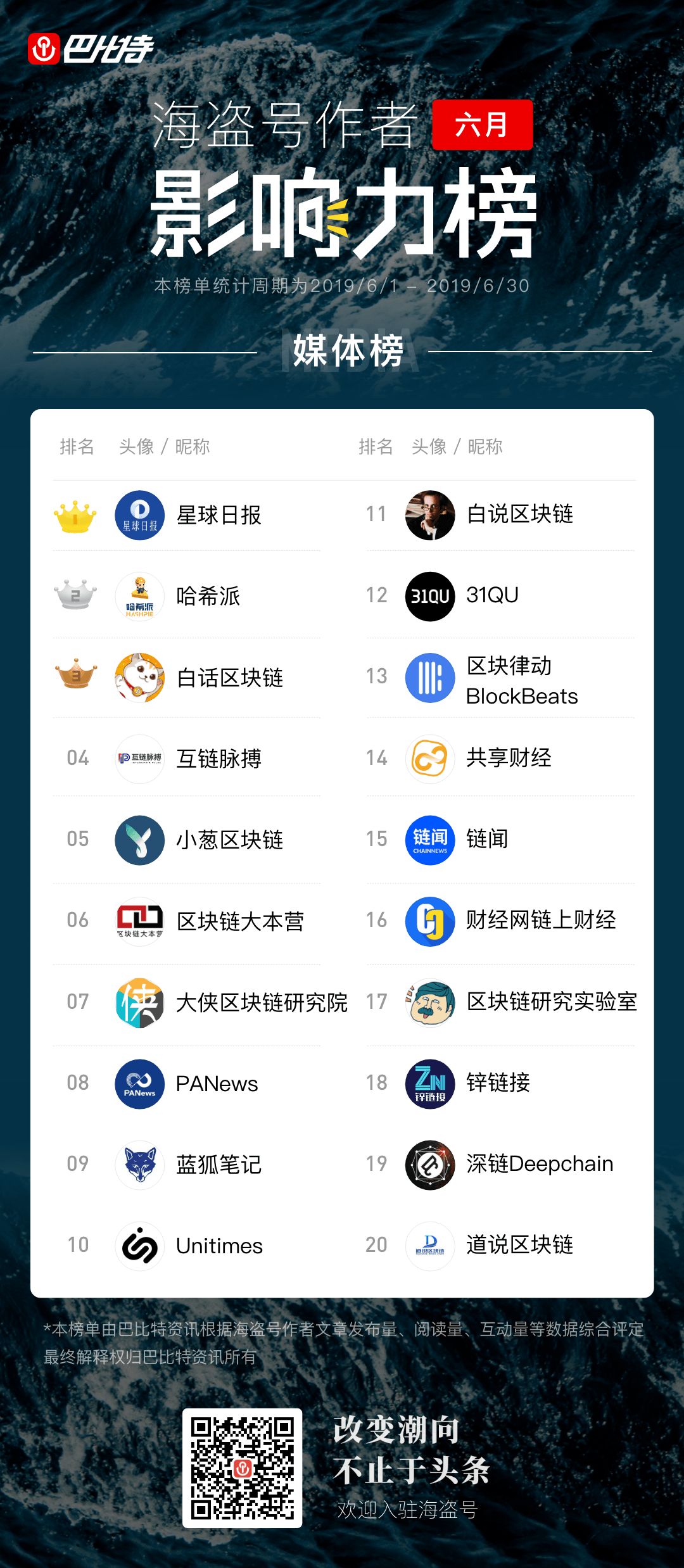 (Media pirate author June 2019 influence list)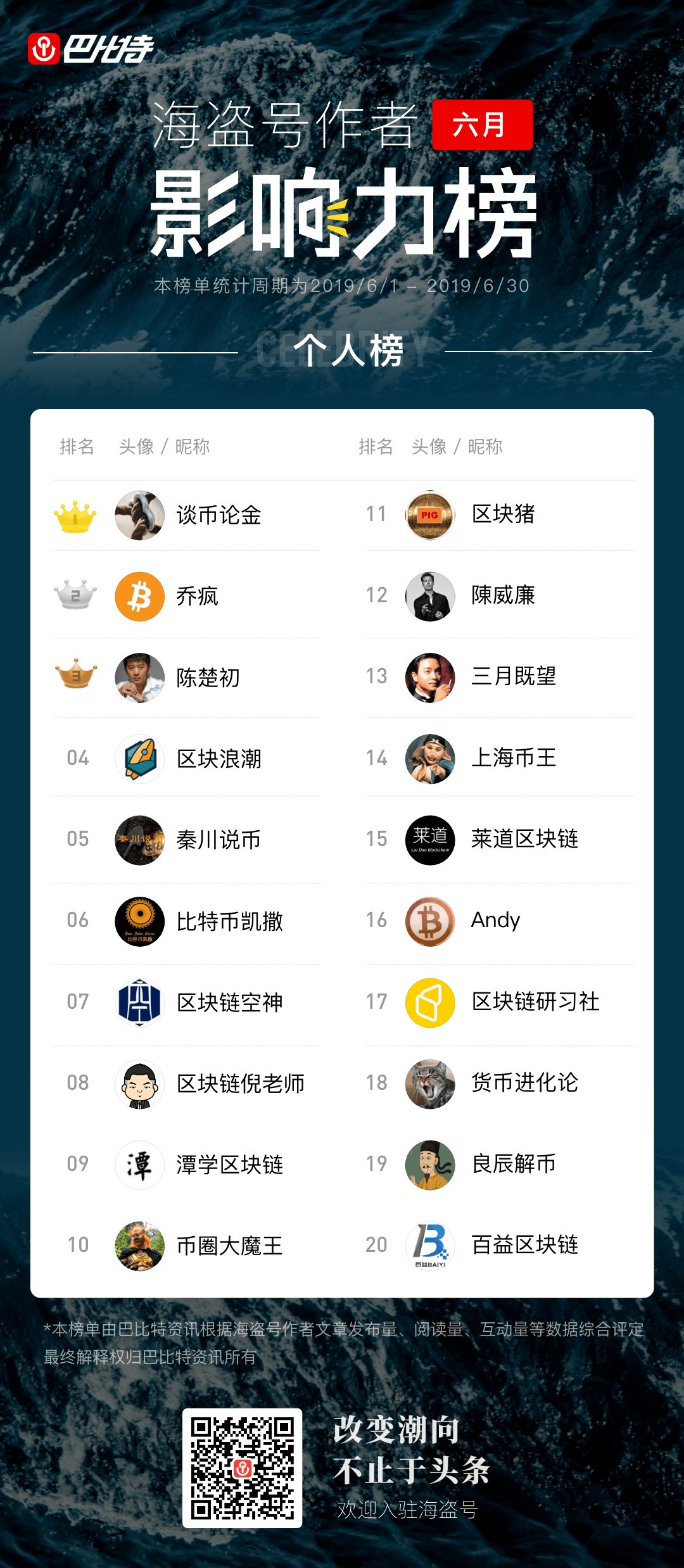 (Individual Viking Number Authors 2019 June Impact List)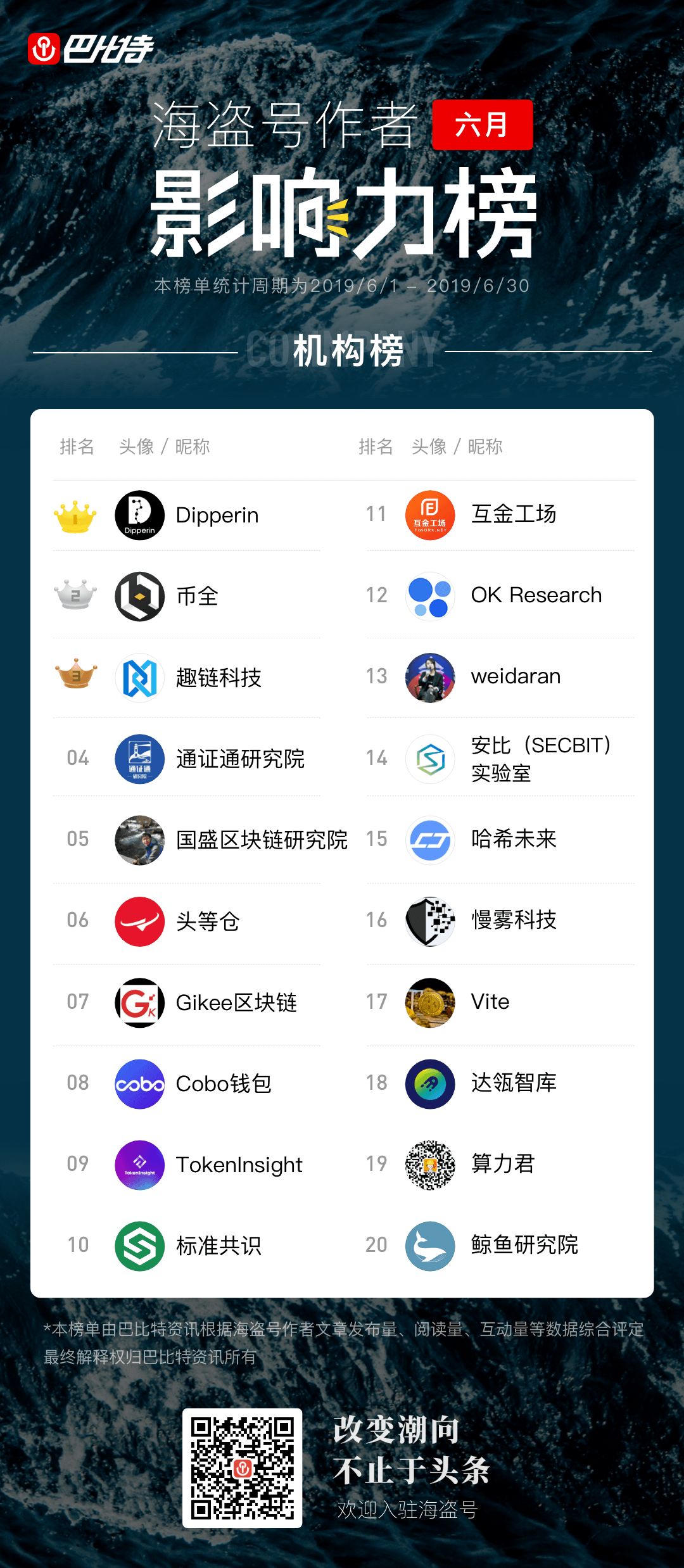 (Institutional Viking Author, June 2019 Impact Chart)
The following is our selection of the Viking June hot list (in no particular order):
The Planetary Daily "FATF's strongest regulatory new regulations have come, and the exchange's "resistance" will be held at the end of the month."
Qiao Meng "Mastering IPFS" series
The financial network chain on the financial "20 billion case value, the first major fund collapse in the currency circle"
Standard Consensus "Global STO Regulatory Status and Trend Update"
Vite "Libra Move Hardcore Interpretation"
Unitimes Ethereum 2.0 Design Principles
The value of the carbon chain "Bitcoin is approaching $10,000: the rich will enter the market and the FOMO moment is coming soon?" 》
A blockchain "behind Wang Xiaochuan's Sun Yuchen: Entering the Bitland Prospectus, Denying the Project Platform"
Dipperin "The 5G era is coming, what can the blockchain do? 》
Mutual chain pulse "Bitcoin once again broke through the public phase: the mining capacity is tight, Huaqiang North second-hand mining machine doubled the price"
The authors of the Babbitt Vikings have been deeply involved in different fields and continue to produce high-quality original articles, which have formed a non-negligible influence in the industry. The authors who are in this era are fortunate. In a sense, we are all progressive forces that influence the times. Babbitt has the privilege of recording the evolution of this era with all authors, recording all changes, turbulence and perseverance.
Since the launch in March, the Babbitt Viking has attracted 1000+ authors, and we welcome more voices and strengths to join. Click to apply for the Pirate number: http://pirate8btc.mikecrm.com/NWZ0hlG
Let us change the tide, not just the headlines.