Topaz, the first testnet with Eth2.0 Phase 0 mainnet configuration, has been released
Just two years ago, Prysmatic Labs began its journey to achieve Eth2.0, which has three milestones: Ruby, Sapphire and Diamond (1). These milestones reflect our vision of how to extend Ethereum to the global scale. We are proud to announce the final restart plan of the testnet for Eth2.0 stage 0: Topaz testnet .

Ruby, Sapphire, Topaz and Diamond milestones
The Topaz testnet is unique because it represents the complete Eth2.0 stage 0 mainnet configuration. In the previous Sapphire testnet, our goal was to reach the scale of the mainnet, but use a smaller 3.2 ETH as a collateral deposit. For the Topaz testnet, the verifier will have to mortgage 32 ETH on the Goerli Eth1 testnet to participate [Remark: The mortgaged ETH is the Goerli testnet token].
Topaz testnet is now accepting Genesis mortgage deposits. Tomorrow (April 16), Prysmatic Labs will begin to close our Sapphire validators and start sending new genesis deposits. If you want to become a genesis validator, please send your mortgage deposit before UTC 00:00 on April 16, 2020 , because Prysmatic will start sending deposits on a large scale to start the Topaz test network. Now visit the testnet link (2) to learn more about becoming a Topaz verifier, please join us on the Discord channel!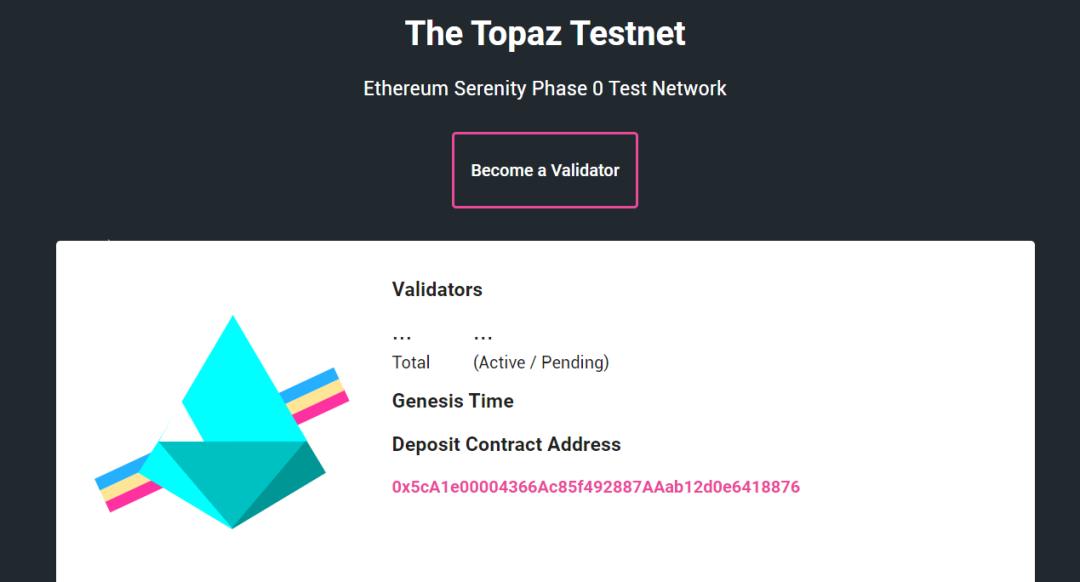 Screenshot from Topaz testnet: https://prylabs.net/
Topaz testnet information
Deposit contract address :
0x5ca1e00004366ac85f492887aaab12d0e6418876
Configuration : Main network configuration (3)
Implementation phase 0 specification version : v0.11.1 (latest version) (4)
Topaz testnet version : v1.0.0-alpha
Topaz testnet address : https://prylabs.net
Prysm API : https://api.prylabs.net
System Requirements
Recommended specifications:
Operating system : 64-bit Linux, Mac OS X, Windows
Processor : Intel Core i7–4770 or AMD FX-8310 or better
Memory : 8GB RAM
Storage : SSD 100GB free space
Internet : Broadband connection
Minimum requirements:
Operating system : 64-bit Linux, Mac OS X, Windows
Processor : Intel Core i5–760 or AMD FX-8100 or better
Memory : 4GB RAM
Storage : SSD 20GB free space
Internet: Broadband connection
Ethereum founder Vitalik Buterin also shared news about the Topaz testnet on Twitter and said that the testnet "may not be a 'multi-client testnet ' because we may restart one or two soon, so as to have More opportunities to test the genesis mechanism. But Prysmatic Labs still brought significant progress and great work. "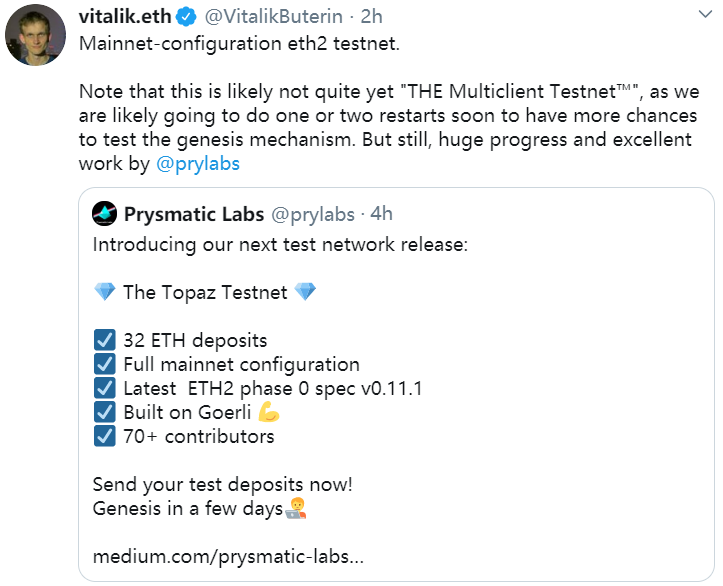 Screenshot from Vitalik Buterin's tweet
Links involved in the article:
(1) https://medium.com/prysmatic-labs/ethereum-sharding-update-prysmatic-labs-implementation-roadmap-c625cd013aeb
(2) https://prylabs.net/
(3) https://github.com/ethereum/eth2.0-specs/blob/v0.11.1/configs/mainnet.yaml
(4) https://github.com/ethereum/eth2.0-specs/releases/tag/v0.11.1
We will continue to update Blocking; if you have any questions or suggestions, please contact us!
Was this article helpful?
93 out of 132 found this helpful