Facebook currency plan speeds up: anchoring multinational currency, bringing 2.7 billion new users to the blockchain
Text /31QU Zhong Benyu
In April 2018, the exhausted Zuckerberg finally stepped out of the US Capitol.
10 hours, 44 members. Dozens of media, hundreds of spectators.
In this hearing, the $13.5 billion worth of the 2017 Forbes Global Rich List, with billions of users of the Internet, facing an unknown authoritative political force, sitting alone on a small bench .
Zuckerberg accepted the US Senate question because Facebook was suspected of having leaked user data.
A month later, Facebook sent out the largest internal restructuring in history. In this reorganization, Facebook unexpectedly set up a blockchain department.
At that time, a small number of people speculated that Facebook formed a blockchain team, which may be related to the recent scandals of fake news, user data leaks and so on. More people have asserted that as the most influential Internet social media platform, Facebook will never be able to take its own blockchain technology to its own life.
However, Facebook's determination is beyond everyone's expectations.
On June 6, according to The Information, Facebook will launch GlobalCoin, a cryptocurrency chain anchored by many countries, next month. At the same time, Facebook will also launch ATMs for supporting entities, and Facebook employees can also switch their wages to GlobalCoin.
GlobalCoin will be a vital part of Facebook's payment system.
In just one year, Facebook turned from an Internet giant to a blockchain giant.
PayPal gang and Libra plan
As early as the beginning of 2018, Facebook established the blockchain department, headed by David Marcus. Prior to this, Marcus served as vice president of Facebook and head of the Messenger division.
Interestingly, during Marcus's tenure as Facebook, he joined the board of Coinbase in December 2017. Marcus admits that he has a "long-term" interest in cryptocurrencies.
At the same time, Marcus was once the president of PayPal, the leading online payment company in the United States, and a member of the PayPal gang, so he is no stranger to solving such technical problems.
"PayPal Gangster" refers to a group of former PayPal employees who have achieved a high success rate after leaving PayPal. The companies they created include Tesla Motors, LinkedIn, YouTube and so on.
As an organization that has been in the forefront of technology, the PayPal gang has long since begun its layout of the blockchain and cryptocurrency industries. Now, Facebook will pin its hopes on the "PayPal gang" to realize its cryptocurrency dream, and this time, the task of leading the Facebook cryptocurrency project falls on the "gangster member" Marcus.
Perhaps from the personal resume of Marcus, we can see the clues of Facebook's ambitious blockchain.
Since the high-profile announcement of the blockchain in May last year, Facebook has begun to expand its arms in the blockchain field.
According to an insider in the New York Times, Facebook has hired more than 50 engineers to develop cryptocurrencies and is still recruiting. Interestingly, this 50-person team was accidentally assigned to a separate office on Facebook, which promotes openness.
In addition, they can access the top secrets of the other three social projects in Facebook through unique super-rights without any approval and reason, but the cryptocurrency closed development team's access cards use different passwords, and their offices also No other employees are allowed to enter.
What exactly is the mysterious Libra plan?
Libra's English original meaning is Libra, which is also the project code for Facebook to enter the encryption world.
According to public information, the Facebook cryptocurrency involved in the Libra project is called "GlobalCoin", which is a stable currency issued by Facebook to anchor multinational corporations.
At present, Facebook owns the three major social tools of WhatsApp, Facebook Messenger and Instagram, with a total user volume of about 2.7 billion. Facebook plans to integrate its stable currency system into the 2.7 billion people and combine it with the advertising business to reward users' creation, sharing and dissemination. At the same time, Facebook users can also use GlobalCoin for payment and shopping. And credit card and other services.
Facebook believes that the existence of stable currency is to eliminate credit card fees, while eliminating the price fluctuations of crypto assets such as Bitcoin and Ethereum.
Why enter the blockchain
In March of this year, Zuckerberg's 3,200-word long text said that Facebook will abandon the Chinese market and eventually turn to the blockchain field, and will work to open up a new profit model for Facebook.
Since Facebook's revenue is almost entirely from advertising, the rest of the business, such as VR glasses, can't bring considerable revenue to Facebook in a short period of time. Therefore, a single source of income is a explosive that may be detonated at any time for Facebook.
In the past year, explosives were almost detonated. At the time, Zuckerberg had a ten-hour inquiry, and Facebook's stock price soared more than 7%. Q1's earnings for the quarter were $11.966 billion, an increase of 49% from $8.032 billion in the same period last year. But it does not prove that Facebook has weathered the storm.
In the months following the "Privacy Door" question, Zuckerberg continually apologized to users around the world, especially in Europe, and constantly promised to adjust advertising policies and even offend Facebook's "Golden Daddy" advertisers.
But three months later, Facebook's second-quarter earnings came out, and Facebook's share price plummeted and lasted for half a year, falling from $210 to $140 at the end of the year, a drop of 30%.
A single advertising revenue has already caught Facebook's neck and almost killed Facebook.
As a result, former Facebook employee and current blockchain investment company YGC managing partner Henry Liu said: "Payment and e-commerce is the only way for Facebook to get rid of the current free value-added and advertising business model."
In addition, the expansion of the number of users is gradually becoming a bottleneck, which is also a fatal problem faced by Facebook.
Before the "Privacy Door" incident was exposed last year, Facebook's vice president Andrew Bosworth's memo was accidentally made public. In the memo, Bosworth said that what Facebook should do at the moment is to pursue the growth of users "at no cost." Further evidence suggests that this apparently distorted view is suspected to be the root cause of Facebook's "privacy door" incident.
Because user expansion was blocked, the pursuit of quantity "at no cost" eventually led to the "private door" incident.
Coincidentally, Facebook has been repeatedly rejected by some countries, and market expansion has been blocked.
In the end, Facebook saw the potential of the blockchain market. At present, Facebook's software WhatsApp has 200 million monthly active users in India. In 2017, India's remittances from abroad to India reached $70 billion. If Facebook can implement the application stable currency to send money to its domestic. Then the potential business volume per year is $70 billion.
After seeing the dawn, Zuckerberg and his Facebook finally chose the blockchain.
Speed ​​up from "2020" to "Next month"
In April of this year, Zuckerberg met with Bank of England Governor Mark Carney, and Zuckerberg said that the two sides discussed in detail the opportunities and risks that cryptocurrency may bring. The release date of GlobalCoin was finalized in the first quarter of 2020.
However, just two months later, today, Facebook suddenly announced that it will launch GlobalCoin next month.
From next year to next month, Facebook seems to be "unsatisfied". The most direct reason is that the giants have shown strong interest in the blockchain and have launched "blockchain" and "cryptocurrency" plans.
In February of this year, JP Morgan Chase, the largest bank in the United States, launched its own blockchain product, JPM Coin, which shocked the financial community.
In addition to JPMorgan Chase, in the first half of this year alone, we have seen a number of well-known traditional Internet or financial companies launching or about to launch cryptocurrencies.
Among them, Telegram, a Facebook competitor, also announced in April this year that it will launch its own blockchain platform TON and the cryptocurrency Gram circulating on it this year.
Signals that provide end-to-end encryption, Signal, also issue cryptocurrencies.
In China, the Ant Financial Blockchain also mentioned at a recent meeting that Ant Financial is exploring how to launch digital assets on the blockchain with "some form of Token".
The rest of the Internet giants such as Microsoft and Amazon have started their layout in the blockchain field.
As the concept of blockchain and cryptocurrency has been recognized by more and more people, large companies and large institutions from traditional fields have paid more and more attention to the huge potential behind blockchains and cryptocurrencies, and they have begun to enter the market.
This time, several large companies announced their cryptocurrency plans at almost the same time. For Facebook, if it does not accelerate, the already competitive blockchain market will be more difficult to survive in the future.
Moreover, although the rest of the big companies pay attention to the blockchain field, their dependence is not as urgent and close as Facebook. And the blockchain is on Facebook, it is about the future of life and death.
Feeling the crisis, Facebook has accelerated.
Heavy resistance
Although Facebook has put the "home life" on the blockchain and continues to speed up in order to take the lead, it is expected that the road to the Facebook blockchain will not be smooth.
The first is the pressure from regulation.
On June 3, Facebook negotiated with the US Derivatives Regulatory Commodity Futures Trading Commission (CFTC) on the cryptocurrency program. CFTC Chairman Christopher Giancarlo said that CFTC is happy to learn about the upcoming GlobalCoin, but will strictly control the "application." And at the moment, Facebook has not provided any details about GlobalCoin to CFTC in writing.
In addition, because of the stable nature of "GlobalCoin", some members of the encryption community believe that they may not be able to obtain a "passport" from the US Securities and Exchange Commission, because assets that are invested in US dollars will not be considered as investment by regulators.
Although Facebook has "digged" two senior employees responsible for compliance business from the cryptocurrency exchange Coinbase to deal with regulatory pressures, how to solve the regulatory problem is still the primary problem that Facebook's incoming blockchain needs to solve.
In addition, Facebook is also facing the problem of user aging.
Enar, a cryptographic research company, recently released a report saying that although Facebook is one of the world's largest social media, its encrypted digital currency, GlobalCoin, will face the challenge of aging users.
According to the report, less than half of Facebook's users are under 35, and users over 65 have more than doubled since 2012.
In addition to the aging of the user base, Facebook has lost its dominant position in the youth market. According to the report, only 50% of American teenagers use Facebook.
In the face of older users, one of the biggest obstacles is the lack of recognition of cryptocurrencies and the loss of interest and patience in learning and accepting cryptocurrencies.
Finally, Facebook did not have a successful financial business experience before.
Ten years ago, Facebook launched a virtual currency called "Facebook Credits," which allows people to use it to purchase items in their websites. However, due to lack of market competitiveness, this project had to be terminated only after two years of survival.
The release of stable currency is the second time that Facebook has embraced virtual currency. It is still unclear whether Facebook will succeed.
Beautiful new world
Assuming that Facebook's currency is a big success, it will provide a standard "paradigm" for other big players in the social media space. Not surprisingly, there will be a lot of social media to follow.
If Facebook goes along the path of creating its own cryptocurrency, it will largely legitimize the technology and extend it to the larger public, bringing the blockchain and cryptocurrency closer to the world. Mainstream.
Garrick Hileman, a researcher at the London School of Economics, believes that the GlobalCoin project may be the most important thing in the recent history of cryptocurrencies.
He said conservatively estimates that about 30 million people currently use cryptocurrencies, compared to 2.7 billion total Facebook users.
In addition, financial information website LendEDU said that by asking 1000 Americans about cryptocurrency and Facebook attitude, most of them believe that Facebook's "brand effect" will help increase the use of cryptocurrency.
If there are more social media around the world embracing cryptocurrency and blockchain technology, the huge number of users that come with them may make the concept of blockchain a "wave" in the world.
From the end of 2018, after Facebook announced its intention to issue cryptocurrencies, Facebook's stock price ushered in the first peak since the "Privacy Gate" incident. By May this year, the stock price has risen from the bottom of last year's 133 US dollars. It is around $192.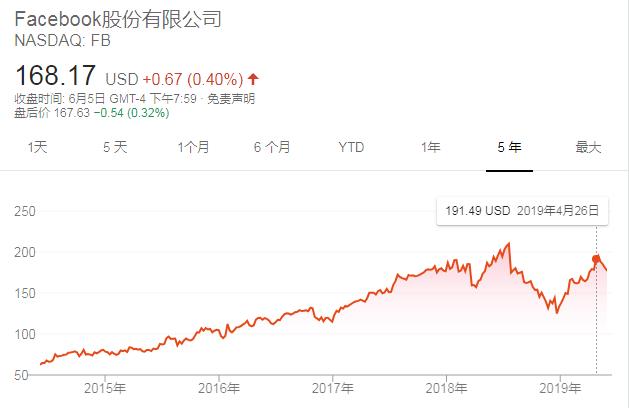 Whether it is a coincidence, we don't know, but what is certain is that a gradually getting better market may provide more possibilities for Facebook's incoming blockchain.
We will continue to update Blocking; if you have any questions or suggestions, please contact us!
Was this article helpful?
93 out of 132 found this helpful