Data: More than 18 million addresses hold bitcoins worth less than $100
Although the Bitcoin "Whale" is an important member of the Digital Cryptography Forum, there are still a significant number of users holding a relatively small number of BTCs.
According to BitInfoCharts, there are currently 18,124,238 wallets holding bitcoins worth more than $1 (not more than $100). However, due to current transaction fees, these users may be hesitant to pay for using bitcoin.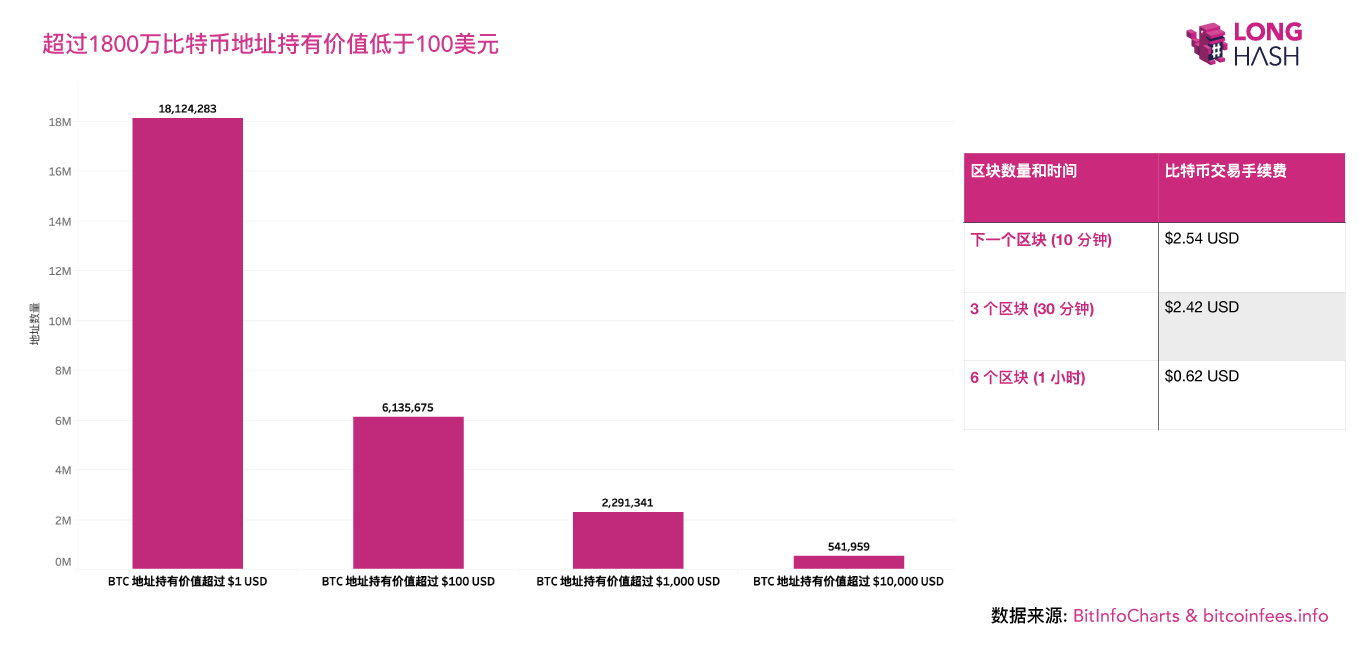 Bitcoin wealth distribution
It is said that compared to the "small" bitcoin holders (holding value: 1-100 USD), a total of approximately 542,000 bitcoin addresses are held at a value of US$ 10,000 (according to the current exchange rate). In contrast, approximately 6.1 million bitcoin addresses hold less than $1,000 in BTC.
Although such bitcoin wealth distribution may be a positive signal, indicating that bitcoin is not only suitable for the rich, high transaction fees may also bring some obstacles to minority shareholders.
Earlier this year, Bitcoin transaction fees were very low, which meant that Bitcoin assets were more promising as an effective daily payment tool. However, when writing this article on June 5th, the transaction cost of the next bitcoin block (about 10 minutes) was $2.54.
Faced with relatively high transaction fees, small wallet holders may not be able to trade
Transaction fees can motivate miners to play a role in bitcoin governance. Transaction fees are often determined by a number of factors, such as the degree of congestion in the Bitcoin blockchain when a transaction occurs.
The cost of sending a Bitcoin transaction does not depend on the amount sent, which means that the large transaction fee and the small transaction fee are ultimately the same. Historically, this is a good way to send large transactions to Bitcoin and other cryptocurrencies, as the processing fees for Bitcoin transactions tend to be much cheaper than other modern payment methods. However, Bitcoin fixed transaction fees may result in the cost of sending small transactions that are too high to be traded on a regular basis.
It may be encouraging to see so many small bitcoin holders, but high transaction fees may mean that many people are less likely to spend BTC at the current point in time. A large number of small bitcoin holders urgently need an expansion solution to reduce the intermittent high transaction fees of assets.
Author: Jack Filiba
Source: LongHash
We will continue to update Blocking; if you have any questions or suggestions, please contact us!
Was this article helpful?
93 out of 132 found this helpful