Jinshajiang Capital Completes Investment in tZERO, Overstock or Delisting from Nasdaq
The investment includes $1 million, a renminbi worth $1 million, and "some securities" worth $3 million.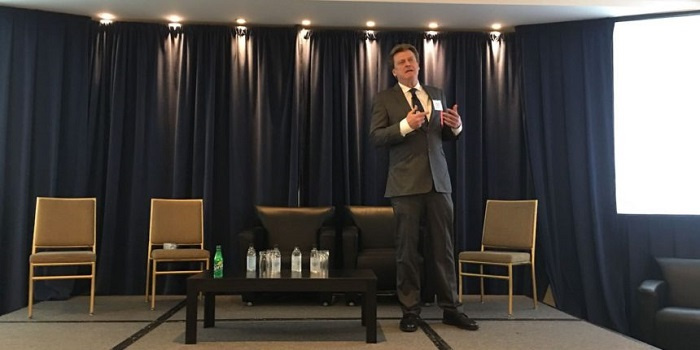 After a lengthy trading agreement revision and delay, GSR Capital has finally completed its investment in Overstock.com's securities-based token trading platform, tZERO. However, the Hong Kong private equity fund company did not purchase the $30 million tZERO token in accordance with the previous agreement, but instead invested $5 million in the traditional stock of tZERO, and tZERO's valuation in this investment transaction. It was finalized at $1 billion, not the $1.5 billion mentioned in the initial agreement.
Patrick Byrne, CEO of Overstock.com, announced the news at the company's first-quarter telephone earnings conference on Thursday (May 9) and said they had let Jinshajiang Capital withdraw from all previous contracts. In addition, Overstock also revealed that Singapore Fund Makara Capital, which was led by Jinshajiang Capital to introduce this investment transaction, is still conducting due diligence on tZERO and is likely to invest in tZERO in accordance with the previous agreement.
Overstock.com mentioned in its first quarter company earnings report:
"We are still working with Makara and are optimistic about the completion of certain things (probably just follow-up investments). Jinshajiang Capital may join again at that time, but not sure."
According to Overstock, despite the significant reduction in current earnings, tZERO CEO Saum Noursalehi confirmed that the $5 million investment offer was not bad. The investment included $1 million, $1 million worth of RMB, and a value of 300. Tens of thousands of "some securities."
Long investment negotiations
Last summer, tZERO reached a preliminary investment agreement with Jinshajiang Capital, which is expected to bring in $404 million in funding. However, the investment transaction was actually delayed several times. The investment amount was reduced to 100 million US dollars in March and reduced to 30 million US dollars in April.
In March of this year, when the investment transaction was postponed for the second time, Jinshajiang Capital brought another investment institution, Makara. According to the agreement at the time, the two companies would jointly lead the TZERO company with US$100 million. However, because tZERO did not receive the original external investment, they had to rely on the parent company's funds for the time being, and the plan to sell Overstock.com's online retail business was postponed.
Saum Noursalehi, CEO of tZERO, revealed that Overstock.com's retail business can get quite a bit of capital because they are focusing on cash flow. In order to raise more funds, Overstock.com sold some of the shares and took out a piece of proceeds to support tZERO. Of course, Saum Noursalehi said that if tZERO really needs all the funds, its parent company will provide it, and another purpose of taking the money is to hedge the uncertainty of Jinshajiang Capital and Makara investment transactions.
tZERO Blockchain Project Progress
On the bright side, tZERO seems to have found a new "big customer" that can issue securities tokens on its platform. According to Saum Noursalehi, Dubai-based real estate giant Emaar has signed a letter of intent with them to issue tokens on the tZERO platform. Emaar currently has a number of luxury residential and commercial high rise buildings in Dubai, including the world's tallest building, Burj Khalifa.
It is reported that Emaar originally planned to launch the initial token distribution (ICO) in cooperation with Swiss startup Lykke AG in March this year, but this plan does not seem to be completed as scheduled. As of this writing, Emaar media representatives and Lykke companies did not. Comment on this matter.
Saum Noursalehi said that Emaar initially wanted to do some small proof-of-concept token-issuing projects, and then it might launch a $2 billion token-issuing project in the next few years, but no specific ones have been given at this stage. Schedule, and other details about future token transactions. For Saum Noursalehi, tZERO is eager to get the final contract in the next week or two.
Patrick Byrne, CEO of Overstock.com, previously said that car manufacturer Elio Motors may not be one of the first wholesalers of the tZERO securities-based token distribution platform. Saum Noursalehi explained this issue, he revealed Elio's The main reason why the cooperation was "delayed" was that the company wanted to add more complex functional codes to their tokens, such as allowing token holders to get the ordering vehicles faster, which took more time. However, tZERO hopes to trade 10 tokens on its Alternative Trading System (ATS) by the end of the year.
tZERO also announced another partnership at the teleconference meeting on Thursday (May 9th), they have completed integration with the token platform Securitize, and the tZERO team will perform due diligence on the tokens issued on the platform. Investigate and select some tokens to trade on their alternative trading system.
All businesses are "moved" to the blockchain?
Overstock.com showcased the previously launched tZERO cryptocurrency trading app and announced that it will be officially launched in June this year. The app will initially be available on Bitcoin, Ethereum and ravencoin (because Overstock's venture capital arm, Medici Ventures, The ravencoin blockchain was used in previous pilot projects).
At the same time, Overstock.com is transferring some of its equity to tZERO as planned, which has previously been disclosed to shareholders. These shares, dubbed "Blockchain Voting Series A Preferred Stock", were issued in 2016 and are intended for preliminary proof of concept work on future token trading platforms and will be available this year. Landed on the tZERO trading platform in June.
A brand new "OSTK.0" ERC-20 token has been built on the Ethereum blockchain, but no transactions have been recorded yet.
In the long run, Overstock plans to issue more tokenized stocks. As Saum Noursalehi planned, the company will eventually put all its business on the tZERO blockchain, he concluded:
"In the future, we may delist from Nasdaq and put all stocks on tZERO. However, before this day, the tZERO trading platform must be more liquid than it is now."
This article comes from CoinDesk, the original author: Anna Baydakova
Odaily Planet Daily Translator | Moni
This article was translated from https://www.coindesk.com/hong-kong-funds-projected-400-million-overstock-investment-ends-with-5-million-close . Please indicate the source if you reprint.
We will continue to update Blocking; if you have any questions or suggestions, please contact us!
Was this article helpful?
93 out of 132 found this helpful