Citigroup withdrew, IBM is full of ambitions, will the stable currency become a stand-alone game for the giants?
72 countries/regions, 47 currencies, 44 terminals, and 1,081 transaction pairs. Yes, you are not mistaken. This is the brightest data given by the latest development of IBM official announcements.
The real-time payment network, called IBM Blockchain World Wire, is like a huge network that covers countries that have strategically partnered with IBM to provide users with fast, low-cost payment services.
"More than one bank has seen a huge commercial interest in issuing stable currencies based on fiat currencies," said Jesse Lund, head of IBM blockchain development.
In fact, Blue Giant IBM's exploration of blockchain applications, the early entry time, the coverage of the field, and the wide range of coverage, beyond imagination.
After completing the transformation of hardware vendors to software service providers and breaking people's misunderstanding that their "one foot has entered the grave", this "dancing elephant" has turned the direction to the blockchain. Is this risk worthwhile?
Will the future stable currency market become a stand-alone game for giants such as IBM?
1
IBM Stabilization Coin Program
On March 16, after JP Morgan Chase announced JPM Coin, claiming to enter the stable currency, IBM also announced the latest progress of its stable currency.
The latest news shows that IBM has signed letters of intent with six international banks, including RCC Commercial Bank (RCBC), Brazil's Banco Bradesco and Busan Bank, which will be at IBM Blockchain World. A stable currency is issued on Wire.
It is understood that this cross-border payment system for financial institutions based on blockchain technology can integrate with existing payment systems, and can support any quota, any destination, and any asset type in a high security environment. Payment operation.
"We are thinking of a network with many different asset classes, with digital euros, digital dollars, and digital pounds all running on the network," said Jesse Lund, head of IBM blockchain development. It may also "cover more banks and fiat currencies, even digital currencies issued by the central bank."
It is understood that IBM's partner is Stellar, which is similar to our well-known Ripple. The focus is on resolving cross-border payment transfers. The difference between the two is that the former is to achieve payment transfer in the economy, the latter. It establishes alliances with banking institutions on a global scale.
Since 2017, IBM has been using Stellar to promote cross-border payments. As for IBM's release of stable currency, it has attracted attention in mid-July last year.
At the time, a San Francisco startup called Stronghold announced that it would launch a stable currency called "Stronghold USD" based on the platform, which was deposited in US dollars by the FDIC Insurance Bank of the Prime Trust of Nevada, 1:1 USD. hook up.

▲ Reddit, discussion on the progress of IBM's stable currency
https://www.reddit.com/r/CryptoCurrency/comments/as6ov9/stellar_ibm_world_wire_jesse_lund_reveals_their/
In this regard, IBM also said that it will use the currency for experimental exploration, "to help banks and other financial institutions to deal with payment business faster and safer", although currently mainly for enterprises, "(future) may open to individual investors ""
After the announcement of World Wire's progress, Lund said that considering the US regulation, Stronghold USD will be the first to operate overseas and is expected to enter the US market in the third or fourth quarter of this year; in addition, it is expected that Busan Bank and RCBC will be the first this year. A similar stable currency was introduced in the second quarter and "is currently awaiting approval from regulators".
In fact, IBM's bet on the blockchain war has kicked off since 2015, and the stable currency is just the tip of the iceberg for the Blue Giants to create a blockchain map.
2
Bet blockchain
With 1,500 employees covering more than 500 blockchain projects in the shipping, finance, healthcare and food safety industries, this is IBM's 2018 blockchain layout and investment.
Today, huge investments seem to have paid off.
In September last year, a survey conducted by Juniper Research showed that nearly two-thirds of large enterprises are actively deploying, or considering the incoming blockchain, IBM is the preferred technology support for these companies to enter the blockchain, and the support rate is almost Ranked second – 10 times that of Microsoft (7%).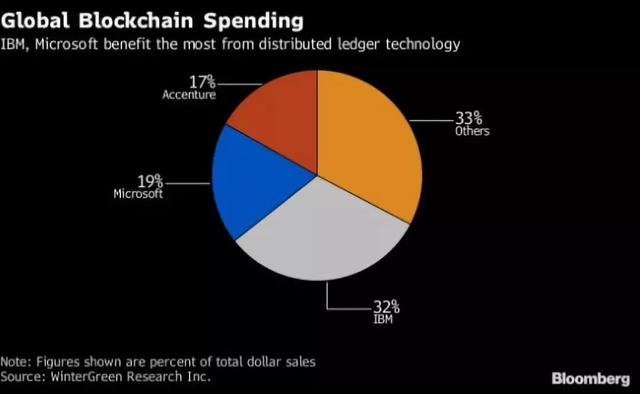 WinterGreen Research Global Blockchain Market Share Analysis Report
In addition, the return is reflected in the income data.
In January of this year, IBM's financial report showed that the company's fourth-quarter results were better than expected, and its quarterly revenue increased for the first time in more than five years.
IBM's strategic business units, including data analytics, cloud services, mobile and security, have also continued to grow. In the fourth quarter of last year, the above strategic business income reached US$11.1 billion, accounting for nearly half of the total revenue, up to 49%, compared with 35% two years ago.
What supports IBM's success is a forward-looking layout.
As early as the end of 2015, IBM announced its participation in the open-book project led by the Linux Foundation (now renamed the hyper-book "Hyperledger"); in 2016, IBM announced the launch of "Bluemix Garage", developers can explore new platforms on the platform Blockchain use cases; at the end of 2017, IBM partnered with Stellar and KlickEx Group to launch a "transnational payment solution". IBM is indeed at the forefront of blockchain technology exploration.
However, some people think that "a bold move for a giant like IBM," Josh Olson, an analyst at financial services firm Edward Jones, once commented, "for the first For companies using new technologies, (final results) may not be the best."
"IBM has invested in new technologies in the early days, and the promised vision is also very good, but in the end it is difficult to break through." Olson cited IBM's artificial intelligence project Watson and SyNAPSE chips as an example: because the technology is difficult to commercialize, it is finally rushed by competitors. Super.
It is understood that IBM's blockchain map is huge, covering the fields of finance, advertising, supply chain, Internet of Things and healthcare. Among them, financial services are the top priority.
"More than one bank has seen a huge commercial interest in issuing stable currency based on legal tender." Lund's introduction of IBM's stable currency means, "Our goal is to continue to expand the network and achieve global coverage within 3 to 5 years, users Remittances can be sent anywhere, at very low cost."
3
Opportunities and challenges for giants to stabilize coins
Stabilizing coins are an indispensable currency in the world of cryptocurrencies. Due to the anchoring of legal currency, the price is relatively stable, and the stable currency including USDT, TUSD and GUSD is one of the important media for the investor's asset preservation. Because of the first-mover advantage, USDT can occupy the entire market share for nearly 90%. .
The situation of a big one changed in October last year. After the USDT was bad and many investors suffered "empty positions being cut", other currencies began to chase after the trend, and stable currencies such as TUSD and GUSD began to attack the city and seize the market.
Last year, the stable currency market, which was a channel for deposits and value-keeping, changed. In 2019, the stable currency was glowing with an efficient payment settlement tool, which once again set off a wave of discussion.
For example, JPM Coin, which JPMorgan plans to launch, is based on the Stronghold USD issued by World Wire, and the coordinating coin J Coin launched by Mizuho Bank in Japan, and even some time ago, the token plan from FaceBook, these coins are all by a certain The giant hair of the field is essentially a settlement network based on blockchain technology.
Why are the giants also coming into the market to issue stable coins?
In October last year, the 2018 Global Payment Report released by Worldpay, a global payment service provider, predicted that the compound annual growth rate (CAGR) of all digital transactions will be about 13% between 2018 and 2021. The forecast is expected to rise to 876 billion. Dollar.
This figure is undoubtedly more imaginative than the current market value of the cryptocurrency of $130 billion. The giants are trying to seize the cryptocurrency in this field.
"It will be the most widely circulated Internet currency on the planet," someone is extremely optimistic about Facebook's currency program. "Even the dollar is being defeated, forcing the dollar to become a "special currency for country-to-country settlements", the physical world is made up of dollars. Control, the virtual world is controlled by FacebookCoin."
However, some people are not optimistic about this giant's stable currency plan.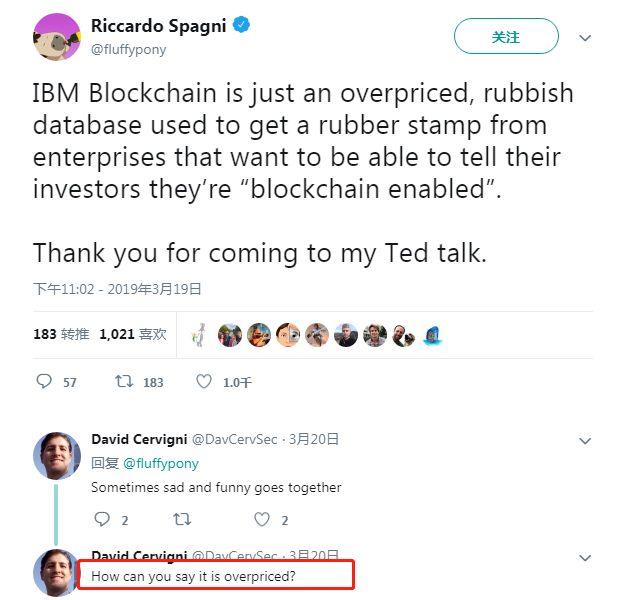 On March 20th, Riccardo Spagni stared at IBM Stabilizer on Twitter
After IBM announced the new development of the stable currency, Monroe coin founder and core developer Riccardo Spagni commented on Twitter that IBM's blockchain is a well-recognized junk database that wants to tell investors that they can use the zone. Blockchain empowerment (and that's it), because MySQL can do the same thing, and it's free.
Just as JPMorgan Chase and IBM's entry into the stable currency began to stir everyone's enthusiasm, another giant quietly withdrew from the competition.
On March 15, Citibank abandoned the launch of the stable currency Citicoin and considered moving to the more mature settlement system SWIFT. The Citicoin project, which was already in preparation for Citibank four years ago, has now been abandoned.
In response, Gulru Atak, head of Citibank Innovation Labs, explained, "To build a cross-border payment network using blockchain technology, all banks around the world must be involved."
Citibank is not a case. In fact, more giants' stable currency plans are still only at the conceptual stage, or just the first step of the long march.
Conclusion
From JP Morgan Chase to Mizuho Bank in Japan, from Facebook to IBM, as the stable currency plans of big companies were revealed, the stable currency began to be held to the altar, perhaps with the resources of the giants, the business model of cryptocurrency/stable currency blessing Really can create an era.
However, just as the giants began to sing high-soundingly to attack the city, they must also see that the new gameplay is integrated into the original model, and that the emerging technology and the traditional vested interests will happen sooner or later.
For the giants, to enter the cryptocurrency, it will face not only a hard battle, but a hard and long-term war.
Text / 31QU Lin Jun
We will continue to update Blocking; if you have any questions or suggestions, please contact us!
Was this article helpful?
93 out of 132 found this helpful