Overview of the Latest Situation of Hong Kong's First Licensed Virtual Asset Exchanges
Hong Kong's first licensed virtual asset exchanges overview.
Author: Bo Wen
Starting from June 1, 2023, SFC will start accepting applications for virtual asset exchange licenses. Despite the strict mandatory licensing system – all virtual asset trading platforms operating in Hong Kong (virtual asset services) or actively promoting their services to Hong Kong investors will need to obtain licenses from the Securities and Futures Commission (SFC); Hong Kong's huge geographical advantage backed by the mainland and the Chinese market still wins the favor of many cryptocurrency workers.
According to the South China Morning Post on September 25, in addition to the two (OSL Digital Securities Limited and Hash Blockchain Limited) that have been licensed cryptocurrency trading platforms, regulatory authorities have said that four companies have now submitted license applications, namely HKVAX, HKBitEx, HongKongBGE Limited, and Victory Securities (VDX).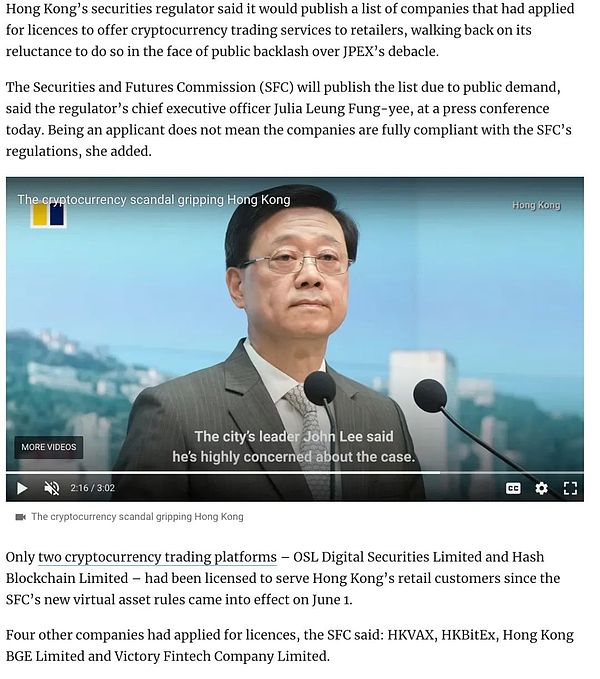 OSL becomes the first licensed virtual asset exchange in Hong Kong
On August 3, 2023, BC Technology Group announced that its wholly-owned subsidiary, OSL Digital Securities Limited, has been approved by the Securities and Futures Commission of Hong Kong to upgrade its existing license and can now serve retail investors. It is worth mentioning that as early as the end of 2020, OSL had obtained License No. 1 and License No. 7, making it the first digital asset trading platform in Hong Kong to be listed by its parent company, licensed in Hong Kong, with insurance coverage for its assets, and audited by the Big Four accounting firms.
BC Technology Group, formerly known as ANX, was established in 2013 and has become one of the world's oldest and most experienced digital asset companies, providing reliable, secure, and efficient services to global institutional investors.
For a long time, OSL, as the only licensed and listed digital asset trading platform in Hong Kong, has enjoyed compliance advantages. It has successively cooperated with traditional financial giants such as DBS Bank and Standard Chartered Bank in the field of digital assets, and received a HKD 543 million investment from the Singapore sovereign wealth fund GIC. With the implementation of Hong Kong's Web3 policy, OSL has gradually developed its retail investor business and steadily grown.
OSL aims to build a centralized and highly credible investment portfolio, invest in unique growth opportunities in the industry, and provide strong positive risk-adjusted returns for investors in the medium to long term. In the future, it will focus on private equity and venture capital investments, investing in blockchain/web3 and other related industries.
Hashkey Exchange approved by the Securities and Futures Commission of Hong Kong to upgrade its existing license and provide cryptocurrency trading services to retail investors
In 2022, Hashkey announced that it had been granted a Type 1 (Securities Trading) license and a Type 7 (Providing Automated Trading Services) license by the Securities and Futures Commission of Hong Kong (SFC). On August 3, 2023, Hashkey announced that it had been approved by the Securities and Futures Commission (SFC) to upgrade its existing license and can now officially provide trading services for mainstream cryptocurrencies such as Bitcoin and Ethereum to retail investors. The exchange was officially launched on August 28th.
HashKey provides USD and HKD deposits and withdrawals. Global recognized institutional accounts can directly transfer funds to the HashKey Exchange fiat wallet, and it also provides USD and virtual asset trading pairs. Customer funds are stored independently, effectively separated from HashKey Exchange operations, and are protected by institutional custody-level insurance. Currently, HashKey has obtained ISO 27001 (information security) and ISO 27701 (data privacy) certifications, and has attracted investors to register and participate through the HSK airdrop.
HKVAX collaborates with Magic Circle to promote STO issuance and trading
On August 11, 2023, the Hong Kong Virtual Asset Exchange (HKVAX) received a principle approval notice from the Securities and Futures Commission (SFC) of Hong Kong for Type 1 and Type 7 regulated activities, becoming the third licensed virtual asset trading platform in Hong Kong.
HKVAX, founded by Hong Kong entrepreneurs, aims to establish a new standard for digital asset trading and create a bridge between traditional finance and digital finance in the local and global markets. As early as April 20, 2021, digital securities STO solution provider Magic Circle announced the establishment of a strategic partnership with HKVAX, and through closer business cooperation, jointly promote the issuance and trading of digital securities STO in Hong Kong and Asian markets.
In the future, HKVAX will provide three core products: over-the-counter (OTC) broker services, featuring narrow spreads and high liquidity, enabling users to easily trade between fiat currencies and virtual assets; institutional-grade trading platform; and 100% guaranteed custody services, where asset access rights and controls are clear, and customer assets are clearly separated from the company's own assets.
Former senior executives of HKEX jointly establish "Hong Kong Digital Asset Exchange" (HKbitEX)
Backed by Taiji Capital, HKbitEX was established on June 8, 2020, with the participation of many former senior executives of HKEX. It is one of the first institutions to apply for the "Virtual Asset Trading Platform License" issued by the Securities and Futures Commission of Hong Kong. The company is headquartered in Hong Kong and primarily provides spot and over-the-counter trading of electronic assets to professional investors, focusing on the virtual asset exchange business. In April 2020, it obtained a Trust and Company Service Provider License (TCSP LICENSE).
Similar to HKVAX, on February 1, 2023, Magic Circle and the Hong Kong Digital Asset Exchange ("HKbitEX") formally announced the establishment of a partnership to expand the adoption of Security Token Offerings ("STO") in Hong Kong.
Son of the "King of Gambling" makes a strong entry into the virtual asset trading field with the establishment of BGE
HK BGE is a wholly-owned subsidiary of listed company HKE Holdings (01726). HK BGE has previously hired Thor Chan as CEO, who was the former CEO and co-founder of the now-defunct cryptocurrency exchange AAX. HKE Holdings has a market value of approximately 2.3 billion Hong Kong dollars, with Chairman and major shareholder being Lien Ho-ming. There have been speculations that he is the son of Stanley Ho, also known as the "King of Gambling," but this has not been confirmed.
HK BGE currently has only two directors, including Ou Jinpei and Ji Dana, who are respectively the director of operations and the director of business development of the company. The company's website is currently only open to invited professional investors.
Victory Securities launches asset management and virtual asset trading services
In recent years, Victory Securities has been active in virtual asset investment and holds licenses from the China Securities Regulatory Commission for virtual asset trading (No. 1), virtual asset consulting services (No. 4), and virtual asset asset management services (No. 9).
As the first financial group to receive both virtual asset trading and consulting licenses from the China Securities Regulatory Commission, Victory Securities started providing virtual asset trading services in March 2023. On September 25th, Liang Fengyi, the CEO of the Hong Kong Securities and Futures Commission, announced the addition of a list of virtual asset trading platform applications for investors to be aware of whether the platforms have made false statements. Victory Securities' VDX (Victory Securities) is among them.
Currently, Victory Securities only provides virtual asset investment (excluding virtual asset ETFs) to professional investors. Users need to complete a professional investor assessment form and provide proof of personal assets of no less than HKD 8 million in the past year (such as bank statements, securities statements, trust certificates, etc.) to start virtual asset trading.
OKX is poised to enter the market strongly next year
In 2022, OKX has started applying for a virtual asset trading platform license in the Hong Kong area. In June of this year, OKX revealed that the group has entered the final stage of VASP license application, and it is expected to be licensed from March to June next year. On September 25, 2023, OKX's Chinese tweet (X) stated that OKX HK plans to formally submit a Hong Kong VASP license application before the end of October, steadily advancing its layout in the Hong Kong market.
Under the background of a bear market, OKX adheres to the concept of deepening product development and steady ecological construction. Despite the combined effect of various factors, it has achieved good market growth performance and has occupied most of the Chinese-speaking cryptocurrency market. With the continuous implementation of relevant policies by the Hong Kong government, it is worth looking forward to whether OKX will have more in-depth cooperation with institutions and promote a friendly financial product ecosystem for retail investors in Hong Kong.
Sun Brother: Huobi (HTX) will obtain a Hong Kong license by the end of the year at the earliest
On May 26, 2023, the cryptocurrency exchange Huobi (now renamed HTX) announced the official launch of Huobi Hong Kong (Huobi HK), embracing Hong Kong's new cryptocurrency policies. In the future, Hong Kong users will be able to trade mainstream cryptocurrencies such as BTC, ETH, TRX, HT, etc. through Huobi HK.
On June 3, Sun Yuchen, the founder of Tron and the current global advisor of HTX, revealed in an interview with CoinDesk that Huobi HK has submitted a VASP license application, including an "18-month grace period" during which the Hong Kong Securities and Futures Commission can approve or reject the application. Although Sun Brother is full of confidence, according to informed sources, HTX has been blacklisted by the Hong Kong Securities and Futures Commission, and a licensed virtual asset trading platform may just be another traffic trap for Sun Brother.
Since the implementation of the new policies in Hong Kong, applying for virtual asset exchange licenses has become a benchmark for the industry's advancement in Hong Kong's Web3. We will wait and see if more exchanges will join and try to get a share of this cake in the future.
We will continue to update Blocking; if you have any questions or suggestions, please contact us!
Was this article helpful?
93 out of 132 found this helpful