In the first half of the year, it has risen by 110%. Bitcoin is almost 7,000 dollars. Is the bull market coming?
"The moment is the best opportunity."
Bitcoin hit a new annual high for the fourth time in less than a month.
BTC's recent gains date back to April 30. After a brief adjustment from May 5 to May 6, BTC rose again on the evening of May 6. At 8:00 in the morning today, the BTC, which has stood firm at $6,300, once again started its gains. After that, it broke through $6,400, $6,500, $6,600, $6,700, and $6,800, and then hit a new high of $20,950.
$7,000 is close at hand.
Since December 17, 2018, the low of 3,155 US dollars, Bitcoin broke through the key points of 4,000 US dollars, 5,000 US dollars and 6,000 US dollars in a half-year period, and the upward trend is obvious. This is considered to be a big signal for the arrival of the bull market.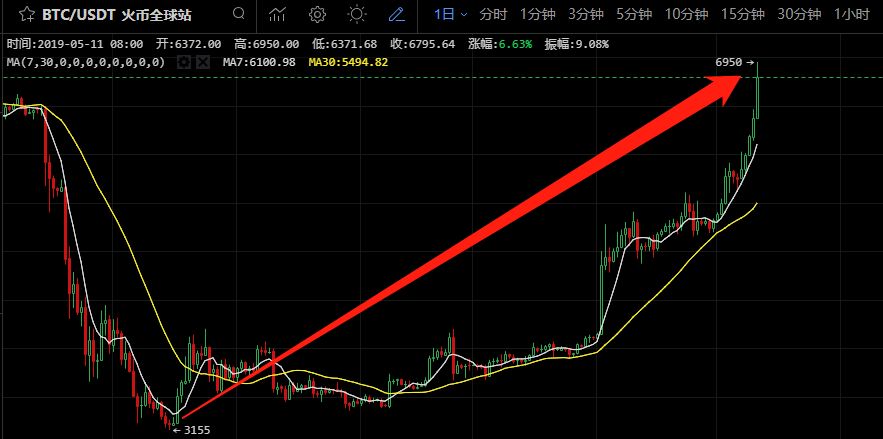 Bloomberg has previously reported that if Bitcoin exceeds $6,400, a new round of bull markets can be confirmed. Bloomberg pointed out that $6,400 is the most traded price for Bitcoin in 2018 and is recognized as a key resistance. Josh Rager, another popular cryptocurrency analyst on Twitter, agrees. He explained that the price range of $6,450 may be an "epic-level" resistance level. If it falls to the support level, it will be This cryptocurrency is crazyly bullish.
Market conditions are good, Mike Novogratz, CEO of cryptocurrency investment firm Galaxy Digital, made a bolder prediction that Bitcoin would reach $20,000 in 18 months.
Behind all kinds of positive signals and strong market bullish sentiment, is the bull market really coming?
5 reasons why BTC continues to rise
This week, Qian'an suffered a large-scale systematic attack and was stolen by hackers of 7,000 bitcoins. Affected by this news, BTC fell to a minimum of 5,772 US dollars, the market once heard a lot of bearish voice. But at the crucial time, the market successfully stabilized. After falling below $5,800, BTC quickly rebounded above $5,800 and successfully broke through $5,900 that night.
For the market reaction after the stolen 7,000 bitcoins were stolen, Mike Novogratz, a well-known encryption investor, commented:
"In the bull market, the market can digest bad news. And we are currently in the bull market!"
Mike Novogratz said that the rising trend of cryptocurrency is only the beginning. He believes that after breaking through $6,000, Bitcoin's next target is $10,000. What are the driving forces behind the continued rise in bitcoin prices? From the past industry news, there are five main reasons:
Large institution admission
In January 2019, BitAsset co-founder Chase Gao told the Mars Finance App that many traditional financial institutions in China and the United States began to enter the market, and the trading volume of these institutions may have exceeded 50%. The entry of large institutions has almost been nailed. According to Bloomberg News, Fidelity, the world's largest asset management company, is about to launch Bitcoin trading services in a few weeks, which will directly promote the cryptocurrency market boom.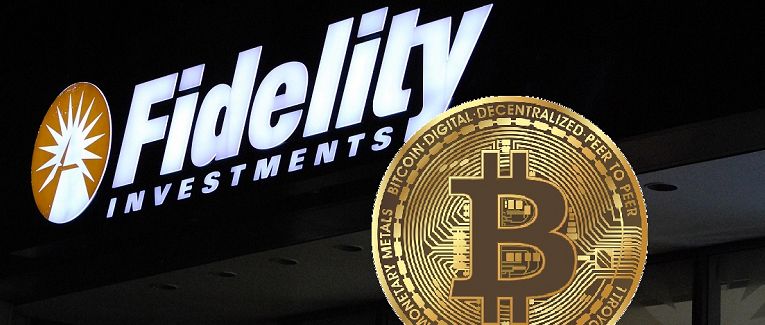 Not only Fidelity, after 2019, JPMorgan Chase, the second largest Internet brokerage in the US, TD Ameritrade, ErisX, Bakkt, E-Trade… a number of large financial institutions have made significant progress, and the confidence of cryptocurrency investors is greatly encouraged. .
The analysis shows that due to the huge amount of funds, after the traditional institutions enter the market, it is necessary to choose a currency with sufficient trading depth to intervene. Otherwise, the corresponding investment target may not be able to carry the amount of funds due to the large price shock. For these reasons, Bitcoin is likely to be the first choice for traditional financial institutions to enter the market.
2. Less than 400 days from Bitcoin's third halving, the "half-half effect" is emerging
As part of the Bitcoin deflation monetary policy, Bitcoin circulation will be halved approximately every four years. In the case of halving production in the past two times, bitcoin prices will start to rise in the first few months of halving. The third halving of Bitcoin is expected to occur on May 25, 2020. It is less than 400 days away, and it is based on historical quotes. Bitcoin will also launch a bull market this year.
Encryption analyst Max Keiser speculates that bitcoin prices could even reach a staggering $10 million in the event of a "massive rally." The high price of bitcoin can be discussed, but at present, bitcoin has risen from the lowest price of $3215 at the beginning of the year to nearly $7,000, which is more than 100%. The bull market pattern has basically taken shape.
3. Market regulation is loose, Facebook allows cryptocurrency ads to be placed
On May 8, social networking giant Facebook updated its advertising policy for financial services and products, saying it would ease the ban on blockchain and cryptocurrency-related advertising, allowing more companies engaged in encryption technology to advertise on their platforms.
Facebook first announced in January 2018 that it would ban the promotion of cryptocurrency and ICO advertising because of concerns that ICO activities in some cryptocurrency projects may deceive users. In June of the same year, Facebook relaxed the ban, allowing advertisers who received prior written approval to place such ads. Less than a year later, Facebook further withdrew this policy, and many of these ads will no longer need approval. The Facebook New Deal will allow more people to understand and invest in cryptocurrencies, and is therefore a potential cause of the continued rise in Bitcoin.
4. Market bullish sentiment
This week, 7,000 bitcoin cases were stolen and the bitcoin price fell below $5,800. Some of the industry's views once thought that the market would fall sharply. But Bloomberg, the mainstream financial media, asserts that Bitcoin will break through $6,000 on the grounds that more and more large institutions are beginning to embrace cryptocurrencies, a trend that is unstoppable.
"There is no doubt that the market is very strong." Tradingview analyst Pento_Investment believes that, regardless of the technical or psychological level, $6,000 is an important barrier for Bitcoin, and the bitcoin bulls are steadily moving and gradually rising. The healthiest trend. Even if there are serious negative events such as USED explosions and stolen money, Bitcoin can quickly recover lost ground and digest bad. Therefore, this year's market for Bitcoin will enter a new stage, and the bulls will fully grasp the situation and the upside has already opened.
5. Investors are eager to find new investment targets
In the past week, the S&P 500 index suffered the worst week of the year, with both the S&P 500 and the Dow Jones Industrial Average both falling more than 2% and the Nasdaq down 3%. Fundstrat analyst Thomas Lee listed recent major events in the world economy, including "global stock market sharp decline", "volatility index (VIX) soaring", "global yield curve slowed down and flipped" and other negative events. Finally, Thomas Lee pointed out that cryptocurrencies show different trends from other investment targets and have the potential to become new investment targets.
According to a recent report by The Wall Street Journal, bitcoin has far more returns for investors than crude oil, real estate and other investment products. The report said that Bitcoin performed well in April, despite the Tether-Bitfinex controversy, but its price is still rebounding and testing new highs in the near future. The report also pointed out that the recent cryptocurrency market has been very positive, greatly improving the investment sentiment that was hit by the bear market in 2018, and with the continuation of 2019, fundamental growth may cause bitcoin prices to rise further.
Bitcoin sucks up, altcoin fate geometry
According to Coinmarketcap market data, BTC's current market value is 118.737 billion US dollars, accounting for 59.1% of the total market value of cryptocurrency, the highest since September 2018.
On this basis, because bitcoin attracts a large amount of institutional funds and continues to rise, it may lead to a certain increase in other altcoins, but because the altcoin has no institutional funds to support, its rising market is unsustainable. Therefore, the funds of other altcoins will turn to Bitcoin, which will form a market sucking effect. The market will show that Bitcoin will rise in the same way, while other currencies will be relatively weak and even callback.
On May 10th, the overall market showed an overall decline, and BTC was in a state of uniqueness. Chain tower data analysis said that the current market confidence is sufficient and positive, and there is a trend of pulling out the bull market through BTC, but the data shows that BTC can not fully influence and represent the market as a whole, and the market distance has completely become a bull market.
However, there are also views that the full copy of the bitcoin model of the altcoin will encounter challenges, and the currency that forms the unique technical characteristics will show a strong trend of the market, and will not be weak because of the bitcoin. Today (May 11th), in the trend of cryptocurrency market, other currencies have "compensated" phenomenon, while among the top ten cryptocurrencies of CoinMarketCap, ETH, LTC, EOS and ADA have achieved more than 10% increase within 24 hours.

Market trend
On December 17, 2017, Bitcoin hit a record $19,142 and is still the highest point in history. At present, the price of Bitcoin is about 180% lower than the highest point in history. From this point of view, there is still much room for growth in Bitcoin.
For the future trend, Canaccord Genuity analysts said that Bitcoin is expected to return to the highest level in history in the next 24 months. "The price performance of Bitcoin between 2011-2015 and 2015-2019 is strikingly similar. We note that Bitcoin fluctuates on a four-year cycle because its production is halved approximately every four years. Now bit The currency has already begun to form the bottom mentioned last year. Therefore, if you continue to follow the trend in the future, Bitcoin will slowly rise back to the highest point of US$20,000. In theory, the price of Bitcoin will reach this level in March 2021. "
But some people hold different opinions. In a previous report on the Mars Financial APP, FXStreet analyst John Isige said that Bitcoin has waned its momentum after hitting a new high this year. The current bullish momentum has slowed down and there may be a large-scale correction.
Adamant Capital, a credit investment agency, believes that Bitcoin is currently in the "accumulation stage" and speculates that bitcoin will fluctuate between $3,000 and $6,500 in the short term, until a new bull market pushes it up, which in turn drives the cryptocurrency market to become a value. A trillion-dollar industry. Adamant Capital pointed out that Bitcoin's three characteristics of decentralization, continuous financialization, and fit to younger groups will not only enable it to gain support in the short term, but also be a key driving force for its price growth in the next five years.
Wen | Chen Xiangming Du Huitang
Produced | Mars Financial APP (ID: hxcj24h)
This article is intended to provide more market information and does not constitute any investment advice.
We will continue to update Blocking; if you have any questions or suggestions, please contact us!
Was this article helpful?
93 out of 132 found this helpful