Deep understanding of the capital map of "Xiong Technology", the controlling party has arbitrage of HK$300 million
Industrial marijuana has not been planted and ran away? See the full capital map above ↑
On April 2, Morgan Hill, the controlling shareholder of Hong Kong-listed company Xiong'an Technology (stock code: 01647.HK), suddenly reduced its holding of 300 million shares, which caused concern in the industry.
According to the official announcement of Xiong'an Technology, on April 2, Morgan Hill sold 200 million shares and 100 million shares of the company to Zou Chendong and Trinity Gate (the actual controller is Teng Rongsong), and sold a total of 300 million shares. Half of the number of shares. After the reduction, Morgan Hill's shareholding in Xiong'an Technology changed from 531 million shares to 231 million shares.
It is worth noting that the actual controller of Morgan Hill is Yao Yongjie. In the previous month, Morgan Hill has reduced its shares eight times in a row. After the sale is completed, Morgan Hill has cashed in nearly HK$300 million.
In May last year, Yao Yongjie, the management manager of Xiong'an Fund, bought a 60.05% stake in SHIS Limited, a Hong Kong-listed company, through his holding of Morgan Hill, and renamed it "Xiong Technology", claiming to develop a blockchain and at the same time The core management team is brought to the new shell.
After a lapse of half a year, Xiong'an Technology Blockchain business has been ineffective, and it was announced in March this year that it would "plant industrial marijuana". Subsequently, the cannabis stocks went higher, and the stock price of Xiong'an Technology also experienced a roller coaster-like ups and downs.
In April, Xiong'an Technology increased its share price as the blockchain stocks were heated up, and Morgan Hill reduced its holdings of Xiongan at this time. What is the reason?
And Li Xiaolai, who is familiar with the most chain of Xiong'an technology, may not have shares in Xiong'an Technology. The true relationship between Xiong'an Technology and Xiong'an Fund is also confusing.
From building construction to blockchain to industrial marijuana, how far is Xiong'an Technology, a company with a market capitalization of nearly HK$2 billion, in parallel with multiple lines of business? How is the development of blockchain business and how long can it be? The Odaily Planet Daily will be dismantled below.

The controlling party reduced its holdings to nearly HK$300 million
Morgan Hill's investment has achieved a 30% increase.
In April 2018, Morgan Hill and Fission Capital bought 750 million shares of Hong Kong-listed company SHIS Limited (predecessor of Xiong'an Technology, stock code: 01647.HK).
Among them, Morgan Hill purchased 623 million shares, accounting for about 60.05% of the issued share capital of SHIS; the average price per share was 0.87 Hong Kong dollars, and the purchase price was 542 million Hong Kong dollars.
But eight months later, Morgan Hill began to reduce its shareholding in Xiong'an Technology. It reached its peak in March this year and lost eight times in a month. On April 2nd, the biggest reduction was made (see the first article).
Since March, Morgan Hill has realized a total of HK$260 million through the reduction of its shareholding in Xiong'an Technology.
The following is a table of changes in shareholdings of Morgan Hill after the completion of the Odaily Planet Daily.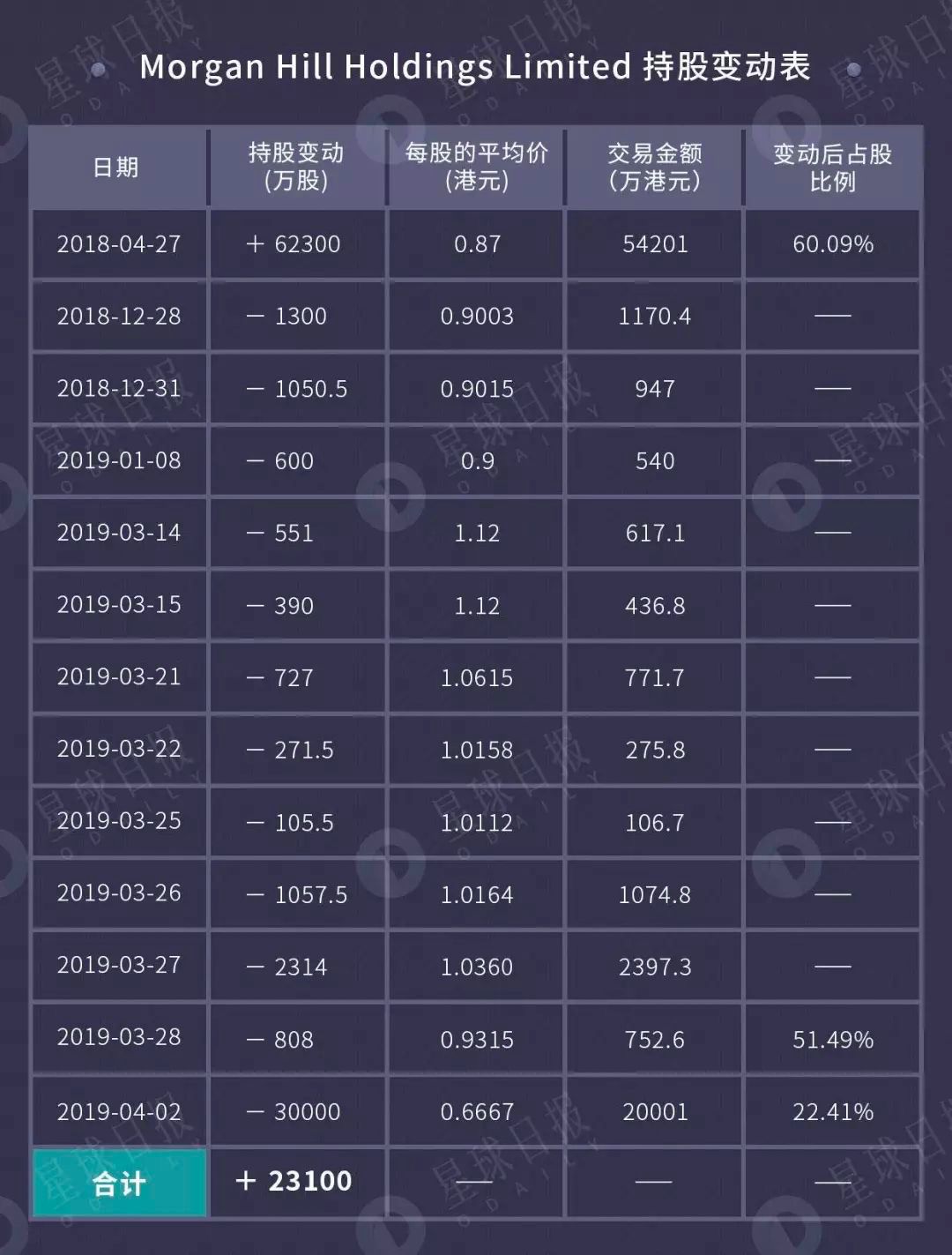 As shown above, plus Morgan Hill's multiple sales since December last year, it has accumulated a total of 291 million Hong Kong dollars.
It is still holding 231 million shares, with an opening price of HK$ 1.79 on April 11 and a value of HK$ 413 million. The remaining stock and the cash in hand totaled a total of HK$704 million.
In other words, Morgan Hill achieved a 30% return on investment in the past year compared to the investment of HK$542 million.
However, Morgan Hill's "Get Rich" is questionable.
Earlier, an unnamed industry analyst told Odaily Planet Daily: "Yao Yongjie (Morgan Hill's major shareholder) has so many shares in Xiong'an Technology. If the stock is not pulled up, it will be bought." On June 6, Xiong'an Technology just announced its entry into industrial marijuana.
The implication of the analyst is that Morgan Hill either cashed in through the concept of speculation. The current results also seem to partially support the analyst's statement.
After the news that Xiong'an entered industrial cannabis, Xiong'an Technology and other cannabis stocks have achieved substantial growth. The highest share price rose to 1.67 Hong Kong dollars, up 33% from the announcement.
In the ups and downs of the stock price, Morgan Hill continued to sell shares. Although not all sold at the high point of the stock price, the average price of the stock sold before the big clearance at the beginning of April 2 was 13% higher than the purchase price, and the overall profit was considerable.

What is the intention of selling 300 million shares?
Morgan Hill's reduction on April 2 was an unusual trade.
There are two abnormal places.
One is that Morgan Hill sells stocks when the situation is good. In the first week of April, it was undoubtedly a positive for blockchain concept stocks such as Xiong'an Technology. Because at the end of March, the National Network Information Office just announced the first batch of blockchain service filing list. According to this, Guosheng Securities said that the blockchain industry has entered the application stage. On April 2nd, the currency market ushered in a wave of small climax, bitcoin skyrocketed from 4,000 dollars to 5,000 dollars.
Under multiple benefits, Xiong'an's share price continues to climb. According to data from Oriental Fortune Network, the share price of Xiong'an has increased by 105.3% in the past 11 days.
However, Xiong'an Technology chose to sell the stock at a low price to Zou Chendong and Trinity Gate at this time, which is puzzling.
The second suspicion is that Morgan Hill sold 300 million shares at a price of 0.667 Hong Kong dollars. The transaction price of HK$0.667 is much lower than the market price (opening price of HK$0.94 on the day) and the purchase price of these shares (HK$0.87).
A person familiar with Hong Kong stocks told Odaily Planet Daily that Morgan Hill might do so for two reasons. One is that Morgan Hill needs cash to rush out of cash; the other is that the transaction may be negotiated capital operation between buyers and sellers.
Whether Morgan Hill is eager to cash out is not yet inferred. But the second possibility can be inferred from some indications. For example, fission capital and Morgan Hill, one of the two major buyers of 300 million shares, are unusual.
Fission Capital was first introduced to Xiong'an Technology as the "coherent action person" of Morgan Hill's acquisition of Xiongan Technology.
Caijing.com has analyzed that the role of "coherent actors" in Hong Kong stocks generally does not hold much (5% – 20%), but has a good relationship with major shareholders and has better resources and rich market value management experience in Hong Kong. Understand the strategic partner of becoming a shell company's market capitalization.
Fission capital is quite in line with the above conditions. Teng Rongsong, a partner of Fission Capital, was a CIO of CDB (a wholly-owned subsidiary of China Development Bank) and successfully invested in nearly 20 Hong Kong-listed companies. It can be seen that it has considerable resource integration capabilities in the Hong Kong capital market.
Moreover, fission capital is involved in the operation of multiple capitals. In addition to helping Xiong'an Technology buy a shell, fission capital also acquired the "coherent action person" of Hong Kong-listed company Tongcheng Holdings (stock code: 01611.HK) as a fire currency.
In the case of conditions, and the two sides have been working together for nearly a year, it does not rule out that fission capital will take some new operations in the future after taking over the shares of Morgan Hill.
The other big buyer who took over the shares of Morgan Hill was Zou Chendong. According to the transaction price of HK$0.667, Zou Chendong paid HK$133 million for the 200 million shares.
From the resume, Zou Chendong worked as a media person for 20 years and served as the news director of the Shanghai Securities News. In 2010, Zou Chendong became a director of China Xinhua News Network Co., Ltd.; from 2011 to 2018, Zou Chendong served as China Xinhua. Executive Director, Vice Chairman and Chief Executive Officer of TV Holdings Limited (stock code: 08356.HK).
In March 2019, Zou Chendong took over as Executive Director and Co-Chairman of Xiong'an Technology, and will be responsible for the development of various projects, including new businesses related to industry and medicine. At present, Zou Chendong is mainly responsible for industrial cannabis projects.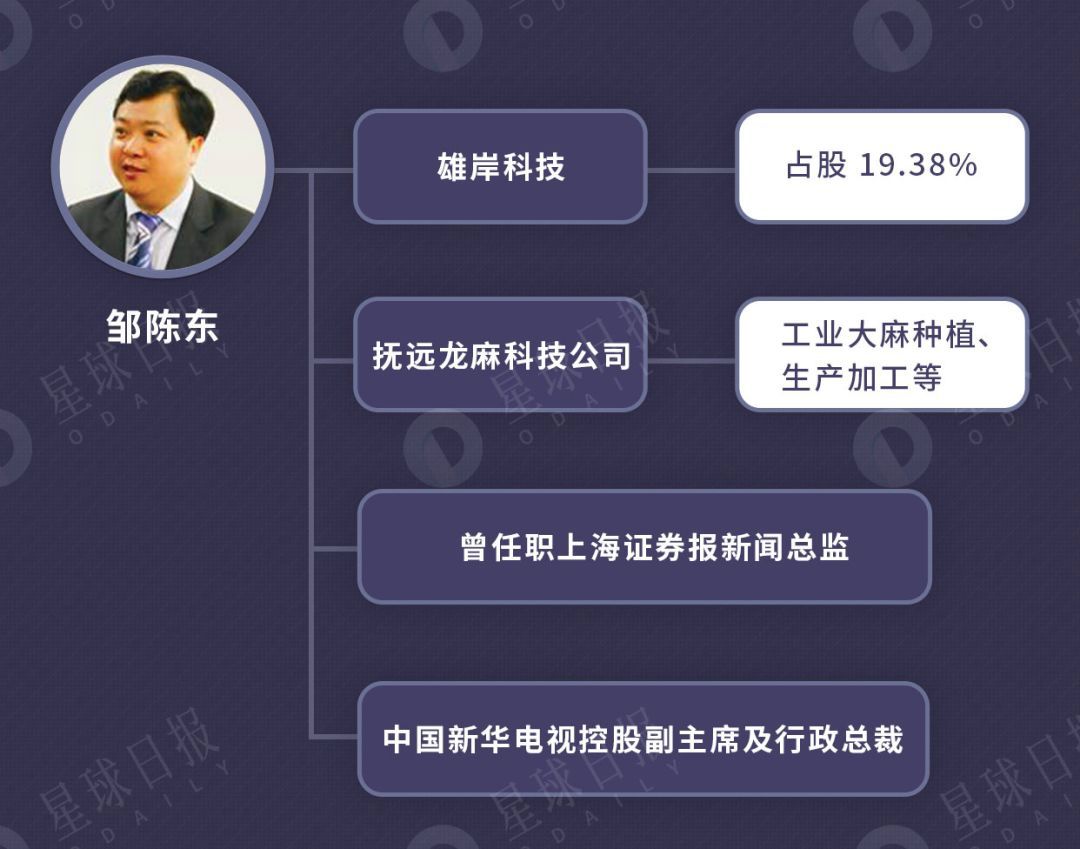 Blockchain business is slow
There is no doubt that Xiong'an Technology is a blockchain concept stock. When Bitcoin broke the $5,000 mark, Xiong'an Technology also rose 33% with blockchain concept stocks.
But when it comes to the blockchain business that Xiong'an Technology has done in the past year, many people can't answer it.
An industry insider who has long been paying attention to Xiong'an Technology has ridiculed that Xiong's biggest move in the blockchain field is to ask Li Xiaolai to be the CEO.
Many blockchain industry insiders believe that Xiong'an Technology and Xiong'an Fund are in the same vein and participate in the investment of multiple blockchain projects.
But in fact, there is no direct business relationship between the two, except for the similar names and the common boss, Yao Yongjie. But in essence, Xiong'an Technology still has inextricably linked with Xiong'an Fund: the core management teams of the two companies are almost coincident.
Yao Yongjie is one of the founders of Xiong'an Fund and owns 51% of Hangzhou Xiong'an Investment Management Co., Ltd. (hereinafter referred to as 'Hangzhou Xiong'an). Xia An Technology's executive director and co-CEO Li Xiaolai owns Hangzhou Xiongan 49% The equity of Xiong'an Technology Non-executive Director Lu Xuwen is the legal representative of Hangzhou Xiong'an.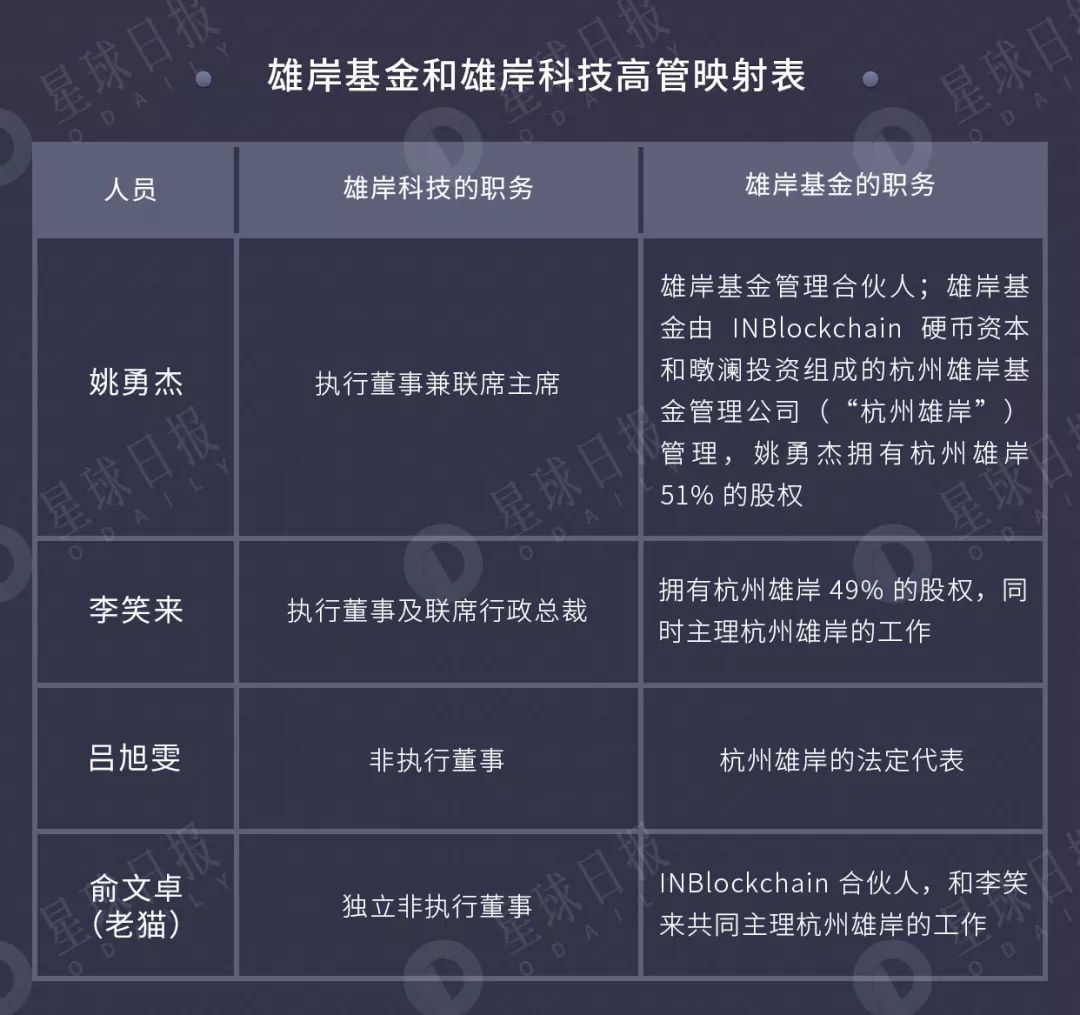 However, there is no evidence to prove that the investment fund of Xiong'an Fund comes from Xiong'an Technology. Moreover, the investment activities of Xiong'an Fund were concentrated in June last year, and investment trends have rarely been announced in the past six months.
If you don't invest, what does Xiong'an Technology do?
From May to October when Morgan Hill entered Xiong'an Technology, Xiong'an Technology did not seem to have real income in the blockchain business.
Xiong'an 2018 Interim Report shows that as of September 30 of that year, Xiong'an's revenue was mainly from the traditional business of the original company (SHIS Limited), and did not write any income from the development and application of blockchain technology. .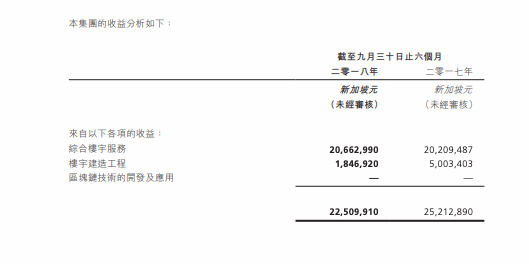 Image taken from Xiong'an 2018 Interim Report
In December, Li Xiaolai, who has a deep experience in the currency circle, took over as the co-CEO of Xiong'an Technology. The "arrangement" of Xiong'an Technology to Li Xiaolai is to lay out technical projects such as stable currency, DAG public chain and TEE.
But after 4 months, Xiong'an Technology did not seem to have made much progress.
According to the public information, Xiong'an's current achievements in the blockchain field are to invest in a company, announce and cooperate with two projects.
The investment company is called AI Master, and its introduction is a "financial technology company focused on improving the liquidity of encrypted assets", which can provide market operation, liquidity management and transaction matching system for blockchain project parties and exchanges. Etc. Currently, financial services have been provided to more than 20 blockchain companies.
The two companies that announced the cooperation occurred before and after Li Xiaolai took office. He was unknown in the industry and could not find the official website after the multi-party search.
One is called Capital Payments, which claims to use DAG technology to provide merchants and customers with payment methods. Another company, Vision Creator Inc, said it will set up an STO exchange in South Korea and other places.

Industrial cannabis has not yet been planted
In addition, another business of Xiong'an Technology, industrial marijuana, does not seem to be progressing smoothly, mainly involving planting and market.
The growth cycle of industrial cannabis in the north is half a year, and April is the season of seed planting. According to a Xiongan Technology Industrial Cannabis Project that has not been disclosed, Xiong'an Industrial Cannabis Plantation (in cooperation with Baicheng Hanma) will be planted in April.
However, the Odaily Planet Daily reported to Baicheng Hanma, saying: "This year has not been planted."
For reasons of no planting, it is suspected that Xiong'an Technology did not pay funds to Baicheng Hemp. "Xiong's technology funds are not in place. Whoever gives me money first will cooperate with whom." Previously, Baicheng Hanma said in an interview.
On April 4, Xiong'an Technology (stock code: another stove, announced the establishment of Fuyuan City Longma Technology Development Co., Ltd. in Fuyuan City, Heilongjiang Province ("Fuyuan Longma"), engaged in industrial cannabis cultivation, production and processing and cannabidiol (CBD) extraction, Zou Chendong is the legal representative of the company. On April 9, Xiong'an Technology announced that it has obtained 7,000 mu of land use rights in Nehe, Heilongjiang, suspected of being used for industrial cannabis cultivation.
However, whether it is the establishment of a new company or the acquisition of land use rights, Xiong'an Technology is still not planting.
"Industrial cannabis grows in the north for about half a year, planted in April, and matures in September." Experts from the Institute of Materia Medica of the Chinese Academy of Agricultural Sciences told Odaily Planet Daily that if they missed this year's planting period, they could only wait for next year.
However, Xiong'an's land use rights in Nehe will expire on December 31 this year, which means that there is not much time left for planting this year. If you can't catch up with the last car, Xiong'an's industrial marijuana plan will be completely ruined this year, which will definitely affect its stock price.
Xiong'an Technology (stock code: previous announcements show that its industrial cannabis planting area in 2019 is planned to reach 20,000 mu, and in the next three years, according to market demand and processing capacity, it will gradually expand to 3, 5, 100,000 mu, and reach in the long run. 300,000 mu. At present, the scale of 7,000 mu of land in Nehe is far from the target scale.
In addition, from the market of industrial cannabis CBD, it is far from being as broad as imagined. At present, there are three main uses: medicinal, food and beverage, mask and other cosmetics.
The development cycle of medicinal CBD is relatively long, generally takes 3 to 5 years, and the control is stricter. Therefore, short-term benefits are not high, and many companies will not be preferred.
In contrast, the latter two have become the choice of many companies due to their shorter development cycle and higher short-term benefits.
Xiong'an Technology (stock code: the newly established Fuyuan Longma Company, its business scope also includes "development, production, sales and testing services for food, beverage, health products and cosmetic raw materials".
However, according to the China Securities Journal, the National Narcotics Control Board issued a notice saying that "China has never approved industrial cannabis for medical and food additives, and all regions must strictly abide by the regulations." This also means that industrial cannabis is temporarily used in the domestic market. If you don't open it, you can only export to countries such as Canada that completely release industrial cannabis.
"The use of industrial cannabis CBD has yet to be studied and should be warmed down to the market." Cheng Lanqing, member of the China Crop Association's Hemp Professional Committee, told Odaily Planet Daily.

The "power" map behind Xiong'an Technology
Finally, the Odaily Planet Daily has compiled a complete picture of the capital structure behind Xiong'an Technology.
In terms of splitting, Morgan Hill is the largest controlling party of Xiong'an Technology. The company's actual controllers are Yao Yongjie and Zhu Guangping, who together own 51% and 49% of Morgan Hill through Great Scenery and Emperor Grand. as follows: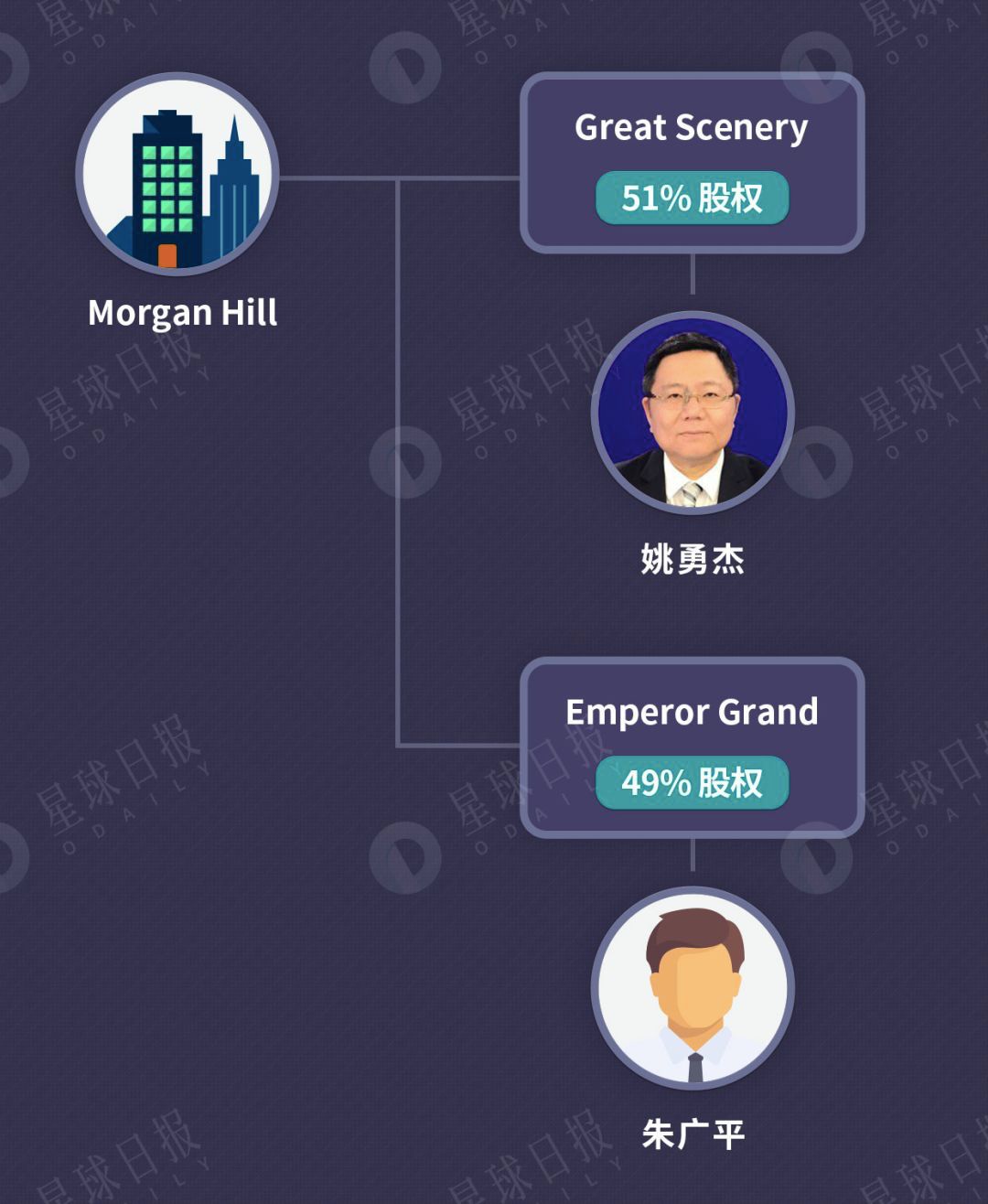 Yao Yongjie
According to Tianyue data, Yao Yongjie has 135 companies and is the founder and chairman of Hangzhou Private Investment Management Co., Ltd., a private equity investment company. The fund focuses on investments in blockchain and artificial intelligence.
In 2015, Hangzhou Hao invested 17 million yuan to invest in the head mining machine manufacturer Jia Nan Zhi Zhi, and obtained 10% of the latter; in April 2018, Yao Yongjie and Li Xiaolai established Hangzhou Xiongan Investment Management Co., Ltd. ("Hangzhou Xiong'an", which accounted for 51% and 49% respectively.
After the shareholding reduction on April 2, Yao Yongjie suspected that he would start a new stove and re-establish a company engaged in industrial cannabis business. According to the news of Oriental Fortune Network on April 9th, the wholly-owned subsidiary of "Hangzhou暾澜" and Xingmin Zhitong (002355.SZ) will cooperate to engage in industrial cannabis cultivation and downstream product R&D and production.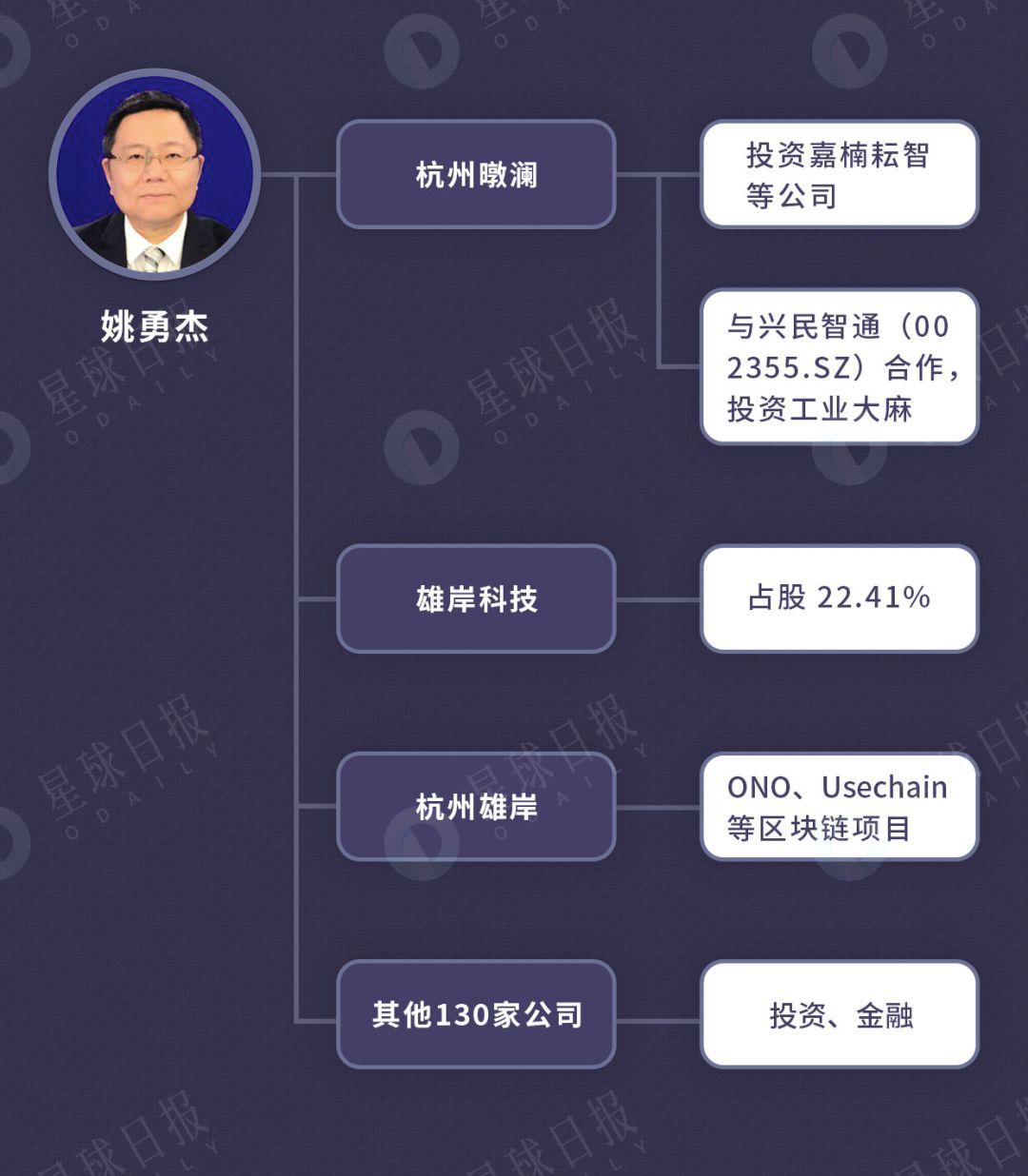 Li Xiaolai
Li Xiaolai, an old man in the currency circle, founded coin capital and invested in a number of blockchain projects including EOS and Zcash.
At present, Li Xiaolai is the executive director and co-chief executive of Xiong'an Technology, and is also familiar with Xiong'an's most blockchain. Therefore, Li Xiaolai has been pushed to the table.
However, according to the HKEx "Director's Interest Disclosure", Li Xiaolai did not own shares in Xiong'an Technology, which is unexpected.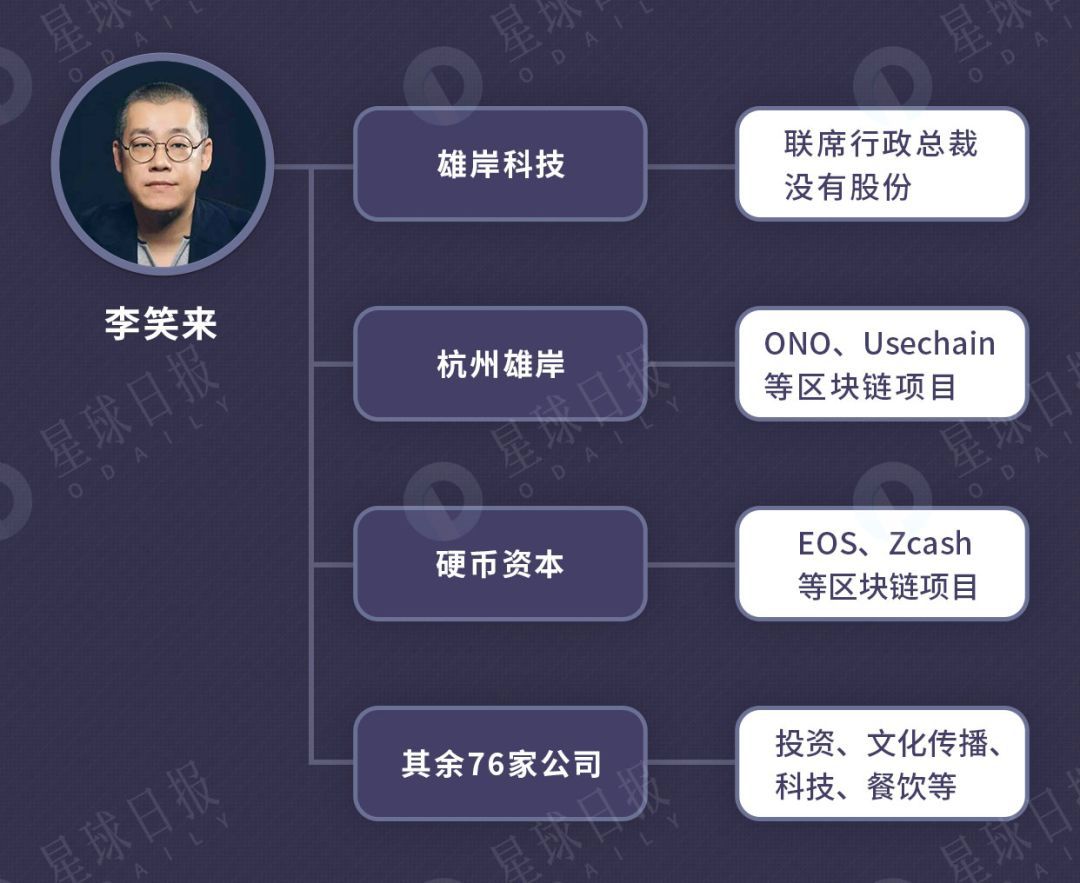 In addition to the words of Yao Yongjie, Zou Chendong, and Li Xiaolai, there are two important figures behind the scenes, Zhu Guangping and Teng Rongsong (described above).

Zhu Guangping
Zhu Guangping is another owner of Morgan Hill, and there are very few reports from outside.
According to Tianxue data, Zhu Guangping is the legal person and chairman of Shenzhen Zhongdu Duty Free Products Co., Ltd. and Shenzhen Zhongxun Merchants Duty Free Co., Ltd. The parent companies of the two companies belong to Shenzhen SASAC and listed company China International Travel Service ( 601888.SSE). In addition, Zhu Guangping has 36 companies, mainly involved in investment, import and export trade, catering, electronic technology and other fields.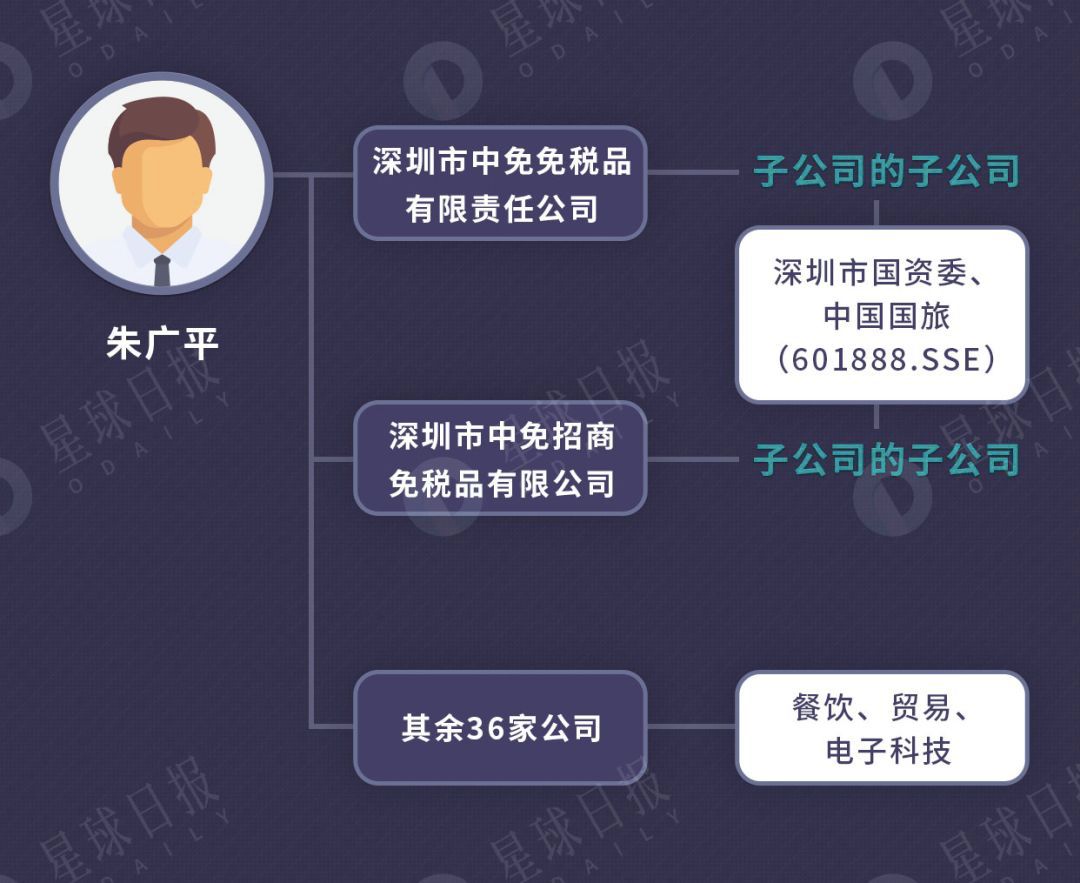 Attachment: Xiong'an Technology Development Roadmap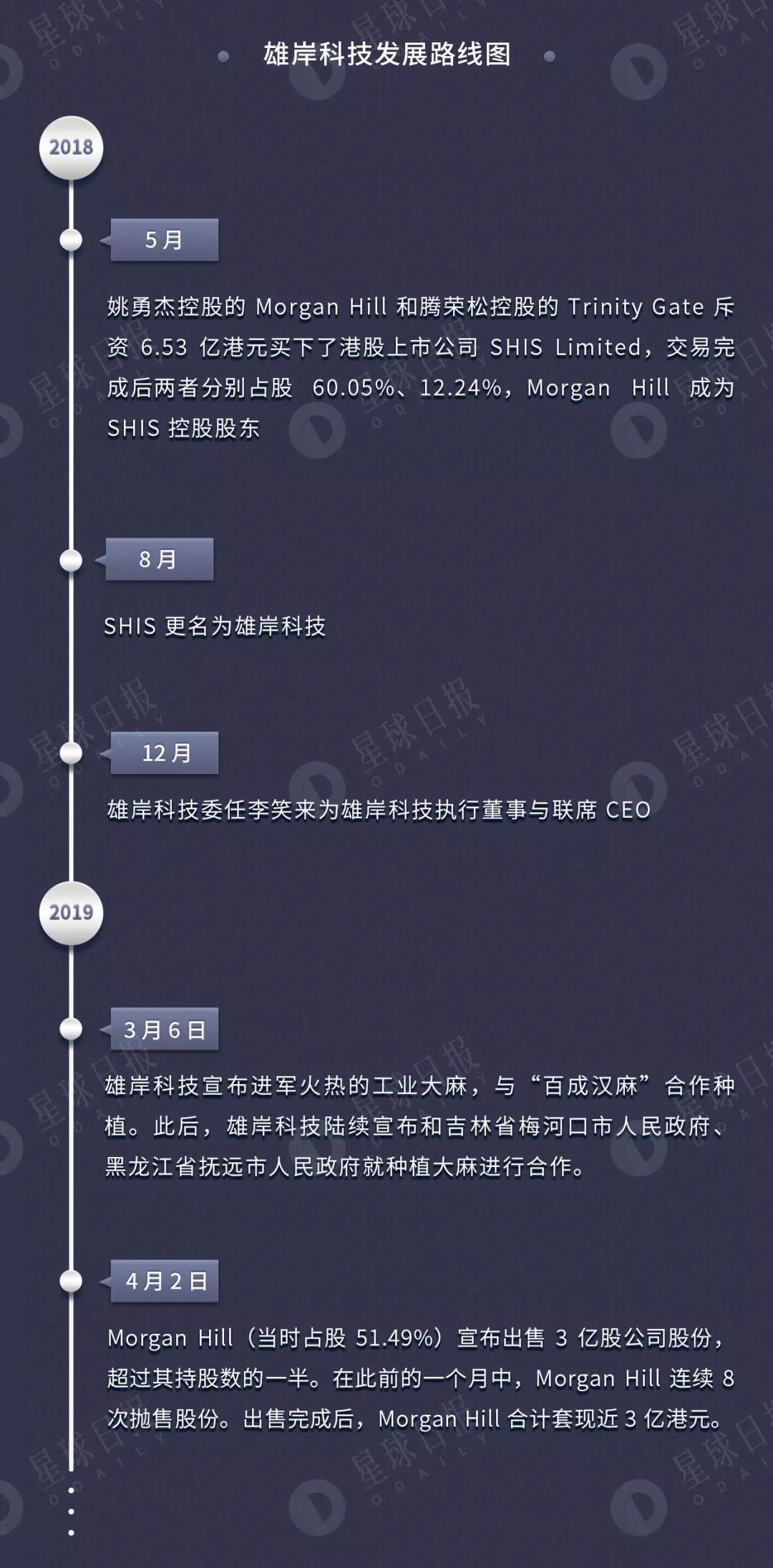 Text | Snow, Qin Xiaofeng
Drawing | Stars; Editing | Liang Chen
Produced | Odaily Planet Daily (ID: o-daily)
Original article, reprint / content cooperation / seeking reports, please contact [email protected]; unauthorized reprint is strictly prohibited, violation of the law will be investigated.
We will continue to update Blocking; if you have any questions or suggestions, please contact us!
Was this article helpful?
93 out of 132 found this helpful