The Monroe core team issued a security warning: the CLI binary file was corrupted and the user had to check it in time
Source: Shallot APP
According to a post, some Monero users noticed that the hash of the downloaded binary did not match the expected result. This issue was first exposed 15 hours ago and it is still pending until now.
u/binaryFate says, "It seems that the framework is indeed corrupted. Different CLI binaries are saved for 35 minutes. Users can now download files from a secure alternate source. But users who have downloaded files in the last 24 hours must be timely Check the integrity of the binary."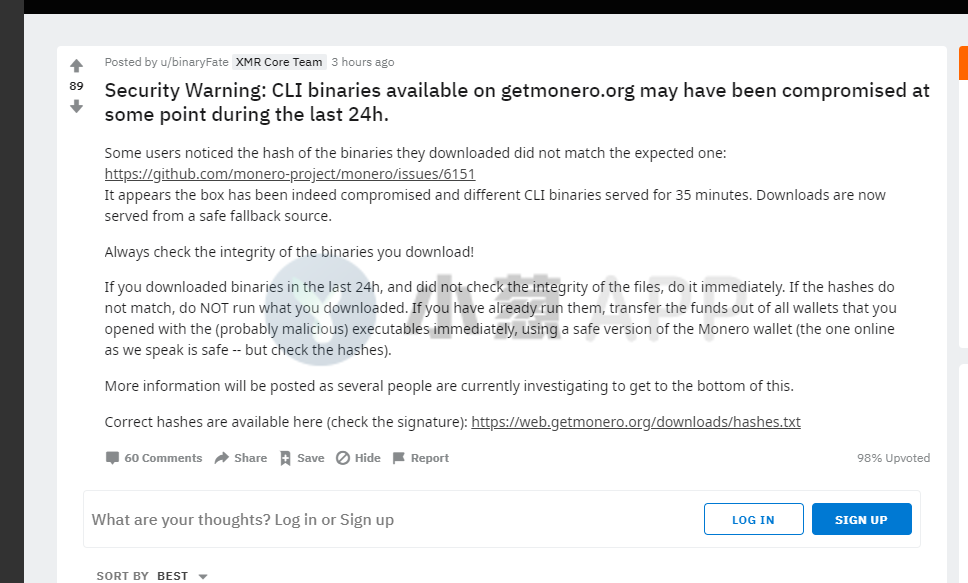 Monero core team members also ask users not to run them in case the hash values ​​do not match.
In the case where the binary is already running, XMR Core team members require users to transfer funds from all open wallets using the secure version of Monero Wallet. If the hash value in the file does not match, please do not allow the file to be downloaded; if the file has been run, the user must immediately transfer the funds to the secure version of the Monero wallet, and the operation also needs to pay attention to check the hash value.
Members added that these wallets could be malicious executables. "The network we are talking about is safe – but pay attention to the hash."
The moderator also said that more information will be released in a timely manner, and several people are currently investigating and researching to clarify the problem. In addition, Monero core team members also share links to correct hash values.
According to the previous report, on November 5th, Monroe officially announced that the carbon v0.15.0.0 version of Carbon Chamaeleon has been marked on Github. It is reported that the release of binary files will also be executed within a few days; meanwhile, the version of GUI v0.15.0.0 will also be marked soon.
Subsequently, on November 9, Monroe official said that the carbon v0.15.0.0 version of Carbon Chamaeleon has been released, users, service providers, merchants, mining pools or transactions need to run this version, thinking that the agreement scheduled for November 30 The upgrade is fully prepared,
We will continue to update Blocking; if you have any questions or suggestions, please contact us!
Was this article helpful?
93 out of 132 found this helpful