Three seasons of DApps data: gaming is the leader, DeFi has sprung up
It is an indisputable fact that DApps use population growth rapidly. More than 3,000 DApps are active in the market, most of which are scattered in Ethereum, EOS and TRON. Industry insiders believe that DApps can challenge the status of Apps in traditional Internet systems. But despite this, there is a lot of disagreement about which DApps will be the first black horse to master the market in the future.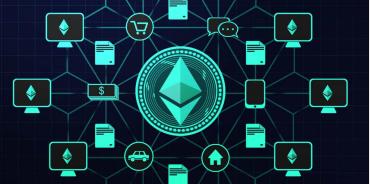 Photo: Kingsland University
Gaming DApps are still among the best
Gaming DApps are popular on the popular list, but we often underestimate its popularity in DApps. In January 2018, gaming DApps accounted for only 10% of the total, even now the gaming DApps accounted for about 30%.
Although it accounts for one-third of the market, its activity is not the same. In general, gaming DApps account for 56% of total trading volume, 47% of total trading volume and 35% of DApps. However, although this ratio has declined slightly compared to the second quarter, gaming DApps still dominate the usage.
We can sum up several reasons why gambling DApps can be so popular: First, its fairness is well known, which means that its smart contracts and payment mechanisms are reviewed. In addition, these DApps also provide an excellent opportunity for gambling enthusiasts to circumvent national regulations. More importantly, TRON has spared no effort to develop tailor-made services for its gaming DApps, such as developing Tronbet into dividends, dividends and other mechanisms, and providing a very high-speed platform for its gaming players.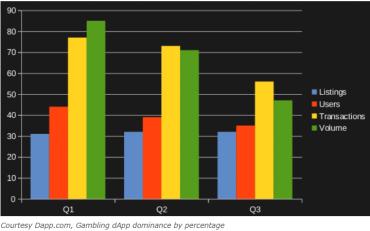 Game DApps has become a yellow flower yesterday
Game DApps seems to have declined from the 2018 boom, at least in terms of some indicators. From the beginning of 2018, the game DApps began a wave of climax, DApp volume from 20% in just one or two months to more than 50%, but since the hot March 2018, until now, the game DApps The dominance in the market is gradually declining. Today, game DApps account for about 20% of the total. What's more worrying is that their user data is even worse. The entire game DApps account for only 11% and 17% of the total transaction volume. In addition, the game DApps trading volume fell from 2.5% in the second quarter to almost zero, these data is very worrying about the future of game DApps.
Despite all the efforts to promote the benefits of DApps, there is a decisive factor that causes it to fall into disrepair : the trading volume of game DApps is locked in the game, whether it is characters, props or styling, the mobility is not large, more importantly, Game DApps take a lot of time to develop, and the price/performance ratio is too low compared to other DApps.

Figure: DApps.com
DeFi rises quietly
DeFi Apps has an exciting progress in the third quarter of 2019, and they start almost at 0. In 2018, their share in DApps was basically less than 10%, and in the first quarter of 2018 and the second quarter, DeFi even accounted for less than 3% of the total, whether it is trading volume, DApp volume or transaction volume.
However, the situation has begun to turn around. Although DeFi Apps still only account for 4% of DApps, they have made great progress in terms of activity. In the third quarter, DeFi accounted for 14% and 26% of users. The transaction volume, due to the transaction volume is still at a very low level, it is reasonable to speculate that recent users have invested large and long-term funds in the DeFi App.
According to our observations, this craze was brought up by Ethereum's DeFi Apps, especially the two DeFi App: Stabilized Coin MakerDao and Distributed Pledge Platform Nest.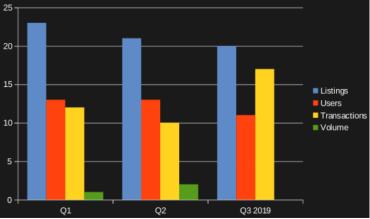 Figure: DApps.com
Although we can see that DeFi has improved in the near future, it can't be convinced that this will continue to be a slogan. MakerDao is a financial product. Users get a service to stabilize the currency DAI by taking ETH mortgage, so we look at it. The point should be in the direction of inflow or outflow, not simply looking at it. By looking at the number of ETHs held by MakerDAO's CDP (via other data sources), we can see that it peaked in March/April 2019, more than 2 million, but now it is reduced to 1.4 million in August, and can It was found that the increase in MakerDao activity was not driven by new users, but rather the process of simple mortgage inflow and outflow. In addition, a report released by AnChain.AI in the first quarter of 2019 showed that EOS has a volume of up to 6 million US dollars, which is the amount of robots brushed. This behavior has also been affected by the demolition of the entire blockchain. Ecological health, so when we focus on DApps data, we can't ignore the impact of these detail factors.
Original: https://cryptobriefing.com/changing-face-dapps-dapp-categories-strongest/
Author: Mike Dalton
We will continue to update Blocking; if you have any questions or suggestions, please contact us!
Was this article helpful?
93 out of 132 found this helpful