Bakkt won't bring a bull market, but it doesn't stop there.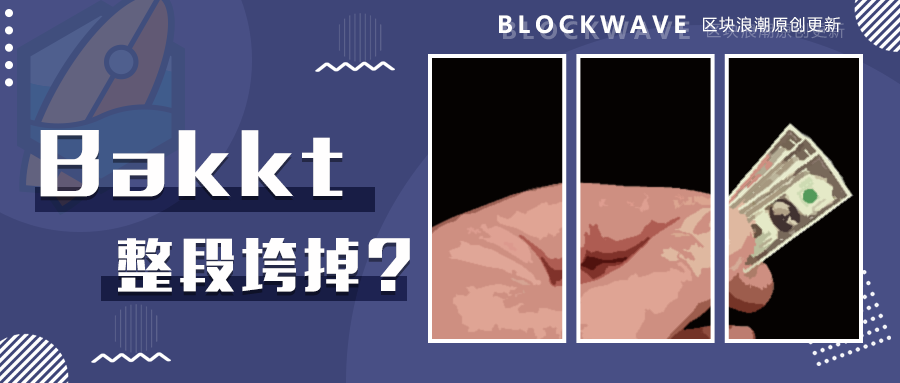 On September 23, Bakkt launched a bitcoin futures contract for physical settlement. Prior to this, many people thought that its going online would make the bitcoin price to da moon.
Looking at it now, is it still like this?
Shortly after the launch of the first bitcoin futures contract by CME Group in December 2017, the price of Bitcoin fell by 85%. But since the opening of Bakkt, there has been no significant impact on the price of Bitcoin.

What do you think?
If you believe in economists' research over the past few decades, then you won't have the idea that futures will affect the price of the underlying asset.
Many coin traders disagree with this statement, claiming that whales will use futures contracts to manipulate the market. In fact, the Fed researchers also made the same statement about the bitcoin bear market in 2018.
Who do you think is right? economist? Arrogant trader? Or the central bank that hates Bitcoin
I don't know your answer, but at the moment, the launch of Bakkt has no effect on the price of bitcoin or cryptocurrency. If the price rises in the future, this must be another reason.
Today, we already have some bitcoin futures products. Some institutional investors also said in the report that they have already purchased bitcoin from brokers, while others have cooperated with other companies on Wall Street.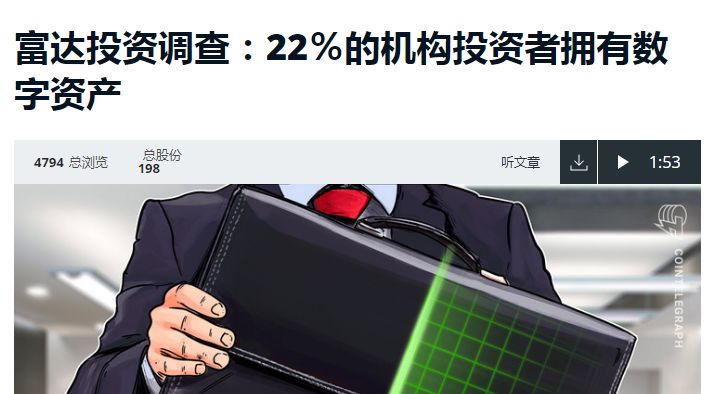 (Fidelity Investment Survey: 22% of institutional investors own digital assets)
At the same time, Yale University, Massachusetts Institute of Technology, Harvard University, the University of Michigan, the Fairfax County Pension Fund in Virginia, the Rockefeller Family Office, and many other large investors have already said they have some bitcoins.
In addition, US regulators have approved the physical settlement of futures by Wall Street firm ErisX, which has provided hosting services for large investors, and Goldman Sachs has subsidiaries in the cryptocurrency market. NASDAQ owns an exchange. Financial institutions in Switzerland and Japan have even entered a deeper cryptocurrency market.
Obviously, when Bakkt tries to get started, investors and institutions are moving forward at the same time.
Promote market rise?
There is a saying in the market that since Bakkt is a physical delivery, the traders of the platform will have to buy a lot of bitcoin in the market at the time. According to the supply and demand relationship, the price of bitcoin will be pushed up.
According to this logic, is Bakkt completely capable of licking a lot of "cheap" bitcoins before its launch?
But on September 6, 2019, Bakkt launched a $1 billion bitcoin transaction – coincidentally, on the same day, Bakkt announced that it would begin accepting deposits. According to people familiar with the matter , these bitcoins are transferred from Bakkt's private account to an active wallet. In this regard, Bakkt said: "No comment."
If this is the case, Bitcoin in Bakkt's hands has already withdrawn from the market.
For those of the Bitcoin futures contract recipients, they are only market speculators and have no obligation to leave bitcoin. Throughout the process, Bakkt's role is simply to ensure that buyers and sellers abide by their trading rules and cannot decide at all. Market direction.
Bakkt's entry will not bring a FOMO (fear of missing emotions), it has a more important meaning: label the cryptocurrency "legalization", "professional", "regular".

Giant beast enters
While some exchanges have a good reputation, there are few backgrounds, expertise, trading infrastructure and professional networks like Bakkt.
It's like Coinbase with derivatives, investment products, and business services, along with a dedicated market surveillance team and government relationships to ensure smooth operation in full compliance with US law.
Bakkt's parent company, the Intercontinental Exchange (ICE), has the world's largest and most successful stock and commodities markets. Bakkt's people have decades of experience in traditional finance. Bakkt's supporters include Horizon Ventures, M12, PayU, Pantera Capital and the Boston Consulting Group, and Starbucks even signed a cooperation agreement.
In addition to ICE executives involved in traditional markets, Bakkt's leadership also includes professional financial professionals and consultants from the cryptocurrency sector.
Bakk raised $182 million in investment funds and bought an office in the Rosenthal Collins Group. It is building a new market from 0 to 1, with only one goal: to dominate the cryptocurrency market, like its sister company, the New York Stock Exchange's dominant stock market.
If Bakkt succeeds, it will change the entire cryptocurrency ecology. It will allow $22 trillion in US investment funds to get involved in cryptocurrencies and build a large corporate interest group that wants cryptocurrencies to succeed (they will pay remuneration to marketers, lobbyists and public relations firms to help them achieve this) aims).
FOMO arrives late
According to the survey, 47% to 76% of professional fund managers want to invest in Bitcoin. But they won't deposit $50 million into their Binance account, and they won't send money to Gemini. The legal department doesn't allow them to do so. But what about Bakkt? They are sister companies of the New York Stock Exchange and are legitimate ways.
Although this will bring some new funds to the market, you will not notice. For a variety of reasons, large funds tend to go private networks.
Moreover, they are usually not HODL. These people are all investment experts, they always put money into or out of the market directly or through derivatives (sometimes both at the same time).
Bakkt provided them with another playground, but its plans far exceeded the scope of professional investors. positive
In addition to its partnership with Starbucks, Baket has begun to provide education and training courses for potential users, hoping to spread this FOMO sentiment through word of mouth.
Assuming that Bakkt is able to clean up the barriers of each institution, it will bring its services along with a large amount of capital, influence, expertise, reputation and publicity to the mass market.
Why do you think Google has lifted the ban on encrypted advertising and only allows "regulated exchanges" to trade? In the future, we may see Bakkt ads on the Super Bowl or the subway.
Change your mind before making money
Bakkt's cooperation with Starbucks, the background of traditional industries, its close relationship with regulators, its expertise, responsibility, experience… all of which create a trustworthy image – this is to make the mainstream crowd serious The conditions necessary to look at the cryptocurrency.
In the next year or two, you may start to hear people say: "Cryptographic currency is now safe, the government supervises it, you don't have to worry about fraud, hacking and trading to steal your money. Of course, this is risky – – Never invest more than you can afford – but this is not a Ponzi scheme or a scam."
And this potential belief gives the reason for those who are interested in cryptocurrency to enter the market, buy bitcoin, buy competitive coins, no one knows what will happen in the future, but at least it is safe now, and make money. chance.
By then, the cryptocurrency will be attacked from a small group of 40 million people (based on the number of bitcoin wallets) to a global group of 500 million people who already have some kind of financial investment.
Original: Mark Helfman;
Compile: Martha Card;
Source: Block wave
We will continue to update Blocking; if you have any questions or suggestions, please contact us!
Was this article helpful?
93 out of 132 found this helpful