Behind the scenes of the USDT, the dealer's Bitfinex cat and mouse game
For a centralized exchange, there are two life and death tests:
After the assets are stolen, is there any funds to fill the loopholes?

In order to guarantee the ability to pay the French currency, can you find the cooperation of the Reserve Bank?
For seven years, the Bitfinex exchange, like its name Phoenix, survived the times of theft and regulatory crisis.
The usual method of Bitfinex is "left hand and right hand". After all, Bitfinex, Tether, and Bitfinex's reserve bank Noble B ank, all three are on the same interest network.
Bitfinex, which is madly testing on the edge of the law, has long been eyeing US regulators, and a "cat and mouse game" that has been going on for several years has begun.
01. Big man Brock Pierce
The predecessor of the USDT was Realcoin, founded by Brock Pierce.
Brock Pirece is known as a former EOS partner in China. Through his Block.one platform, he has created a $700 million 1CO fundraising myth with EBM.
As a veteran of the circle, Brock Pierce entered the currency circle through Block Capital in 2013. One of the largest investors in Ethereum 1CO, an early investor in Coinbase, later joined Tether's investment.
Its net worth is valued at between $700 million and $1.1 billion, and by Forbes magazine in 2018 it was named the richest 20 in the encryption industry.
Later, Brock Pierce bought a mansion and settled in Puerto Rico , a US free state that did not pay taxes.
If you've been to the Ethereum Developer Conference, or if you're visiting Twitter, you'll know his iconic hat costume.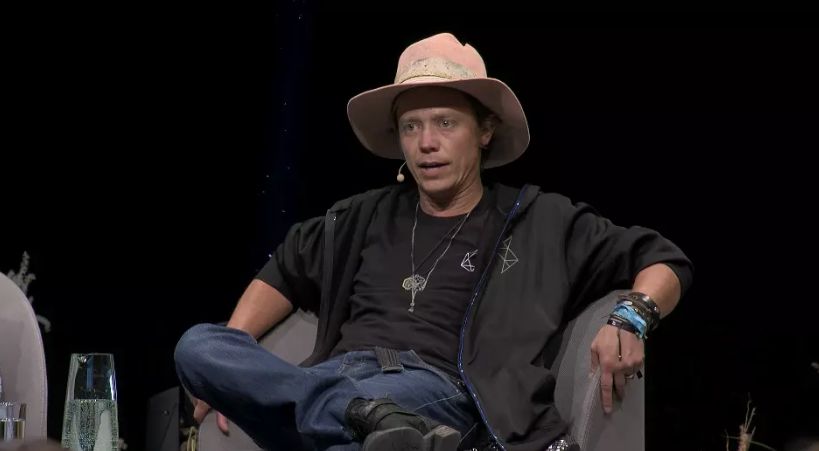 Brock Pierce's other identity is Disney's child star, known as "Mighty Ducks" when he was 12 years old.
He is also a founding member of the Mastercoin Foundation. Mastercoin is the first token in the history of 1CO, and it is the second-tier network of Bitcoin. Realcoin at the time was built on Mastercoin – now called omni.
In November 2014, Realcoin changed its name to "Tether" and officially released the beta version. The reason for the change was to avoid sounding like altcoin.
However, the relationship between Tether and Bitfinex was hidden at the time.
02. Bitfinex and Tether's "shared executives"
In 2012, iFinex was established in Hong Kong and later became the parent company of Bitfinex and Tether.
Bitfinex was established in December 2012 and is registered in Hong Kong. The CEO is Jan Ludovicus van der Velde, the chief strategy officer of CSO is Phil Potter, and the CFO is Giancarlo Devasini.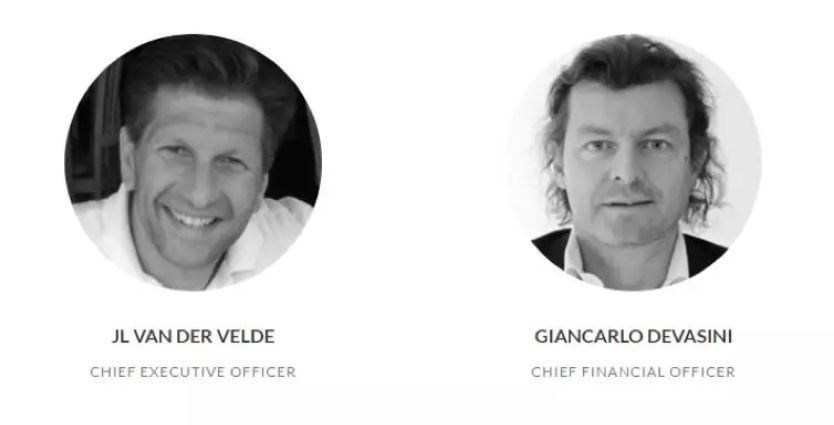 (In May 2018, Potter resigned from the CSO position)
What kind of people are these three people?
The CEO is a Dutch-born living in Hong Kong and has attended the National Taiwan Normal University. CFO is an Italian living in France.
Both CSOs and CFOs have been blacked out: in the 1990s, Potter was expelled from Morgan Stanley for bragging about the $3,500 Rolex watch to the New York Times. In 1996, Devasini had a large-scale piracy sale of Microsoft software.
They never accept any media interviews.
If you want to contact them from Bitfinex, there will only be one PR company 5W out to negotiate. 5W is a public relations company that Bitfinex hired at the end of 17th.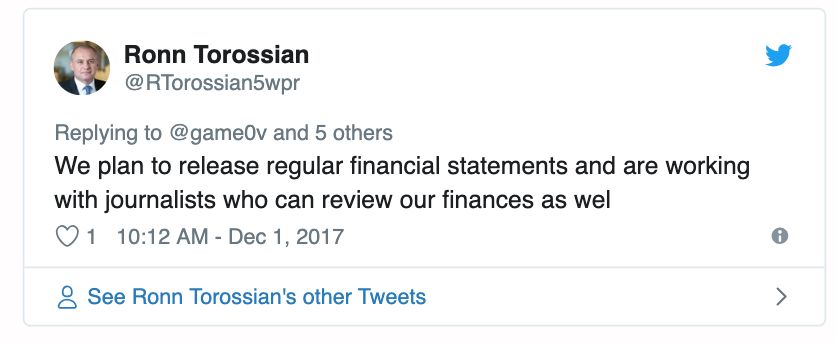 There is never a "About Us" interface on the Tether website.
In addition to the 6th of 2017, the US Commodity Futures Trading Commission issued a subpoena to Tether, three days before and after the 5-7 days. The Tether website briefly publicized its founding team.

Source: https://blog.bitmex.com/tether/
Tether and the Bitfinex executive team completely coincide.
Seeing here, we know that the founder of USDT is the famous Brock Pierce, and the actual control team is the founding team of Bitfinex.
More than that, Brock Pierce also plays a more critical role in this network.
03. He is the founder of Tether
Also the founder of Bitfinex Reserve Bank
In order to support the services that customers withdraw, the exchange must find traditional bank cooperation.
Since 2017, the bank that it has partnered with to reserve US dollars has been the Noble Bank in Puerto Rico.
The co- founder of Noble Bank is mentioned above, living in Tether founder Brock Pierce in Puerto Rico . Another Lianchuang is former Wall Street executive John Betts.
Who is Betts?
In 2014, Betts tried to acquire Mt.GOX, which was closed due to the theft of Bitcoin. Brock Pierce and former FBI Director Louis Freeh are also involved.
Louis Freeh is also the co-founder of a law firm, Freeh Sporkin & Sullivan (FSS). The firm was hired by Bitfinex on June 1, 2018, stating that Tether had $2.55 billion in the bank, enough to support the USDT that was in circulation at the time.
However, no official audit was issued.
It is worth mentioning that FSS senior partner Eugene Sullivan is also a consultant to Noble Bank.
At this point, a benefit network between Bitfinex, Tether and Bitfinex Reserve Bank has surfaced.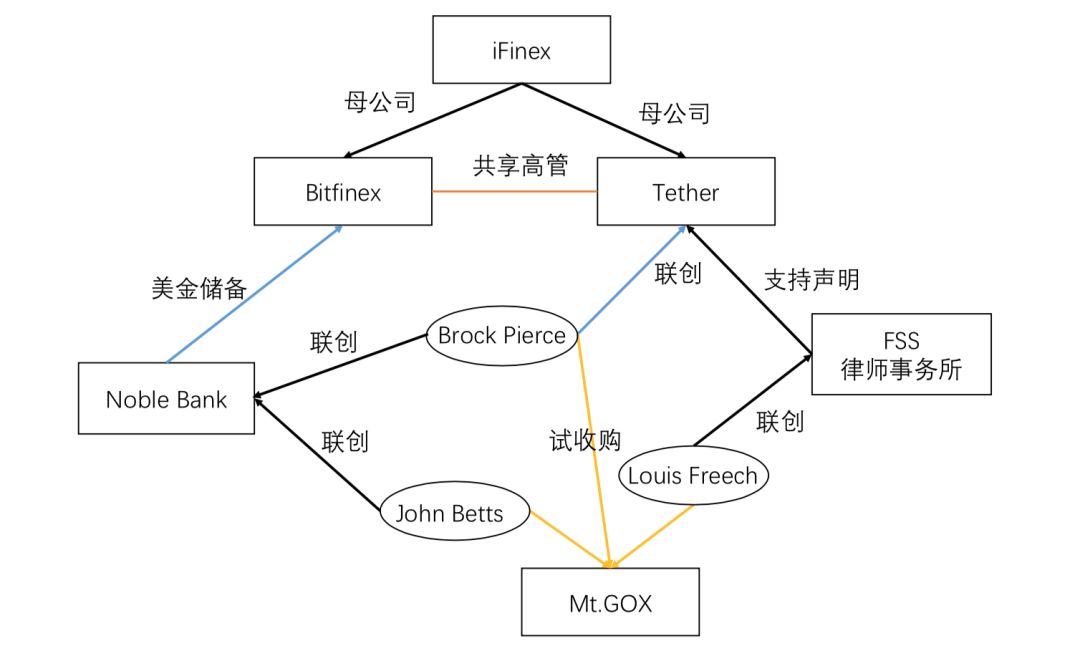 In October 2018, Noble Bank stopped working with Bitfinex and Tether for a sale due to regulatory involvement.
Since then, Bitfinex, which could not find a traditional bank, finally found the payment company Crypto Capital to provide legal currency redemption services.
This is also the key role of the New York prosecutors who accused Bitfinex of misappropriating $850 million in user funds in the past few days.
This incident itself is a "sniper" attack on Bitfinex by the prosecution using Bitfinex to borrow USDT to fill the loophole.
However, this is not the first time that Bitfinex has "brieflyly" borrowed Tokens to fill holes in assets.
04. Left hand and right hand
The most amazing thing about Bitfinex is the resurgence of the theft in 2016. By passing the loss to the user, use the "owed money" to make up the stolen hole.
Bitfinex has historically been exposed to three major Bitcoin thefts. The most serious one on August 2, 2016, Bitfinex's 120,000 bitcoins disappeared and suffered heavy losses. These bitcoins were worth about $75 million at the time. This is the biggest stolen money event in Bitcoin history after Mt.GOX.
What to do, declare a bankruptcy like Mt.GOX?
Bitfinex, who is proficient in "left-handed and right-handed", came up with such a way: users share the losses, debt-to-equity swaps.
BItfinex takes 36% of each user's deposit to share the loss. In return, the user is given a "debt coin", which is the original platform currency BFX, and a BFX represents $1. And said that BFX tokens can be traded or used to buy shares in the parent company iFinex.
This decision was strongly opposed by a large number of users: Why let me take out my own assets to help your exchange fill the loopholes?
Although it caused user litigation, this method has won valuable time for Bitfinex.
At that time, BTC was driving the market to rise, and the trading volume continued to increase. BItfinex also got a chance to breathe, and repurchased BTX by the profit of the fee, claiming to make up for the loss of users.
But no one knows how many BFXs were issued and repurchased. Later, the platform currency fell all the way, and even fell by 0.3 dollars.
On April 3, 2017, Potter revealed in an audio that all BFX tokens that were not repurchased have been converted to USDT. That is, the BTC and the US dollar lost by the user are replaced by the USDT.
05. Cat and mouse game
Before the "850 million US dollars loophole" incident, US regulators have repeatedly "made a move" to Bitfinex.
Just two months before Bitfinex was stolen, on June 2, 2016, the US Commodity Futures Trading Commission (CFTC) thought that it would provide illegal over-the-counter trading and financing for Bitcoin and other cryptocurrencies, and that it was not in accordance with the Commodity Exchange Act. Requires registration as a futures broker and a fine of $75,000 for Bitfinex.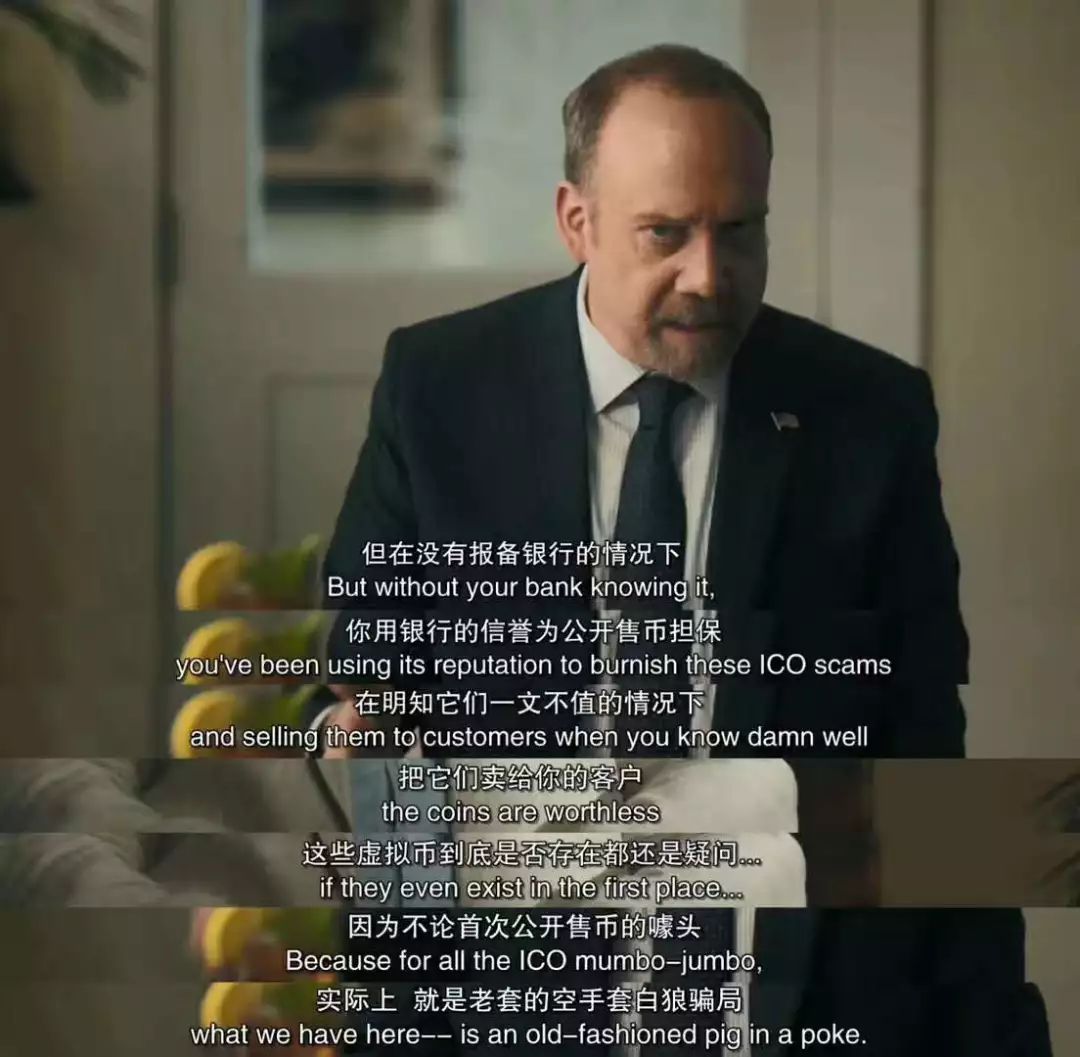 (American drama "Billions")
In May 2017, the US Department of Justice and the US Commodity Futures Trading Commission (CFTC) began researching illegal manipulation of bitcoin prices. Then in December 2017, Tether and Bitfinex were summoned.
On November 30, 2018, according to Bloomberg News, federal prosecutors said the network of Bitfinex and Tether was suspected of manipulating bitcoin prices.
On April 24, 2019, the "850 million" incident occurred.
The Office of the Attorney General of New York (NYAG) sued Bitfinex and Tether's parent company, iFinex, claiming that Bitfinex has been diverting customers and company funds and then making up for losses through USDT's US dollar reserve fund issued by Tether to cover a $850 million deficit.
The Attorney General said that Bitfinex's $850 million fund loss investigation began in 2018.
At the time, Bitfinex handed over $850 million in customer and corporate funds to Crypto Capital to process customer withdrawal requests. But in the next few months, Crypto Capital failed to successfully dispose of Bitfinex's requests because the funds were frozen in several different banks in Portugal, Poland, and the United States.
Bitfinex responded that Crypto Capital's $850 million was frozen by the Justice Department, and then the New York State Attorney General said that Bitfinex was insolvent, a typical American underworld act.
What is embarrassing is that on February 26, 2019, Tether quietly revised its collateral breakdown on its official website, announcing that each USDT corresponds to the corresponding asset reserve, which can now include: cryptocurrency , cash equivalents, and Third-party accounts receivable, that is, third-party loans.

Previously Tether claimed that 100% of its asset reserve was in US dollars.

It now appears that Tether's reserves were originally borrowed from Bitfinex for emergency.
However, how did the prosecution accurately grasp this scorpion?
It turns out that Cryptp Capital, as a payment company without a bank license, can only fulfill a number of bank accounts through a series of shell companies to fulfill the requirements of transactions such as BItfinex.
Bitfinex does not find mainstream banking cooperation and can only rely on Crypto Capital. The practice of Crypto Capital is very likely to cause regulatory concern, and it is found to be suspicious, and the relevant funds will be frozen.
The prosecution seized the 850 million fund freeze that Bitfinex hosted at Crypto Capital, and only used the USDT of the sister company to fill the loopholes, and filed a complaint against Bitfinex.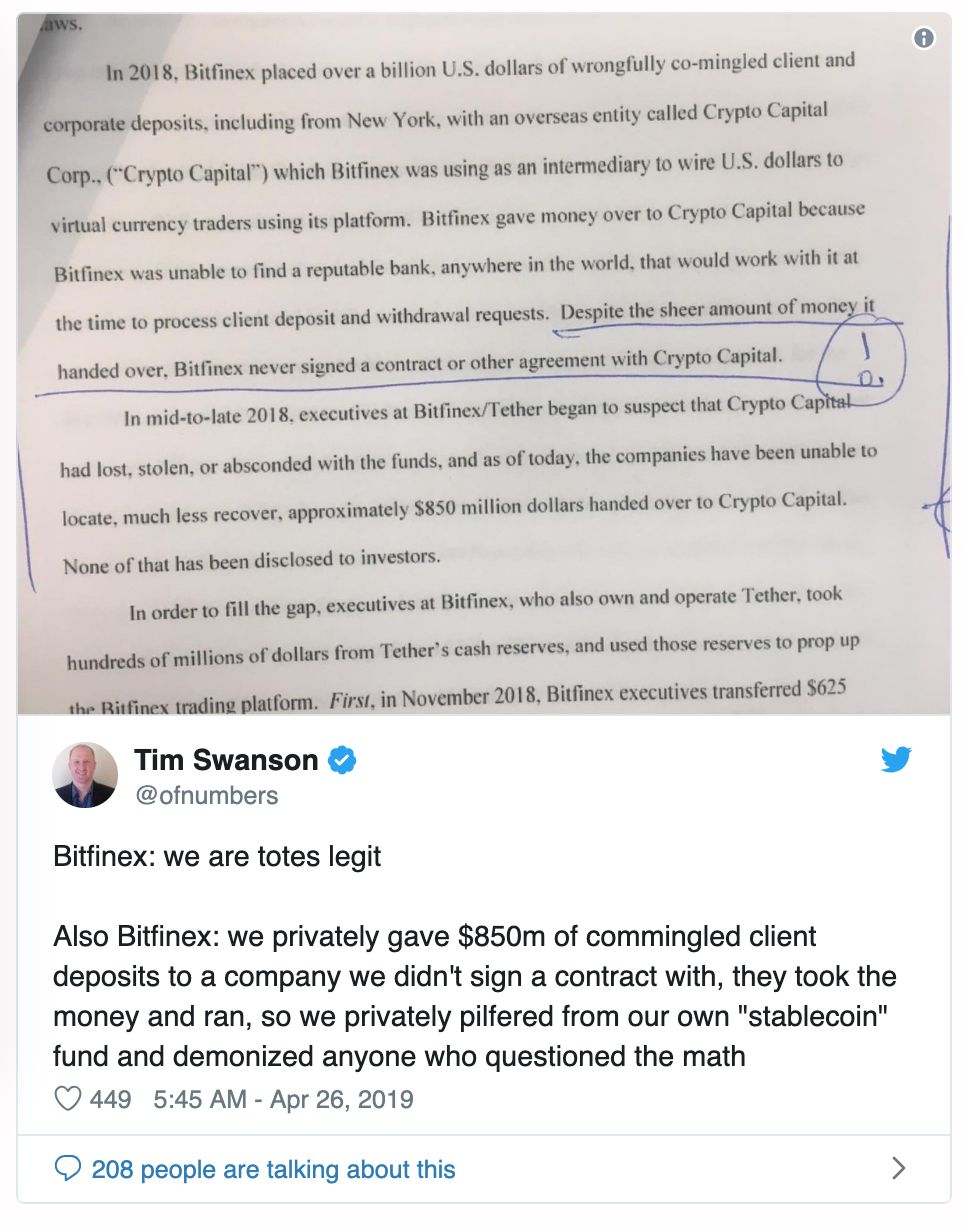 Later, Bitfinex was found to have handed over huge sums of money to its management without signing a contract with Crypto Capital.
If Crypto Capital and Bitfienx are not on the same interest network, then Bitfienx can be said to have lifted a rock and smashed his feet.
06. The dealer is not dead?
How does Bitfinex deal with the regulatory difficulties this time?
The latest news from Dovey Wan, BItfinex is ready to sell coins and IEO. Plans to raise $1 billion in USDT.

Bitfinex shareholder, Zhao Dong said in his circle of friends and Weibo that "Bitfinex has a high probability of issuing IEO" "Bitfinex does have a currency plan, but the details are not fixed."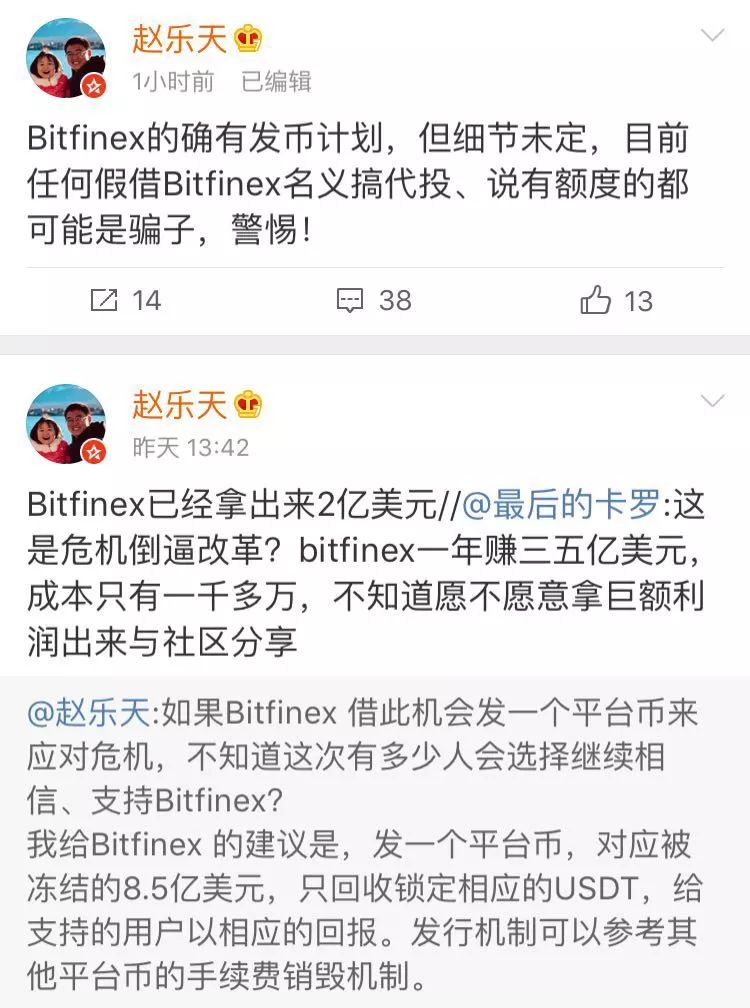 For Bitfinex, this is just a familiar operation.
07. A back road
How long can Bitfinex be able to travel when the regulators ironically turn "non-dead birds" into "prisoners"?
Behind every centralized exchange, there is a pair of eyes staring at the moment.
The exchange itself is also constantly worried about the asset's theft and the legal currency redemption .
Historically, no exchange has ever been worried about "hacking" and not fearing "regulation" and sitting firmly on the Iron Throne.
Bitfinex already knew that he was in the "cat and mouse game" with the authority, leaving a path for himself – the decentralized exchange Ethfinex Trustless.
Other head exchanges are also laying out "decentralized exchanges" for themselves.
Coinbase acquired Paradex, and Bince, which is developed by Binance in its own public chain, has just launched.
Second-tier exchanges that do not have sufficient funds and development capabilities have chosen to cooperate. Exchanges that are not prepared for the future, such as Gatecoin, Hong Kong's largest bitcoin exchange, announced a few days ago that the second-tier exchanges such as DragonEx are even more difficult to escape.
The facts also prove that when the exchange creates a crisis of trust, users will always take their money out of the chain and put it in their own wallet. Decentralized exchanges have ushered in a wave of loyal users.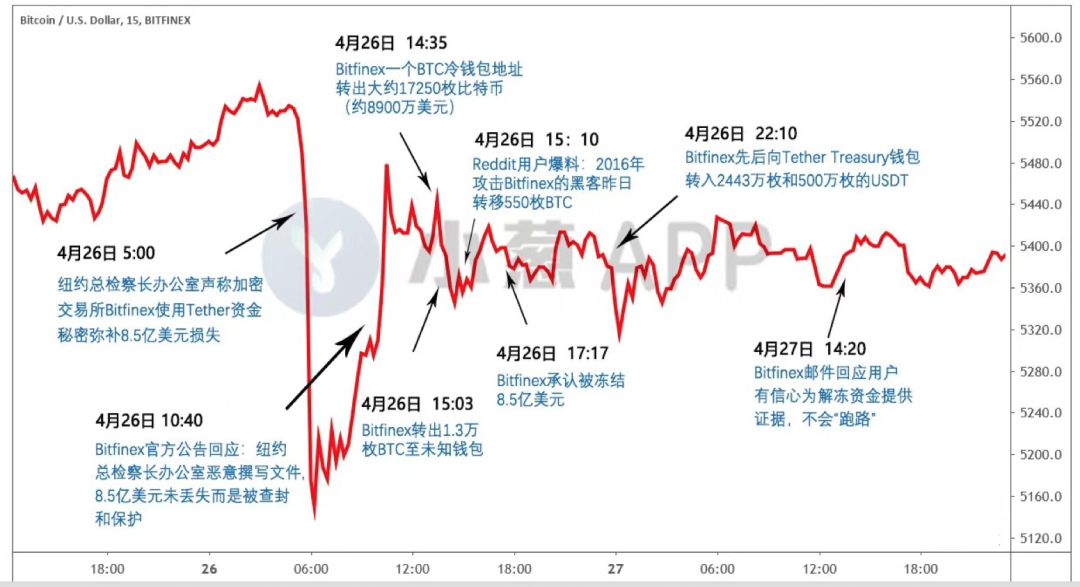 (The picture shows Beijing time, from the Onion App)
Today, you want to be a decentralized exchange, not so difficult.
In fact, the centralized exchange industry may not fall for a long time, but an exchange may be down in the short term; the decentralized exchange industry may not break out in the short term, but the probability of long-term survival of a certain exchange must be better than the central transaction. It is bigger.
Looking back, inside and outside Bitfienx, a network of interests consisting of several big people bundled the $2.8 billion USDT in circulation throughout the industry.
It is actually the most "centralized" existence in this decentralized industry.
Author: World Super-generation
Source: Hydro Community
We will continue to update Blocking; if you have any questions or suggestions, please contact us!
Was this article helpful?
93 out of 132 found this helpful