Buffett lunch of $4.57 million: Another multi-faceted Sun Yuchen's ghost marketing?
"This is an era in which the accelerator button is pressed. I must not be left behind." This is a well-known sentence that Sun Yuchen said.
First, the highest price in the history of Buffett lunch: $4.57 million
On June 1st, Beijing time, in 2019, "Buffett Lunch" was auctioned by Sun Yuchen, the founder of TRON, for $4.57 million (31.54 million yuan), setting the highest price ever.
Buffett lunches are generally held at the Smiths Warrensky Steakhouse in New York, which lasts about 3 hours, and can take up to 7 people. During lunch, the middle shooter can communicate with Buffett, there is no limit to the topic of communication, but Buffett will not disclose his investment opportunities and express opinions on individual stocks.
It is understood that all Buffett lunch auction proceeds will be donated to the Glide Foundation to help the poor and homeless in the San Francisco Bay Area.
Buffett's lunch winning bidder and winning bid price over the years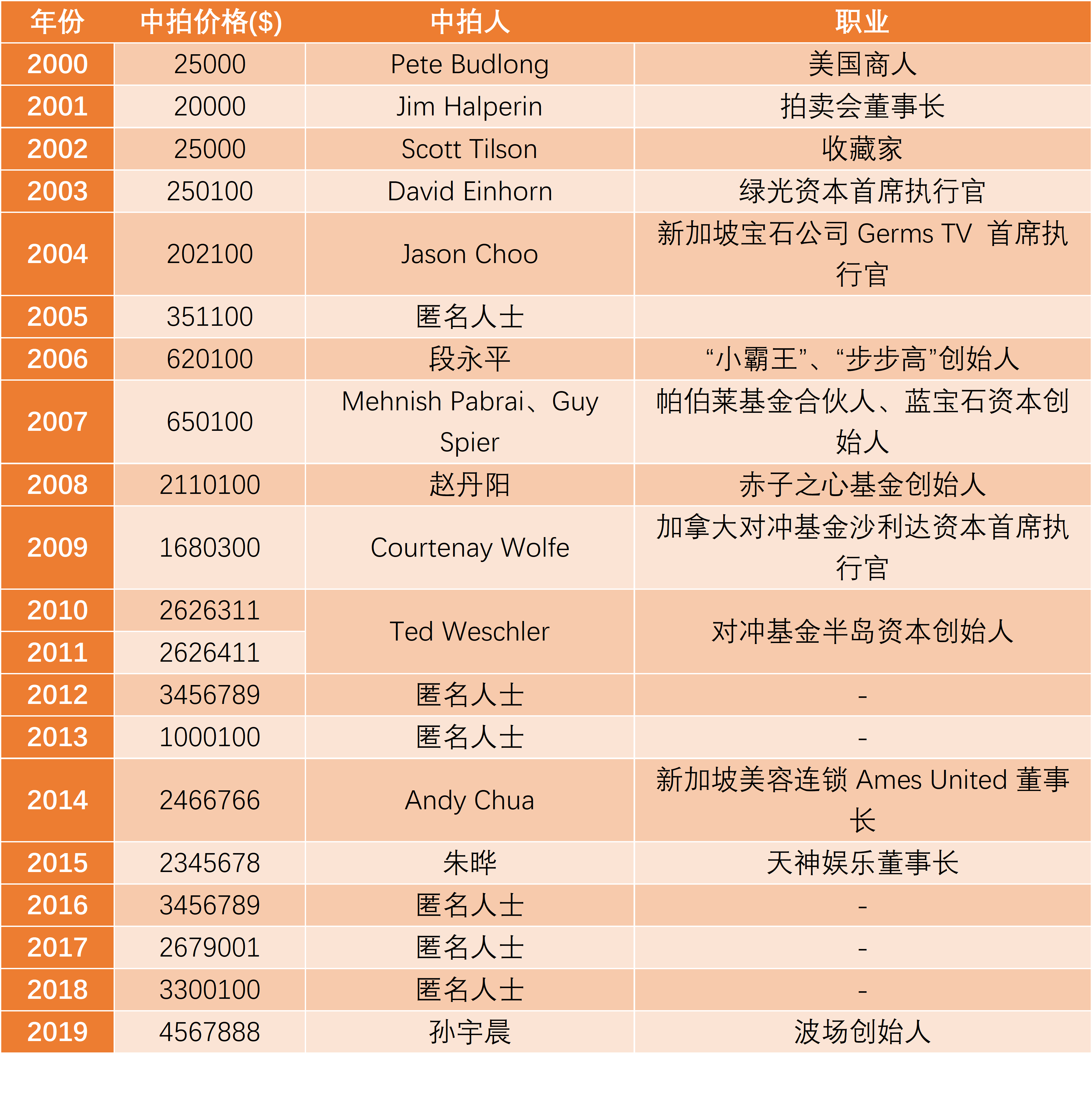 As early as June 1, there was news that Sun Yuchen had taken a high-priced photo of Buffett's charity luncheon.
On June 1st and June 2nd, Sun Yuchen also released two news messages through social media. One was "Done big event, announced three days later" and the other was "Let the bullet fly for a while". These two seemingly "unexplained" news have triggered more speculation and attention.


In the early morning of June 4, Sun Yuchen officially published an "open letter to the community: Warren Buffett Charity Luncheon" through social media, confirming previous market speculation.
In an open letter, Sun Yuchen said in a blockchain evangelist that "this lunch with Buffett will be an opportunity to seek mutual understanding and growth. In order to enhance dialogue and support the entire cryptocurrency and blockchain community, I A number of blockchain industry leaders will be invited to go to New York for a luncheon. "I have been emphasizing that we can't just build platforms for decentralized applications, finance and other areas, and we must spend as much time as possible. Establishing and nurturing communities to support the concept of blockchain." I also firmly believe that through proper understanding and communication, Buffett will transform his overall position on cryptocurrency and blockchain, and integrate this new investment strategy into his own investment. combination".
For Sun Yuchen to take a Buffett luncheon, the industry is mixed. Some project parties believe that Sun Yuchen "this wave of operations is indeed to benefit the blockchain industry." However, more people regard it as another marketing plan of Sun Yuchen, and some people even bluntly say that Sun Yuchen's "sickle is waving again".
Second, multi-faceted "marketing ghosts"
Sun Yuchen, the most important thing for this person, is the "tag."
With the first prize of the new concept essay contest, Peking University scored the opportunity to enter Peking University, slammed Peking University's "Meeting System" and joined Jiang Fangzhou on the cover of Asia Weekly. This is the first label of Sun Yuchen: North University .
In 2015, Sun Yuchen received an acceptance letter from Lakeside University, where Ma Yun was the principal, and became the only post-90s student of Lakeside University. " Ma Yun disciple " became his most self-satisfied label. He repeatedly said in public that today's entrepreneurial achievement is inseparable from the study at Lakeside University. The first one of Weibo identity certification is "the first student of Mayun Lakeside University". .
In 2017, when ICO became popular, Sun Yuchen launched the "wave field" "timely", saying that the project is dedicated to the use of blockchain technology to build a global decentralized free content entertainment system. However, at that time, the domestic supervision of the digital currency ICO gradually tightened, and Sun Yuchen, who felt the pressure, accelerated the pace and successfully completed several hundred million ICO on September 3.
On the second day of its successful financing, the famous "June 4th Incident" broke out. The regulatory layer directly called for various ICO activities and requested a refund. However, Sun Yuchen, who was abroad at the time, directly stated that "no refund of money", the domestic wave field office is also a person to go to the building. Sun Yuchen also carried another label: the currency circle Jia Yueting . Today, Sun Yuchen's label is also widely known.
Later, despite pressure from various parties, Sun Yuchen retired about 400 million of the funds raised, but then he disappeared in the country and continued to promote the wave field project in the United States.
At that time, the wave field was regarded as the "air coin" project, and Sun Yuchen himself was exposed to the blockchain technology. In order to solve the technical problems, the wave field technical team continued to recruit: Zhao Hong, chief data mining expert of Alibaba, Zhang Sicong, technical expert of intelligent marketing department, Wu Bin, technical expert of Meituan, and Zhang Anwen, top cryptographer, joined the wave field.
On July 24, 2018, Sun Yuchen Weibo announced the successful completion of the acquisition of BitTorrent and all its products, indicating that BitTorrent has more than 100 million users and will bring a new and huge user base to the wave field ecosystem.
With the expansion of the technical team and the good market performance of the project, the wave field gradually got rid of the "air coin" project, and also reversed the stereotype of the "no technology" of the wave field.
After the ICO storm gradually subsided, Sun Yuchen returned to the public eye. This time, he let everyone remember his most important label: marketing ghosts .
Sun Yuchen's first trick of marketing: fighting with big coffee.
One of the most famous is the battle between Sun Yuchen and Ethereum V God. In April 2018, when the main network of the wave field was about to go online, Sun Yuchen publicly called Ethereum, which listed the seven reasons why the wave field is better than Ethereum. V God responded sharply: "The article 8 should be added, and the efficiency of the wave field copying and pasting white paper is much higher than the original."
Just as everyone expects Sun Yuchen to fight back, Sun Yuchen thanked V God for his comments on the wave field, saying that the wave field has benefited a lot from Ethereum. At present, the wave field is no longer in the white paper stage, and it has been online and tested. On the ground to improve the inadequacies of Ethereum.
In this way, Sun Yuchen made a successful marketing for the wave field through V God free.
In addition to fighting with the big coffee, Sun Yuchen has spared no effort to "fancy hotspots", after all, "the currency circle calls for protection ."
At the end of last year, when the user deposit returned to the crisis, Sun Yuchen generously offered to help his friend Dai Wei to refund the deposit of 10,000 ofo users, and suggested that all other friends of Dai Wei would help.
In February of this year, Zhao Yu's news that the girl was detained for 14 days from the rapist's hands was fired. After Zhao Yu told his story on Weibo, Sun Yuchen announced on his Weibo that he would provide Zhao Yu with 10 million yuan of assistance. This kind of charity received rave reviews, and Sun Yuchen also received interviews and reports from mainstream media such as headlines and Phoenix. According to the Beijing News and other media reports, Sun Yuchen finally donated 100,000 yuan to Zhao Yu. 100,000 yuan is not much for Sun Yuchen, but it helped him to complete another successful marketing.
Some media joked that there is a hot spot, there is Sun Yuchen.
Third, 4.57 million US dollars, Sun Yuchen's another ghost marketing?
With a $4.57 million exchange for a lunch with the stock god Buffett, is it worth it? No one knows now. But looking back at Sun Yuchen's move before and after the filming, I have to admit that this is another very successful marketing.
Unlike most previous winners or anonymous or low-key newsletters, Sun Yuchen seems to have a high-profile and meticulous marketing arrangement for this shot.
First, on June 1, Sun Yuchen said on social media for the first time, "Done big things, announced three days later." This unclear expression is easy to generate a lot of associations, attracting users' attention. Combined with the time of day, it is easy to think of Buffett lunch. As it turns out, many users on Weibo have already guessed that Sun Yuchen was involved in the auction of Buffett lunch.
Subsequently, the user's emotions are accumulated and further guided. On June 2, Sun Yuchen once again posted on social media: "Let the bullets fly for a while." The news event coincided with the end of the Buffett luncheon auction. That is to say, at this time, Sun Yuchen already knew the result, but did not choose to announce it immediately, in order to let the market continue to brew. The price of the wave field did increase significantly on the day.
In the early morning of June 4, Sun Yuchen's official announcement of Buffett's lunch was like a date. Interestingly, Sun Yuchen deliberately added the topic tag "#孙宇晨拍天价午餐#" to this Weibo, hoping that the intention of creating the topic is very obvious.
The sentiment of the market has also been vented. According to Coinmarketcap data, after Sun Yuchen announced the news through social media, the wave field rose by more than 6.6% for a short time. But then the price fell back to a minimum of $0.0318. The current price is reported at $0.033272, and the price falls by 11.15% in 24 hours.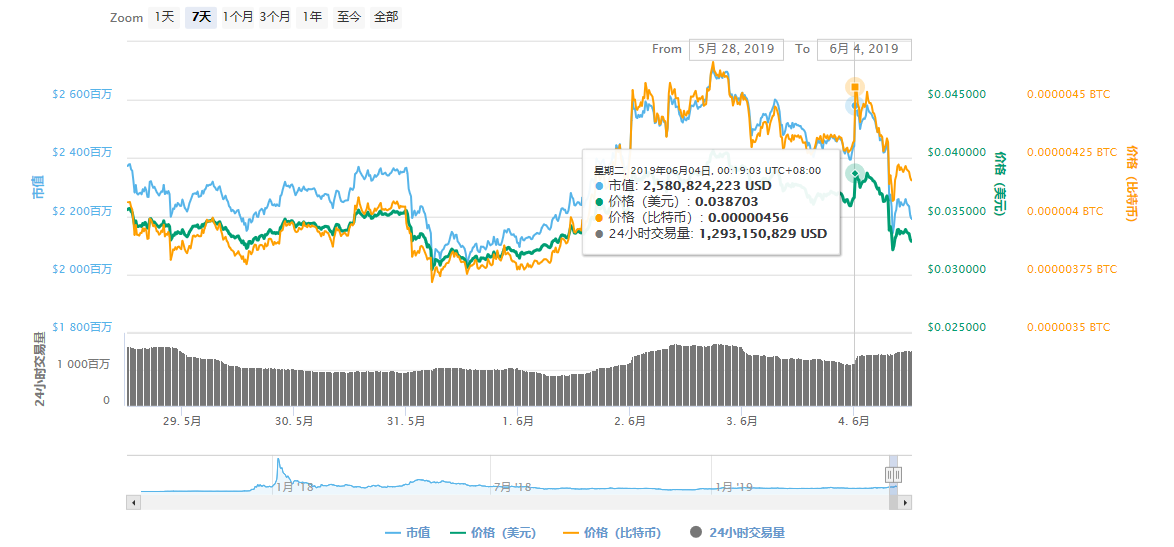 Obviously, there is a good reason. Why does the price drop quickly after a short-term rise? The reason is inconvenient to speculate, but it is undeniable that this time Sun Yuchen photographed Buffett lunch, so that Sun Yuchen and the wave field earned enough attention, not only caused the attention of users and media in the blockchain, but also reported by various mainstream media. And successfully reached Sun Yuchen's expectations: boarded Weibo hot search.
Sun Yuchen even personally sent Weibo said: Zhen Weibo hot search.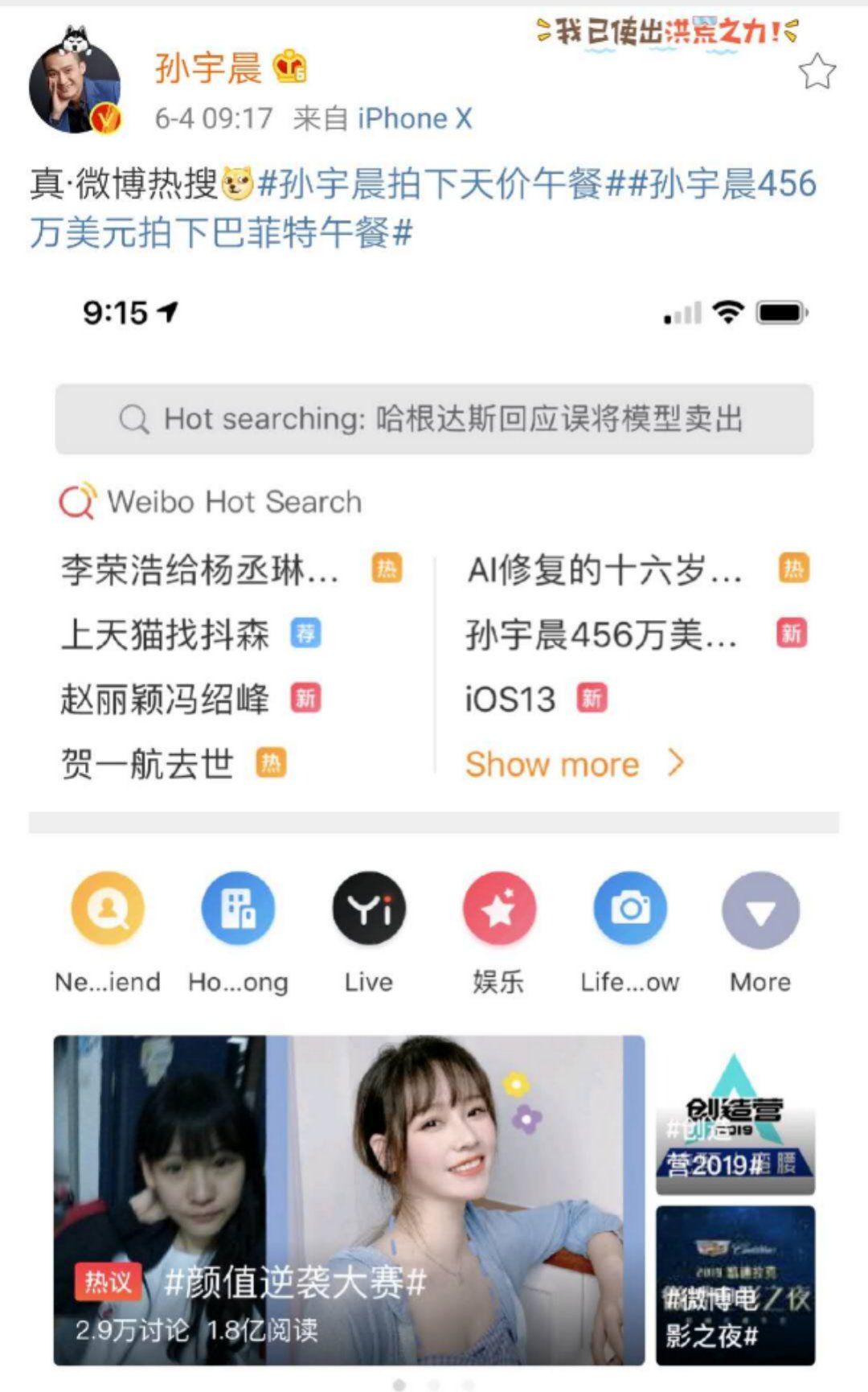 After Sun Yuchen took the Buffett luncheon and sat down, the matter would not come to an abrupt end. Compared with this incident, everyone is more concerned now: Who will Sun Yuchen bring to the luncheon? What did the luncheon talk to Buffett? Can you change Buffett's previous views on Bitcoin and digital currency?
Every step from now to the end of the luncheon will give Sun Yuchen and the wave field enough exposure. Some insiders joked that this incident is the title of "king of marketing" in the blockchain industry of Sun Yuchen.
After all, lunch has not been eaten, and Sun Yuchen seems to have got what he wants, at least part of it.
Source: Zero Finance
We will continue to update Blocking; if you have any questions or suggestions, please contact us!
Was this article helpful?
93 out of 132 found this helpful