Playing with deception Overseas version of 'Miao Ya' BeFake goes viral worldwide
Overseas version of 'Miao Ya' BeFake becomes a global sensation.
When Meow Duck Camera became popular in China, on the other side of the ocean, a American version of "Meow Duck" was also gaining popularity.
Last month, BeFake AI was launched on Google Play and the Apple Store. Within a few weeks, it has already ranked high on the free charts of Apple Stores in the US, UK, France, and other countries.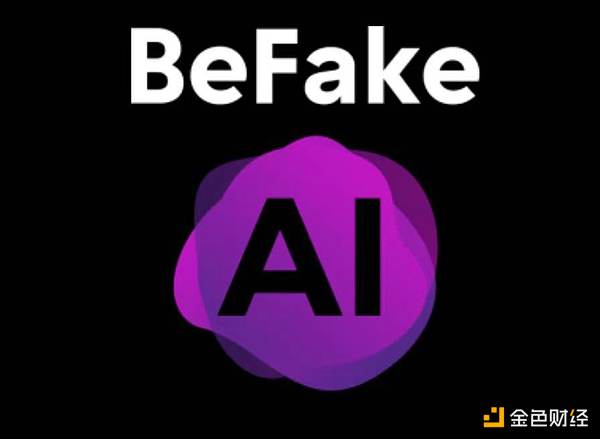 Image source: BeFake AI
Playing with deception.
Like Meow Duck Camera, BeFake can generate AI images by selecting presets or inputting its own prompts. But as its name suggests, BeFake does not seek to simulate reality as much as possible, but rather to "create deception" with AI, altering and enhancing the original images taken by the camera.
BeFake claims to be the "first AI-enhanced social network" that makes every photo posted unique.
Currently, users can use its basic functions for free, or unlock advanced functions through subscription, with subscription fees of $2.99 per week, $9.99 per month, or $99.99 per year.
At the end of August, BeFake also revealed that it had completed a $3 million seed round led by Khosla Ventures in April 2022, with no previous reports of this round of financing. Other investors in this round of financing include Next Coast Ventures, Maveron Ventures, Peter Thiel, Joe Lonsdale, and WSInvestments.
American version of "Meow Duck," focusing on deception
As an application that focuses on virtual socializing, BeFake's slogan is quite straightforward: since "deception" can be interesting, why pursue "reality"?
BeFake's name also directly challenges the popular social media BeReal from last year. Dumont, one of the co-founders of BeFake, doesn't mince words about this social media that promotes reality: even BeReal is fake, because its users have already started planning their "real" moments.
However, in terms of core gameplay, BeFake is similar to BeReal. At a specific time every day, BeFake will send a message to users, reminding them to start taking photos and activating their front and rear cameras.
After receiving the message, BeReal users will have two minutes to take a selfie with no beauty filters or effects, and record what they are currently doing. Random timing and limited time mean that it is extremely difficult for users to fake it, they must be real.
On the other hand, BeFake goes to the other extreme – users cannot upload unedited original photos. At the same time as receiving the message, a 20-minute countdown will officially begin, and users must take photos and use AI to edit and publish them within these 20 minutes.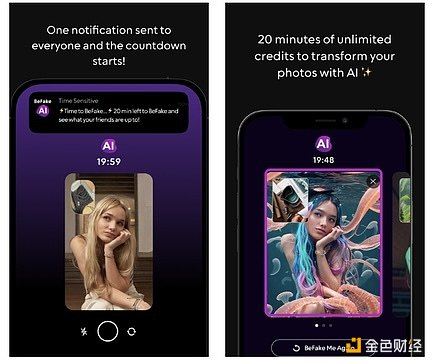 Image source: BeFake AI
BeFake has built-in many ready-made photo styles and customizable location replacements. Users can directly use these options to generate surrealistic images.
For example, you can be sitting at home, and the background can instantly be changed to a "relaxing vacation style." Want to add some sci-fi scenes? Just a few taps will do.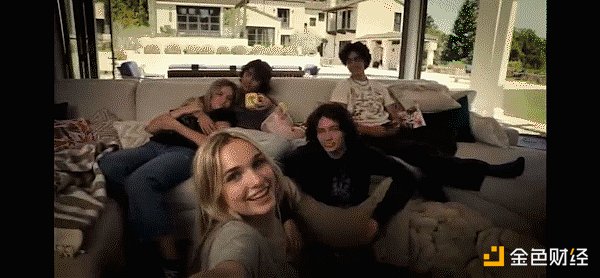 Source: BeFake AI
Of course, if users are not satisfied with the existing templates, they can also enter custom prompts.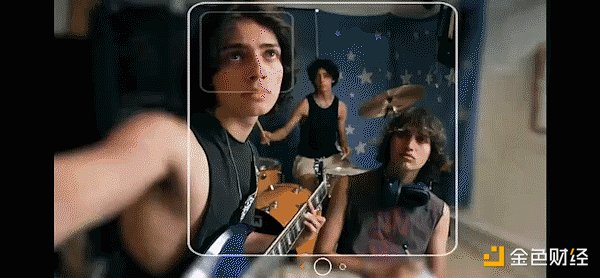 Source: BeFake AI
After the image is created, users can swipe the screen left and right to compare the original image with the AI-generated image. After editing and publishing the photo, users can comment and interact with other users in different functions such as "Friends," "Popular," and "Discover."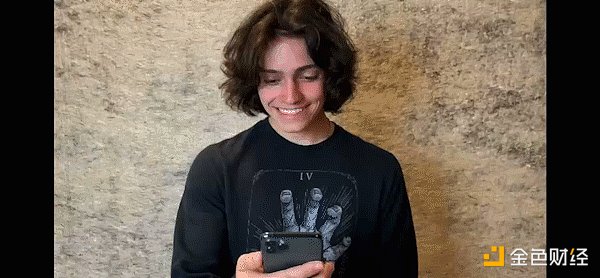 Source: BeFake AI
Other AI applications on the market, such as Meow Camera, generally require users to upload dozens of photos in advance for AI learning to generate more realistic photos, but BeFake does not require this step.
In addition, although the response time of the AI can be controlled within 30 seconds for each operation, usually not exceeding 10 seconds, the average time it takes for users to edit a picture is about 10 minutes in order to create better works.
Regarding future development, product founder Dumont believes that in order to retain users in the long term, it is necessary to quickly adapt to users' ever-changing tastes. He said that some of BeFake's content is like playing a game, and can be adjusted quickly so that we can react promptly to users' preferences.
Currently, most of BeFake's basic functions are free, but there is also a subscription model. After users pay, they can enjoy more features, including anonymous photo posting, delayed posting, viewing friends' past activities, unlimited AI production prompts, etc.
From Game Giant to Virtual Social
BeFake, which has become popular this year, is actually backed by the company "Alias Technologies," which was established in 2021. As an AI software development company, the company's two founders, Kristen Garcia Dumont and Tracy Lane, were previously CEO and COO of the game giant Machine Zone, respectively.
Dumont, during her tenure as CEO of Machine Zone, led the development and release of two mobile games, including "Game of War: Fire Age" and "Final Fantasy XV: A New Empire," with total revenue reaching $1 billion. Lane, on the other hand, was mainly responsible for community, management, compliance, and platform partnerships.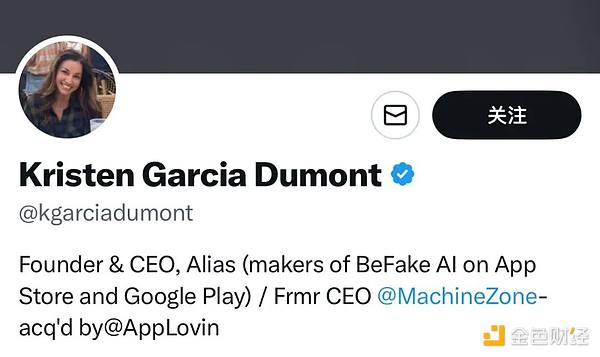 Source: X (Twitter)
It is precisely because of their experience in the gaming industry that the two couldn't help but wonder, "Under anonymous circumstances, why can game players connect with each other through algorithms, but not on social media?"
Dumont said that game players have an independent digital identity that can be utilized, and seeing this magical connection develop because of algorithm operation is definitely a moment of spark.
It is also because of this that prompted the two to develop the BeFake AI product.
Users use BeFake AI to create false images, expressing not necessarily complete truthfulness, but real creativity. Sometimes, these false fantasies may reflect a more authentic self.
"In today's social media, either post-processing or pre-planning is required," explained Dumont. "People often feel anxious and vulnerable when they post 'real' content, and it is very stressful to stay true, making social interaction more difficult. Therefore, BeFake allows people to create AI-generated images to enhance themselves."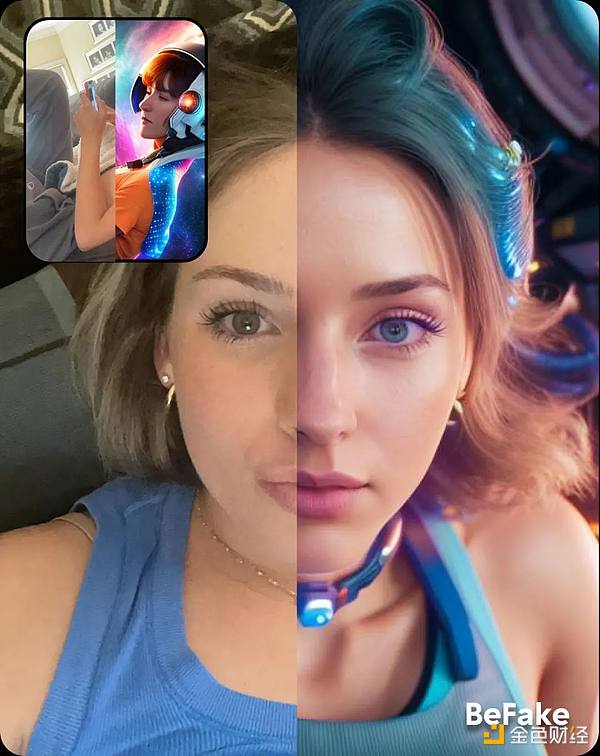 Image source: BeFake AI
In addition, Dumont also emphasized the importance of community building for the future development of BeFake, the social app. She said, "The moat of most AI applications is not the underlying technology, but the community."
"Every company has proprietary technology, but only when the open-source community grows bigger and open-source tools become better, can you better utilize these tools and become better," added Dumont.
Currently, BeFake mainly focuses on the race track of static AI-generated images, and in the future, it will further reduce the difficulty of using the technology to benefit more content creators. However, BeFake also indicated that it may enter the field of AI-generated videos in the future.
We will continue to update Blocking; if you have any questions or suggestions, please contact us!
Was this article helpful?
93 out of 132 found this helpful