Twitter Featured: Nasdaq Testing Bitcoin Transactions; Amazon Supports Lightning Network Payments
01 NASDAQ Test Bitcoin Trading
Quantitative analyst Cryptopolis:
Explosion news: Bitcoin can now be traded on Nasdaq. I bought a bitcoin through my TDAmeritrade account (Translator's Note: TD Ameritrade is a US securities giant, equivalent to domestic CITIC Securities, Haitong Securities. ) . The chart shows that the transaction started on April 10. Other digital assets will follow soon.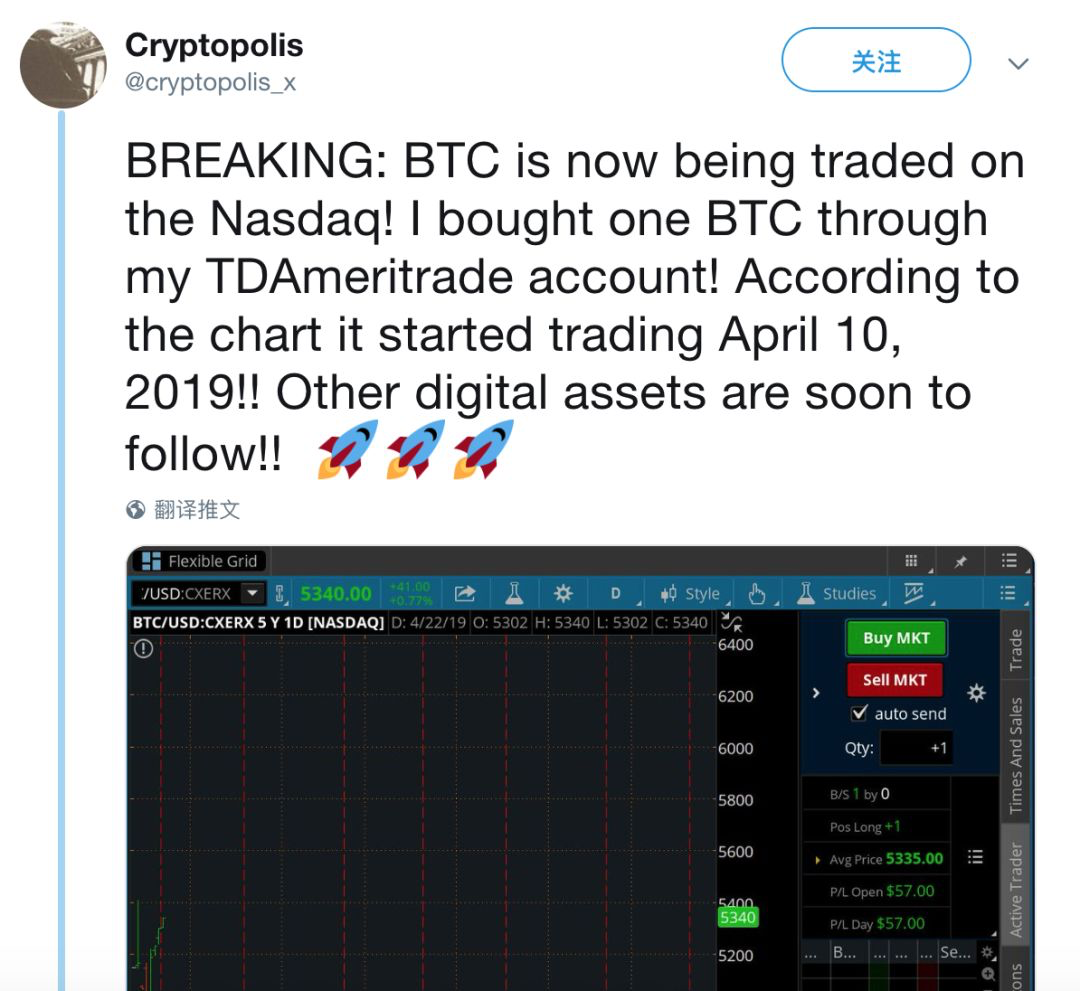 Cryptoplis was subsequently added:
Update: According to TD Ameritrade customer service, this is not a real deal for the account, this is a test transaction for their trading platform. The customer service said "I can't make any response to this." They also don't know what CXERX is (Translator's Note: CXERX appears on the TD Ameritrade trading page, which may be a product name) . This is very strange, but I believe that something big is going to happen.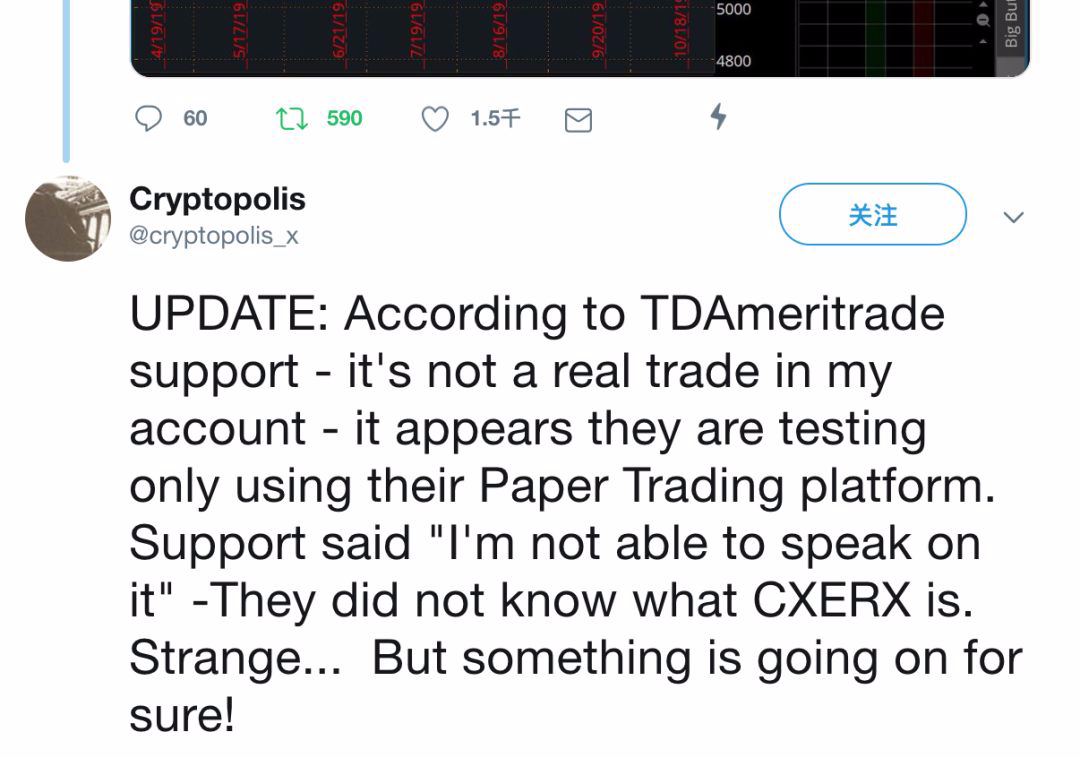 02 Cobra Corbra says users are the biggest threat to Bitcoin
Cobra Cobra, the holder of the Bitcoin official forum Bitcoin.org:
People think that the biggest threat to Bitcoin comes from government and software vulnerabilities. This is the wrong view. The biggest threat to Bitcoin is its biggest advantage: that is the user. Humans have a tendency to split and tribalism, and a fragmented community is enough to destroy Bitcoin.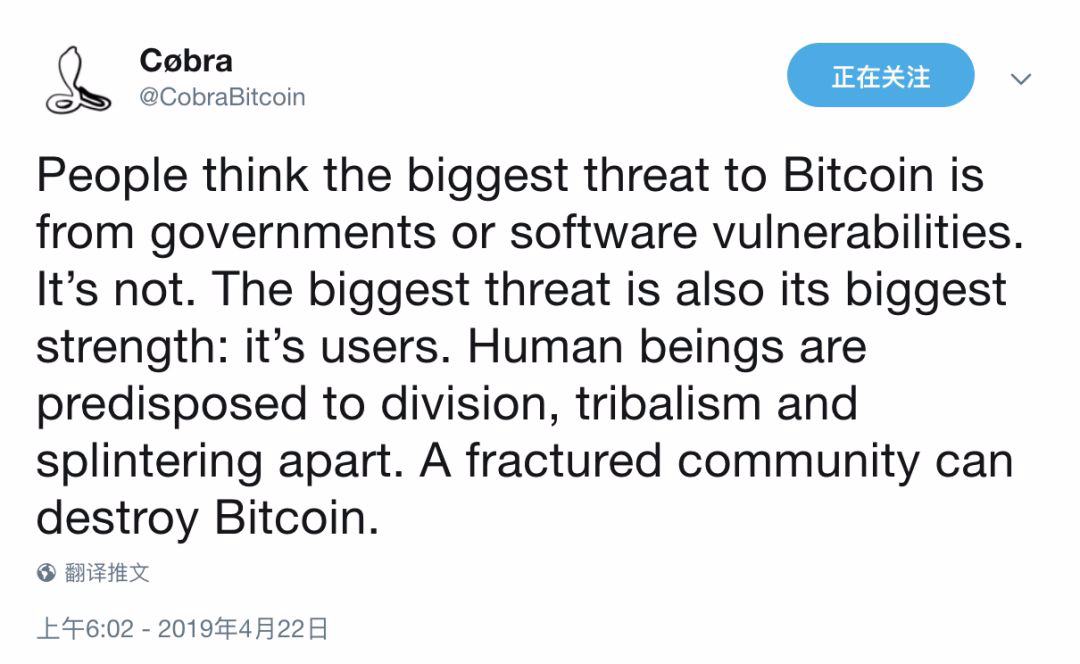 Fan AwyeeBitcoin commented on the comment area:
The Cobra's point of view is extremely wrong.
Bitcoin is not a democratic system and it is difficult to concentrate.
Also, look at Bitcoin's infrastructure and you'll find that Bitcoin is good and there are no signs of "breaking."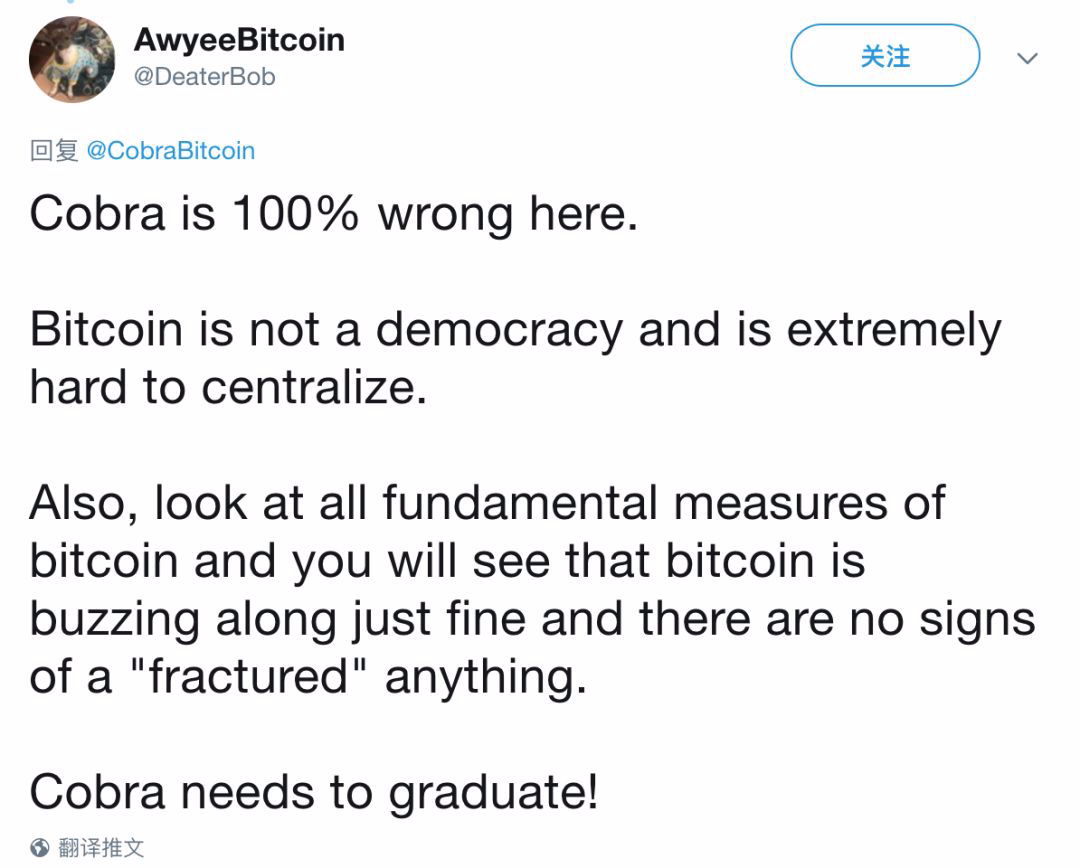 03 Want to support Bitcoin development, how to donate?
Jason Lau, Vice President, Business Development, Ok Group:
What should I do if I want to donate $10,000 to support Bitcoin?
Does the developer accept the donation? @starkness (Translator's Note: sterkness is the co-founder of lighting labs, lighting labs is a lightning network developer.)
Scholarship for new developers at @Jimmysong Training. (Translator's Note: jimmysong is the core developer of Bitcoin.)
Buy and give 500 @saifedean books to the library? (Translator's Note: Saifedean is the author of the book Bitcoin Standard.)
Buy podcast ads for @APompliano? (Translator's Note: @Apompliano is the co-founder of Morgan Creek,)
Welcome more comments!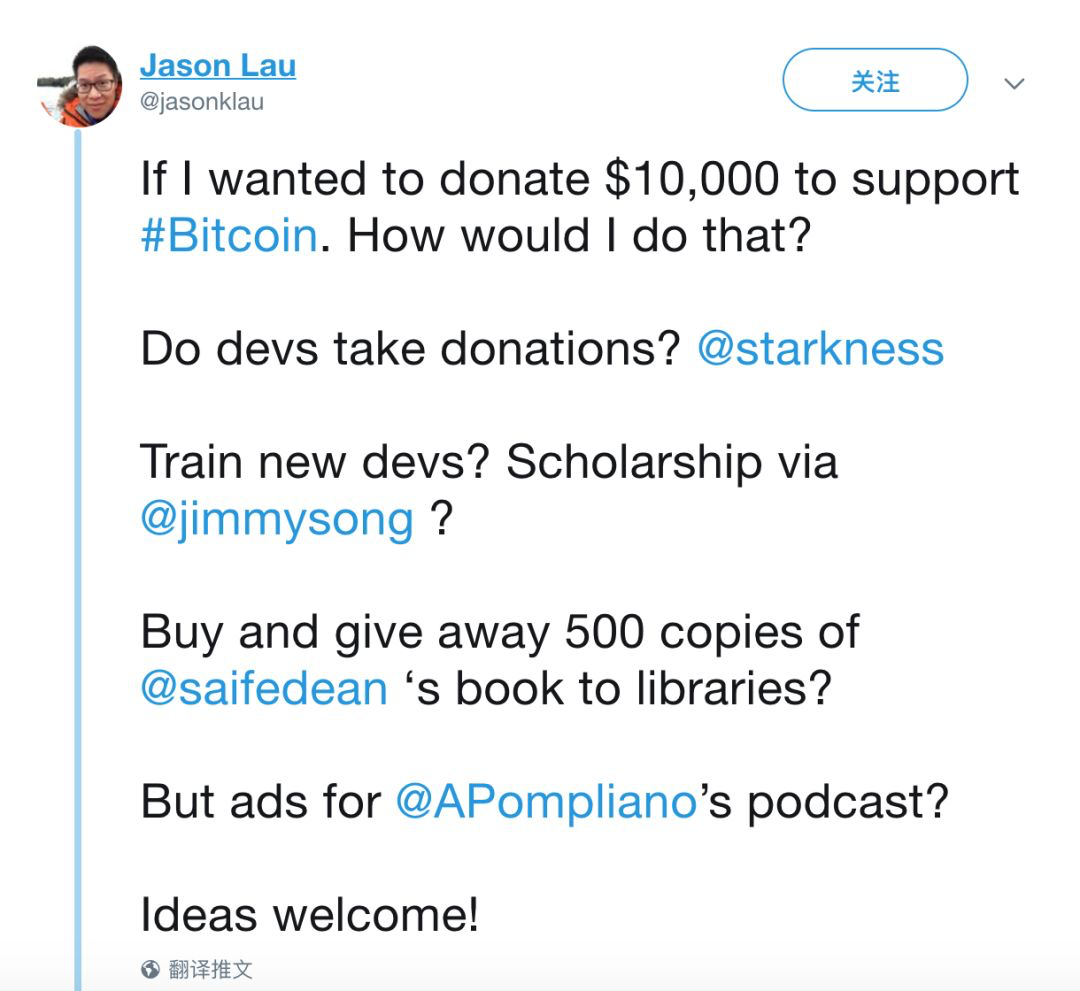 There are a lot of interesting suggestions in the fan comments, I chose two of them:
Fan NVK recommends: buy Bitcoin worth $10,000 and then distribute it to people who don't have Bitcoin, for a limit of $100 each.

Cobra Cobra: Donated to the bitcoin official forum Bitcoin.org, the money can be used for translation work, so that more people from different countries can learn about Bitcoin.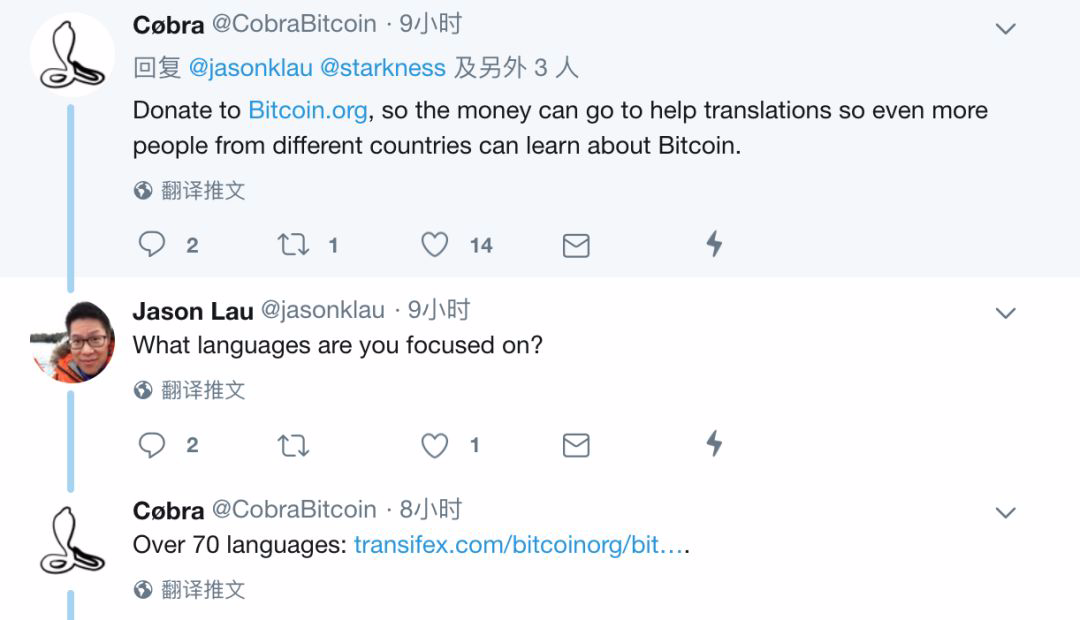 1. Bitcoin holders can now use the Lightning Network to shop on e-commerce sites such as Amazon, thanks to a new browser extension application from Moon.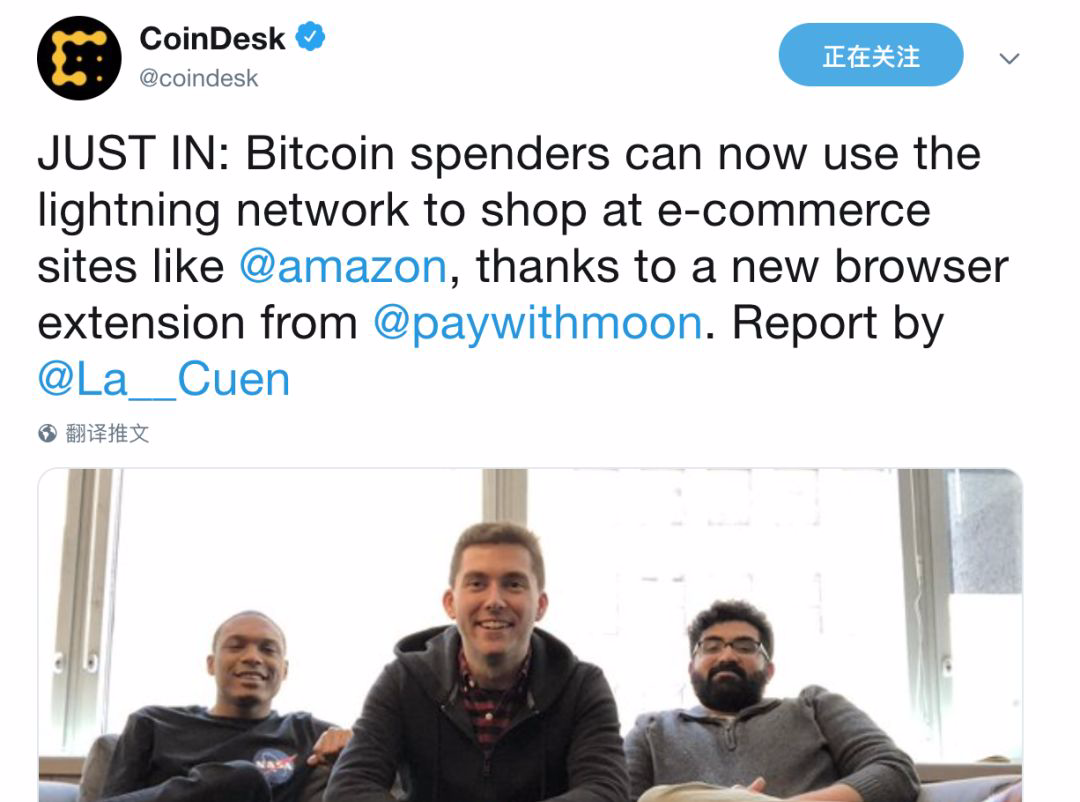 2. Serena Williams, the most successful tennis player of all time, revealed that she invested in the Coinbase exchange through a venture fund.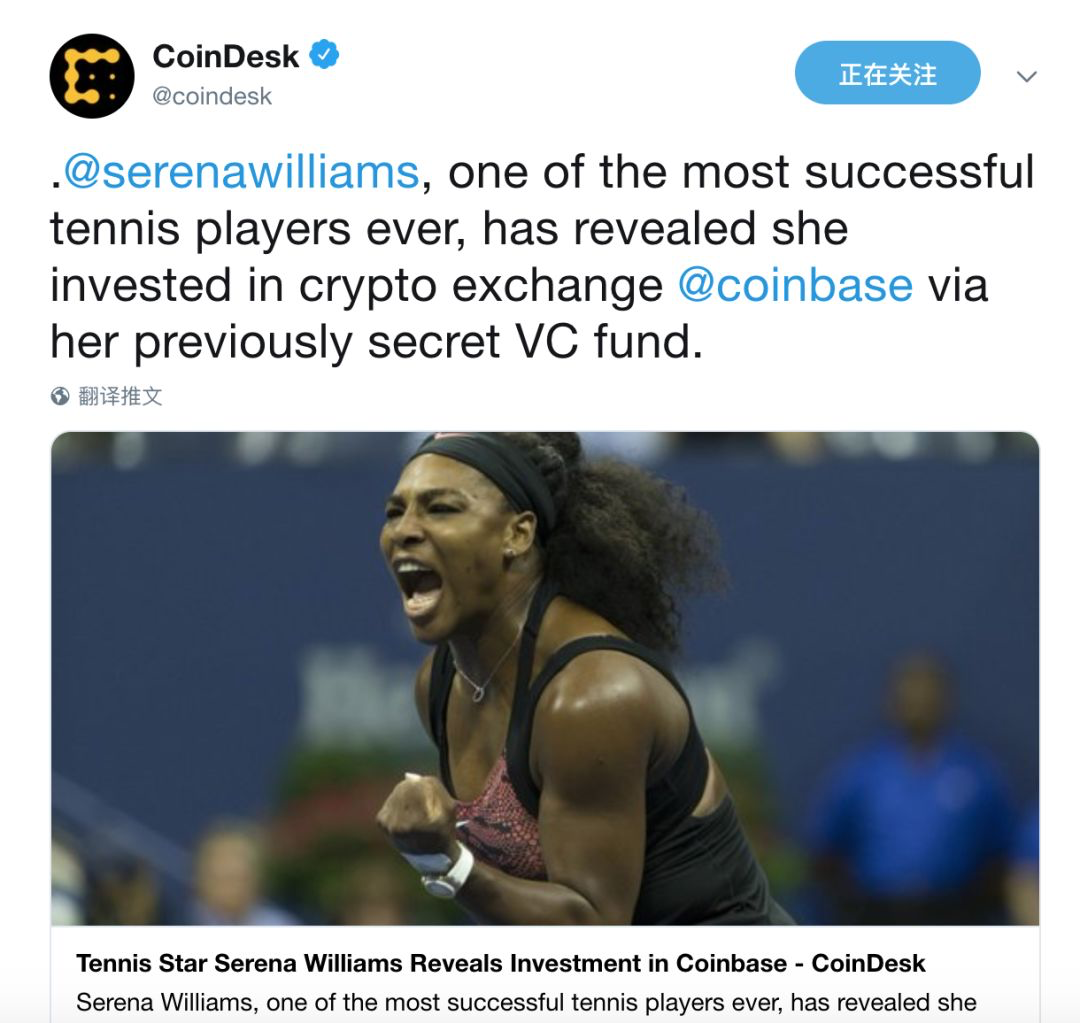 —— End ——
Turn around every day and see the big coffee point of view, bringing you the freshest and most interesting points.
Source: wildflowers, said the public, this issue of: March only hope
We will continue to update Blocking; if you have any questions or suggestions, please contact us!
Was this article helpful?
93 out of 132 found this helpful