Canaan Technology surged over 80% to close at $ 8.04
Source of this article: Scallion Blockchain , the original title "Jia Nan Technology rose more than 80%, but revenue performance may not meet expectations due to delayed delivery"
On Wednesday, the stock price of the first stock of Mining Technology, a mining machine, soared over 80%.
As of the end of the trading day, Jianan Technology closed at $ 8.04 per share, up 82.73%. The opening price was $ 4.42 per share, which once rose to $ 8.69.
In terms of trading volume, more than 11 million shares have changed hands, compared with the previous average trading volume of 250,000 shares.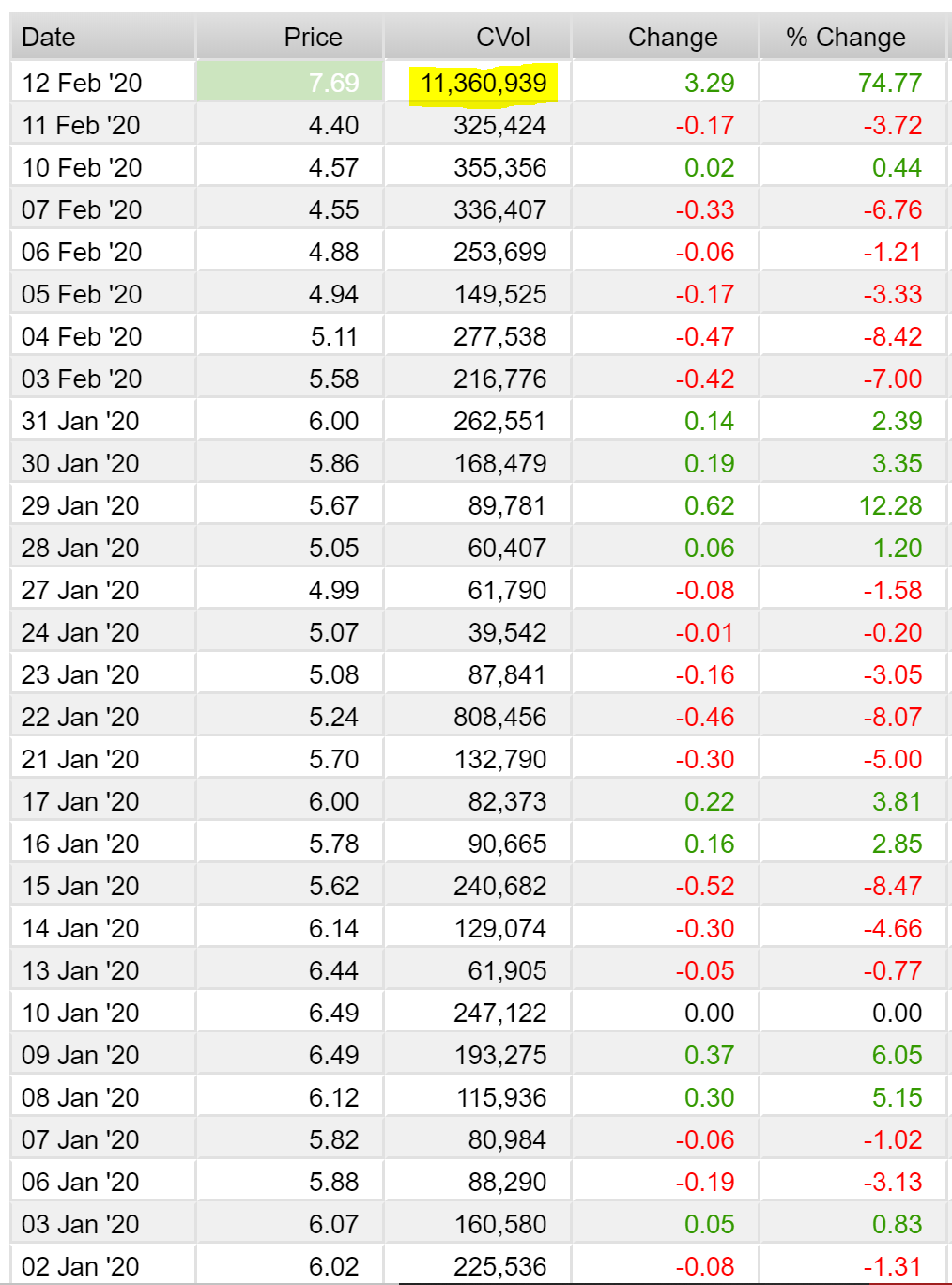 Canaan Technology has been performing poorly since it was listed on NASDAQ in November 2019.
Prior to Wednesday, CAN had fallen by 50% since its IPO and at one point hit a record low of $ 4.31.
However, an early post by The Block research analyst Matthew Yamamoto pointed out that given the market signals seem to be bullish on the miner maker, Jia Nan's stock may have performed worse than expected, and at the same time, there are concerns that its stock price may not pass Revenue performance was confirmed.
As miners expect their mining rewards to be halved in May, many miners are recycling old mining equipment, and as a result, manufacturers such as Canaan, Bitmain and MicroBT have higher hash rates and more High demand for energy-efficient equipment.
Recently, with the rise of Bitcoin, more miners have expanded their business by purchasing newer mining machines.
Matthew Yamamoto also pointed out that the price of mining equipment will vary with the price of Bitcoin. As the price of Bitcoin rises, this should be a bullish signal for Jia Nan, as their mining opportunities are sold at higher prices.
At the same time, since the beginning of 2020, the market shares of publicly listed miners such as Hut 8, Bitfarms and Argo Blockchain have also increased significantly, increasing by 76%, 90% and 28% respectively.
Jia Nan's stock price soared or could not be confirmed by the first quarter revenue performance
However, other market participants have a more volatile view of Jia Nan's soaring stock price. They believe that the outbreak of the Chinese coronavirus has affected the ecosystem of most Chinese miner hardware manufacturers, causing delays in their production and transportation plans.
In addition, given that Canaan is listed on the NASDAQ, the company must record mining revenues after the mining machine is delivered, which means that delays in delivery will cause its recorded quarterly revenue to decline.
According to Matt D'Souza, CEO of Blockware Solution, there is more than a month and a half before the end of the quarter, but if the company does not ship these products out of the market before March 31, it will not be able to comply with US GAAP (Accepted Accounting Principles) ) Record deposits etc. as income. As a result, it fears that rising stock prices may not be confirmed by revenue performance.
Outbreak affects mining machine makers to delay production and shipments
Yesterday, a CoinDesk article stated that the slowdown in the growth of bitcoin mining difficulty indicates that after the new crown pneumonia epidemic prompted Chinese authorities to implement quarantine and quarantine, major mining equipment manufacturers had to postpone production and delivery, and miners had to suspend upgrading equipment. The data shows that the difficulty of mining was adjusted to 15.55 T on February 11, an increase of 0.52% from January 28. This is a significant decrease compared to the increase rates of January 28 (4.67%) and January 15 (7.08%). In May this year, Bitcoin will usher in its third halving, which may cause miners' operating costs to exceed revenues.
Regarding the impact of the emerging coronavirus epidemic on the crypto industry, Bloomberg reported that a new coronavirus epidemic has begun to affect the cryptocurrency industry. Activities such as the NiTROn2020 conference in Seoul, Blockchain Week 2020 in Hong Kong, and Token2049 have been postponed; cryptocurrency lending startup DeFiner has cancelled a ten-city tour investment project; a mine on BTC.top has been closed; and mining machine manufacturers such as MicroBT Delivery is also being delayed. "Unfortunately, in the coming decades, incidents like the new coronavirus will be more 'common' than the 'black swan incident'. Certain industries will be affected, but this is not the case," said Dave Balter, CEO of research firm Flipside Crypto. Will be part of the new normal. "
In addition, in response to the question of "whether the BTC reward halving will lead to mining disasters", the official F2Pool fish pond responded that historically, halving Bitcoin has proven to be an important catalyst for pushing Bitcoin into a new bull market. Bitcoin halved for the second time in early July 2016. Bitcoin rebounded from over $ 200 in 2015 to over $ 960 (more than one year later) at the end of 2016. It then rose all the way and reached an all-time high of $ 20,000. In fact, halving itself is to reduce inflation, but for miners, halving is a double-edged sword. The halving in May coincides with the replacement of old and new mining machines, and 16nm mining machines are facing shutdown. At present, the entire Bitcoin network has about 110E hash power, of which about 40% are mining machines belonging to the S9 era. With the end of the first water harvest period after halving, this batch of mining machines will basically enter its final stage. Miners need to do layout in advance to manage their own risks. For the time being, miners can pay more attention to the price of new-generation high-power mining machines and payback cycles, and plan ahead. This year is the time to replace old and new mining machines, but pay attention to investment risks.
Onion previously quoted the Liyun Finance report that Fan Xiaojun, sales director of Bitmain, said in an interview that due to the impact of the epidemic, the delivery of major mining machine manufacturers may be delayed . Now most of the staff cannot return to work on time There will be some delays in the delivery of chips, supply chains, and materials. In this case, the following situations should appear: 1. The number of newly produced miners has decreased (Bitmain's current 17 models of miners have been sold until the end of March, and the total amount is not large); 2. The entire network The growth of computing power will become very slow; 3. The value of the stock of mining machines becomes higher; 4. If the difficulty, currency price, and electricity costs are constant, the total computing power of high-J / T machines may be reduced by half and eliminated Fewer.
Litecoin Foundation co-founder Wang Xin was asked about the impact of coronavirus affecting the ASIC mining machine manufacturer's delayed shipment on the development of the project. If everyone in the ASIC delayed the shipment, the computing power should not be large for the time being. Impact. However, once the epidemic is over, there may be a period of soaring computing power. But because all miners are on an equal footing, everyone is losing money together. If only some ASICs are delayed, and some ASICs continue to ship, the computing power will still increase, and it may put greater pressure on miners who cannot get new machines. In either case, it will have a greater impact on the capital flow of mining machine manufacturers. I hope they can have enough cash to keep the company running.
This article is partially translated from https://www.theblockcrypto.com/post/55721/nasdaq-bitcoin-hardware-canaan-price-stock-surge
We will continue to update Blocking; if you have any questions or suggestions, please contact us!
Was this article helpful?
93 out of 132 found this helpful